Disney's Animal Kingdom Lodge Villas, the Disney Vacation Club portion of the Animal Kingdom Lodge Resort, has both standard villa accommodations and value villas. There are multiple views available for the standard villas include standard view, savanna view, and the Kilimanjaro Club Concierge level. But at present, this is the only Disney Vacation Club resort with this value category. Let's go over the primary differences between standard villas and value villas for your consideration.
Kidani Village and Jambo House
Animal Kingdom Villas is split up into two sections of the resort: Kidani Village, which was designed for Disney Vacation Club and therefore all rooms are villas, and Jambo House, which is a mix of standard hotel rooms and Disney Vacation Club villas. When you purchase a Disney Vacation Club contract with an Animal Kingdom Villas home resort you have equal access to rooms at both Kidani Village and Jambo House. However, there is a larger amount of inventory at Kidani Village, so you may be more likely to find availability there.
When booking you do get to choose which part of the resort you would be staying at. Of note, there are some differences between the same room type at different sides of the resort. For example, two bedroom villas at Kidani Village are about 100 square feet larger than two bedroom villas at Jambo House. Another key difference is that value accommodations are only found at the Jambo House side of the resort–if you are hoping to book a value villa there are no value options at Kidani Village.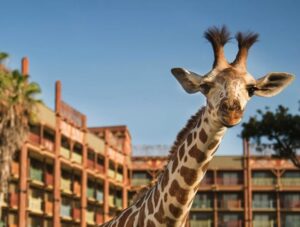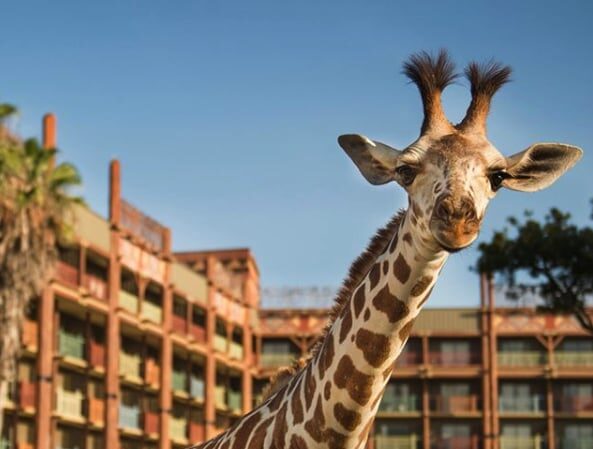 Value Accommodations Overview
Value Disney Vacation Club rooms at Jambo House are actually converted hotel rooms instead of rooms originally designed to be villas. For this reason, they are smaller than standard Disney Vacation Club villas. Due to the decreased size, and in some cases capacity, these value rooms also cost less points to book.
Deluxe Studio Villas
Standard studios at Animal Kingdom Villas, be it standard view, savanna view, or Kilimanjaro Club Concierge level, are about the same size at both Kidani Village and Jambo House. The latter is technically one square foot smaller at 365 square feet, whereas Kidani Village deluxe studios are 366 square feet. Value studios at Jambo House are only approximately 316 square feet, so you do lose a considerable amount of space and, in my opinion, it is noticeable. All studios though sleep up to four guests.
As previously mentioned, less space comes at a reduced cost. One night in a standard view deluxe studio will cost anywhere between 10 and 23 points pending the travel season. During most of the year, excluding the most expensive travel season that includes peak spring break and the week of Christmas, a savanna view studio is about three to five more points per night than a standard view, and the Kilimanjaro Club Concierge rooms are about eight to nine points more than a standard view per night. Generally, value studios are three to five points less than a standard view studio per night, and range from 7 points to 17 points per night.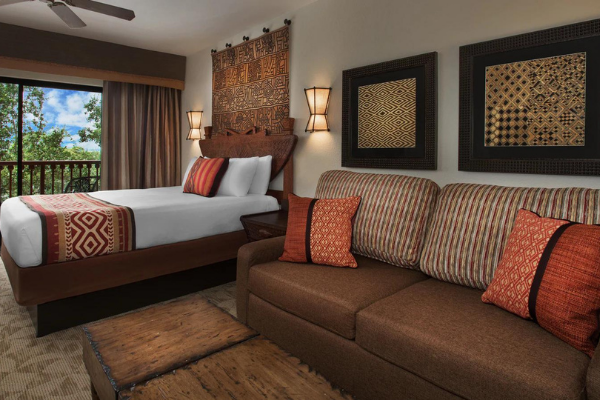 One Bedroom Villas
Standard one bedroom villas at Kidani Village are slightly over 800 square feet and those located at Jambo House are about 720 square feet. Both of these sleep up to five people. In contrast, the value one bedroom villas at Jambo House are 629 square feet and only sleep four guests. One bedroom value villas again cost a few points per night less than standard view; the value one bedroom point range is 17 to 35 points per night compared to 20 to 45 points per night for a standard view.
Two Bedroom Villas
Kidani Village two bedroom villas generously sized at approximately 1,173 square feet, and those at Jambo House are about 100 square feet smaller at 1,075 square feet total. These both sleep up to nine total guests. The value two bedroom villas at Jambo House are the only two bedroom villas that are under 1,000 square feet; these come in around 945 square feet. Additionally, value two bedroom villas only sleep up to eight guests instead of nine. A standard view two bedroom villa costs between 28 and 60 points per night, whereas a value two bedroom villa costs between 22 and 48 points per night.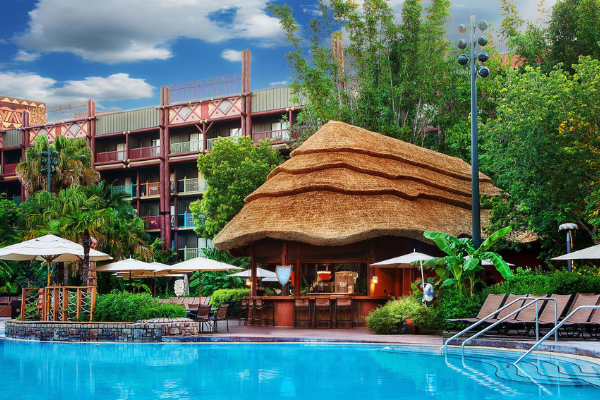 Three Bedroom Grand Villas
Both Kidani Village and Jambo House to feature three bedroom grand villa accommodations, but there is no three bedroom inventory in the value category. When booking a three bedroom villa at the Animal Kingdom Villas there is only standard view and savanna view. The Kidani Village three bedrooms are around 2,201 square feet and are smaller than those at Jambo House, which provide 2,349 square feet of space to spread out in. Both sleep up to 12 guests total.
Booking a Value Room
Because the points cost is so reduced, value rooms at Animal Kingdom Villas are in high demand. Many Disney Vacation Club owners do truly see the value in these accommodations and are willing to have slightly less space to save points. While five or so points a night may not seem like much, it adds up quickly for longer stays. A week in a one bedroom standard view villa can cost 60 more points than a week in a value one bedroom villa.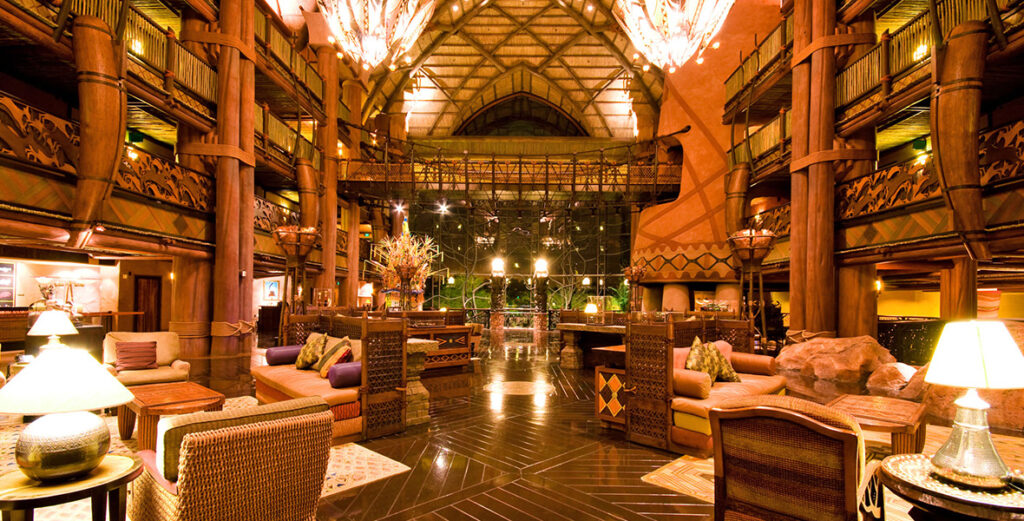 While not impossible, it can be quite difficult to book a value accommodation without an Animal Kingdom Villas home resort contract. Similarly, if you are looking to rent DVC points and want to keep the costs low, then the value accommodations are likely very appealing to you due to the low points requirements. However, again, it can be difficult to book these rooms when renting points, so do be sure to have a backup plan in mind. Other lower point cost resorts include Saratoga Springs, Old Key West, the Tower Studios at Riviera Resort if your travel party will only be two guests, and the standard rooms at Animal Kingdom Villas are also generally a very good deal. Personally, I believe splurging a bit for the savanna view is totally worth it, and if that is within your budget I would highly suggest that experience.
If you have any questions about value villas, leave them in the comments down below!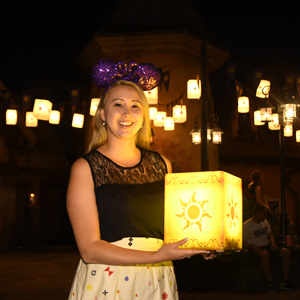 Written by
Jacqueline R.
Contributing Writer
Jacqueline is a PhD scientist with a passion for synthesizing detailed information in an understandable format. She is a Disney Vacation Club owner, overall Disney fan, and the primary content creator on the YouTube channel Pixie Dust PhD.