Dinner and a show is a classic combination for a date night or just getting together with family or friends. During Epcot's Festival of the Arts, a special dining package has returned to offer guests the choice of a meal, lunch or dinner, from one of four restaurants along with guaranteed seats at one of the live Disney on Broadway performances at the American Gardens Theatre! Would you like to take advantage of this opportunity? Read on to learn all of the details about DISNEY ON BROADWAY Concert Series Dining Package.
How It Works
First, guests make a reservation for one of the four available restaurants. Reservations are available every 30 minutes beginning at 12:00PM and ending at 5:30PM. Upon finishing their meal, guests will receive "guaranteed seats" tokens which they may redeem at any of the live performances that same day! This is a huge advantage because the DISNEY ON BROADWAY shows are popular, especially on the weekends, and often have standing-room only. There are three DISNEY ON BROADWAY performances each day at 5:30 PM, 6:45 PM and 8:00 PM running through February 21. The performers vary week-to-week, so be sure to check out the DISNEY ON BROADWAY schedule, to catch music from one of your favorite shows! Once you arrive at your show of choice, you will give a cast member your tokens and enter a separate queue from standby guests. Seating is provided on a first-come first-serve basis, but the important thing is that your seat is guaranteed!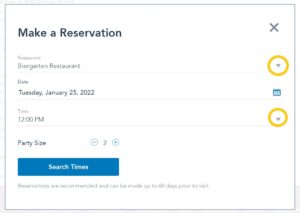 Choose your restaurant, date, desired time, and party size when searching for a reservation for the DISNEY ON BROADWAY Concert Series Dining Package
Restaurant Choices and Pricing
This year, there are four different restaurants from which to choose when booking this experience. Each of the four restaurants offers a unique cuisine and guests can view the menu online before booking to ensure their choice in restaurant will satisfy their palette! Included in the price is a full meal and a non-alcoholic beverage. Guests will choice their own appetizer, entrée, and dessert from the menus at Crown & Rose Dining Room and Coral Reef. At Biergarten Restaurant and Garden Grill, guests will enjoy a full meal served family style or from the buffet. Click each restaurant name to view the corresponding menu.
Crown & Rose Dining Room – typical dishes from the UK like bangers and mash, fish and chips with seating available along the World Showcase Lagoon
Price- Adults $58, Children $22
Biergarten Restaurant – a buffet of flavorful German foods like sausages, schnitzel, sauerkraut and more
Price – Adults $57, Children $32
Garden Grill – family-style dining of harvest-inspired dishes with a visit from Chip, Dale and friends while you eat. That's right, this is also a character dining experience!
Price – Adults $66, Children $43
Coral Reef – order from the menu of American dishes and seafood while observing the wonder of a real coral reef
Price – Adults $69, Children $22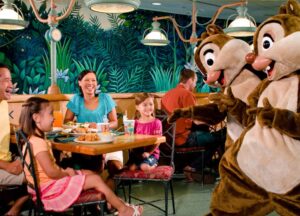 Get an extra bonus when you book the Garden Grill for the DISNEY ON BROADWAY Dining package. Chip and Dale will visit with their friends during your meal! Photo courtesy of Disney
Important Information to Remember
When booking a DISNEY ON BROADWAY Concert Series Dining Package, you must also have a valid park ticket and reservation for the same day. These dining experiences are popular, so it's best to make a reservation in advance. There is still plenty of availability, however, as mentioned earlier, reservations on the weekends are filling up first. On the day of your reservation, please arrive at the restaurant 15 minutes in advance, so that the cast members can prepare your party's table.
Will you try a DISNEY ON BROADWAY Concert Series Dining Package this year at Epcot's Festival of the Arts?  If you don't already have reservations, surprise your loved ones for Valentine's Day with this special opportunity.
Featured Image Courtesy of Disney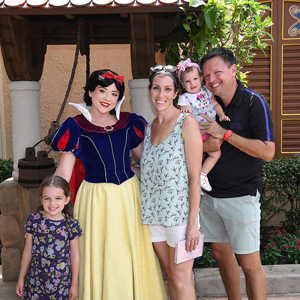 Written by
Shelley Wehler
Contributing Writer
Shelley is a stay-at-home mother of two girls living outside of Charlotte, North Carolina. Her love of all things Disney has grown even more as she sees the magic come alive through the lens of her young daughters. She spends her free time keeping up with the latest in Disney news and daydreaming of her next trip to the parks!