Originally Introduced in 2005, Disney Dining Plans have come a long way since their first iteration. The Dining Plans were introduced as a flexible and convenient way for families to dine while visiting Walt Disney World. With the possibility of up to 30% in cost savings, many families over the years have enjoyed the benefits of the Dining Plans. Here is everything you need to know about the Disney Dining Plans.
Dining Plan Options
There are currently three different options available under Disney's Dining Plans. Each tier includes a refillable drink mug for every guest in your party to be used at any Disney Resort hotel as well as different combinations of meal options. To choose the best plan for you and your family, you should evaluate how and where you like to dine while staying at Disney. Click the following link for a list of all Disney Dining Plan participating restaurants. The three plans are below but first let's clarify some Disney Dining definitions.
Definitions
Snack:

1 single serving snack or drink (i.e. popsicle, piece of whole fruit, 20oz drink)

Quick-service meal:

1 entree + 1 drink (non-alcoholic or alcoholic)

Table-service BREAKFAST meal:

1 entree + 1 drink (non-alcoholic or alcoholic)

OR

1 Buffet or Family-style meal

Table-service LUNCH/DINNER meal:

1 entree + 1 dessert + 1 drink (non-alcoholic or alcoholic)

OR

1 Buffet or Family-style meal

DELUXE Table-service meal:

1 appetizer + 1 entree + 1 drink (non-alcoholic or alcoholic) + 1 dessert

OR

Buffet or Family-style meal
Quick-Service Dining Plan
What you Get
2

Quick-service Meals

2

Snacks or Drinks

1

Refillable Drink Mug per person to be used in any Disney Resort hotel
Price
(per person/per night, tax included)
2019

$52.50 per adult

$23.78 per child

2020

$55 per adult

$26 per child
Disney Dining Plan (Standard Plan)
What you Get
1

Table-service Meal

1

Quick-service Meal

2

Snacks or Drinks

1

Refillable Drink Mug per person
Price
(per person/per night, tax included)
2019

$75.49 per adult

$27.98 per child

2020

$78.01 per adult

$30.51 per child
Deluxe Dining Plan
What you Get
3

Meals (any combination of table or quick-service)

2

Snacks or Drinks

1

Refillable Drink Mug per person
Price
(per person/per night, tax included)
2019

116.25 per adult

43.49 per child

2020

$119 per adult

$47.50 per child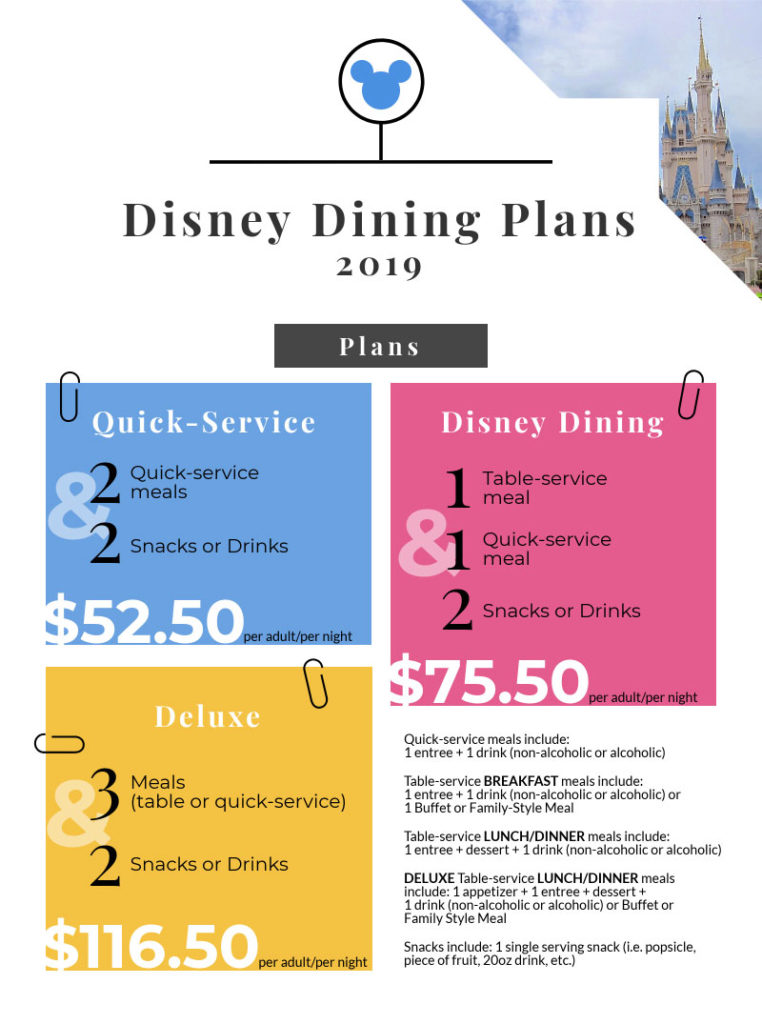 Signature Dining
Table-service dining credits can be used to enjoy signature dining experiences like Cinderella's Royal Table, Be Our Guest Restaurant and Dinner Shows. Each of these specialty dining experiences will use two table-service meal credits per person when booking.
Alcohol
Guests who choose a Dining Plan will be happy to hear that Disney recently added alcoholic beverages to dining plans. All guests over the age of 21 can now choose an alcoholic drink to pair with their meals. While the options for alcoholic beverages vary from location to location, an alcoholic drink is categorized as Beer or Cider, Wine or Sangria, or Mixed Drinks and Specialty Cocktails. Several guests have confirmed that this applies to a wide variety of mixed drinks but some exclusions do apply, for example cocktails that come in a souvenir mug.
Gratuities
Disney Dining Plans do not include gratuity. Gratuity should be paid based on the value of the meal that you have enjoyed and the service you received.
Free Dining
Disney usually runs a Free Dining promotion at least once per year where guests can receive a free dining plan when booking a vacation package. This promotion changes from year to year and is usually only available when booking at certain resorts.
Additionally, Disney periodically offers Bounceback promotions to guests staying at a Disney resort hotel. A Bounceback promotion is an offer you receive only when you are staying at a Disney hotel. Sometimes you receive a flyer in your room or you may see marketing materials at the concierge or front desk about these promotions. To take advantage of these promotions you must book a vacation while staying at Disney to return at a later date. Generally you cannot book these promotions outside of the hotel. Currently there is a Free Dining bounceback promotion until October 31, 2019 for several vacation dates in 2020. 
Important Rules
Dining plans are only available to guests staying at Walt Disney Resort hotels and who have booked a package including park tickets through Disney OR Disney Vacation Club or Annual Passholders who are staying at a Disney resort hotel.

*Note: According to the official Disney Parks Mom Panel, guests can add Disney Dining Plans to existing hotel-only reservations by calling the resort hotel phone line. We have not confirmed this claim.

The dining plan you choose must be purchased for everyone in your party.

Only guests over 3 years of age can participate in the dining plan.

Guests aged 3 to 9 are considered children and will pay the child price for the dining plan (approximately half the price of adults) and must order from the children's menu.

Dining plan credits can be shared amongst your party. However, adults cannot use child credits and vice versa.

Dining credits can be used separately, you do not need to dine together.
To many, the Disney Dining Plans are a great way to take the guesswork out of dining while at the Disney resort. As you've essentially prepaid for your meals, you don't really need to think about prices while enjoying your vacation and you can instead focus on spending time with your family and having fun. However, other guests may feel that in order to get the most out of the Dining Plan they need to calculate each meal and items ordered to be sure they are getting the best value for their money. You can use a dining plan calculator to help you decide for yourself whether a Disney Dining Plan is a good option for you and our family.
How do you feel about Disney Dining Plans? Which dining plan option do you tend to opt for? Feel free to comment below to let us know your thoughts.
Guest Author
Katherine Rand