DVC Shop's very own Bee Thaxton had the pleasure of dining at the newly reopened Victoria & Albert's at Disney's Grand Floridian Resort. This specialty restaurant takes sophistication to a whole new level. When dining here Guests will be offered service like no other, a stunning location to enjoy their meal in, and food that is unique and delicious. Here is the full experience and what you can expect when dining at Victoria & Albert's.
The Experience
Each dining room offers its own menu, price, and room. There are three that are available to choose from, but each adhere to the same rules such as:
Guests must be a minimum of 10 years old
Guests must dress in semi-formal or formal attire (men require jackets)
An automatic 20% tip is applied
The Dining Room
The Dining Room is set under the grand rotunda dome and has been designed to give Guests the feel that they are dining in garden. There are two tasting menus that guests are able to choose from for a set price.
The cost for the prix-fixe menu is $295.00 per Guest. The wine pairings starting at $150.00 per Guest and zero-proof pairings at $110.00 per Guest, both of which are optional.
Queen Victoria's Room
Inspired by royalty, Queen Victoria's Room is opulence incarnate. The Chef's tasting menu will be offered to Guests in this experience, which features 17 courses.
The cost for the prix-fixe menu is the prix-fixe menu is $375.00 per Guest. The wine pairings start at $200.00 per Guest and the zero-proof pairings start at $110.00 per Guest, both of which are optional.
Chef's Table
This experience will take Guests to the heart of Victoria & Albert's and into the kitchen. Here, Guests enjoy a 3 hour experience that features interaction with the chef and the team, as well a tailored meal.
The cost for the prix-fixe menu is $425.00 per Guest. The wine pairings start at $200.00 per Guest and the zero-proof pairings start at $110.00 per Guest, both of which are optional.
Currently the kitchen is undergoing a remodel. Which means that the Chef Table Experience is not available at this time.
Bee's Experience
Bee was thrilled to be able to return to Victoria & Albert's after its grand reopening! The rooms looked a little different than the last time she went, since the entire dining location has undergone a massive remodel. To get a full look at the new decor, check out the pictures here.
For this dinner, Bee was able to experience the Queen Victoria's Room. This room features four 2-top tables, which is all that they will serve for the evening, creating an exclusive experience unlike any other. This room is also only for returning Guests, and will offer a more extended menu than the Dining Room.
On par with unique experiences, Bee was also able to meet the Chef the day of her meal. Chef Matthew Sowers has been working at Victoria & Albert's for 16 years and creates remarkable tasting and visually pleasing dishes.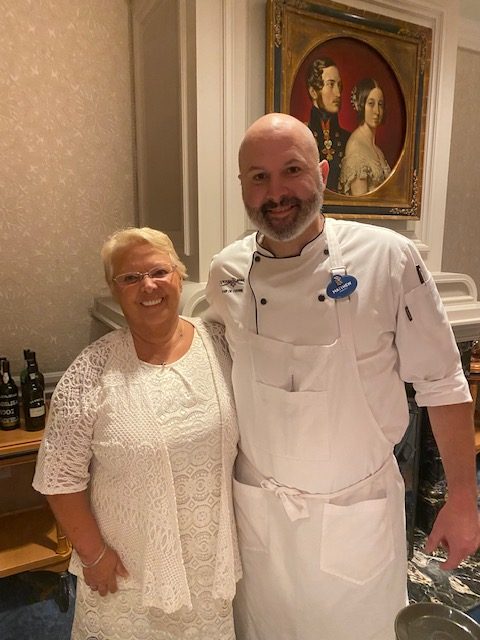 The Service
The service at Victoria & Albert's is truly like nothing else that you'll experience elsewhere. Each table has two servers that work in tandem with one another. This means that there is always a server waiting in the room in case Guests need anything.
Majority of the staff has been working at Victoria & Albert's for at least 9 years. The servers that Bee had when dining here was James, a server of 11 years, and Amy, a server of 13 years.
Watching them work together in perfect harmony to attend Guests is like watching a dance and they will always go above and beyond. For example, Bee's dining companion, Rosanne, forgot her reading glasses and the staff brought out a box of reading glasses for her to choose from for the evening.
Even after your meal is finished, the experience doesn't stop there. Your servers will be bringing out slippers for you to enjoy the full comfort of your evening. Why? Well, why not?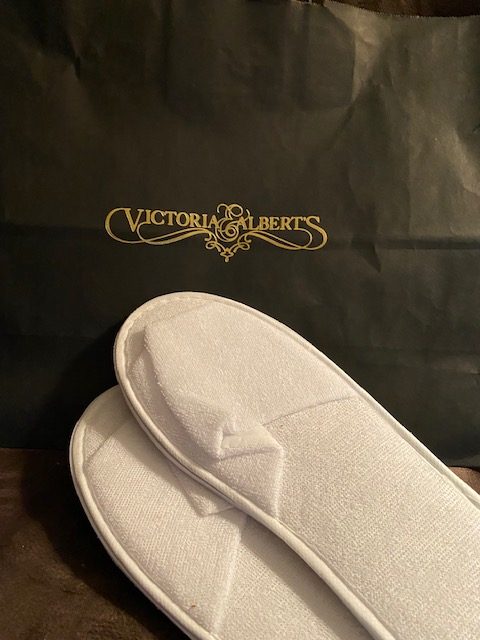 The Menu
The meal in the Queen Victoria's Room consisted of over a dozen courses and took about 5 hours from start to finish. The plates are small and delicate so no need to worry about not being able to try everything.
In addition, every course has the ability to be catered to your individual tastes. Two weeks before your reservation Victoria & Albert's will call  and go over the planned menu. At this time Guests are able to inform the Chef of their allergies and some of their dietary preferences for a more personalized experience that you will enjoy.
In addition to the menu that is offered, Guests have the option of purchasing the wine pairings to go with it. If not, there are other cocktails that you are able to enjoy as well. Bee certainly did!
Bee's menu may look different than the one that you receive, but here are all of the courses that she was able to enjoy.
Course 1 – Appetizers
The appetizers came out in a group of three and included some of Bee's favorite dishes.
Miso Carmel "Eclair"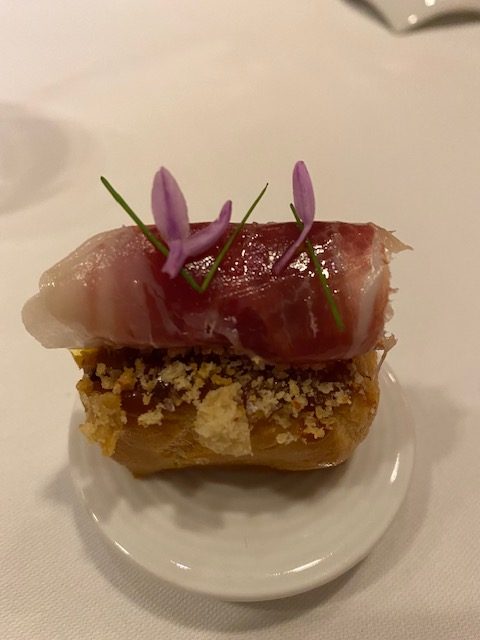 Langoustine Tartelette, Watermelon, Finger Limes, Cinco Jotas Iberico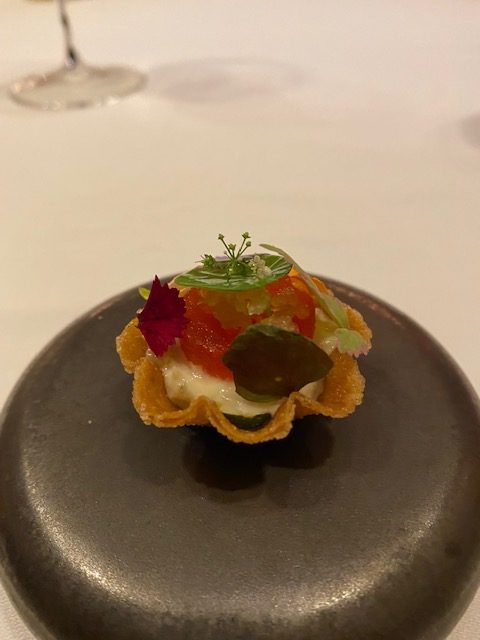 Pink Pineapple, Thai Basil, Spiced Mango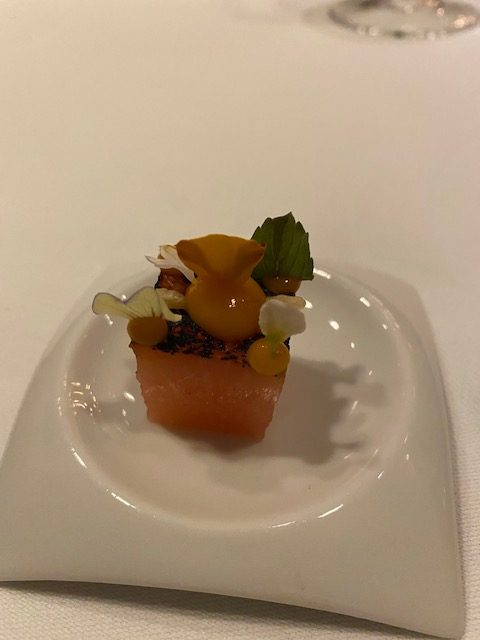 Course 2 – Entreé
Royal Belgian Caviar, Cauliflower Panna Cotta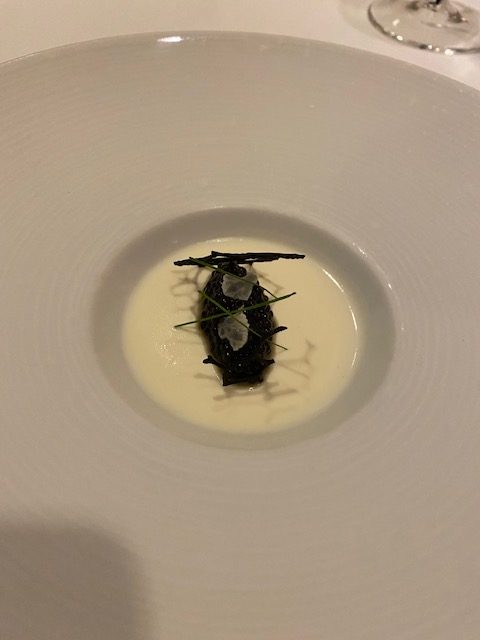 Course 3 – Entreé
Danish Hiramasa, Carrot, Okinawan "Potatoes"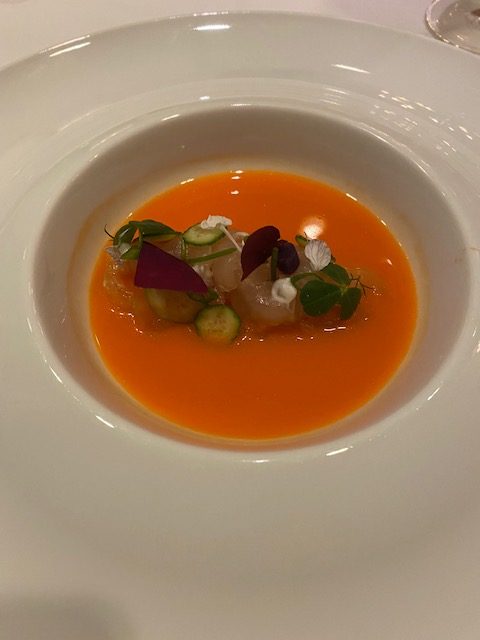 Course 4 – Entreé
Wild Turbot, Fennel, Baby Leeks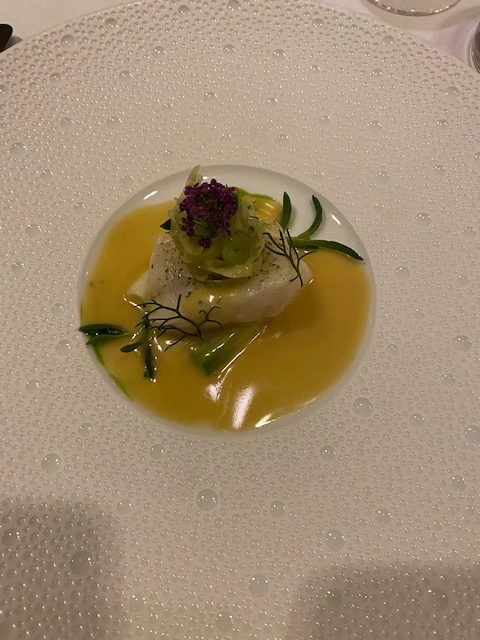 Course 5 – Entreé
Glacier 51 Toothfish, Charred Mushroom, Sambal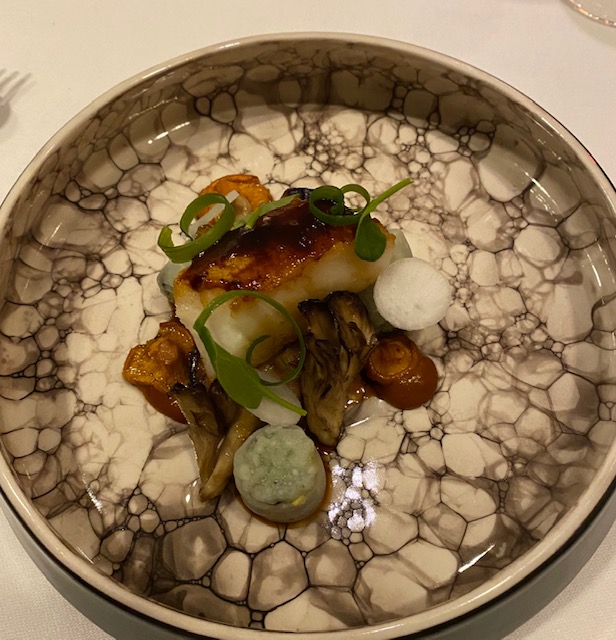 You may be thinking that Glacier 51 Toothfish is an interesting name, and you'd be right. However, Glacier 51 is located in the Arctic and is the only place in the world to find this fish. It is flown in twice a week for the freshest experience that you can get without fishing for it yourself.
Course 6 – Entreé
Green Circle Chicken, Australian Black Truffle, Corn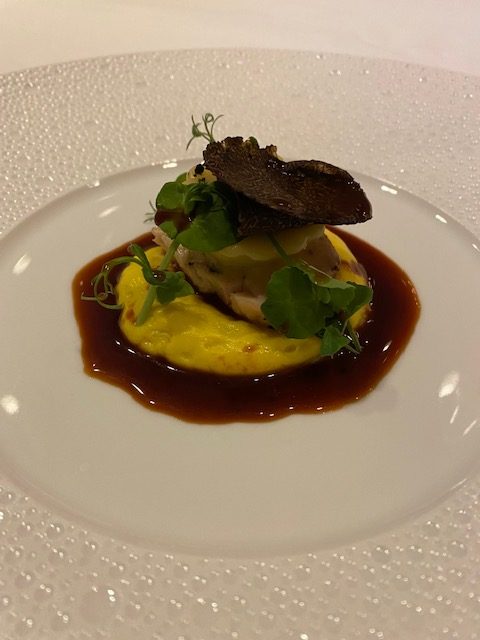 Course 7 – Entreé
Lamb, Pickled Blueberries, Violet Mustard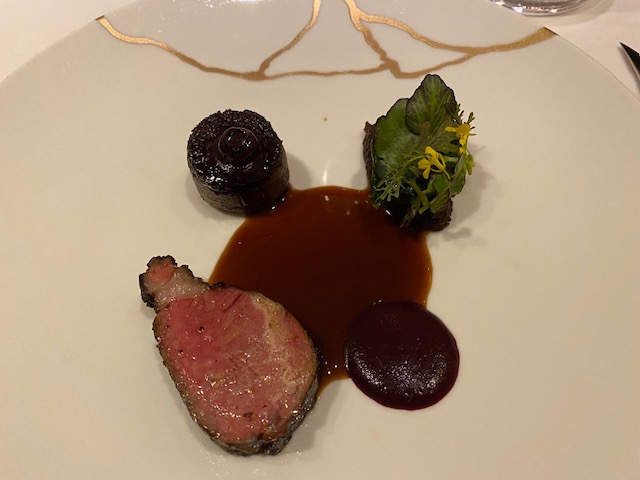 Course 8 – Entreé
Miyazaki A-5, Potato Rosti, Romesco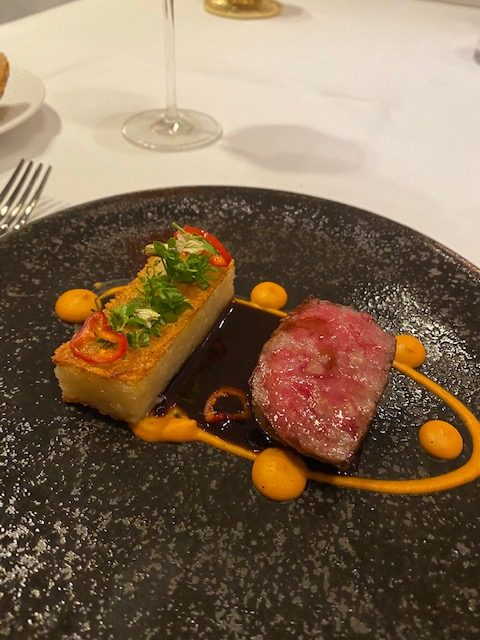 Course 9 – Cheese Course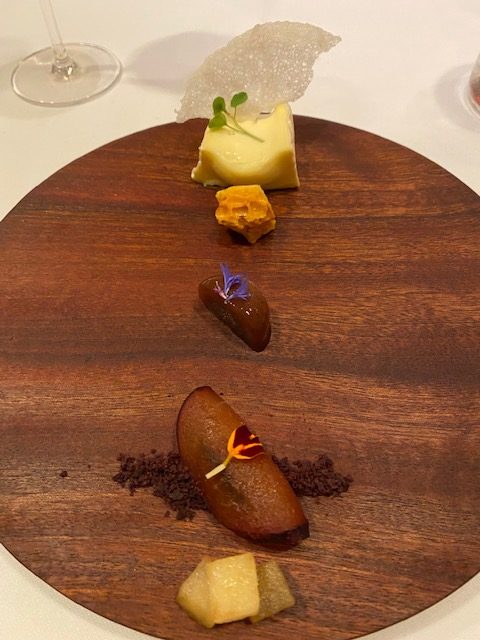 Course 10 – Dessert
Honey Elderflower Ice Cream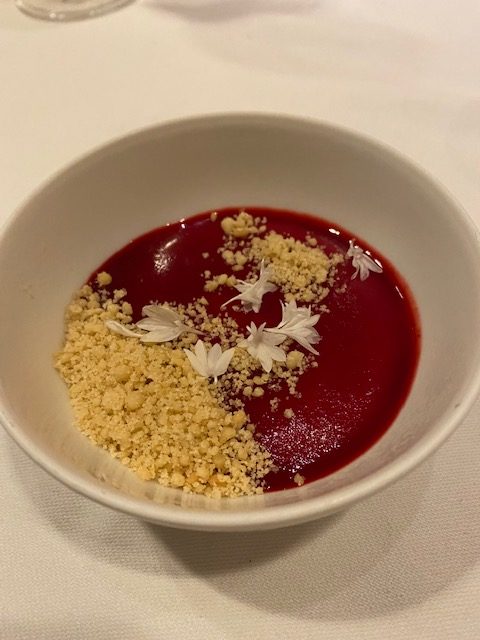 Course 11 – Dessert
Warm Chocolate Cookie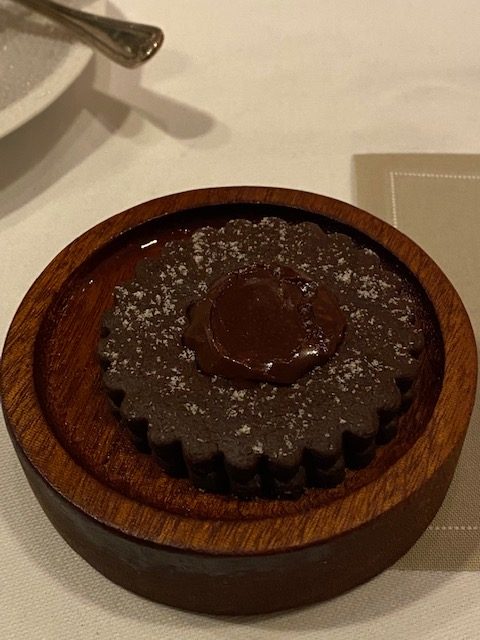 Course 12 – Dessert
Spectrum of Chocolate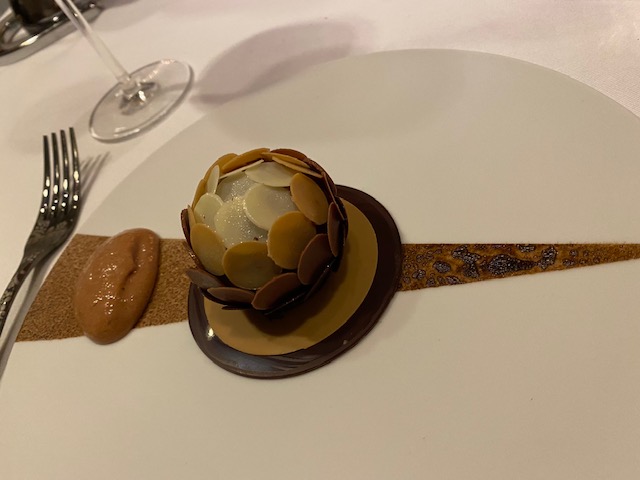 According to the Chef, the first time they made this dish it took 20 minutes to successfully assemble all of the chocolate circles. They are probably masters at it now!
Course 13 – Dessert
The Candies Course featured a beautiful array of dessert options in one.
Pistachio Petit Four
Praline Truffle
Blackberry Pavlova
Tropical Caramel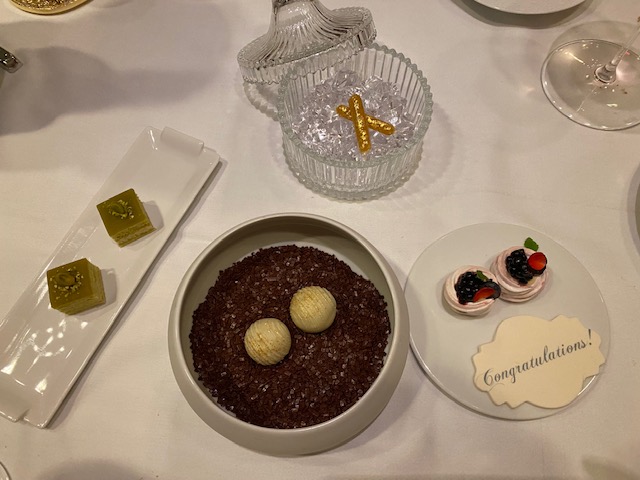 Bread Courses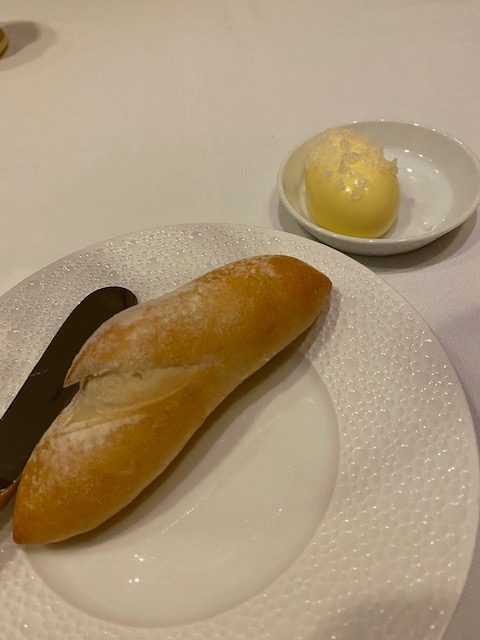 In addition to the courses listed on the menu, additional courses of bread were brought out in between entreés for Guests to enjoy with their next course. All fresh of course!
Dining At Its Finest
Victoria & Albert's offers the finest dining experience that you can find on Disney World property. It is a place full of opulence, elegance, and delicious food. There is really no where you can go wrong. This is a one of a kind experience and we are glad to share it with you on the DVC Shop blog.
Have you ever dined at Victoria & Albert's in Disney's Grand Floridian Resort & Spa before? What was your experience like? Which course would you want to try the most from Bee's meal? Let us know in the comments below!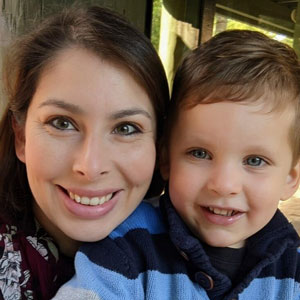 Written by
Rachel Van Norman
Contributing Writer
Rachel fell deeply in love with all things Disney as a little girl. Now as a wife and a mother herself, she shares this Disney obsession with her son and everyone around her. From her love of princesses to eating all the Disney food, Rachel spends her time radiating Disney magic and keeping everyone up to date on Disney news.