Ever since Disney's Fort Wilderness Resort and Campgrounds opened in November 1971, just one month after the opening of the Walt Disney World Resort, families have been flocking there to experience the rustic, outdoor retreat. Encompassing over 700 acres, this vacation destination features a range of accommodations from cabins to campsites, a ton of recreational activities, and a variety of natural vegetation and animals. It truly is paradise for those of us that love the outdoors.
However, since the property is so large, it can be difficult to navigate and overwhelming to plan your visit. But we're here to make it a little easier. 
The Outpost
When you first arrive at Fort Wilderness, you will encounter the Outpost, which is the first of three main hubs around the campground. This is also where you'll find the two methods of checking in: the drive thru check-in lanes or the Reception Outpost. The six drive thru check-in lanes are perfect for those guests visiting in an RV or pop-up camper. The front desk cast member will get you a map and your site assignment, and you don't even have to get out of your vehicle! For guests staying in a cabin or looking for a more traditional check-in experience, the Reception Outpost is where you can receive assistance. In this log cabin, you can also book dining reservations, schedule recreation, purchase park tickets, or rent a golf cart.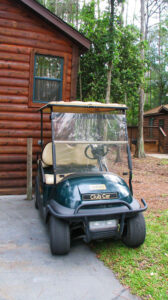 The Outpost also serves as the Fort's primary transportation hub. At the Outpost Depot, guests can board a bus to one of the four theme parks or to locations deeper into the campground. If you're renting a golf cart, then you can pick them up at the Reception Outpost, but guests are also welcome to bring their own cart. Disney even hosts golf cart parades for Halloween and Christmas, and the decorations are insane!
The Meadows
The second hub at Fort Wilderness is the Meadows, which is home to the Meadow Swimmin' Pool, the Bike Barn, the campfire area, a playground, and the Meadow Trading Post, a retail shop that also sells sundries and snacks. The Bike Barn is where you'll check-in for recreational activities, like archery, bike riding, fishing, and canoeing. This really is a prime location for recreation, and the campsites surrounding it are some of the most popular. There are two internal bus stops that service this area, which makes it easily accessible to guests staying on other parts of the grounds. 
Chip 'n Dale's Campfire Sing-Along is another fan-favorite that's located at the Meadows. This completely free activity allows you to roast marshmallows with this dynamic duo and snap a few photos. The campfire sing-along is usually offered nightly, but due to COVID-19, it is currently on hold. 
The Settlement
The final of the three hubs is the Settlement, where you'll find most of the Fort Wilderness's dining options and the marina. Pioneer Hall is home to the world-famous Hoop-Dee-Doo Musical Revue, which has been running at Disney World since 1974! Next door to that is Trail's End, a hearty buffet full of comfort food favorites, and Crockett's Tavern, a bar-style eatery with drinks and snacks. The Settlement is also home to P & J's Southern Takeout, which is the main quick-service restaurant at the campground.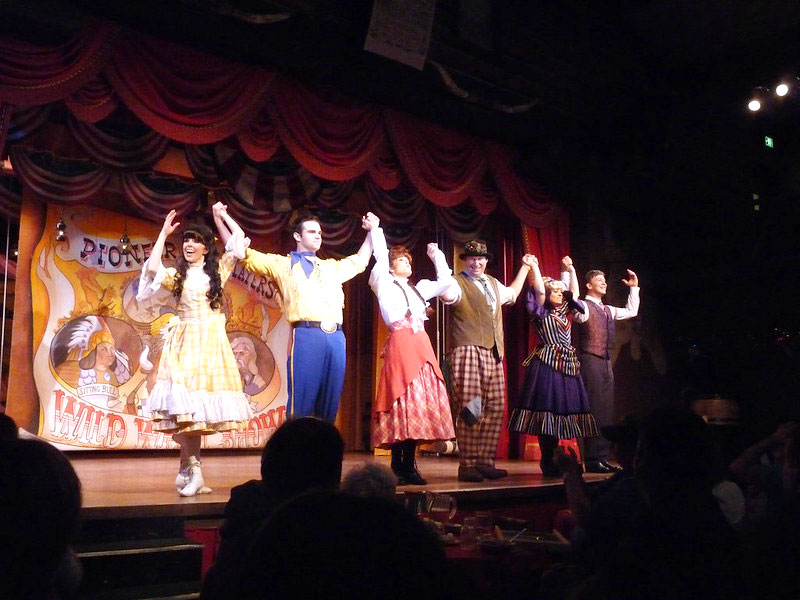 At the marina, guests can board a boat to the Magic Kingdom, Contemporary Resort, or Wilderness Lodge, or they can rent their own watercraft. The white sandy beach is a great place to play volleyball and soak up some sun. At night it's the perfect location to view the Electrical Water Pageant. The beach is also a popular place for holiday celebrations on the Fourth of July, Memorial Day, and Labor Day. Another form of recreation available at the Settlement are pony rides for the little ones and you can view the stables at the Tri-Circle D Ranch, which is where you can visit "the Happiest Horses on Earth."
Campsites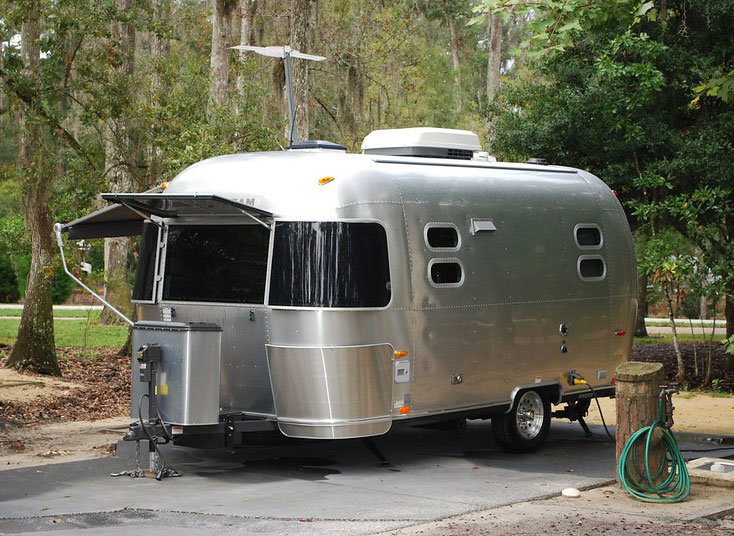 There are five different campsite categories available to guests staying at Fort Wilderness, each offering their own variety of accommodations. All of the campsites are back-ins and feature a combination of a sandy pad and a paved driveway. The length of the driveway will vary depending on which campsite category you book, but all of them are about 25 feet wide. All sites are also equipped with electricity, city water, a picnic table, and a charcoal grill. 
Preferred Campsite
With a paved driveway about 45 feet long, this site can accommodate an RV and a small tent. It also features a sewage hookup and is located close to the Settlement and marina.
Premium Campsite
With a paved driveway about 60 feet long, this site is best for families with larger RVs. Sewage hookup is included. 
Premium Meadow Campsite
This site is the same size as a Premium Campsite and features all the same amenities, but it has the added bonus of being close to the recreation and retail at the Meadows. 
Full Hook-Up Campsite
This site features all the same amenities as a Premium Campsite, but since it's around 50 feet long, it can accommodate smaller RVs plus a tent. 
Tent or Pop-Up Campsite
At this 25-foot-long site, families can fit a pop-up camper or up to two tents. It features all the same amenities as the RV sites, except sewage hookup. 
Another type of camping experience offered at Fort Wilderness is primitive camping at Creekside Meadow, which is often booked by scout troops, school clubs, and other large groups.
Available to all Fort Wilderness guests are Comfort Stations, which are located at almost every campsite loop. These air-conditioned buildings house bathrooms, showers, laundry facilities, and ice machines. They are open 24/7, but between the hours of 12AM and 6AM they are only accessible by MagicBand or room key. 
Stay A Night Or A Whole Year!
Since Disney offers such a wide variety of campsites, Fort Wilderness attracts seasoned campers, as well as beginners. There are even some guests who live at the Fort Wilderness year-round! The longest a Disney reservation can be is 30 nights. However, there are some guests who continue to book month-long stays, one after the other, and request to remain at the same campsite. The campground can't be used as their permanent address and they have to check-in to each new reservation, but I've heard about full-time campers doing this for years on end. 
Cabins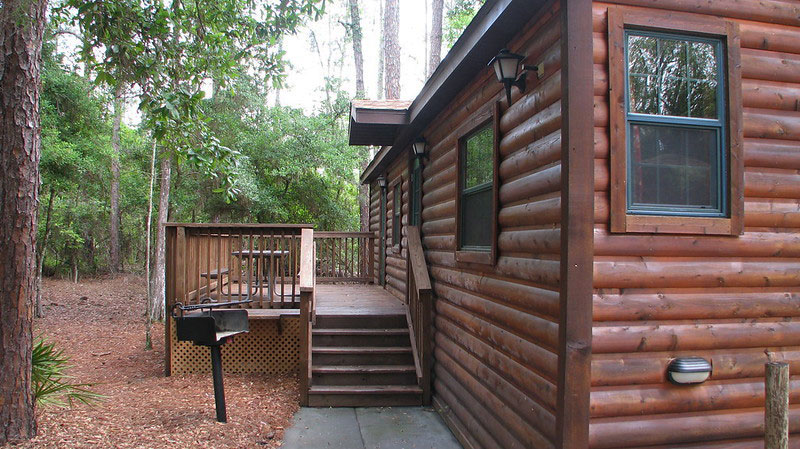 For those guests looking for a tamer camping experience, Disney offers the Wilderness Cabins, which sleep up to six guests and each come with their own parking spot. The 12' by 42' cabin has a bedroom with a queen bed and bunk beds, a bathroom with a tub and shower, and a full kitchen. The kitchen even comes equipped with appliances, silverware, dinnerware, pots, pans, and dish soap. There's also a dining table that seats six, a living room that features a big screen TV, and a pull-out sleeper sofa. Outside, there's a wooden deck that's home to a picnic table and a charcoal grill, which is the perfect place for a barbecue. 
The Wilderness Cabins are located closest to the Outpost, but there are multiple internal bus stops to transport guests to other parts of the campground. Cabin guests can also take advantage of the feature pool at the Meadows, but they do have their own quiet pool, the Wilderness Swimmin' Pool, located between loops 2500 and 2700. 
As you can see, there's so much to experience at Fort Wilderness that some campers don't even feel the need to visit the theme parks. The laid-back atmosphere is the perfect escape from the hustle and bustle of the outside world and it's a great place to explore the wonders of nature. There are families that have made a yearly tradition out of staying at Fort Wilderness. It's an affordable way to stay onsite at Disney and although it's quite different than staying at a full-service hotel, it offers many of the same amenities and just as much Disney magic. 
Contact DVC Shop Rentals for discounts on a Disney Fort Wilderness camping vacation.
Would you go camping at Disney World? Share your comments below.
Written by
Erika Lucas
Contributing Writer
Erika has lived in Orlando her whole life, so she was practically raised at Walt Disney World. While in college, she worked for Disney in roles ranging from character attendant to VIP tour guide. Nowadays, she spends her days planning her next trip to the parks or dreaming about setting sail on another Disney Cruise.