Watch Bee Thaxton and Alex Lopez of DVC Shop went live on 5/21/20 @ 6PM EST to share their trip to Disney Springs which just began its first stage of reopening. They'll talk about the extra security measures being taken regarding temperature checks and required masks.
Timestamps
0:22 – Parking Garages
1:15 – Temperature Checks
2:49 – Required Masks
4:58 – Additional Cleaning
6:09 – Limited Hand Washing Stations
6:58 – Directional Arrows
7:58 – Age of Guests
8:37 – Business Entrance / Exit
9:38 – Store Lines
10:31- Cashless Payments
11:41- Featured Resales (will be posted tomorrow at resales.dvcshop.com/listings/
12:09- "How frequent are hand sanitizing stations?"
12:49- "In the stores that had lines to get in did the inside appear to be very quiet inside or were they letting too many inside?"
14:49- "Did you see the family that was grilling hot dogs in front of Cookes of Dublin?"
15:13- "What stores were exactly open?"
18:41- "Hi Bee. Did you buy the Hawaiian flower plant?"
19:04- "What about individuals with disabilities, such as an autistic child?"
20:11- "Were there cast members around to remind people to keep their masks on?"
21:20- "Did you notice anyone not following protocol?"
22:42- "With all the rules, did it feel less magical?"
23:58- "How does it feel to have the places that are open all to yourself?"
26:50 – Memorial Day Special
Written Version of Reopening Rules & Guidelines

A Day at Disney Springs: Reopening Rules & Guidelines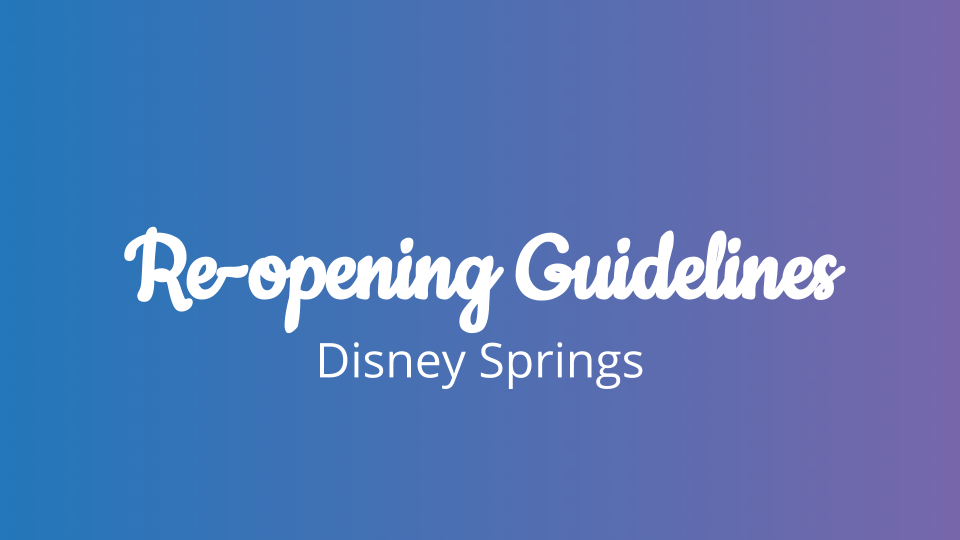 Re-opening Guidelines – Disney Springs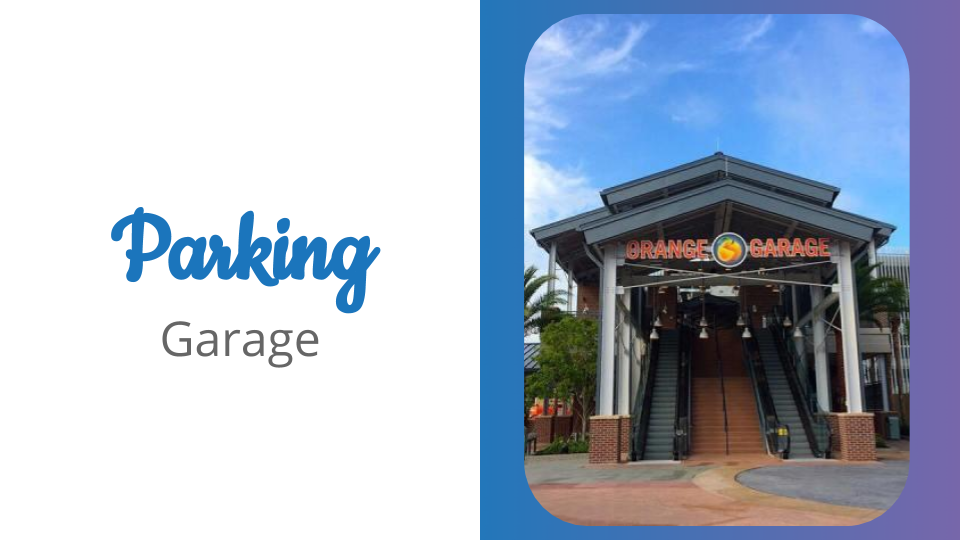 Parking Garage
Only Lime & Orange Garage Open at Disney Springs – as of 5/20/20
Both Lime & Orange garages are slated to be opened, but guests were only allowed to park in the Orange garage, which was only half-full this day.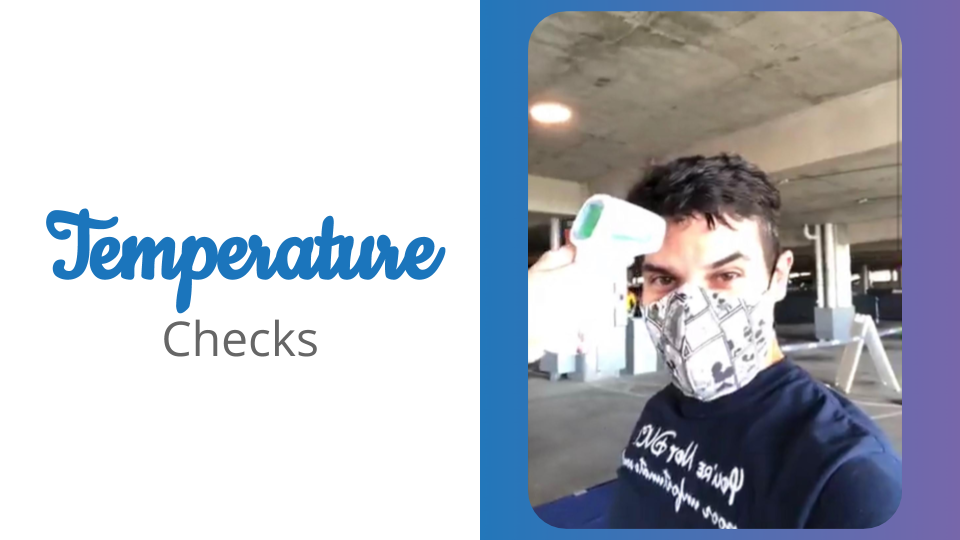 Temperature Checks
Upon arriving in the parking structure, guests will be greeted with health professionals from Advent Health, who are there to check each guest's temperature. Guests with a temperature above 100.4 degrees fahrenheit will be taken to a secondary staging location to have their temperature checked once more. If the guest's temperature is above 100.4 degrees, the guest will be asked to leave the property. If the guest's temperature is below 100.4 degrees, the guest's temperature will be checked once more 15 minutes after to determine whether or not the guest can be admitted.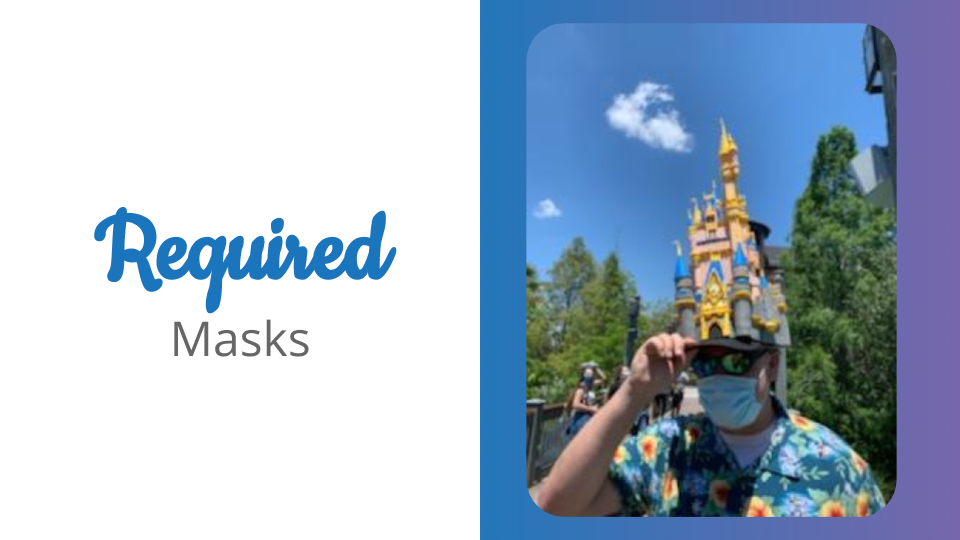 Required Masks for Guests & Cast Members
All cast members and guest over 3 years old are required to wear masks at all times. Cast members were on-hand to advise guests on how to adhere to the new rules, and were actively requesting guests to wear masks.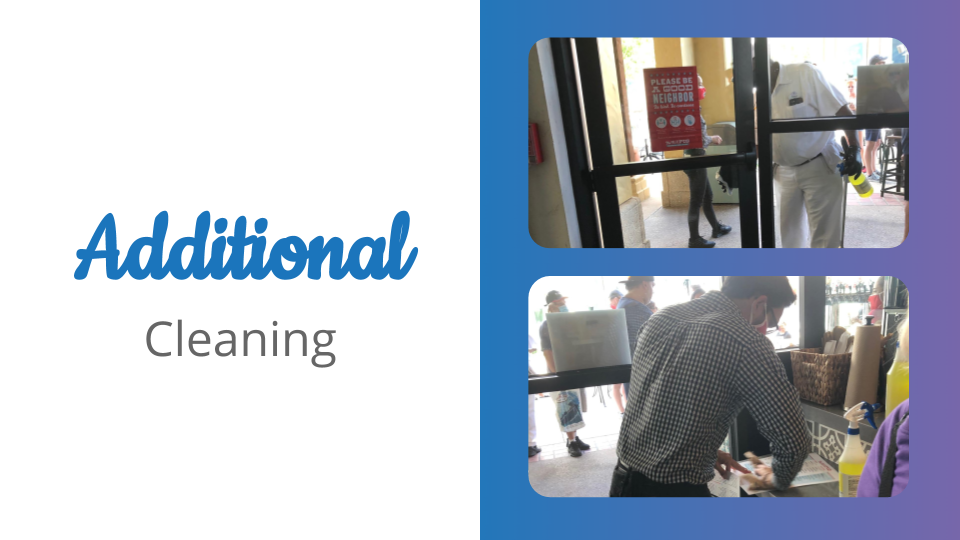 Additional Cleaning Measures
Cast members were found diligently cleaning commonly-touched surfaces such as door handles and menus. All employees are taking sanitation very seriously.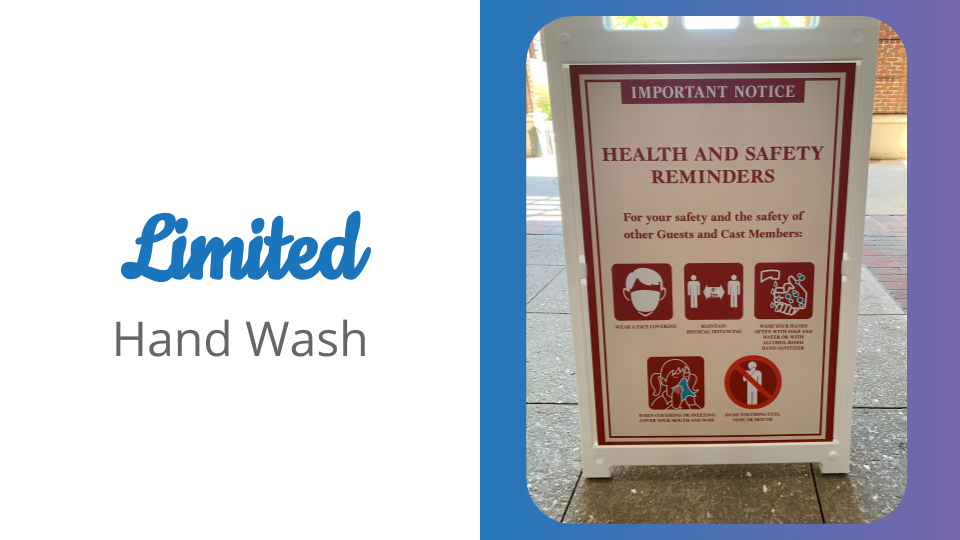 Limited Hand-Washing Stations – Many Hand-Sanitizer Stations
We only found two additional hand-washing stations, but there were many Purell hand-sanitizer dispensers installed.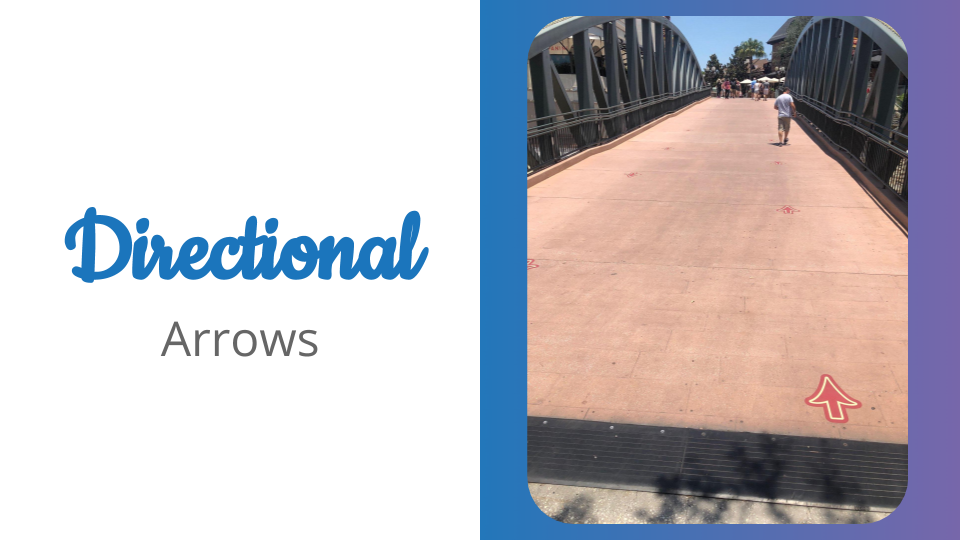 Directional Arrows For Tighter Walkways
Disney has used arrows to help separate foot traffic into lanes for tight walkways. This helps guests maintain a safe social distance from one another.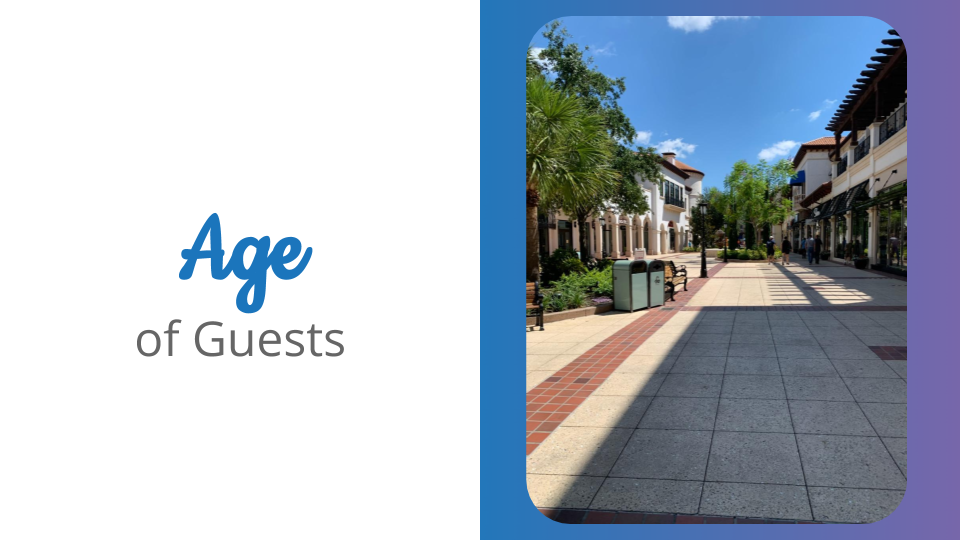 Age of Guests
Guests of all ages were present on Disney Springs' first day back. Babies in strollers, and folks over 65 were present and enjoying the stores that were open.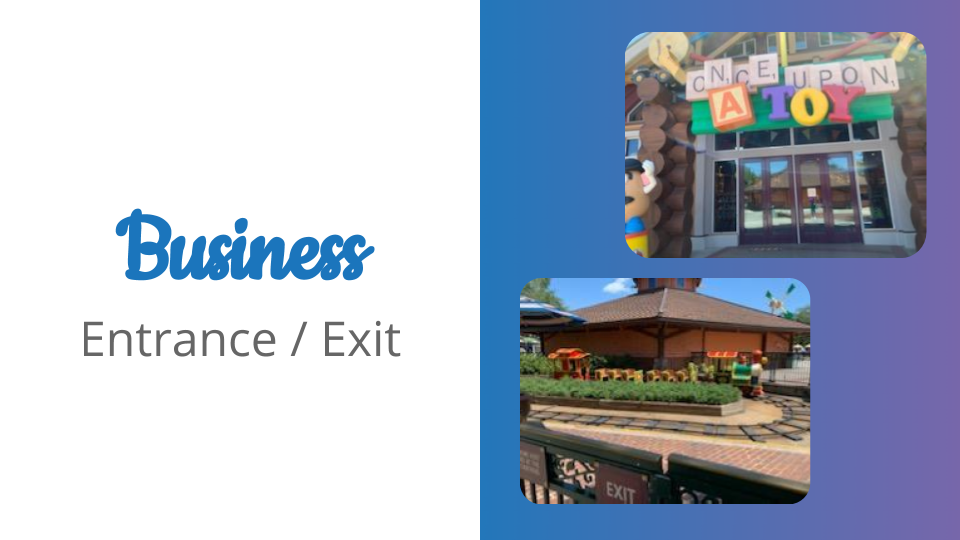 Business Entrances and Exits at Disney Springs
Every business that has dual entrance and exits has them clearly marked. Once side of a business may be the entrance, while the opposite side is the exit. Marks have been placed on the ground to help guest maintain a safe social distance while in line.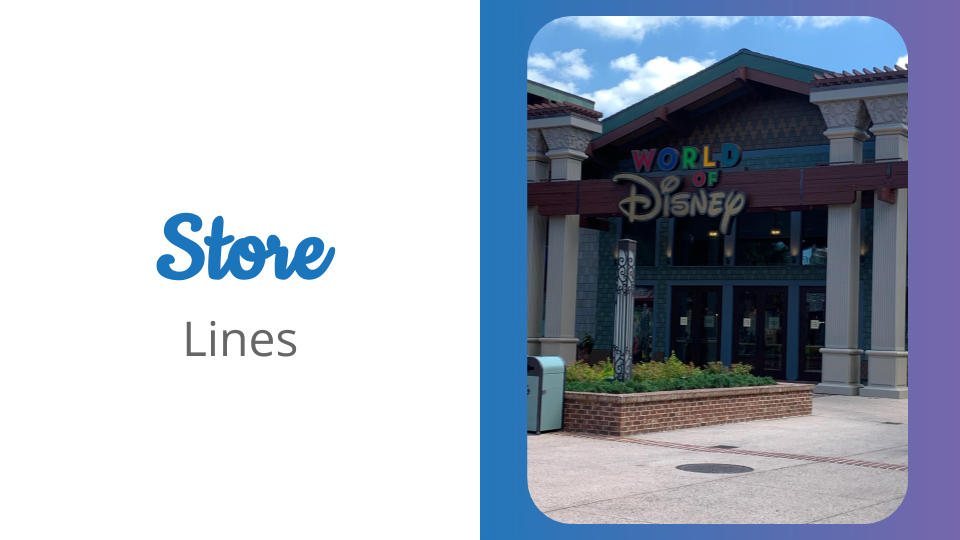 Store Lines at Disney Springs
Earl of Sandwich had one of the longest lines, but guests seem to be doing an excellent job at self-distancing while in line. The longest lines currently seem to be for restaurants.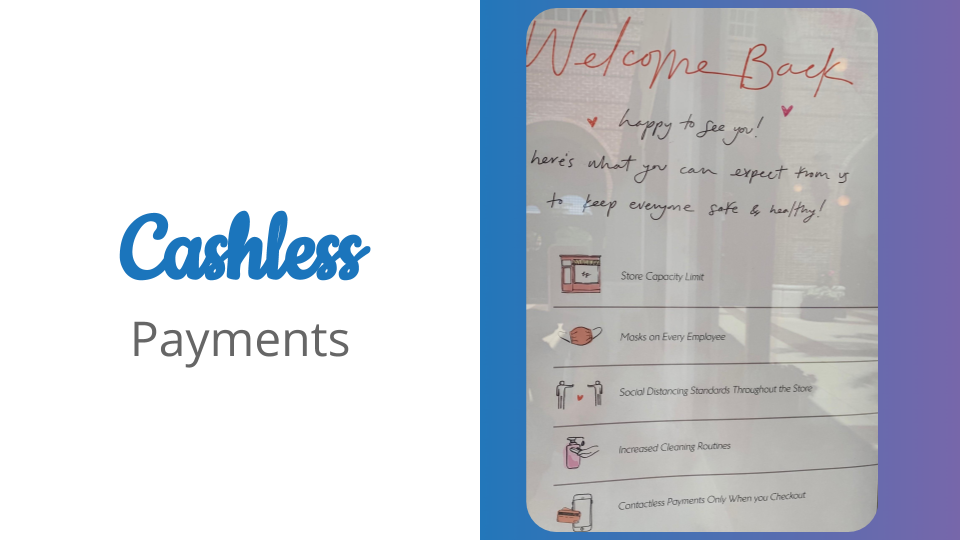 Cashless Payments
Currently, stores are only accepting cashless payments, such as credit, debit, or gift cards. Cash is not currently being accepted as payment at Disney Springs.
Featured DVC Resales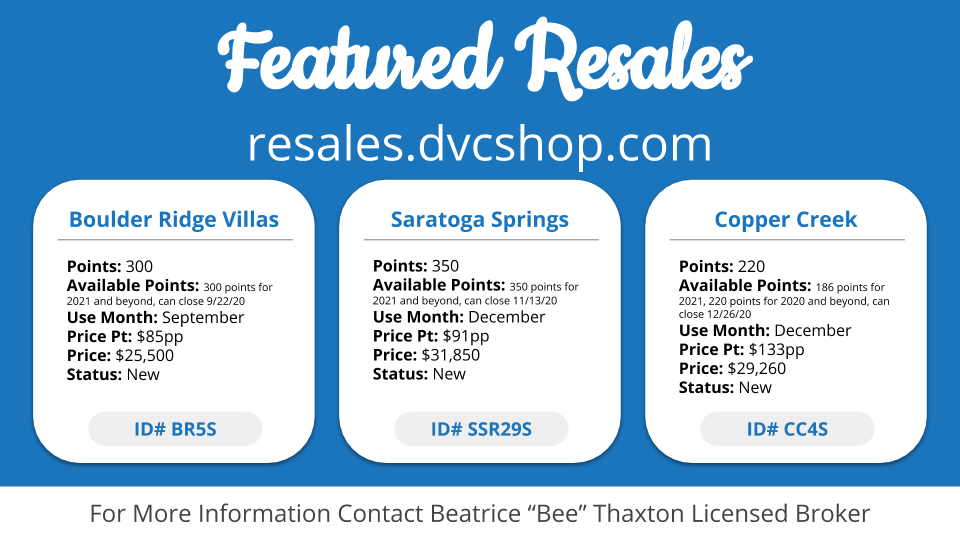 Boulder Ridge Villas
Points: 300
Available Points: 300 points for 2021 and beyond, can close 9/22/20
Use Month: September
Price Pt: $85pp
Price: $25,500
Status: New
Saratoga Springs
Points: 350
Available Points: 350 points for 2021 and beyond, can close 11/13/20
Use Month: December
Price Pt: $91pp
Price: $31,850
Status: New
Copper Creek
Points: 220
Available Points: 186 points for 2021, 220 points for 2020 and beyond, can close 12/26/20
Use Month: December
Price Pt: $133pp
Price: $29,260
Status: New
Did you enjoy this style of live video? Let us know your thoughts on the reopening procedures in place at Disney Springs by leaving a comment below!
Bee Thaxton
DVC Shop Broker