It's been months since any of us has had the chance to step into our beloved DVC Resorts. So naturally I was thrilled when Disney announced the reopening dates for the resorts last month. We immediately booked a Two-Bedroom Villa at Vero Beach Resort because I was curious to see what the vacation experience would be like once all the resorts reopened. 
To my delight, reopening day brought several pleasant surprises that I hadn't expected.
Our Arrival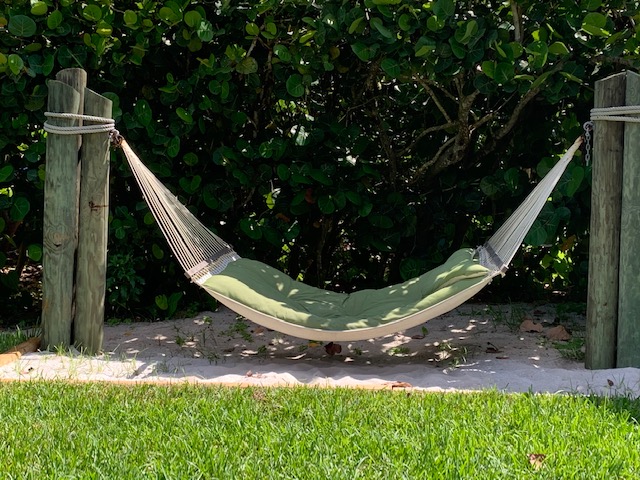 Of course, I was already familiar with Disney's new mask policy for the resorts, which is similar to the requirements at Disney Springs. Masks are required to be worn at all times at the resort except on the pool deck, when eating, or when sitting at the bar. All Cast Members are required to wear masks at all times, even those working at the beach.
Upon arrival at the resort, we parked our car and was politely reminded by a Cast Member that masks were required to be worn at the resort. While walking through the front doors, another Cast Member kindly reminded us to keep our masks on. And upon approaching the Front Desk, a third Cast Member reminded us to keep our masks on while checking-in.
A Note On Masks
Although we were reminded several times to wear our masks around the lobby area, during my stay I noticed that some guests chose not to follow the mask policy. I did not personally see any Cast Members enforce the mask policy with these guests. 
Check-In
Check-in was swift and uneventful. There were social distancing markers in front of the Front Desk to ensure that guests were physically distanced. After check-in we were once again reminded to keep our masks on while in the public areas at the resort.
Our Room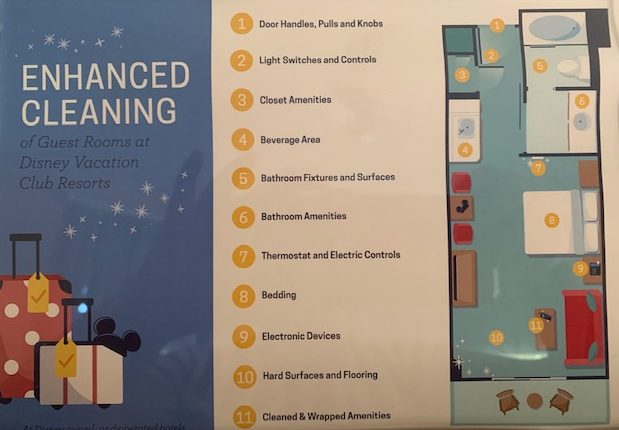 We stayed in a Two-Bedroom Villa, which was gorgeous! The room was immaculately clean and there were signs of extra precautions that had been taken to reduce the spread of the virus. Most noticeably were the TV remotes and toiletries. The remotes were covered in a plastic bag and marked "clean." The dispensers for everyone's favorite beach smelling shampoo, conditioner and body wash were also covered in plastic and marked "clean".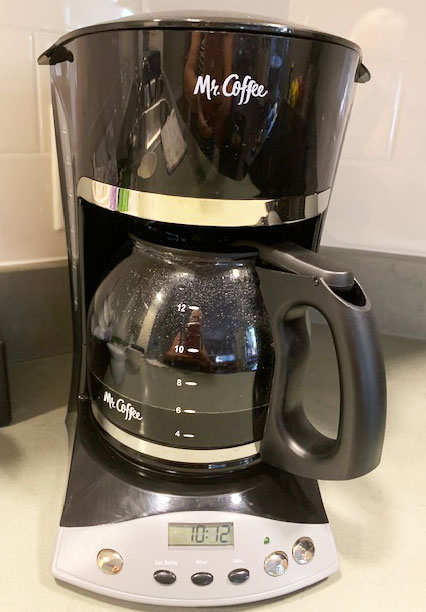 I did find it interesting that the kitchen was stocked as usual with real dishes and silverware, as opposed to paper goods as many of us thought might happen during the Phase 1 reopenings. Also, the coffee pot was still in the room. Coffee lovers have no fear, you can still make all the coffee you want in your room!
Restaurants and Bars
All the restaurants and bars at Vero Beach were open for business for the two days I was at the resort. Some extra precautions were being taken for the coronavirus such as Cast Members wearing masks. It looked like some restaurants had limited menus as well.
At the Marketplace the mug refill stations were being monitored. A Cast Member would scan your refill mug and fill a paper cup with your drink of choice. They would then hand the paper cup to you and you could pour it into your refillable mug. 
Food at the Marketplace was pleasantly reasonably priced for the portion sizes. Judy and I had two large lunches for a total of $20! A steal anywhere on Disney property.
The Pool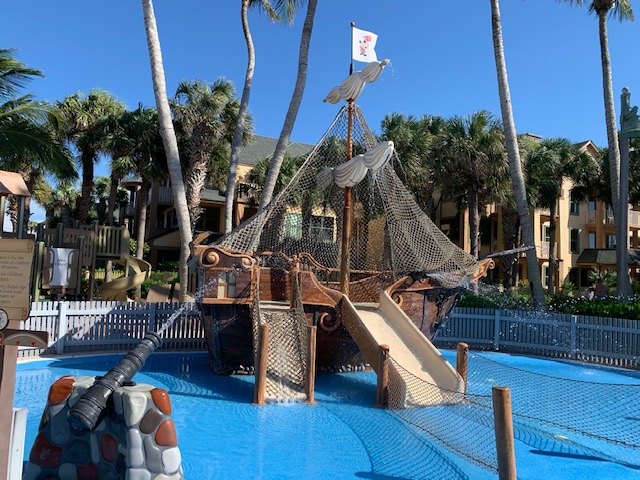 The pool was the busiest area of the resort. Pool capacity was limited to 70% while I was at the resort but a manager did tell me they would consider increasing the capacity if they were able to do so and still ensure adequate social distancing. 
When arriving at the pool gate, we were greeted by a Cast Member who acted as somewhat of a host for the pool deck. They asked how many were in our party then proceeded to provide us with a long list of seating options. Did we want sun or shade, lounge chair or table and chairs, near the pool or near the kid's splash zone, etc. Once we made our decision we were escorted to our chairs. These would be our chairs for the length of our stay at the pool. Once you leave your chair for the day (or for more than 30 minutes), they are wiped down by a Cast Member and put back on the list of available seating.
This system worked remarkably well and was actually a nice addition I wish they would have at all the resorts!
The kid's splash park was open as usual, which was surprising because many of us thought that these types of play areas would remain closed.
Being at the pool really felt like any other relaxing summer vacation. Kids were playing and zipping down the slide and adults were chatting and lounging in the sun. Cast Members were also leading activities as usual, with the exception of certain activities that wouldn't allow for proper social distancing. But there was a DJ, dance parties, poolside bingo, waterslide races and other fun events happening throughout the day.
After months of being home it was great to be back at a DVC Resort!
The Beach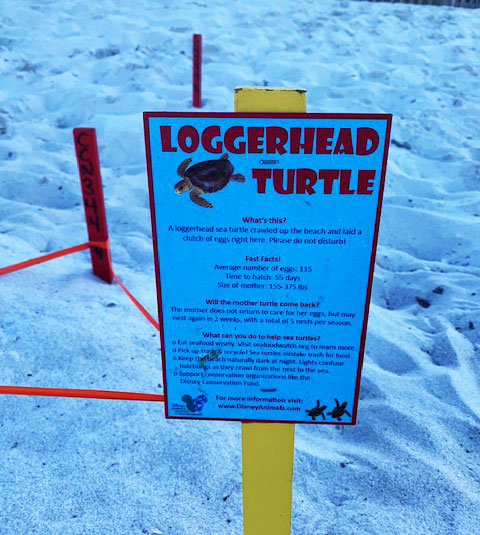 The beach was a bit busier than the pool. Of course, lounge chairs and umbrellas are available for a fee as usual. Similar to the pool deck, a Cast Member was available to book your chair rentals and escort you to your chairs. Chairs were spaced out fairly well so you could comfortably enjoy the beach without a mask on. Guests are NOT required to wear masks on the beach.
While I was at the beach there was a little mishap with some guests sitting in the wrong beach chairs. It was interesting to see how this was handled. The Cast Member showed the guest to their correct chairs then removed the cushions on the chairs they had occupied and replaced them with presumably clean cushions for the new guests. It seems that the staff at Vero Beach is taking their job keeping us all safe very seriously.
Although there was no Turtle Walk during my stay there were tons of turtle nests at the beach, more than I've ever seen before. Could this be one positive outcome of the resort being closed for a few months? Possibly. For those looking for turtle nests, they are clearly marked and easy to find all along the sand in front of the resort. 
Community Hall & Other Activities
Community Hall was open but with limited activities. No one was allowed to enter Community Hall to lounge and play as usual. Rentals were also not available. Activities that were available at the resort were those that would not require any type of group environment. 
Some activities available were Scavenger Hunts, Crafts, Movies on the Green, etc. We watched Peter Pan on our first night and it was relaxing and fun. Guests all followed social distancing rules and everyone enjoyed the relaxed movie experience.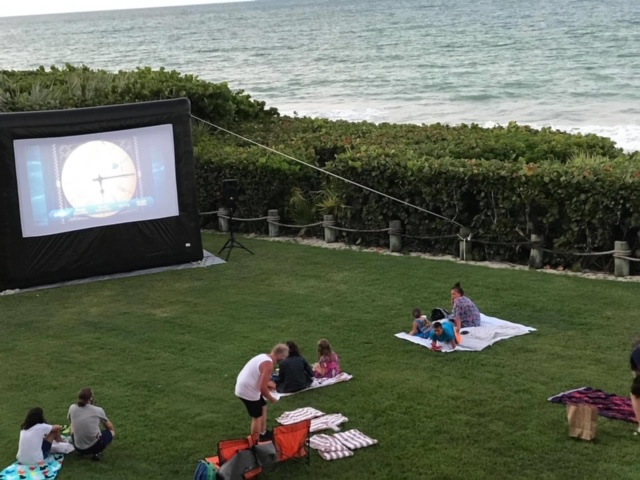 The Miniature Golf and bike rentals were also available during my stay. The only recreational activities I noticed were closed were the playground and the pool table. Everything else at the resort seemed to be up and running as usual. 
While we can't say that my experience at Vero Beach will be exactly what we can expect to see at the other DVC Resorts, the experience really helped me understand the precautions and policies that Disney will be using moving forward when opening the resorts. 
It was great to see that the Disney magic was still present at the resort even with the extra precautions. As always Disney has done a great job welcoming guests and providing the best vacation experience possible. 
Remember, DVC Reservations are currently open for all DVC Members and Non-Members. Contact our Rentals Department today to book your Disney Vacation. 
If you're interested in learning more about purchasing a DVC contract at Vero Beach or any of our other DVC Resorts, contact me anytime or shop our resales below.
Edited by: Katherine Rand, DVC Shop Editorial Team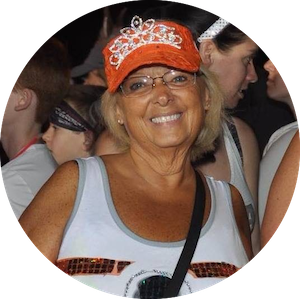 Written by
Bee Thaxton
DVC Shop Resales Broker
Bee has worked in all facets of the Real Estate industry in her 35+ years of experience. Her knowledge of DVC and the resale market is vast and her integrity and service to her clients has earned her a reputation of excellence. She lives close to the parks and loves to meet her clients. You may find her wandering around Epcot or in a fancy costume running a 1/2 marathon through Magic Kingdom.