Enjoy an upscale and elegant beachside dinner at the all new 'AMA 'AMA restaurant located at Disney's Aulani Resort!
'AMA'AMA – Contemporary Island Cooking Details

Walt Disney World Location:
Aulani Resort and Spa, Hawaii                  .
Location in Resort:
Beside the Waikolohe Valley pool area, just steps from the beach
Dining Experience:
Elegant oceanfront dinning
Hours:
Special Holiday Hours: Wednesday- Monday (closed Tuesday, except

for Valentine's Day), 5:00 PM- 8:30 PM

Price Range:
$125-$210, Kids: $55
Type of Cuisine:
Contemporary Island Cuisine
Mobile Order:
No
Reservations:
Yes
Allergy-Friendly:
Yes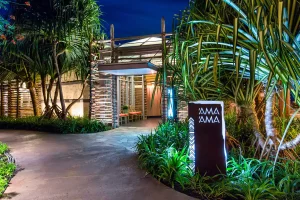 Overview
After being closed for over 2 years, ʻAMAʻAMA restaurant is now reopened with a re-design and views that will take your breath away. The décor remains inspired by it's namesake, the Hawaiian ama ama fish, which is reflected by fin-like light fixtures, Hawaiian fishing baskets, reflecting ponds and fountains. The dinner-only restaurant provides a gorgeous beachside view while embracing the history and culture of  Hawaii. The restaurant still encompasses familiar details left by generations of family members, including Aunty and Uncle, who lived in this space and continued to expand on it over time. But not only are the details and elegance of this restaurant worth a visit, but so will it's newest upscale menu. The newly redesigned, pre-fixed, 4 course menu, was created by Chef de Cuisine, Nicholas Amoriello and each course was designed to celebrate the Hawaii spirit and unique flavors. With locally sourced produce and fish, using the highest quality ingredients, and unique flavors, this menu will allow you to experience the true and delicious Hawaiian flavors. With an almost all gluten free menu and a plant-based menu option, everyone will be able to enjoy the delicacy of this menu.
'AMA 'AMA also offers a globally curated wine list suitable for all celebrations and events, as well as a selection of decadent desserts prepared by pastry chef, Carolyn Portuondo.
'AMA ʻAMA restaurant is located adjacent to Off the Hook in the Waikolohe Valley pool area, near the entrance to the beach. Reservations are highly recommended and make sure to give yourself time to walk around and enjoy the stunning views and décor that this newly-designed restaurant has to offer.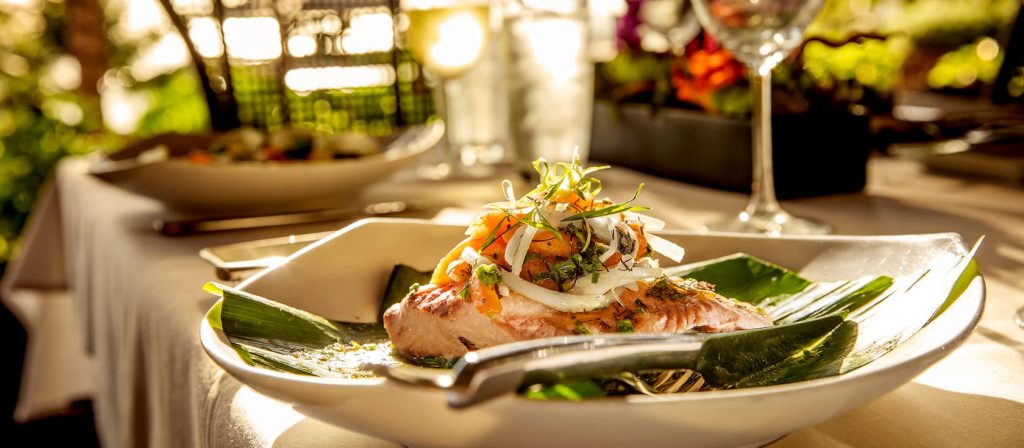 Menu
Four Course Tasting Sample Menu
Starters
Kabocha Squash
Deep Sea Shrimp, Coconut, Shallot, Palm Sugar, Brussel Sprouts
Waipoli Greens
Shaved Vegetables, Hearts of Palm, Basil Seed, Avocado, Citrus, Green Goddess
Kiawe Smoked Fish
 Espelette, Smoked Trout Roe, Chervil, Dill, Taro
Venison Tartare
Black Garlic and Truffle,  Cured Egg Yolk, Forrest Greens, Sourdough
Appetizers
"Lox" Opakapaka
Greens, Citrus, Raw + Pickled Vegetables, Seeds
He´e
Octopus, Miso and Parmesan Risotto,  Lemon, Herbs, Hon Shimeji
Pork Belly
Scanlan Sauce, Onion, Kiawe Honey, Okinawa Sweet Potato
Ahi
Limu, Maui Sweet Onion, Cucumber, Uni, Ikura, Spicy Greens
Entrees
Local Catch
Osetra Caviar Vinaigrette, Hearts of Palm, Land and Sea Asparagus
Scallops
Bacon, Cauliflower, Salsa Verde, Brussel Sprouts, Kahuku Sweet Corn
Ika Ink Doppio Ravioli
Scallop + Shrimp, Pea + Mint, Lobster, Smoked Trout Roe, Yuzu Cream
Duck
 Aged Breast, "Huli Huli" Smoked Tomato Jam, Pineapple, Mustard Seed, Demi
"Paniolo" Kobe Ribeye
Shishito Chimi, Shallot and Mushroom, Fondant Potato, Tomato, Demi
Lamb
 Beet, Carrot, Snap Peas, Marble Potatoes, Local Goat Chees, Demi
Desserts
Citrus Bar
Liliko´i Ganache, White Chocolate-Pistachio Crunch, Kalamansi Curd, Gingersnap Tuile
Coconut Flan
Tres Leches Cake, Dulce De Leche Meringue, Coconut Shortbread, Fresh Mango
Chocolate Mousse
Milk Chocolate Macadamia Nut Crunch, Cinnamon Whipped Cream, Kona Coffee Anglaise
Plant-Based Menu
Starter
Ginger – Chickpea Spread
Raw and Pickled Vegetables, Crisp Taro
Appetizer
Smoked Hamakua Mushroom
Onion, Chili Pepper, Okinawa Sweet Potato
Entree
Coconut Curry
Jackfruit, Apple Banana, Squash, Beet, Black Sesame Purée
Dessert
Pineapple Tart
Macadamia Nut Frangipane, Brown Sugar, Braised Pineapple Compote Pineapple Liliko'i Curd, Almond Butter, Short Bread, Haupia Sorbet
Three-Course Keiki Dinner Menu (3-9 years of age)
Amuse Bouche
Crudité Vegetable and Ranch
Starters
Fried Mac-n-Cheese Fritters
Mickey & Minnie Shaped Spam Musubi
Cheeseburger Stuffed Manapua
Mickey Shaped Grilled Cheese & Tomato Soup
Entrées
Bucatini Pasta, Meatballs, Marinara, Parmesan Cheese
Catch of the Day, Steamed Rice, Carrots, Beurre Blanc
Grilled Steak, Roasted Potatoes, Green Beans, Demi Glace
Grilled Chicken Breast, Roasted Potatoes, Broccolini
Desserts
"Grey Stuff" Cookies-n-Cream Tart
Hot Fudge Sundae
Fresh Fruit & Berries
Beverages
Assorted Soft Drinks
Coke, Diet Coke, Sprite, Fruit Punch, Rootbeer, Powerade, Lemonade, Raspberry Iced Tea
Juices
Milks
Map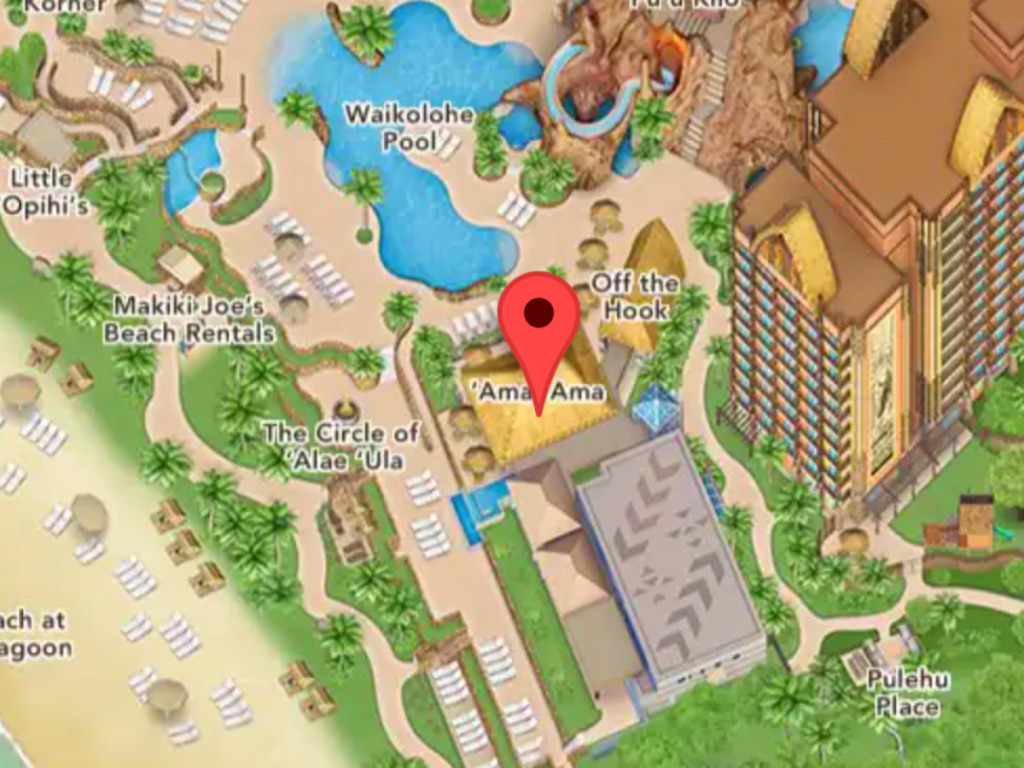 Featured Photo: Disney.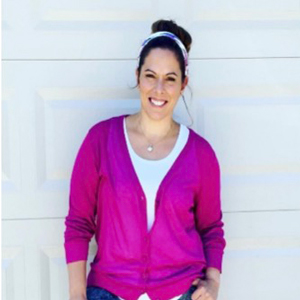 Written by
Lourdes Molina
Contributing Writer
Lourdes is a Florida native who spent many weekends vacationing at the Disney World parks. Now a mom of two boys, living outside of the Charlotte, NC area, she has loved experiencing the Disney magic through the lens of her boys. She looks forward to their annual trip to Florida to see family and of course her old pal Mickey Mouse.