Ever want to experience Disney's Animal Kingdom behind the scenes? Well sort of… If you ever get the chance the Wild Africa Trek is an experience like no other. In this article, we'll explore the journey you'll take, the perks of this tour, and give you our impressions of this wild excursion!
Is The Wild Africa Trek Worth It?
Yes, it is pricey, but well worth the price in my eyes, as you get immersed in the experience of being on a trek in the African wilderness. I would recommend the first in the morning or the last in the afternoon. Going in the morning is cooler, especially in the summer, and during late afternoon the animals are moving again from their naps.  I have never been to Africa so I can't truly compare but I love Disney's Animal Kingdom. Prices for the Wild Africa Trek range from $139 to $249 per Person (tax not included), but avid animal lovers and explorers will definitely find value in this tour.
What's The Experience Like?
When you get there to get started you get "suited" up in a vest like you are an explorer walking through the jungle, and you get a water bottle that straps on so you can't lose it.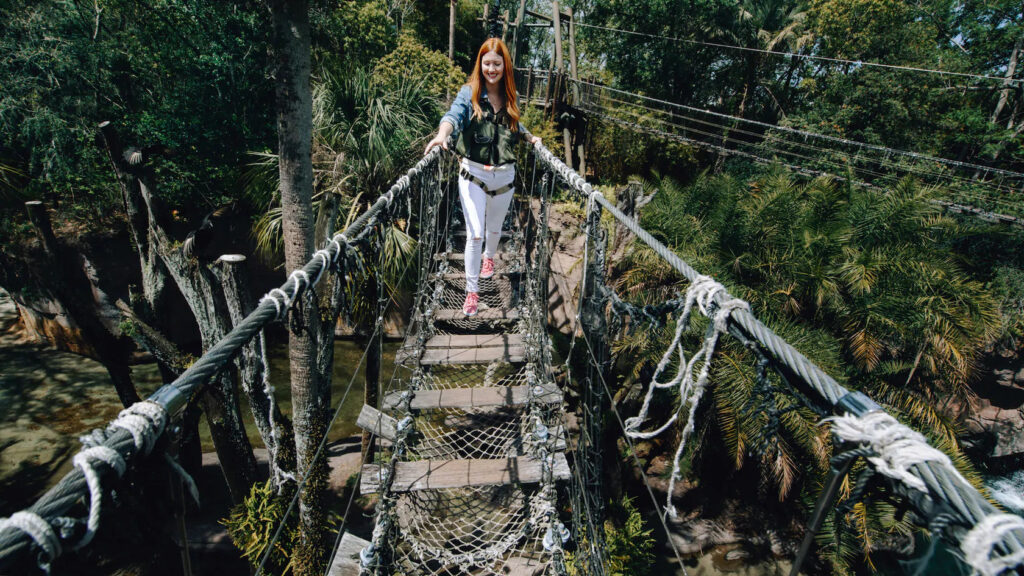 Guides are very careful with what you can bring, as you will be in the same areas that the animals can be, so they don't want to leave something behind that an animal might think is tasty. I love the Kilimanjaro Safari ride, so getting to see the animals more up close, and more a bit personal, definitely caught my interest.
On the Wild Africa Trek, you get your own private Jeep. They do not allow you to get out of the vehicle for your safety and the animal's safety, but they do stop and allow you to learn a bit more about the animals and take pictures without all the bumps.
The guides do allow you to walk around the hut to take pictures, and you have such great viewing of the Savannah. I got to see giraffes closer than I have ever before, I was in awe. Before all of that I even got to walk over a rope bridge over the alligator and crocodile area, that was an experience!
Another bonus of this trek, was to feed the hippos. We got tethered to a pole so we could walk down a steep hill and the cast member called for the hippos. The hippos showed up mouths open and got fed watermelon and other vegetables.
Wild Africa Trek Sample Menu
You also get your own private viewing spot on the savannah for your included snack time (I called it a small lunch or brunch).
Morning
Air-dried beef and prosciutto
Smoked salmon roulade with dill
Fig cake with Boursin cheese
Brie cheese and apricot
Berry yogurt and dried cranberries
Fresh fruit marinated in mint and ginger
Afternoon
Chicken curry salad
Sun-dried tomato hummus and mini pita
Marinated tandoori shrimp
Smoked salmon roulade with dill
Air-dried beef and prosciutto
Fresh fruit marinated in mint and ginger
Please note: Menu items are subject to change without notice.
Wild Africa Trek Photos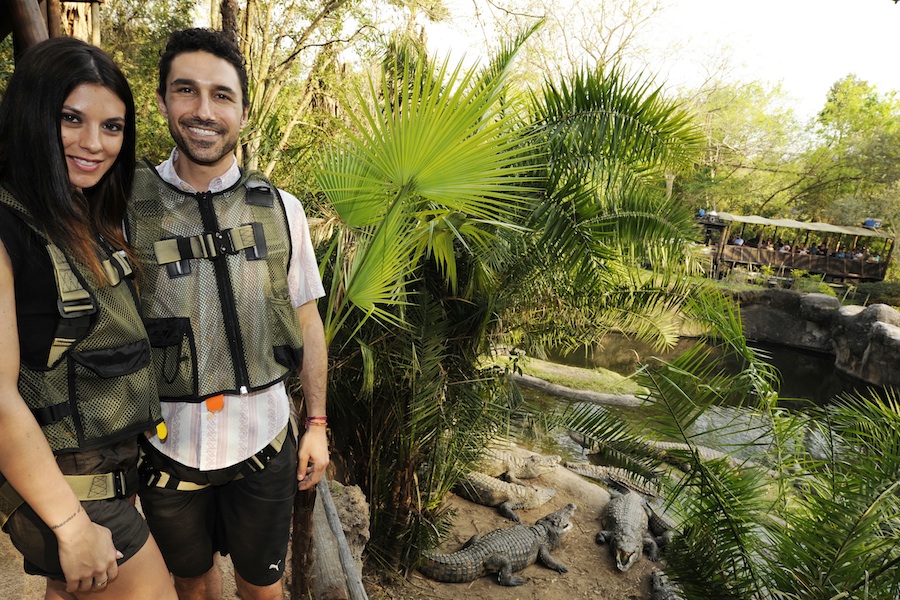 At the end of our tour we got to have some group photos taken, and when viewing the pictures later, we noticed some surprise pictures of some characters that normally where not in the parks. Keep in mind that this experience does have an age and weight limit to ensure the safety of guest on the trek.
Conclusion
I am hoping they will offer this again once COVID restrictions are lifted. If you have ever wanted to see more of Disney's Animal Kingdom "behind the scenes" I would highly recommend this tour. I have done several tours at Disney and this one is always my top rated.
Do you have a favorite tour that you'd like to share? Let us know your experience with tours at Disney World by leaving a comment below!
Karen Sarasin
DVC Shop Contributing Writer