It is no secret that Florida is a rainy place and because of that the possibility of rain on your Disney World trip is probably always on your mind. Things like "How to avoid the rain", "what to do so you don't have to get wet", and all of those things are good questions to ask.
However, one way to ensure that your Disney trip stays perfect regardless of rain is to EMBRACE it! People spend so much time and money to go to Disney and be transported back to a child-like state, so why not do what children do in rain when you're at a Disney theme park?
If you let it, rain can make your Disney trip even more magical. Here are all the reasons why rainy days at Disney are the absolute best.
Smaller Crowds
Many people will try to plan their Disney vacation during times of the year that it is less likely to be raining. Although this can be accomplished during the winter time, that is not always a possibility. Summer is another prime travel time for many people, and it rains almost daily during the summer months in Florida.
However, what you will see on days that it is supposed to rain are smaller crowds over all. This is due to the fact that many people will leave early back to their hotels to avoid the rain in the afternoon. In addition, many locals will avoid going to Disney World when there is rain leading to smaller crowds overall. This makes it easier and more enjoyable to get around the parks.
Shorter Wait Times
With less crowds comes shorter wait times! When there are fewer people in the parks the wait times will decrease by quite a bit for certain attractions.
Another contributing factor to lower wait times is other guests' attempts to not get rained on. If you are at Disney during a rain storm you will see many people wait under overhangs and awnings for the rain to lesson or stop. This is prime ride time people!
During rainy parts of the day it is not uncommon to see popular rides' wait times drop to almost walk ons. Last time we got caught in a storm at Disney, we walked onto Peter Pan's Flight in the middle of the day!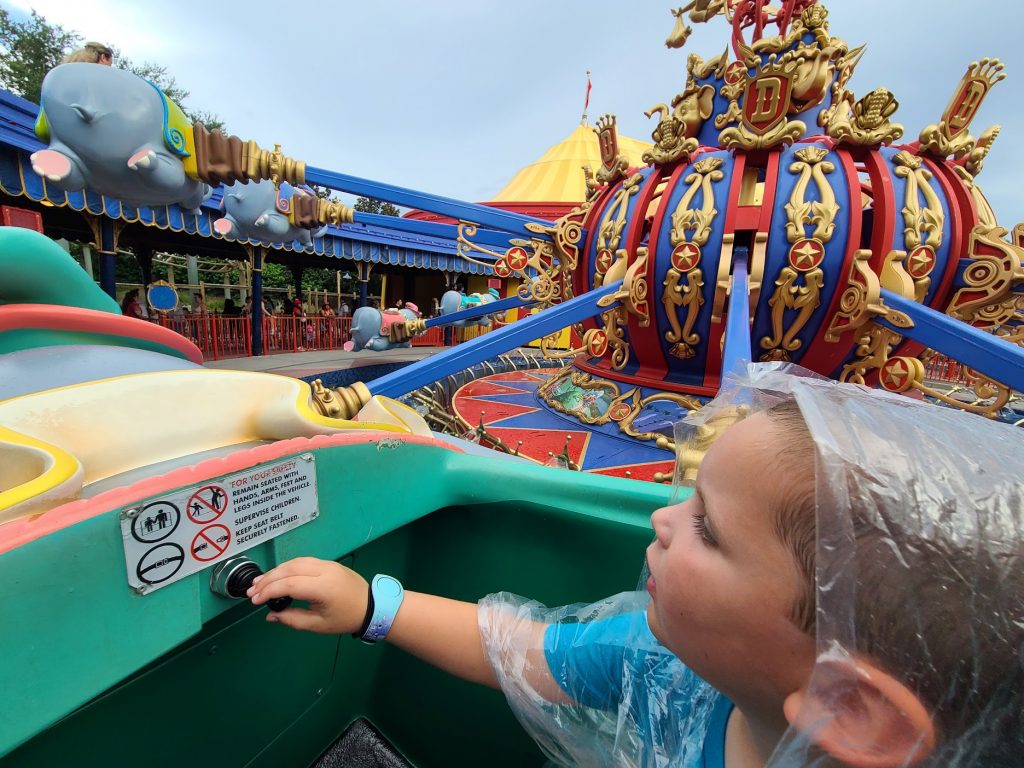 Most rides, including outdoor attractions will remain operational in Walt Disney World. The only time that outdoor rides may close down during rain is if there is severe lightning in the area. It is luckily not a common occurrence though. Attractions tend to operate as normal, and in fact it gives you a completely new experience to enjoy these rides while getting rained on a bit.
Be A Kid Again
This may be the best reason to embrace the rain at Disney World. The Disney parks are an absolutely magical place. They were designed to be a place for everyone in the family to have fun together and for adults to feel like kids again.
What do children do when they see the rain? They don't just power through the drops, they enjoy it! They dance in the rain, run through it, and get soaked. Trust me, the little ones do not care about getting rained on, they still want to go go go and experience it all regardless.
There is nothing more magical about watching your child have the time of their life just being in the most magical place on Earth, other than joining them in the fun. Dress appropriately if you know it's going to rain, and join in the fun with your children! Splash in the puddles, run through the rain to some rides, and maybe even take some time to dance.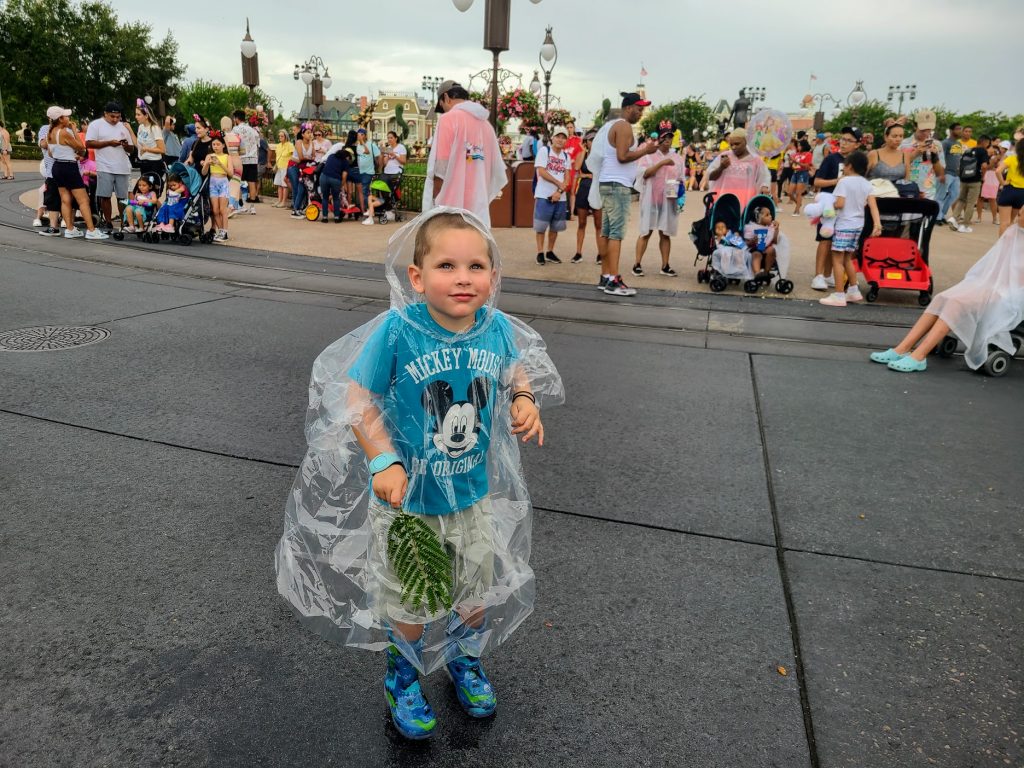 Taking Your Time
Rainy days in Disney can sometimes push guests to slow down, which can be a really fun experience. If you are not one that enjoys getting wet, the rain can still make for a new experience. Rainy days give you the opportunity to enjoy the shops, take your time with your meal, or an indoor attraction that you may normally rush through.
You can take this time to create your own games. For example, see how many hidden Mickeys you can find in the restaurant you are eating at, or walk through the shops while trying to name a Disney character for every letter of the alphabet.
Taking your time in Disney World can sometimes be exactly what you and your family need. Take the rain as a sign to slow things down and see what you can find throughout the parks.
The Rain Is Refreshing
It can get HOT in Florida. The saving grace is that the hottest parts of the year also coincide with the rainiest. Usually the rain only comes in the afternoons and doesn't stay too long at any given time. This gives you the perfect mid-day cool down. After having the sun beat down on you all day long, it is so refreshing to have a downpour of rain hit you. An added bonus of the rain is the clouds. The beautiful clouds that cover the hot sun and drop the overall temperature of the day down. It is truly glorious and something to appreciate.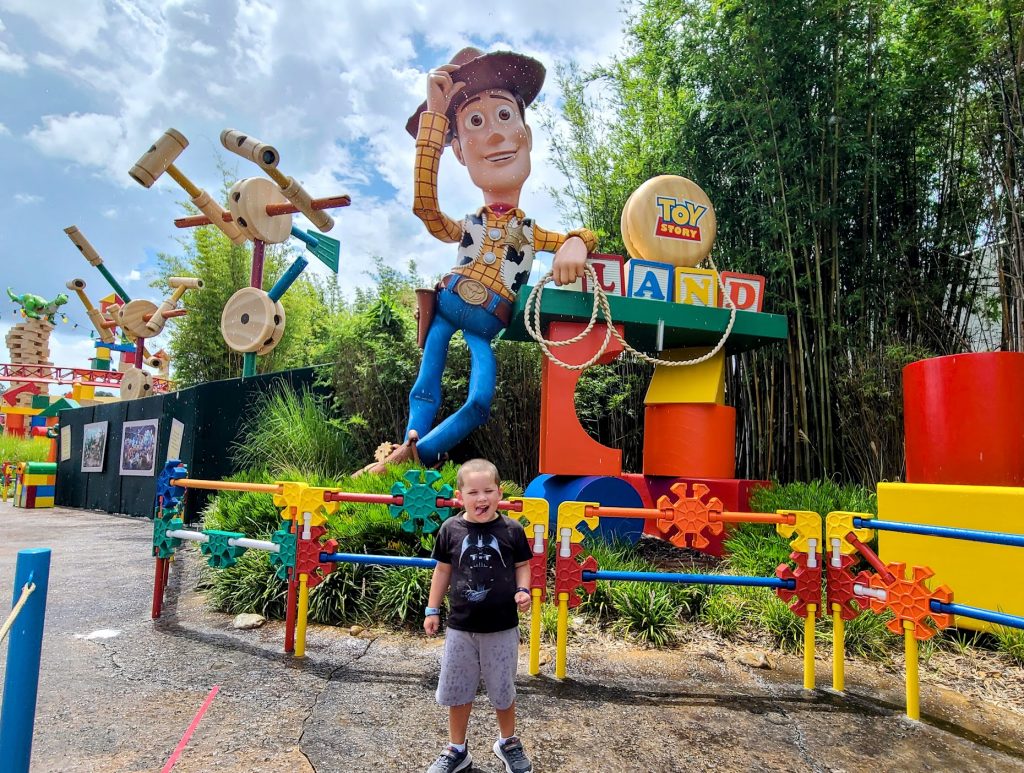 Rainy Day Tips
Although rainy days in Disney can be an absolute blast, they can become complicated if you are not well prepared. If you are planning your trip to Walt Disney World during a rainy time of the year, here are some of the things you can do to maximize your rainy day fun.
Pick Your Shoes Wisely – Wear shoes that are open like Crocs to avoid walking in soaked socks all day.
Pack a Poncho – When it really downpours, ponchos will help you not get completely drenched.
Bring a Stroller Cover – No one wants to sit in a puddle, even your little ones.
Keep Important Things in Dry Spaces – Any souvenirs should be kept in a closed bag when expecting rain so they don't get wet.
Conclusion – Always Go To Disney!
In our opinion, regardless of rain or shine, it is always a good time to go to Disney World! The rain can bring some unique experiences to the Disney parks and we love it. The lines are shorter, the crowds are smaller, and the day can become a little more magical if you allow it. With a little bit of preparation, you will see that rainy days in Disney can be some of the best!
Do you enjoy rainy days in Disney World? Let us know in the comments below!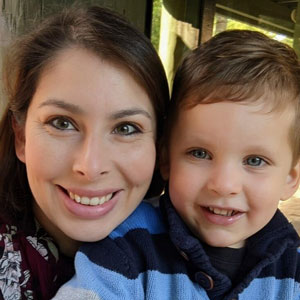 Written by
Rachel Van Norman
Contributing Writer
Rachel fell deeply in love with all things Disney as a little girl. Now as a wife and a mother herself, she shares this Disney obsession with her son and everyone around her. From her love of princesses to eating all the Disney food, Rachel spends her time radiating Disney magic and keeping everyone up to date on Disney news.