When it comes to dining experiences, Disney's Wilderness Lodge doesn't disappoint. Nestled within this rustic and cozy resort is the Whispering Canyon Cafe, a restaurant known for its lively atmosphere, Western-inspired fare, and most importantly, accommodating dietary needs, including gluten-free options. In this review, we'll delve into the gluten-free breakfast experience at Whispering Canyon Cafe.
The Decor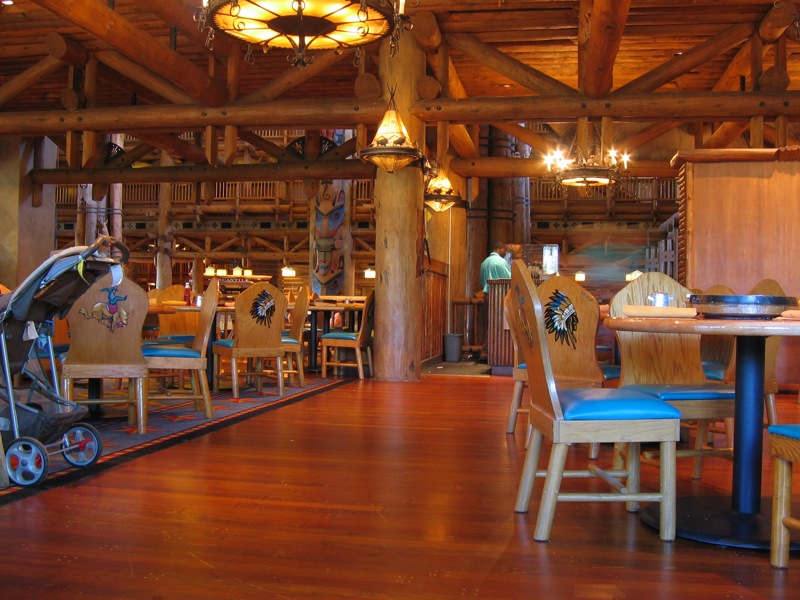 From the moment you step into the Whispering Canyon Cafe, you're greeted with the warm ambiance of a log cabin, replete with cowboy-themed decor, creating an interesting backdrop for your dining adventure. But beyond the aesthetics, what truly stands out is their commitment to offering a variety of gluten-free options that don't compromise on taste and the zany experience that the servers bring to your dining experience.
The Service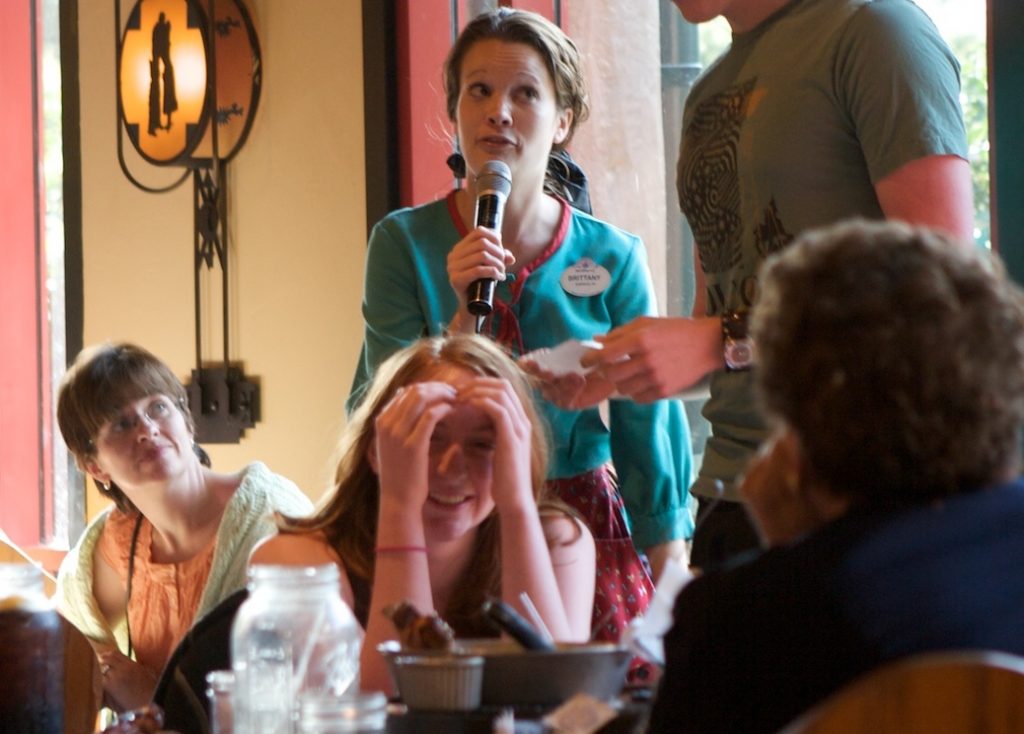 At Whispering Canyon Cafe, the servers play a pivotal role in creating an entertaining and engaging atmosphere with their lively and sometimes zany antics. They are known for their playful banter, quick wit, and humorous interactions, which add an element of fun and spontaneity to the meal.
Whether they're jokingly ribbing guests for 'misbehavior', engaging in friendly competitions, or simply providing warm, personable service, their outgoing personalities and theatrical flair definitely enhance the overall dining experience.
The Price
In terms of pricing, while the Whispering Canyon Cafe is can be slightly more expensive than some other breakfast spots, the quality, portion sizes, and the peace of mind knowing that your dietary needs are being catered to, make it worth every penny. There is a relatively large allergy-friendly menu to choose from, so you choose many different breakfast entrees, but the most popular choice would be one of their famous skillets, which are an all-you-care-to-enjoy menu item.
Skillet Pricing
Other Breakfast Entree Pricing
Other adult-portioned breakfast dishes range from as high as $22 for the Chopped Bison Burger, to as low as $12 for the Fresh Fruit Plate with Strawberry Yogurt & Granola. For kids, entrees range from $6 to $12.
The Food
The gluten-free breakfast menu is diverse, ensuring that everyone, regardless of dietary restrictions, has an array of choices. We've added both the adult and children's allergy menus in the expandable sections below, just click or tap them to expand.
Let's dive in to what we ordered!
Starters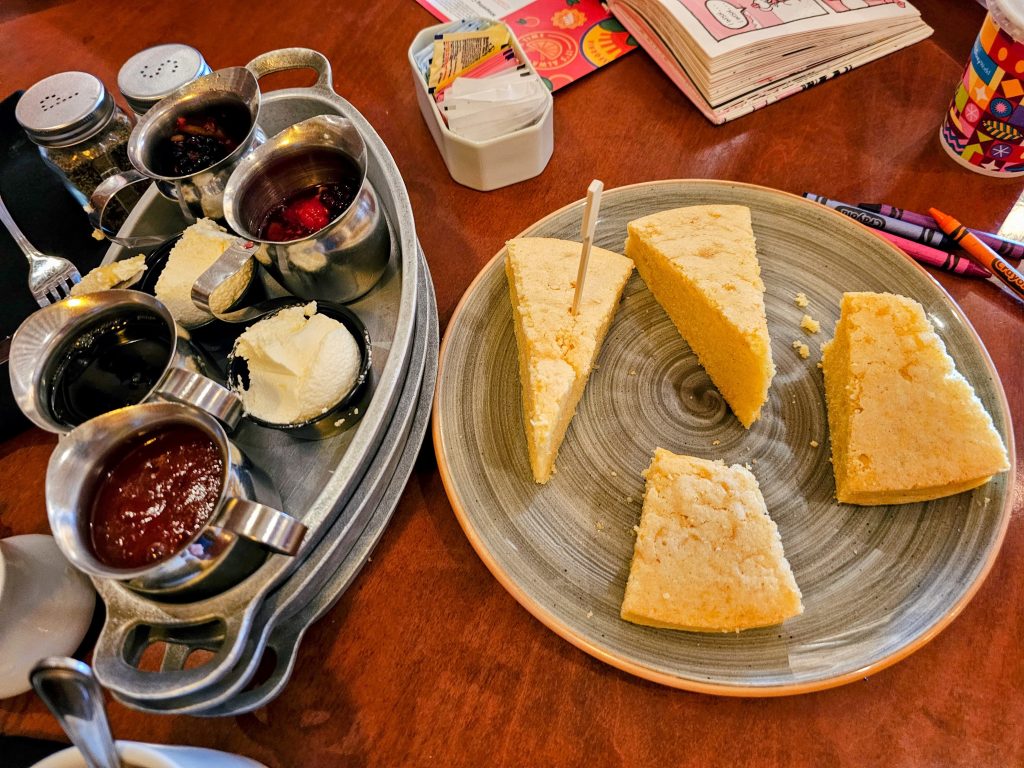 The gluten-free cornbread at Whispering Canyon Cafe is a delightful treat that everyone at the table can enjoy. It's light and fluffy, with each bite melting in your mouth and leaving behind a subtle sweetness that lingers pleasantly on the palate.
What truly elevates this dish, however, is the whipped butter that accompanies it. Creamy and smooth, it spreads effortlessly on the warm cornbread. And the best part? The cornbread is generously sized, perfect for sharing among the whole table, ensuring everyone gets a taste of this delightful dish.
Skillets / Entrees
The All-You-Care-To-Enjoy Skillet, a fan favorite, can be made entirely gluten-free upon request. There are currently two options on the allergy-friendly menu, the heritage and the carnivore.
The Heritage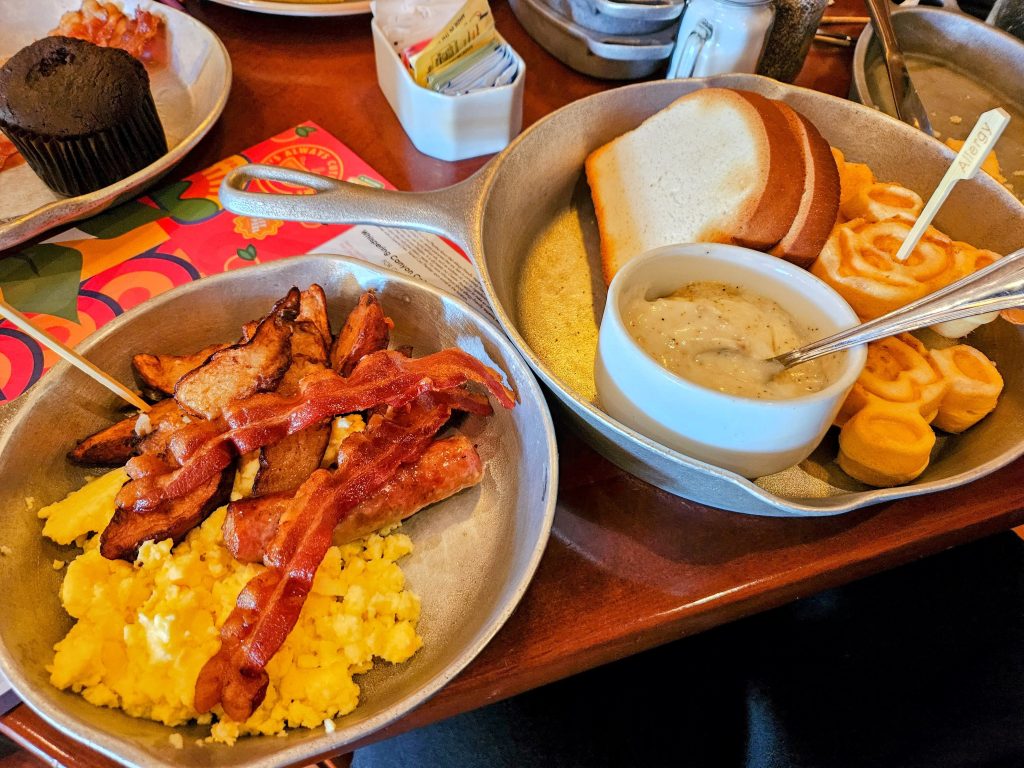 The Heritage Skillet at Whispering Canyon Cafe is a breakfast feast that truly embodies the spirit of hearty, homestyle cooking. Served in a large, rustic skillet, this meal brings together a variety of classic breakfast favorites, ensuring a satisfying start to your day.
The scrambled eggs are fluffy and light, cooked to perfection and seasoned just right. They provide a comforting base for the other, more robust components of the skillet. The country potatoes, crispy on the outside and tender on the inside, add a delightful texture contrast and an earthy flavor that complements the eggs beautifully.
No breakfast skillet would be complete without some meat, and the Heritage Skillet delivers with generously portioned, perfectly cooked bacon and breakfast sausage. The bacon offers a savory crunch, while the sausage, juicy and flavorful, adds a bold touch to the meal.
Served alongside is a piece of toast, perfect for mopping up the sausage gravy that comes with the skillet. This gravy, rich and full of flavor, is a highlight of the dish, enhancing the taste of everything it touches.
But the real surprise in the Heritage Skillet is the inclusion of gluten-free Mickey waffles. These waffles, light and crisp, are not just a nod to the happiest place on earth but also a delicious treat in their own right. They add a sweet element to the otherwise savory skillet, making the meal feel complete.
With its variety of flavors and textures, it promises a satisfying, well-rounded meal that will fuel you for a day of adventure.
The Carnivore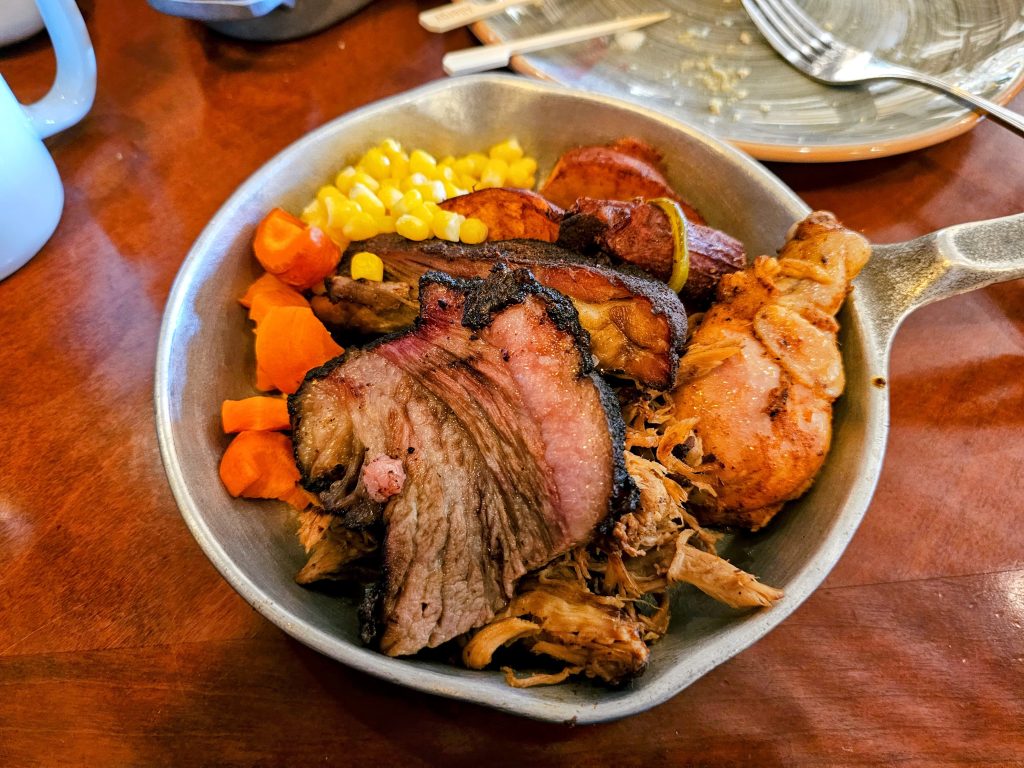 The Carnivore Skillet at Whispering Canyon Cafe is a meat lover's dream come true. This hearty meal, served in a rustic skillet, features an array of succulent meats that are sure to satiate your appetite. Whether you're a fan of slow-cooked brisket smoked with oak, tender pork ribs, juicy pulled pork, or zesty citrus-herb chicken, there's something in this skillet for you. Each portion of meat was seasoned and cooked to perfection, offering a palate of flavors that complement each other beautifully.
But the Carnivore Skillet isn't all about the meat. The skillet also includes a generous serving of country potatoes that are crispy on the outside and soft on the inside, providing a comforting counterpoint to the rich meats. These potatoes are an excellent base that helps balance out the overall flavor profile of the dish.
The Carnivore Skillet comes with buttered corn and carrots, adding a touch of sweetness and crunch that contrasts with the savory meats. The corn and carrots were cooked just right, retaining their natural flavors while still offering a nice texture.
In short, the Carnivore Skillet at Whispering Canyon Cafe is a great choice for meat lovers. It's a satisfying and well-rounded meal that will leave you feeling full and content. Whether you're a dedicated carnivore or just looking for a hearty, flavorful meal, this skillet is a must-try.
Attention To Detail
What makes the Whispering Canyon Cafe stand out is not just their gluten-free offerings but also their attention to detail and dedication to catering to individual dietary needs. The staff is knowledgeable about gluten-free requirements and cross-contamination issues. They take the time to explain the menu and answer any concerns or questions you might have.
Also, the chefs at the Whispering Canyon Cafe go above and beyond to ensure that the gluten-free food is not just an afterthought. The meals are flavorful and satisfying, proving that 'gluten-free' doesn't have to mean 'flavor-free'.
Let's Eat!
Whispering Canyon Cafe offers a fantastic gluten-free breakfast experience. With a wide range of options, entertaining staff, and a commitment to quality. It ensures that everyone in your party, regardless of dietary needs, can enjoy a delicious meal before embarking on their Disney adventure. Whether you're gluten-intolerant or simply prefer a gluten-free diet, the Whispering Canyon Cafe's breakfast is a must-try when you're at Disney's Wilderness Lodge.
Experience This Resorts For Yourself!
At Wilderness Lodge, you can choose from staying in either Boulder Ridge or Copper Creek, and both offer an incredible vacation experience! Between the incredible dining, the impeccable service, and a little sprinkle of magic, you won't ever need to second guess planning a trip to either of these Deluxe Disney resorts.
If you'd like to view confirmed reservations for rent at Boulder Ridge or confirmed reservations for rent at Copper Creek, you can experience Disney's Deluxe resorts for less, even without being a DVC member! If you're interested in becoming a member, and joining the DVC family, you can save thousands by shopping from our current Boulder Ridge resale listings or Copper Creek resale listings.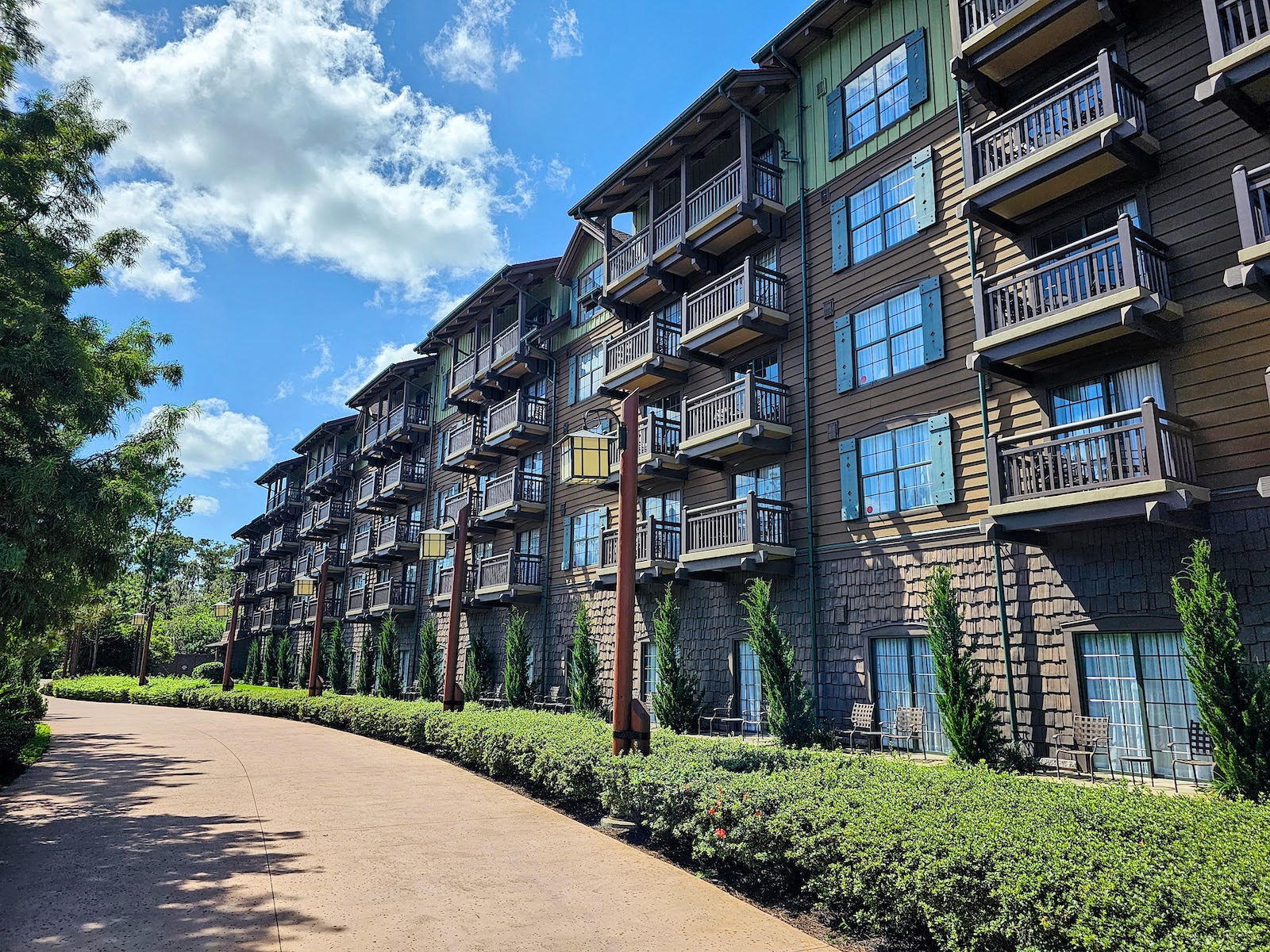 Boulder Ridge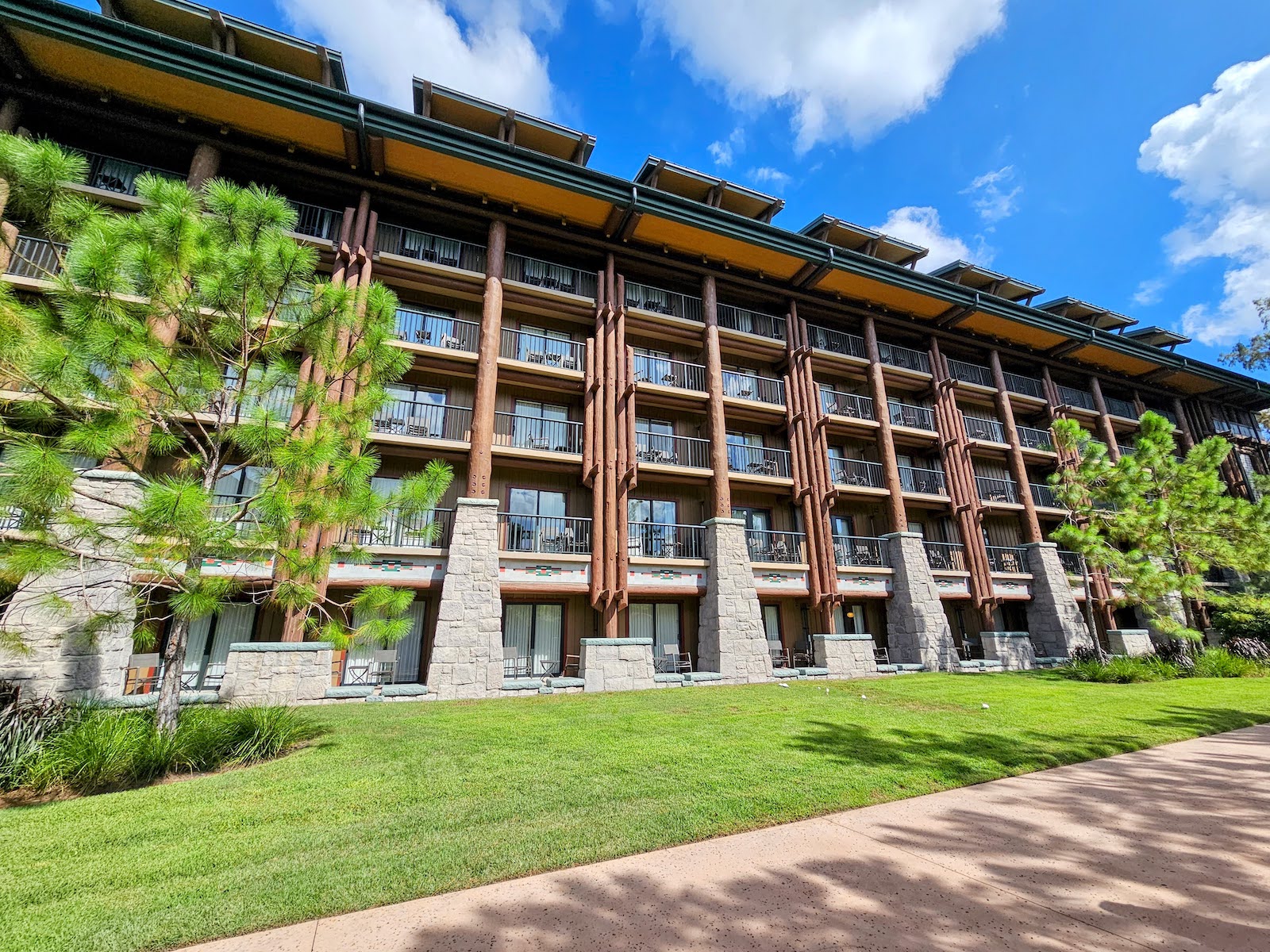 Copper Creek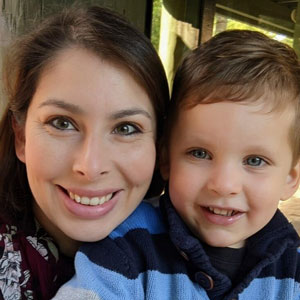 Written by
Rachel Van Norman
Contributing Writer
Rachel fell deeply in love with all things Disney as a little girl. Now as a wife and a mother herself, she shares this Disney obsession with her son and everyone around her. From her love of princesses to eating all the Disney food, Rachel spends her time radiating Disney magic and keeping everyone up to date on Disney news.