Disney's Wilderness Lodge is home to Whispering Canyon Cafe, a restaurant with a unique atmosphere and great food. The theming in the restaurant is perfect, transporting you deep into the woods. The quality of the food is also top-notch, with something for everyone. And if you're looking for an entertaining dining experience, Whispering Canyon Cafe will not disappoint!
Today we'll be covering three things about the Whispering Canyon Cafe: the restaurant's theming, the food quality, and the unique service you can expect when dining here.
Whispering Canyon Cafe's Theming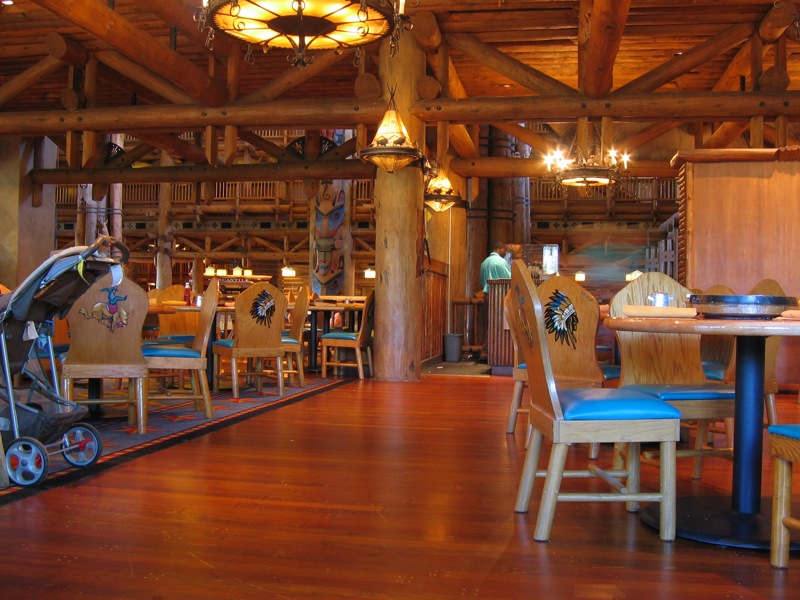 From the moment you step inside, you'll be transported to another world – the deep woods of America's heartland. The theming is impeccable and truly sets the stage for a one-of-a-kind dining experience. 
Location
The restaurant is located in the beautiful Wilderness Lodge's lobby, which is beautifully themed to begin with. You simply walk into the lobby and the restaurant is right there to your left, you can't miss it! 
Restaurant Theming
For theming inside the restaurant, it blends perfectly into this Pacific Northwest Resort. Disney's Imagineers went above and beyond when it comes to designing and facilitating a restaurant that fits so perfectly into a place like Wilderness Lodge. 
As soon as you walk into the restaurant the theming of the tables and walls, everything is perfectly spot-on with what's already there in the lobby. As you make your way into the restaurant, you can find wood and stone on every surface, rustic chandeliers with candle stick light bulbs, and wall art depicting life in the west. Heading into the back of the restaurant, there are even little tables next to the fireplace which is gorgeous and offers a nice, relaxing tone to your meal. Overall, two thumbs up for the way they have integrated this restaurant so seamlessly into the resort
Food Quality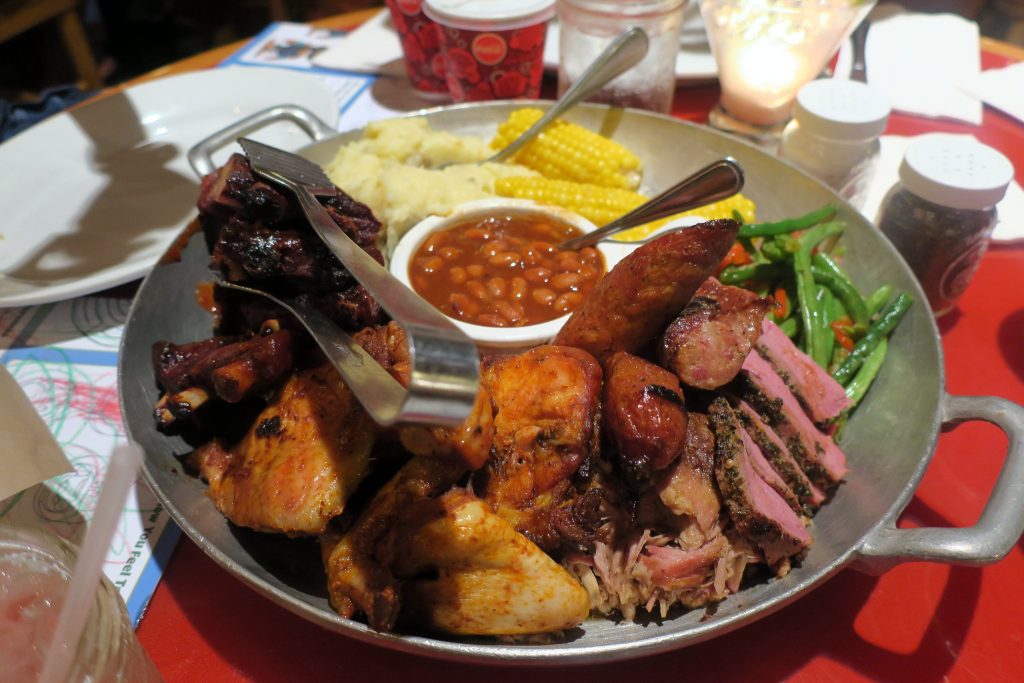 But Whispering Canyon Cafe is more than just a pretty face. The food here is seriously good. This dining location offers bottomless platters in an all-you-can-enjoy format, which some might think means you're sacrificing the quality of your food for larger portions. As for the food quality, Whispering Canyon Cafe's menu definitely won't disappoint!
There's something for everyone on the menu, so whether you're a carnivore or a vegetarian, you'll find something to your liking. We gravitated towards the excellent skillets that offer combos like House-made Buttermilk-Cheddar Biscuits and Sausage Gravy with Scrambled Eggs, Country Potatoes, Hickory-smoked Bacon, Pork Sausage Links, plus Mickey-shaped Waffles, but there's much more. From breakfast staples like the Pepper Jack Frittata or the Ham and Cheese Omelette to wild creations like the "Jacked Up" Avocado Toast which features Jackfruit on avocado toast, there are quite a few choices for all tastes.
So as far as the food goes, the quality and taste was really good. Our food came out quickly, it was nice and hot, and was cooked just how we ordered it. What more can you ask for?
Delightful Service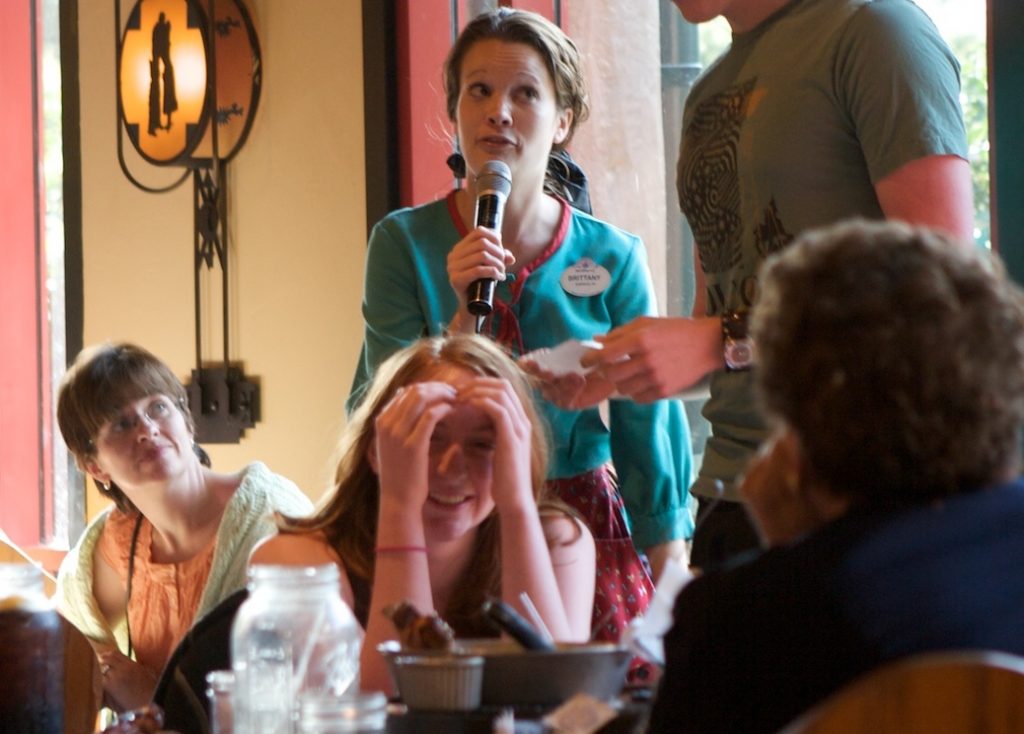 Lastly, let's talk about the unique kind of service you can expect at Whispering Canyon Cafe. if you're unfamiliar with the service, the waitresses and waiters love to add a bit of dramatic flair to your dining experience! They'll play with you constantly; reminding you that you have use your manners, singing to you, we even got some napkins and straws jokingly thrown at us! Our party, especially the kids, thought it was hilarious! We loved our waitresses' playful banter, and it really added to the experience for the kids.
When it comes to the more traditional measures of service, we didn't have to wait long for anything. From being seated, getting our food, or requesting extras, the staff was quick and attentive.
Disney's Copper Creek & Boulder Ridge
Disney's Copper Creek Villas and Boulder Ridge Villas at Disney's Wilderness Lodge are both Disney Vacation Club resorts that are located within the lodge. Each resort offers guests luxurious accommodations in a rustic setting that fits right in with the rest of the property. Both resorts offer a stunning backdrop as well as amenities that are sure to make your stay at Disney World even more enjoyable.
Whether you're looking for a place to stay during your visit to Walt Disney World, or somewhere to call your home resort when purchasing a Disney Vacation Club membership, Copper Creek Villas and Boulder Ridge Villas are both great options!
If you'd like to view DVC rentals at Copper Creek, or renting at Boulder Ridge, you can experience Disney's Deluxe resorts for less, even without being a DVC member! If you're interested in becoming a member, and joining the DVC family, you can save thousands by shopping from our current listings for either Copper Creek resales or Boulder Ridge resales.
What Are Your Thoughts?
I hope this Whispering Canyon Cafe review has been helpful! All around we found this dining experience to be wonderful. If you're looking for an entertaining dining experience, Whispering Canyon Cafe will not disappoint! The service is unlike anything you've experienced, and it's sure to make your visit to Disney's Wilderness Lodge even more memorable. So if you're looking for a great place to eat at Disney World, be sure to add this restaurant to your list and check out Whispering Canyon Cafe!
So, have you eaten here before? Did you have a great time? What did your server do that made it memorable? Let us know what your thoughts about Whispering Canyon Cafe are in the comments below!
And as always, stay tuned to the DVC Shop blog for more dining reviews, Disney news, vacation planning tips & tricks and much more!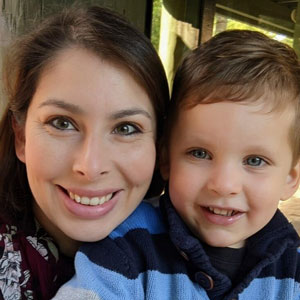 Written by
Rachel Van Norman
Contributing Writer
Rachel fell deeply in love with all things Disney as a little girl. Now as a wife and a mother herself, she shares this Disney obsession with her son and everyone around her. From her love of princesses to eating all the Disney food, Rachel spends her time radiating Disney magic and keeping everyone up to date on Disney news.