Until recently, if you were looking to buy alcohol at Magic Kingdom, you would have been sorely disappointed. Since the opening of Magic Kingdom in 1971, alcohol had been strictly banned in the park. Over the past few years however, Disney has been loosening its reigns on this original Walt Disney mandate to allow guests to buy alcohol at all four Disney World theme parks. In this article, we'll cover where you can buy alcohol at Disney parks and resorts.
Although alcohol has been available at Epcot, Hollywood Studios and Animal Kingdom for many years, it was only in 2012 that Disney announced that it would be serving alcohol during dinner at the then new Be Our Guest restaurant. This was a huge announcement for Disney as it would signify the first step to easing the alcohol restrictions at the Magic Kingdom. Fast forward to today and you'll find alcohol available at every table service restaurant at the Magic Kingdom as well as most restaurants in the other three theme parks. 
Here are some of the best places to buy alcohol at Disney parks and resorts.
At Disney Parks
The Plaza Restaurant, Magic Kingdom
As Magic Kingdom only serves alcohol at its table-service locations, if you want an alcoholic drink you'll either need a dining reservation, or you'll need to grab a table at one of the less busy restaurants in the park. For those who don't have a dining reservation but still want to grab a drink at the Magic Kingdom, stop by the Plaza Restaurant on Main Street. This casual sit-down location serves a variety of wines and beers to pair with the fresh fare on the menu and is often available as a walk in or has same day reservations available. One standout drink that will surely be a welcome reprieve on a hot summer day is the Plaza's signature Sangria made with white wine, pineapple juice and spices.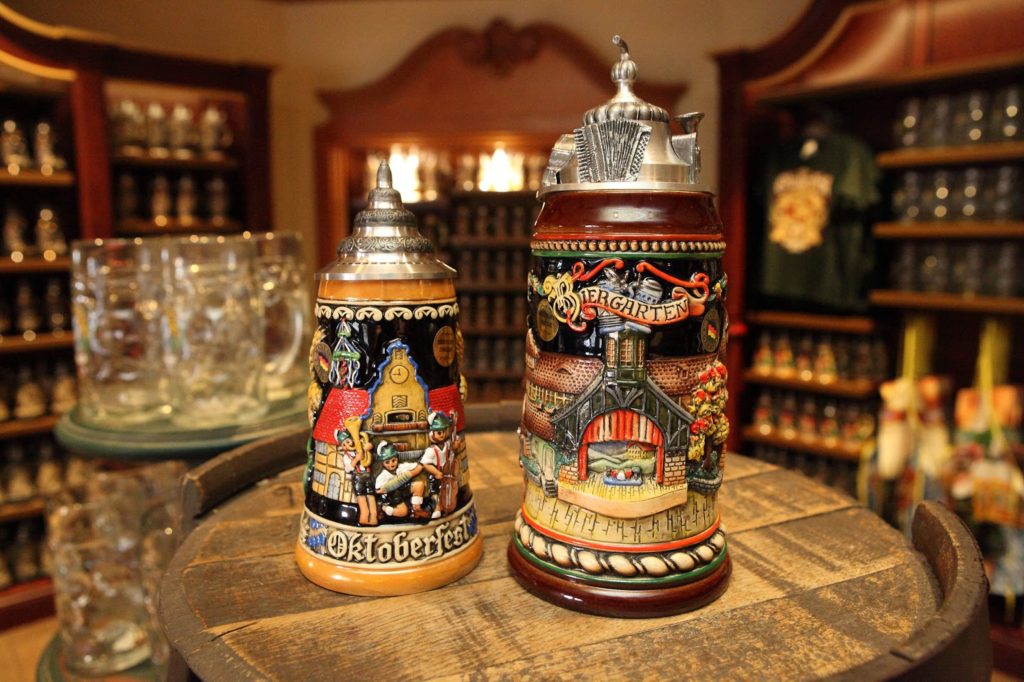 Craft Beer, Around the World, Epcot
Drinking around the world is a favorite pastime for many and there's no question why. The pavilions at Epcot's World Showcase offer up a wide range of alcoholic drinks, and do a great job of having authentic beers available at many of its locations. 
A few standout locations are:
Germany with drink carts serving cold

Warsteiner Dunkel and Schöfferhofer Pink Grapefruit Hefeweizen.

UK with its Rose and Crown Pub serving British classics like Boddingtons, Guiness and several other well known British ciders and ales.

Canada's popcorn cart which rotates its beers but always has several good options for authentic Canadian beers like Unibroue La Fin du Monde and Labatt Blue.
Margaritas and 200 Tequilas, La Cave de Tequila, Epcot
While strolling through the Mexico Pavilion, be sure to stop by the cool, dark La Cave de Tequila and check out the extensive list of tequilas on hand. Margarita enthusiasts will also love the signature margaritas like the Maelstrom, a sweet and spicy concoction, the Jalapeno, a refreshing margarita with a kick or the guest favorite, the Avocado, a sweet frozen cocktail that will cool you off on even the hottest of days. 
Fun Cocktails and Full Bar, Tune-in Lounge (50's Prime Time Cafe), Hollywood Studios
If you ever walk into the 50's Prime Time Cafe at dinner rush with no reservation and get the "No reservation, are you kidding me?" look then you might want to hop into the bar next door. The Tune-in Lounge offers the full restaurant menu as well as a full bar. Try the boozy Dad's Lemonade if you're looking for a refreshing drink to cool down. For something a bit more tropical, the Disney Signature Magical Star Cocktail is available here as well as in many other locations throughout the park
The New Star Wars: Galaxy's Edge, Hollywood Studios
Scheduled to open August 29, 2019, the new Star Wars: Galaxy's Edge land at Hollywood Studios will have several fun spots to grab a drink. Oga's Cantina, Docking Bay 7, Ronto Roasters and a walk-up Milk Stand will offer drinks like Blue Milk and Green Milk, a mix of plant based milks and either tequila or rum, as well as craft beers and other interstellar cocktails.
At Disney Resort Hotels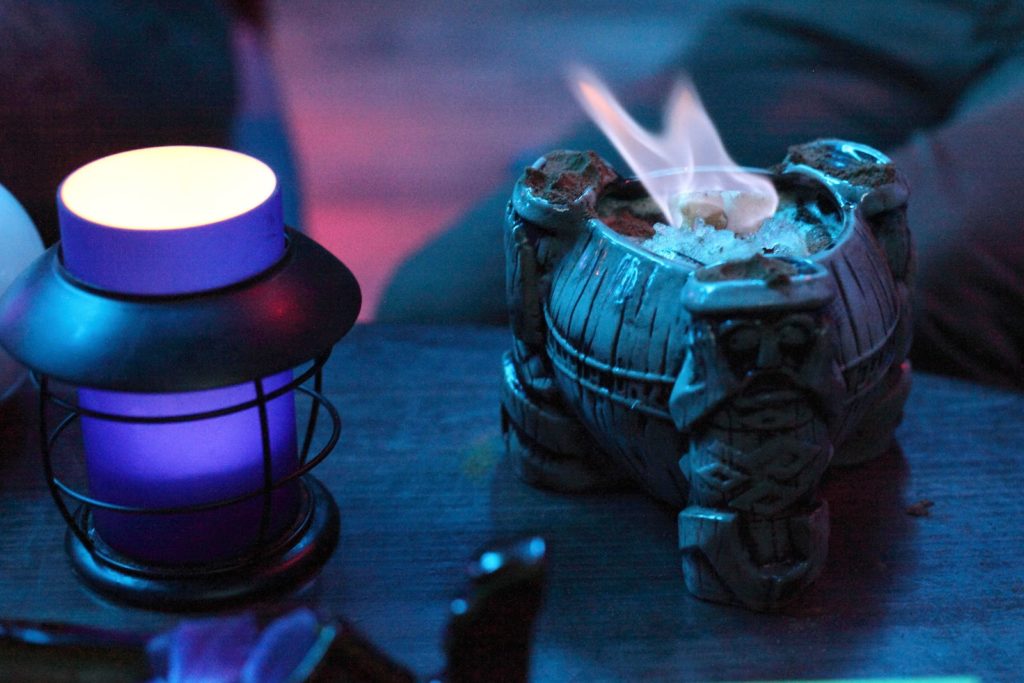 There are plenty of locations at Disney's Resorts to buy alcohol, including restaurants, bars, lounges and drink carts. Here are few fan favorites that should be at the top of your list next time you visit Disney World.
Trader Sam's Grog Grotto, Polynesian Resort
This dark tchotchkes-filled bar is a Disney fan favorite. With strong drinks, funky cocktails that sometimes come in shrunken head glasses, and a full bar, it's a great place to cool off and have some fun. Trader Sam's takes "themed bar" to a whole new level with a light and smoke show when you order a Krakatoa Punch. Also on the menu are a selection of beers, wine and appetizers.
Todd English's Bluezoo, The Dolphin Resort
Walking into the Bluezoo is like walking into an art exhibit. The restaurant and lounge are beautifully decorated in an elegant, underwater motif that instantly relaxes you after a long day in the parks. What brings regulars back to this lounge time and time again, other than the delicious seafood, is the wide selection of wines, the 16 select beers and 10 signature cocktails served up by the attentive bartenders. If you don't have a reservation at the restaurant, take a seat in the lounge where appetizers and the full dinner menu are available.
California Grill, Contemporary Resort
With the best views of any location in the park, the California Grill is the perfect place to end your day and sip on a few cocktails. While it may be difficult to get a reservation at the restaurant unless booking well in advance, the lounge area is first-come, first-served. Just check with the host on the second floor and if space is available at the bar head on up to the 15th floor to enjoy a wide selection of wine, signature cocktails and craft beers. If you're hungry the full restaurant is also available in the lounge.
Last Call!
With 4 theme parks and 27 hotels, these are just a few of the locations to buy alcohol at Disney parks and resorts. Do you have a favorite lounge or alcoholic drink at Disney? We'd love to hear your suggestions in the comments below!
Guest Author
Katherine Rand