Character dining in Disney World has always been a highlight of the parks and guests may be wondering what to expect from the experience during covid. We have gathered all the information on what guests can expect from character dining while covid restrictions are in place. We'll cover the new dining guidelines, and which dining location was our family's favorite option.
Keep in mind, some character dining experiences have not opened yet, while other locations have modified the experience for health and safety purposes. At this time, characters are not coming to the tables and are not available for autographs. However, guests can still get those precious character photos that everyone loves while enjoying a fun and magical meal.
Even with the covid restrictions in place, there are plenty of great character dining experiences being offered at the Walt Disney World theme parks, as well as the restaurants at DVC resorts.
Character Dining In The Parks
Be Our Guest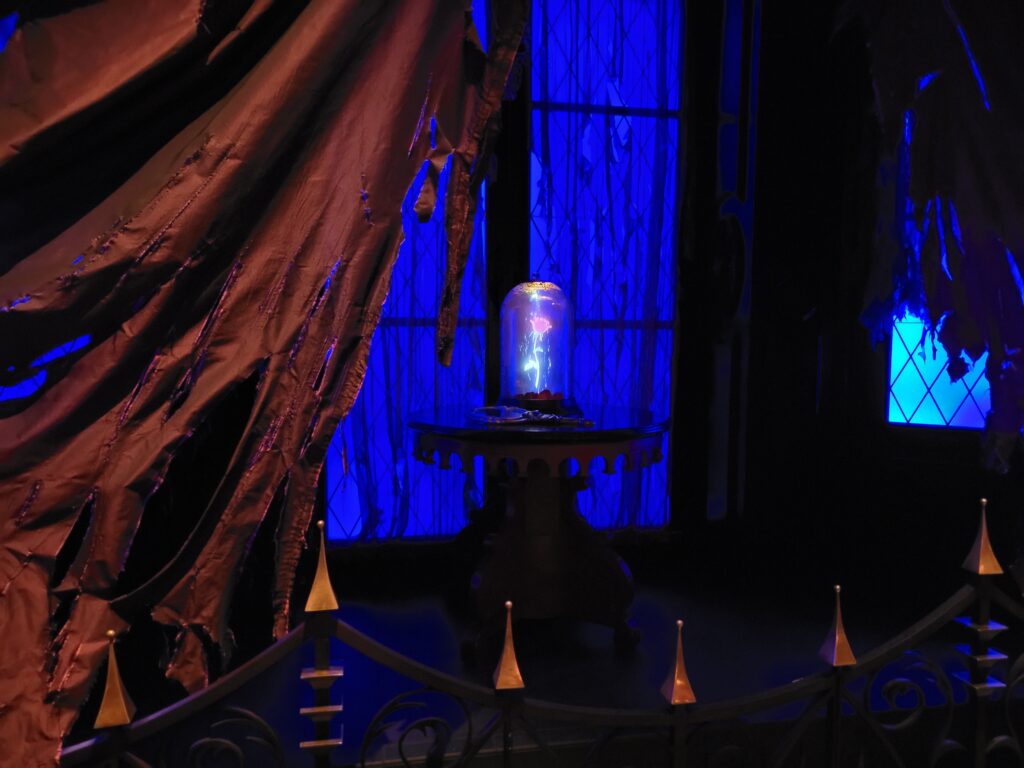 The Be Our Guest Restaurant is a "Beauty and the Beast" themed dining experience. When enjoying character dining at this restaurant, guests can expect to see the Beast roaming around one of the three dining rooms that this location has. He will be giving guests a regal bow, waving to people, and posing for pictures in his formal wear. There is usually an announcement that the Beast will be entering the ballroom before he comes in, which will give you plenty of time to get your camera ready.
If you choose to dine at this restaurant during this modified time, try to get a table in the center of the main ballroom. This is where the Beast spends most of the time and it will make for much better photos, as well as a more magical experience!
Cinderella's Royal Table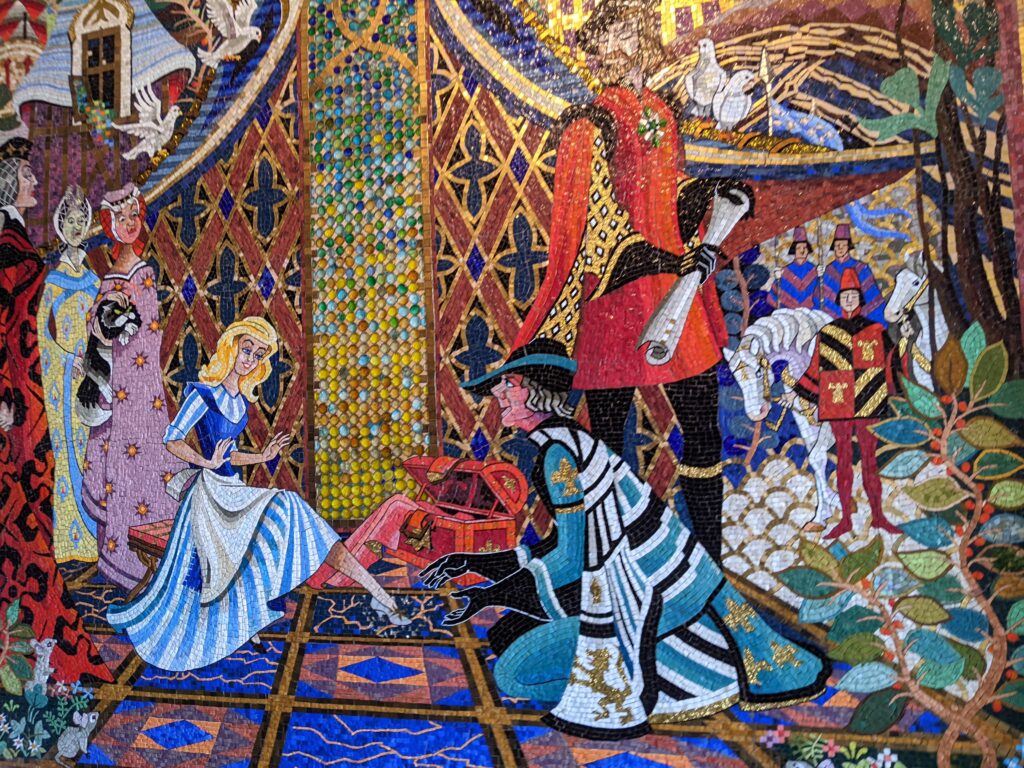 Have you ever wanted to eat a delectable chocolate dessert while waving to a smiling princess? Then Cinderella's Royal Table is the character dining option for you. 
Cinderella's Royal Table traditionally gave guests the opportunity to visit with a large variety of Disney Royalty. Due to covid modifications, the royal guest list is more limited. Guests will still be able to bear witness to the beautiful Cinderella. Similar to the Beast, Cinderella visits guests in the restaurant from a safe distance. This is still a great choice for those looking for a princess experience, even with the modifications. 
Currently there are no character dining options available inside Animal Kingdom. If character dining is a must for your vacation, Animal Kingdom may be a park that you will want to forego in favor of the other parks.
Hollywood and Vine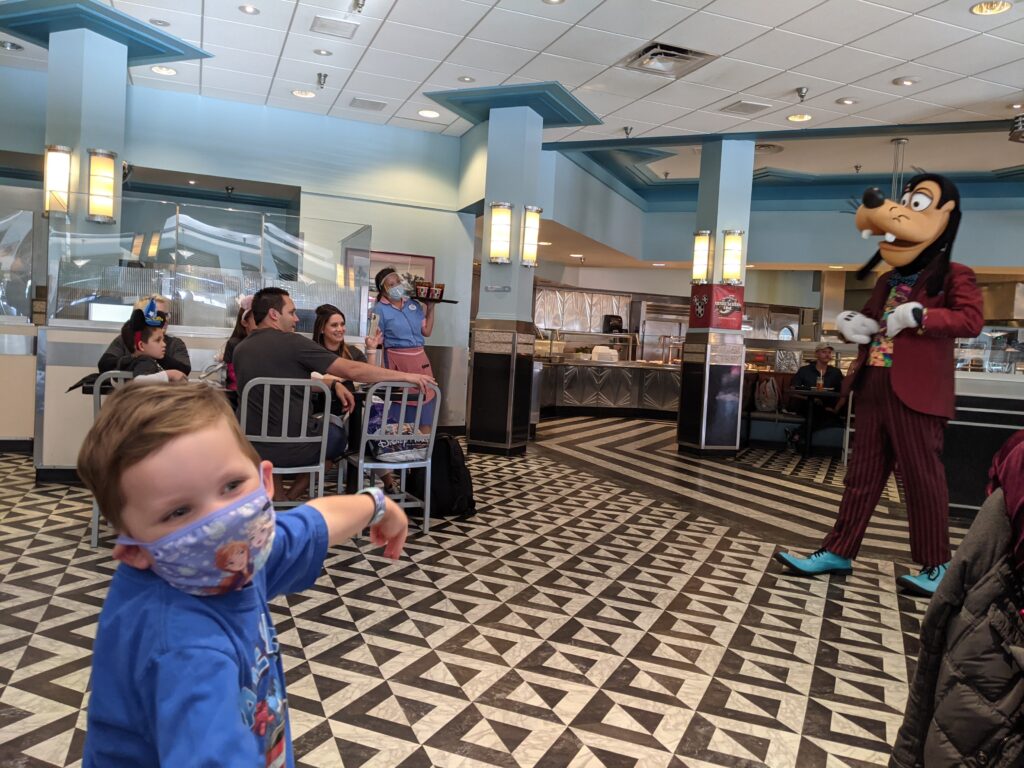 This dining location in Disney's Hollywood Studios is a fun and festive spot with classic characters. Guests will be able to see a larger variety of characters at Hollywood and Vine than in other locations. Minnie and friends will be dancing all throughout the restaurant for guests to take pictures and videos from a safe distance. Minnie and friends will also still be dressing up in their festive garb during the holiday season. 
Although this restaurant used to be a buffet, it has now switched to table service. This allows guests to sit down and really enjoy the show while maintaining a safe environment for guest and cast members.
Garden Grill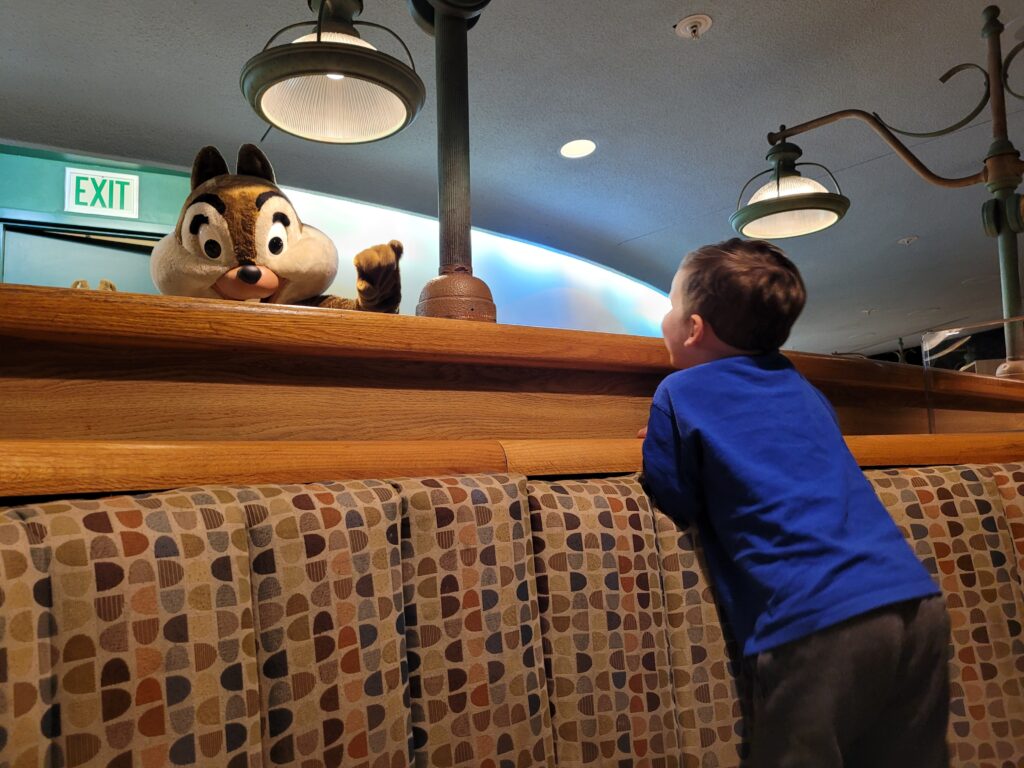 This location is another great choice for those looking to meet a lot of characters at their character dining in the parks. Located in The Land, this location brings guests a fun meet and greet with Mickey, Pluto, Chip, and Dale. Mickey is dressed in his farmer outfit to fit the theme of the restaurant, which is farm to table, with a view of Living on the Land. 
The Garden Grill had one of the most optimal layouts for covid modifications. Guests sit in a table on one part of a partition, while the characters remain in the inner section while coming up to tables. This allows them to maintain social distancing protocols while still being able to get much closer than other character dining restaurants. The characters will stop at each table and visit for a couple of minutes and pose for pictures. 
Another modification for Garden Grill is that it is not rotating as it usually does. While some may see that as a downside, if you can get the right table, it is actually a huge plus. Try to get a table close to the entry door for the characters. Since there is no rotation, those sitting next to the door get to see the characters twice. 
Character Dining At Disney Resorts
Dining inside of the parks is always a treat. However, those who stay on property also get an added benefit to character dining, if they choose the right Disney resort. Currently two Disney Resorts are offering modified character dining. 
If you are not a Disney Vacation Club Member, you can always book a DVC rental to experience Disney's Deluxe resorts, along with a host of other magical benefits. 
Topolino's Terrace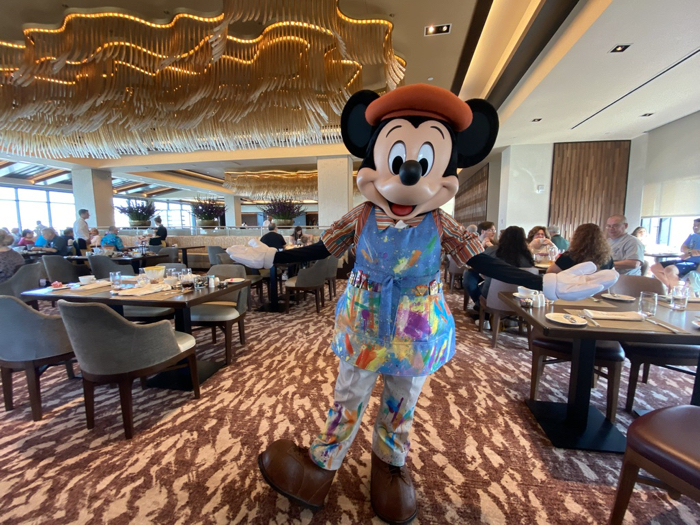 This dining location is famous for its character dining breakfast with Mickey Mouse, Minnie Mouse, Donald Duck, and Daisy Duck. Dressed in colorful and artistic outfits, the characters will walk about the room engaging with guests and taking photos. The beautiful atmosphere is accompanied by beautiful food. Pairing all of these together with some of Disney's most classic and beloved characters will be the perfect way to start the day. 
Disney's Contemporary Resort
Chef Mickey's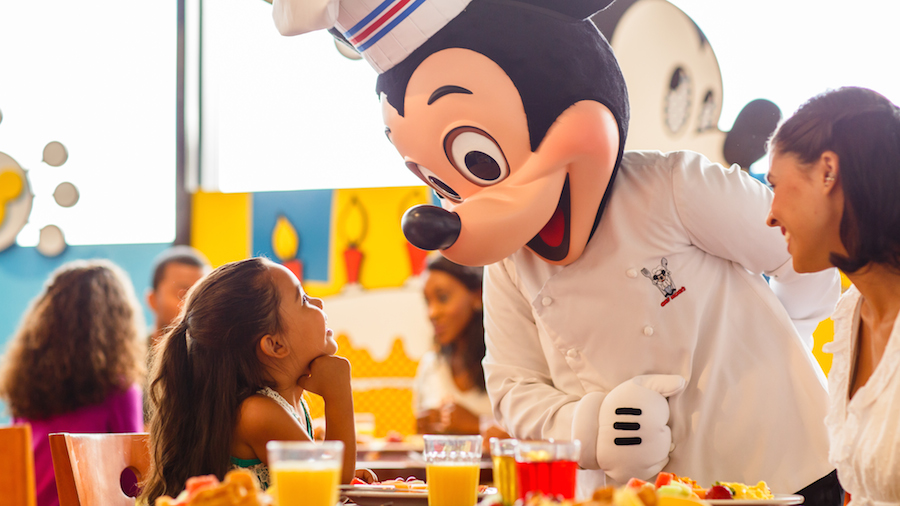 Donning classic chef uniforms, Mickey and friends will be greeting guests into this all you can eat breakfast. Similarly to Topolino's Terrace, Mickey and his pals will be engaging guests from a distance and posing for photos. There is truly nothing better than eating as many Mickey pancakes as you want while also waving to Mickey Mouse himself. He is the chef after all. Along with Mickey, guests can expect to find Minnie, Donald, Pluto, and Goofy. 
This is the hardest character dining reservation to book, and for good reason. The food is delicious and the large assortment of characters are a ton of fun for the whole family. For this location guests should be sure to book as early as possible. 
What Was Our Family's Favorite Character Dining Experience?
When looking at overall experience from all of the character dining locations we could choose from during covid, the winner, for us, had to be the Garden Grill in Epcot.
Not only is the food delicious and fresh, the characters are engaging and are able to get quite close to the table. This makes for excellent pictures and conversations with the characters. Garden Grill has mastered the covid character dining.
Have you had the opportunity to do any character dining while it has covid modifications? What were your thoughts? Which location did you enjoy the most? Let us know in the comments below!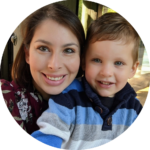 Written by
Rachel Van Norman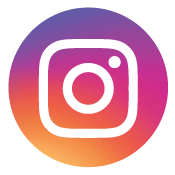 Guest Author
Rachel fell deeply in love with all things Disney as a little girl. Now as a wife and a mother herself, she shares this Disney obsession with her son and everyone around her. From her love of princesses to eating all the Disney food, Rachel spends her time radiating Disney magic and keeping everyone up to date on Disney news.