As Hurricane Idalia continues to strengthen and make its way towards Florida, Walt Disney World is preparing for the impact of Tropical Storm-force winds. The storm is expected to become a Category 3 hurricane by the time it makes landfall on Florida's Northern Gulf Coast as early as Tuesday night or Wednesday morning.
Tropical Storm Warning In Place For Orlando
The Orlando area is currently in a Tropical Storm Warning which means peak wind gusts from 20 – 45 mph. The area in central Florida where Walt Disney World is located has not seen any Hurricane warnings as of yet, with much of the impact being headed for Florida's north-western coast.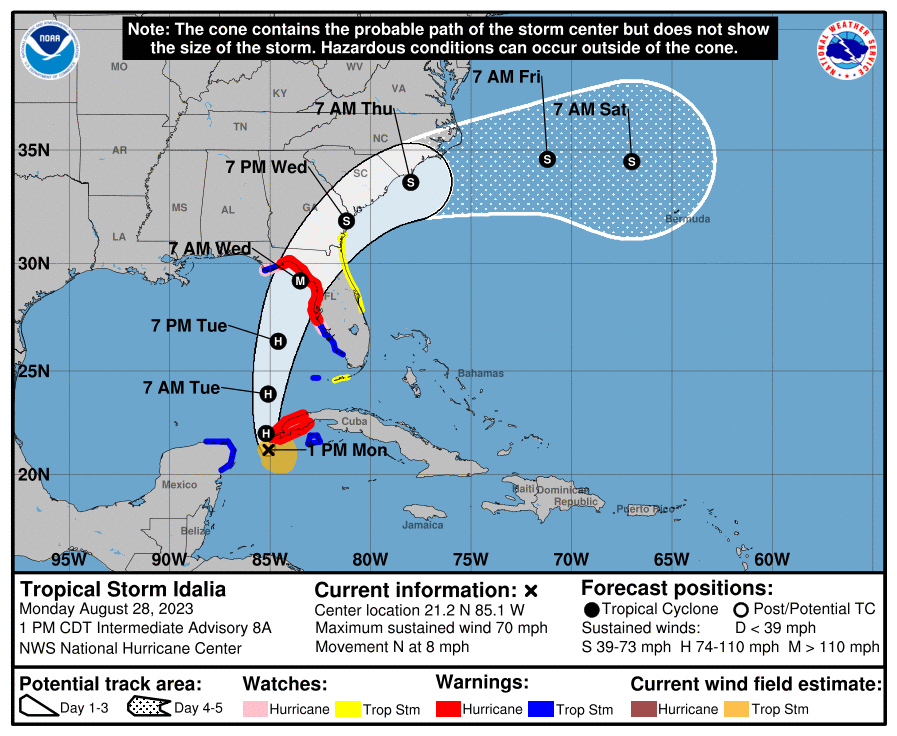 Theme Parks Operating Under Normal Conditions
Currently, Walt Disney World is operating under normal conditions. Disney is closely monitoring the storm's development and issuing necessary updates to ensure the safety of guests and Cast Members alike.
Walt Disney World Resort is currently operating under normal conditions. We are closely monitoring the path of the projected weather as we continue to prioritize the safety of our Guests and Cast Members.
Last updated on August 29, 2023 at 4:30 PM
Walt Disney World Website
Typhoon Lagoon & Mini Golf To Close Tomorrow
Disney has announced that the Typhoon Lagoon water park, Winter Summerland Miniature Golf, and Fantasia Gardens Miniature Golf will be closed on August 30th due to inclement weather conditions.
Walt Disney World Water Parks and Mini Golf
Due to the inclement weather, Disney's Typhoon Lagoon water park will be closed on August 30.
Due to the inclement weather, Winter Summerland Miniature Golf and Fantasia Gardens Miniature Golf will be closed on August 30.
Walt Disney World Website
Fort Wilderness Resort Campground Prepares For Gusts
Guests staying at the Fort Wilderness Resort Campground have received an update on preparations for the hurricane, which includes securing outdoor furniture and decor to be stored inside.
For Guests staying at Fort Wilderness Resort & Campground: As we continue to monitor the weather, we are asking that all Fort Wilderness Guests remove and stow all outside items, including décor, and take in camper awnings by 6 PM on Tuesday, August 29. If you'd like to depart early or discuss alternate options for your vacation, please contact us at (407) 939-2744.
Walt Disney World Website
Disney To Offer Discounts / Aid To Evacuees & First Responders
As the storm approaches, Walt Disney World is offering a 50 percent discount on resort hotel stays for Hurricane Idalia evacuees and first responders. This gesture is part of Disney's ongoing commitment to support local communities during challenging times.
Evacuees & First Responders Support: Florida residents evacuating from the storm and first responders assisting in storm-related recovery efforts may also receive 50% off Disney Resort hotel stays on the evenings of Aug. 29-31, 2023. For evacuees, please call 407-W-DISNEY for details. For first responders, please call 407-828-3200 (Option 3). This applies to new bookings only and is based on availability.
Storm Recovery: Walt Disney World is prepared to once again serve as a staging area for storm-related recovery efforts for the state of Florida.
Walt Disney World Website
Disney To Waive Certain Cancellation / Change Fees
Disney has also announced that it will waive change fees for those who need to alter their travel plans due to the impending storm. Disney's hurricane policy is designed with the safety of guests in mind. In the event of a hurricane warning issued by the National Hurricane Center, guests can reschedule or cancel certain reservations made directly through Disney without any cancellation or change fees.
Travel Flexibility: At this time, change and cancellation fees imposed by Disney will be waived for check-in dates of August 28, 2023 through September 4, 2023. Guests currently staying at our Disney Resort hotels whose travel plans have been impacted by the storm may receive a discounted rate to extend their stay through the evening of August 31, if needed, by visiting the front desk.
Walt Disney World Website
Orlando International Airport Fully Operational
In addition to the steps taken by Walt Disney World, officials at Orlando International Airport (MCO) are monitoring the situation. Currently the airport is open and operating as usual.
Based upon the current forecast of Hurricane #Idalia, our airport will remain open and maintain a state of readiness. If conditions warrant, a temporary cessation of commercial operations may occur. Please continue to work with your airline in regards to your travel plans. pic.twitter.com/9bjQk0857C

— Orlando International Airport (@MCO) August 29, 2023
It remains uncertain how Hurricane Idalia will affect operations at Walt Disney World in the coming days, but as always, the resort encourages guests to check the latest updates and make necessary adjustments to their travel plans.
Our thoughts are with all those in the path of Hurricane Idalia. Stay safe and stay tuned for further updates.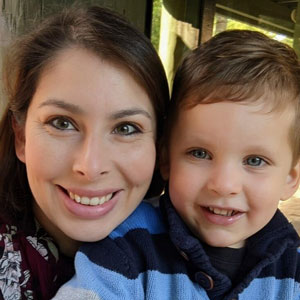 Written by
Rachel Van Norman
Contributing Writer
Rachel fell deeply in love with all things Disney as a little girl. Now as a wife and a mother herself, she shares this Disney obsession with her son and everyone around her. From her love of princesses to eating all the Disney food, Rachel spends her time radiating Disney magic and keeping everyone up to date on Disney news.