After a long hiatus, Walt Disney World is set to reintroduce their bounceback offer, sometimes referred to ask the Future Stay Offer, for guests currently staying in Disney Resort hotels, but how do these discounts stack up against other ways of saving on your next Disney vacation?
In this article, we'll be exploring what Disney's new promotion will be, and if it is as good as it sounds at first impression.
What Is The New Bounceback Offer?
Upon checking out of a stay at a Disney Resort hotel, guests will be emailed a promotion that could give them a percentage off their next stay at a Disney Resort hotel, if the booking is made within 7 days of their recent checkout date.
The percentage savings is determined by the type of Disney Resort hotel the guest wishes to book on their next trip, you can see the discount percentages below:
This bounceback offer is good for stays most nights in 2024, including:
January 7-10, 2024
January 15-18, 2024
January 25 – February 1, 2024
February 4-8, 2024
February 11-14, 2024
February 19-22, 2024
February 25 – March 16, 2024
March 31 – May 23, 2024
May 27 – August 29, 2024
September 2-30, 2024
October 27-31, 2024
November 25-27, 2024
December 1-24, 2024
How Good Are These Promotional Discounts?
Let's compare this deal with some other alternatives to see how it stacks up against other options.
Booking Directly With Disney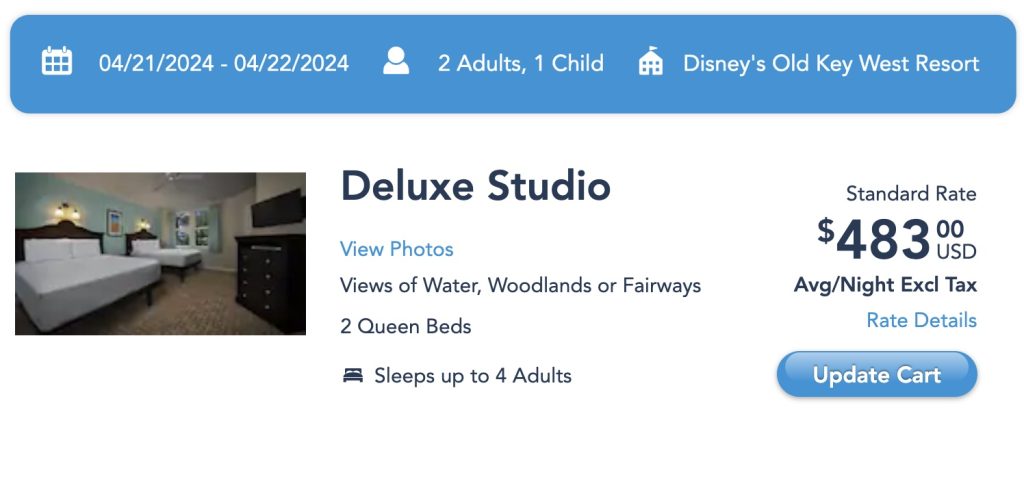 First, we had to establish a baseline by searching for a reservation at one of our favorite Disney resorts, Disney's Old Key West on the Disney World website. We were able to find a 1 night reservation on April 21st, 2024 in a Deluxe Studio. That one night normally costs $483 per night, and with the 35% discount offered on Disney's Deluxe resorts, it comes down to $314 before nightly taxes and fees are added.
Purchasing A Confirmed Reservation
At DVC Shop, we work with Disney Vacation Club members who wish to rent out DVC points, as well as confirmed reservations at DVC resorts, that the member will not be able to use. This means that anyone can gain access to Disney's Deluxe resorts for much less than booking directly with Disney, all without having to be a DVC member!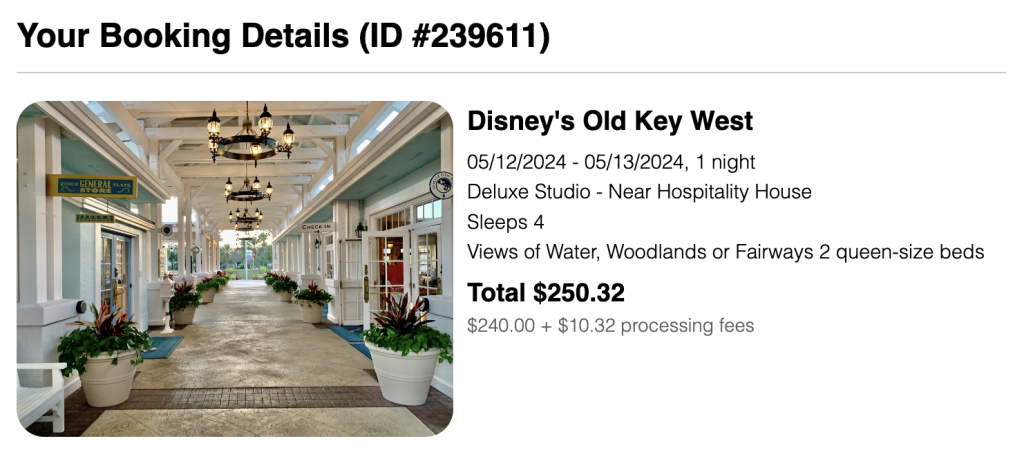 Currently, there is a confirmed reservation that is posted on our rental website for the exact same date, resort, room type, and view, that is listed for just $240 (before a nominal $10.32 processing fee). That's over a 50% discount off Disney's normal nightly rates.
Also, it's important to note that when you're renting from a DVC member, you can enjoy many of the great benefits that they enjoy, such as free parking at the resort and theme parks or Early Park Entry & Extended Evening Hours, and no pesky nightly resort fees.
When you add it altogether, with just this one night, you're saving over $114.00 per night, skipping out on parking fees at the resort and theme parks, and you're able to book it easily and securely online without the requirement of having to book your next vacation within just 7 days of departing your last vacation.
Now, keep in mind this is simply showing the difference for one night, imagine the savings for a full week!
Requesting A Custom Reservation
What if none of the dates that you find on our confirmed reservations page fits your desired travel dates? You can also make custom reservations with DVC Shop for a discounted price when compared to booking directly through Disney. All you have to do is input the travel details you wish to book, and our site will search for availability for your preferred resort and dates.
Conclusion
You can draw your own conclusions, but numbers don't lie! Even with these new promotional discounts, it's just much more affordable to rent from an existing DVC member when booking at Disney's Deluxe resorts. With DVC Shop, we make that process safe and easy for everyday folks.
If you are new to the world of DVC rentals, we would like to invite you to check out the DVC Shop Rentals website for much more information about the process. A great place to start is reading our How A DVC Rental Works page that walks you through the process and explores all of the options available to renters.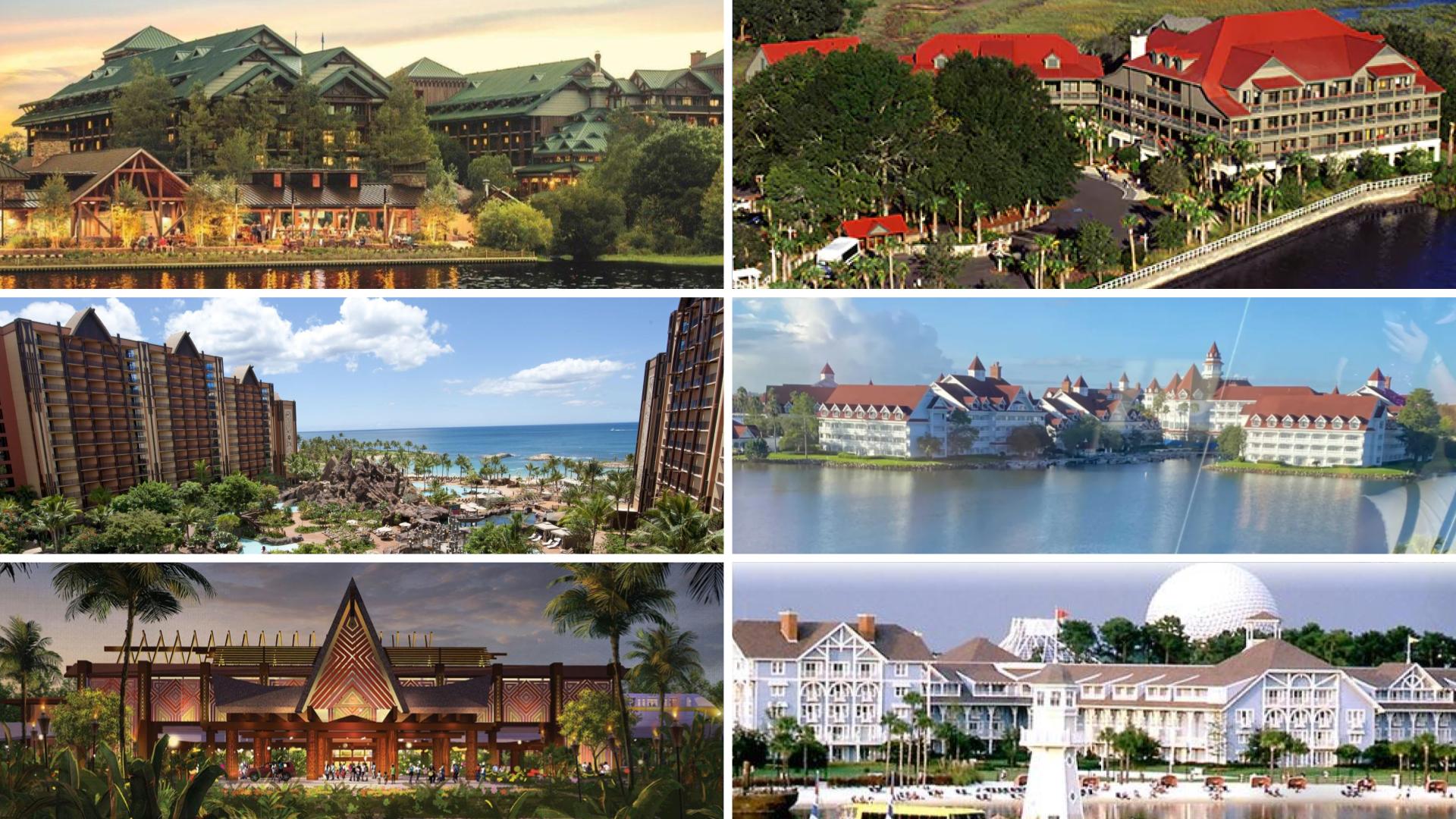 DVC Deluxe Resorts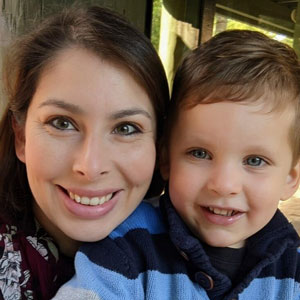 Written by
Rachel Van Norman
Contributing Writer
Rachel fell deeply in love with all things Disney as a little girl. Now as a wife and a mother herself, she shares this Disney obsession with her son and everyone around her. From her love of princesses to eating all the Disney food, Rachel spends her time radiating Disney magic and keeping everyone up to date on Disney news.