Disney merchandise is always changing, and the same can be said of the famous Disney Loungefly Mini Backpacks. These Loungefly Mini Backpacks are seen all over the Disney Parks and are the trademark of any Disney fan. The designs change constantly, with new designs being featured based on current Disney films, park anniversaries, or the holidays.
Some of the Disney Loungefly Mini Backpacks are available to purchase on the ShopDisney website, while others are exclusive offerings in World of Disney in Disney Springs. These backpacks are the perfect souvenir for your Disney trip, so why not plan ahead on which bag you will be purchasing this Fall season. Here are the best Loungefly Backpacks at World of Disney right now!
Minnie Mouse EARidescent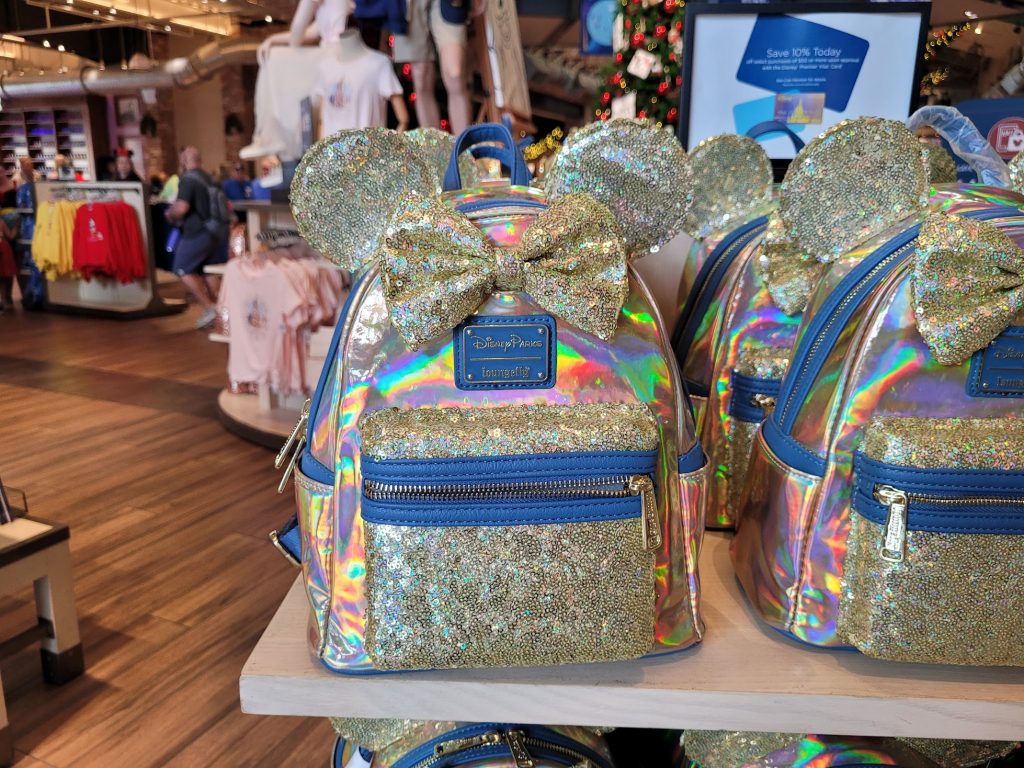 The Minnie Mouse EARidescent Loungefly mini backpack has been wowing guests since Walt Disney World's 50th anniversary celebration began on October 1, 2021. This backpack features shimmering gold and rainbow colors, plus gold sequins on the ears, bow, and front zippered pocket.
Since the 50th anniversary celebration is going to be ending next year, we probably won't see this stunning bag around for too much longer.
Mickey Mouse Holiday Treats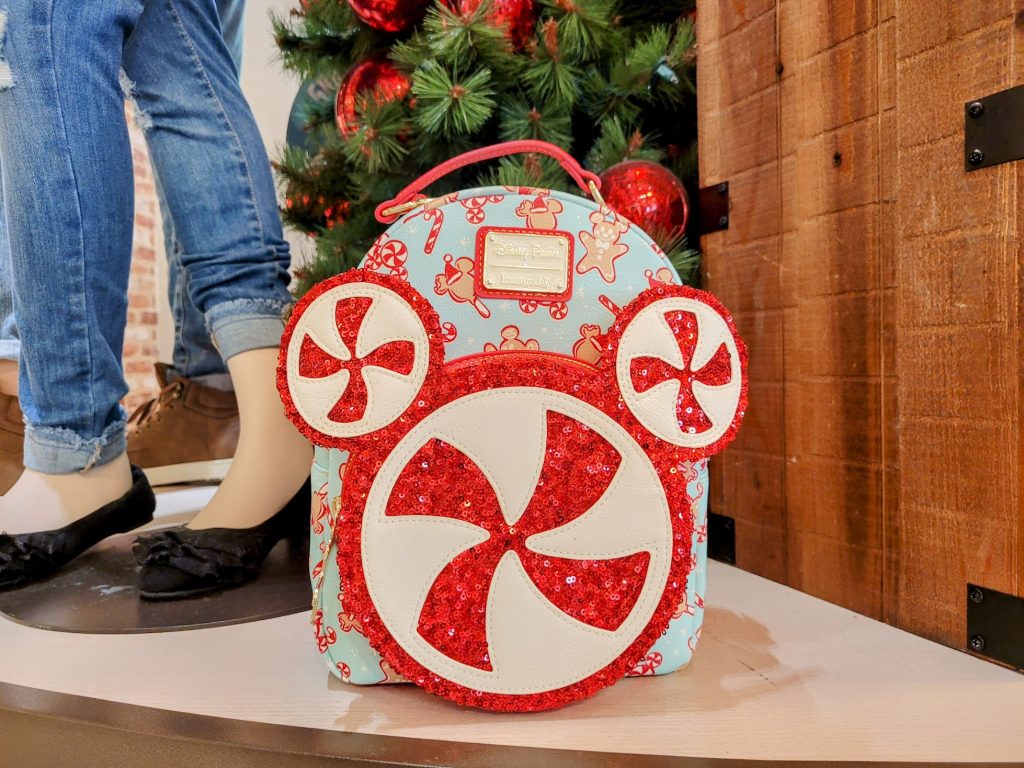 The Christmas holiday season is in full swing at Disney World now, which means Christmas merchandise is popping up all over.
The Mickey Mouse Holiday Treats Loungefly features Disney Christmas treats such as Mickey Mouse gingerbread cookies, a Mickey ice cream bar with a Santa hat, and festive candy canes. The front zippered pocket has a different twist on it and is actually a Mickey head that look like peppermint swirls.
This Loungefly backpack is the perfect thing to buy for the holidays whether you will be in the parks or wearing it back at home for Christmas.
Minnie Mouse Sequin – Magenta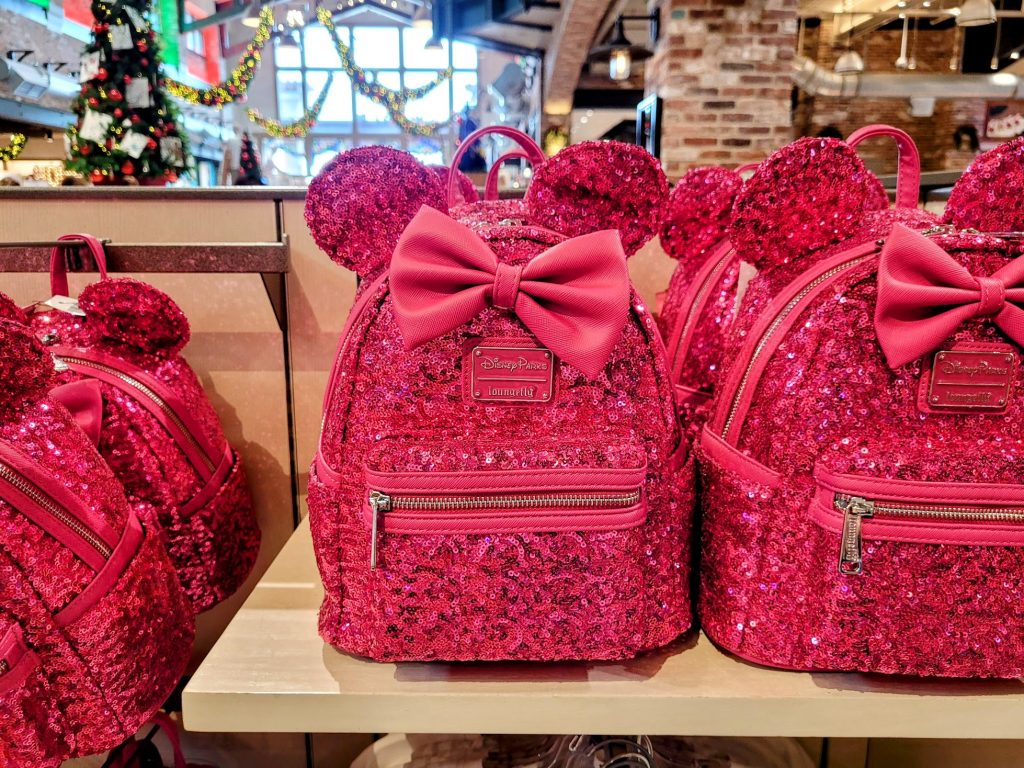 Loungefly always has options for the Minnie Mouse Sequin style mini backpacks, and this is a color we have not seen yet! This magenta color is vibrant and of course super shimmery in the sun. It would go perfectly in the parks and completely encapsulates the fun pink fueled energy of Minnie Mouse. Of course, this backpack also features a magenta leather bow on top!
Ratatouille 15th Anniversary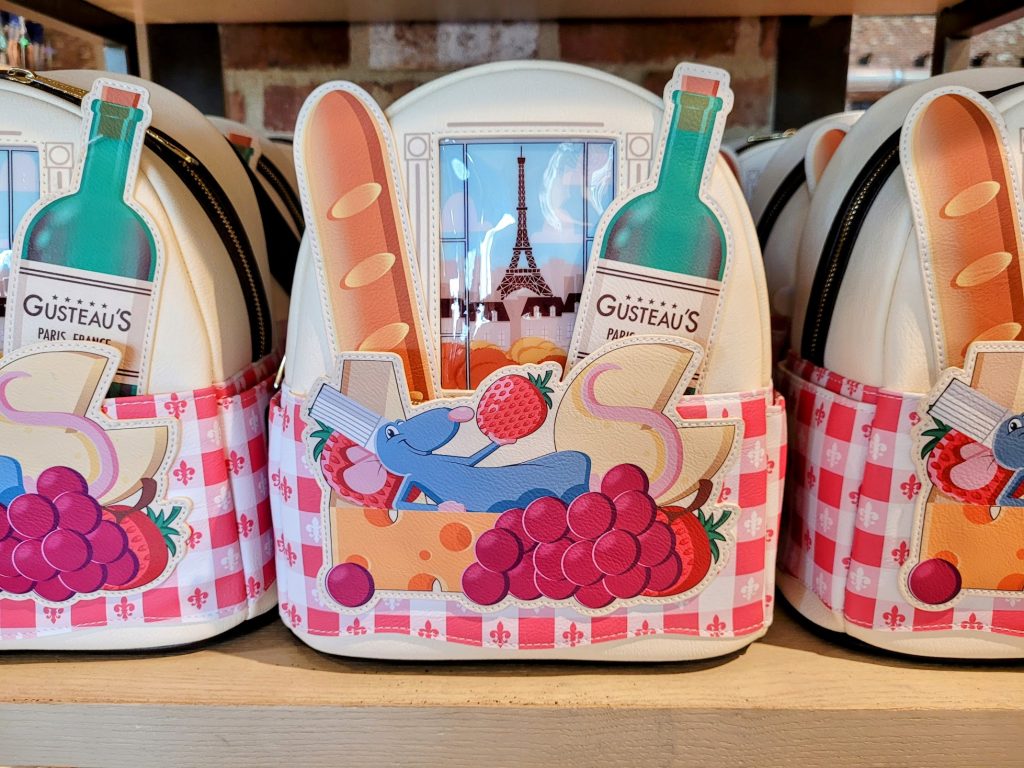 Has it really been 15 years since the movie Ratatouille was released? Seems just yesterday that adorable rat cooked his way into our hearts, and now he can hangout with you in the Disney parks! This Ratatouille anniversary backpack has a laid back Remy on the front with some of his favorite ingredients. It also has one heck of a view with the Eiffel Tower in the background. This feels like the perfect Loungefly to wear to Epcot, maybe even for the tail end of the International Food & Wine Festival!
Steamboat Willie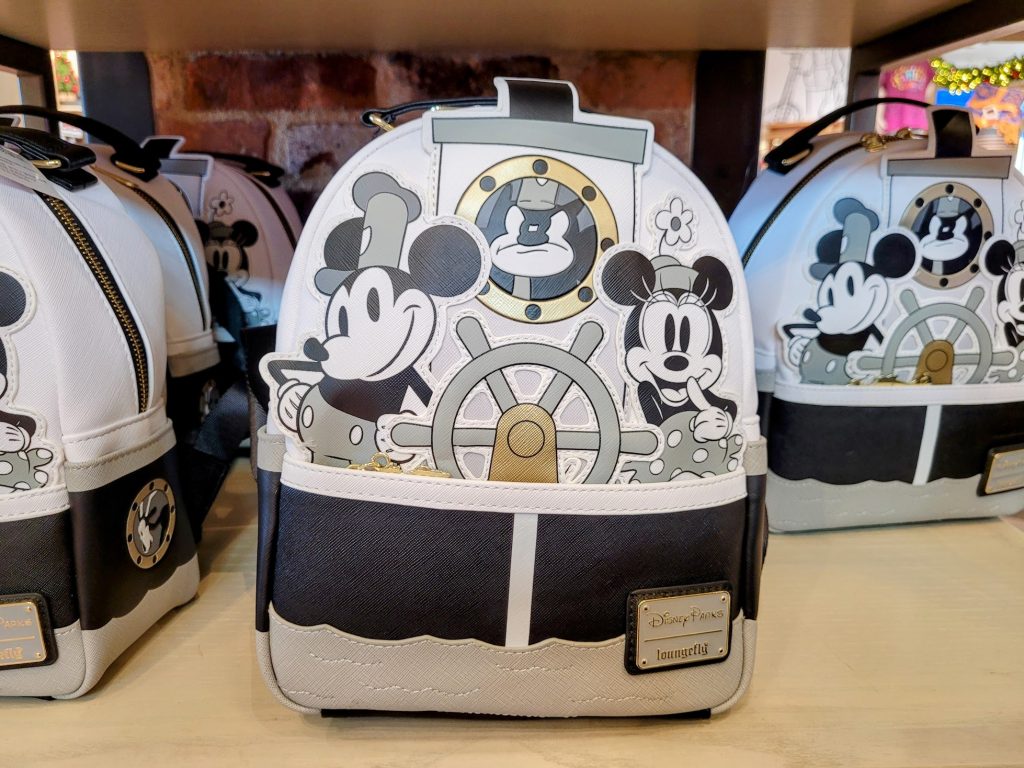 Disney began telling stories a long time ago, and some of their black and white shorts will forever be classics. This Disney Loungefly mini backpack took its inspiration from "Steamboat Willie", a short film created in the 1920's, with Mickey and Minnie in their old school black and white outfits on a boat with Pete ready to make trouble in the porthole.
This is the perfect bag for those who want to bring a little classic Disney with them wherever they go.
Star Wars "A New Hope"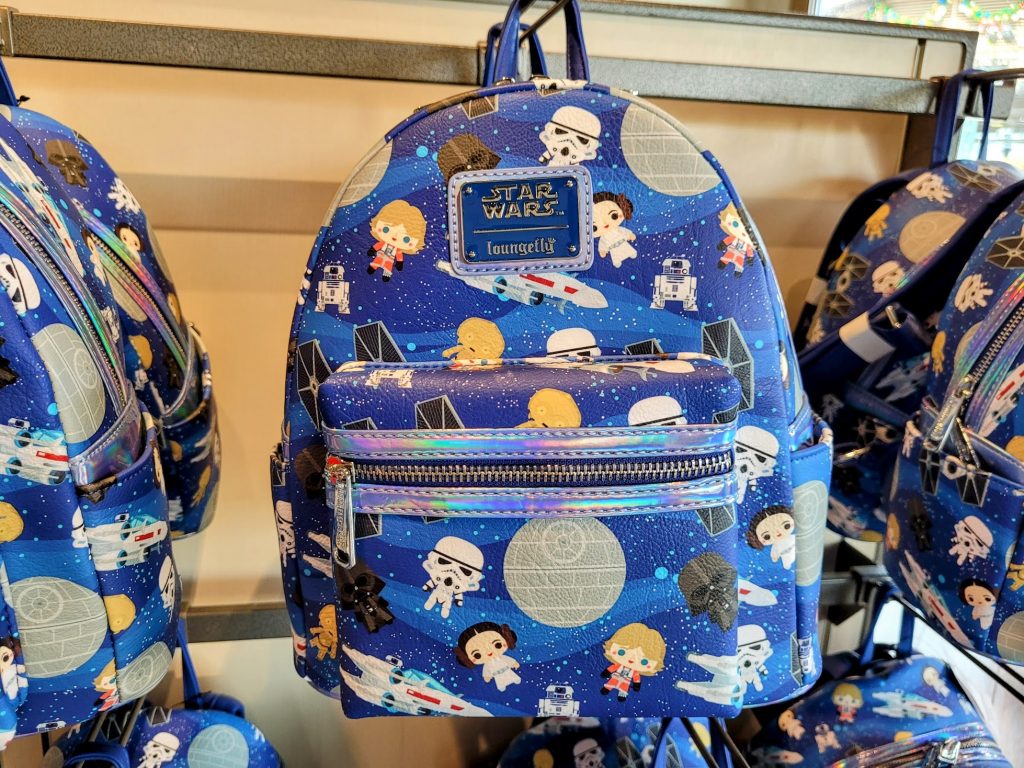 The "A New Hope" Star Wars Loungefly features a beautiful array of blues and minis of some of the most beloved Star Wars characters including Princess Leia, Luke Skywalker, Darth Vader, Stormtroopers, R2D2, and C3PO. The print also has the Death Star and various fighter ships. Who knows how long this backpack will be in World of Disney, so be sure to grab it before it's far far away.
Minnie Mouse Polka Dot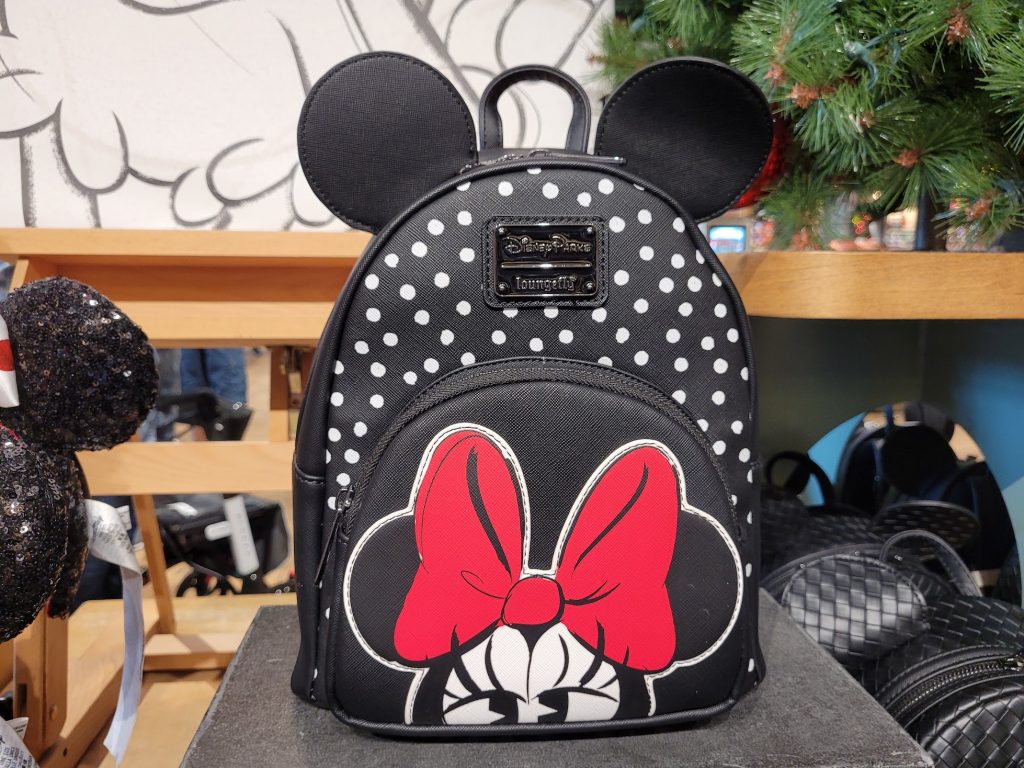 This Minnie Mouse Polka Dot Loungefly is all black leather with white polka dots on the top part (not including the ears). The zipper pocket closes in a half circle instead of straight across like majority of the others, and features a bit of Minnie Mouse and her giant red bow. This is a more unique look to the Minnie Mouse Loungefly backpacks that we have seen in the past, but we are loving it for sure.
Bambi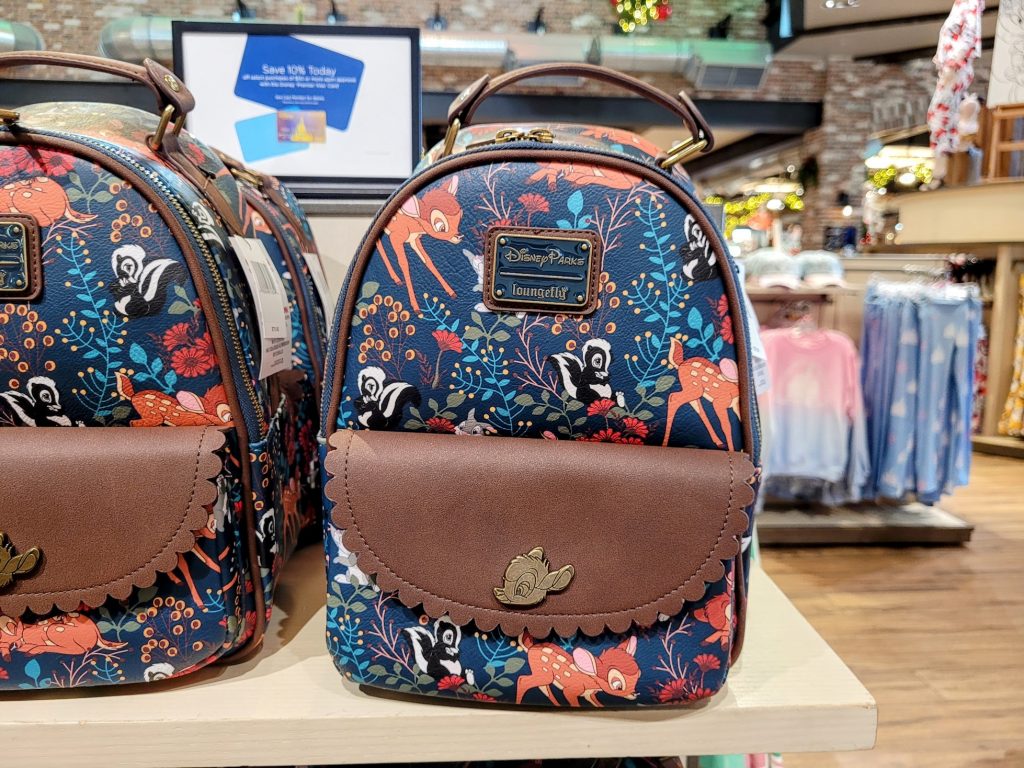 This backpack is almost as beautiful as a flower. The print features a navy blue background with the three main characters of Disney's classic movie "Bambi". Bambi, Thumper, and Flower can be seen posing amongst the plants. Instead of a zippered pocket, this Loungefly bag has a snap closure with Bambi's face on it. This backpack is more understated than some others, but is indeed quite lovely.
Mickey Mouse – The Main Attraction – Dumbo The Flying Elephant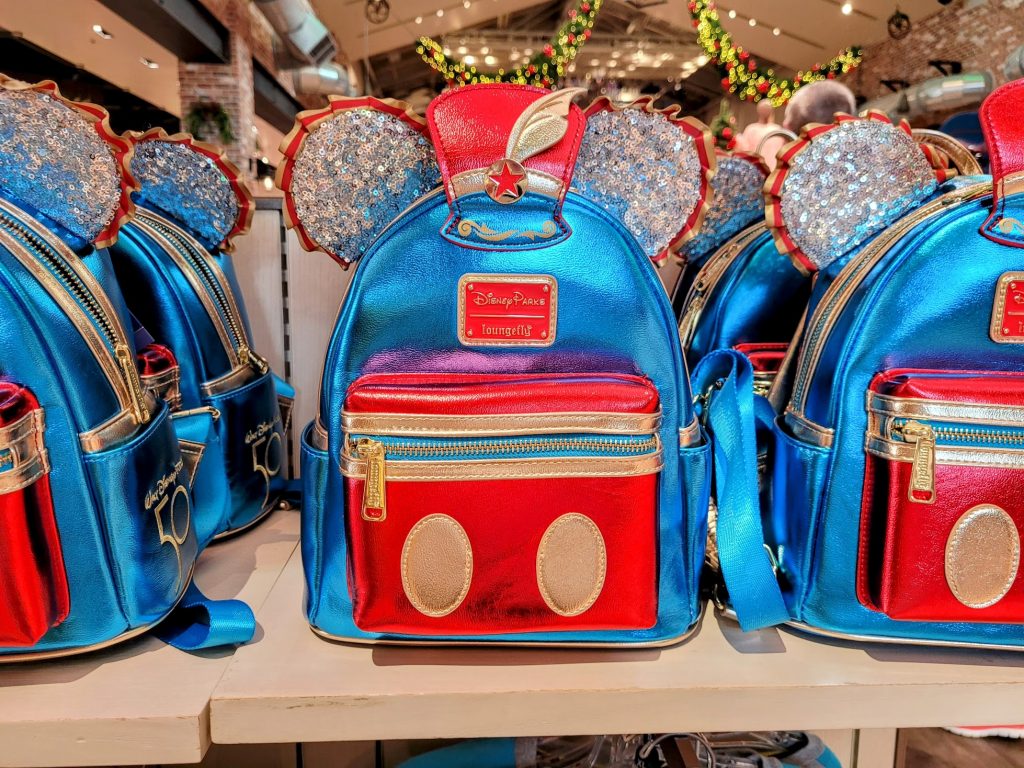 Speaking of classic Disney movies, this next Loungefly took inspiration from the Disney park attraction Dumbo The Flying Elephant, that was obviously inspired by the movie Dumbo. Although the movie and ride will probably be around forever, this Loungefly mini backpack won't be. This Dumbo Loungefly is a limited edition and who knows how long it will be staying or if we will ever see it again.
This Loungefly has to be one of the best in World of Disney right now. It is vibrantly colored with a shimmering blue and red color pallet. The zipperrs,Mickey pant circles on the front pocket, and other bits of trim are a bright gold, while the Mickey ears have silver sequins. Oh yeah, let's not forget the absolutely ADORABLE Timothy Mouse hat on the very top between the Mickey ears. I might be a little bit in love, are you?
Mickey Mouse – The Main Attraction – Big Thunder Mountain Railroad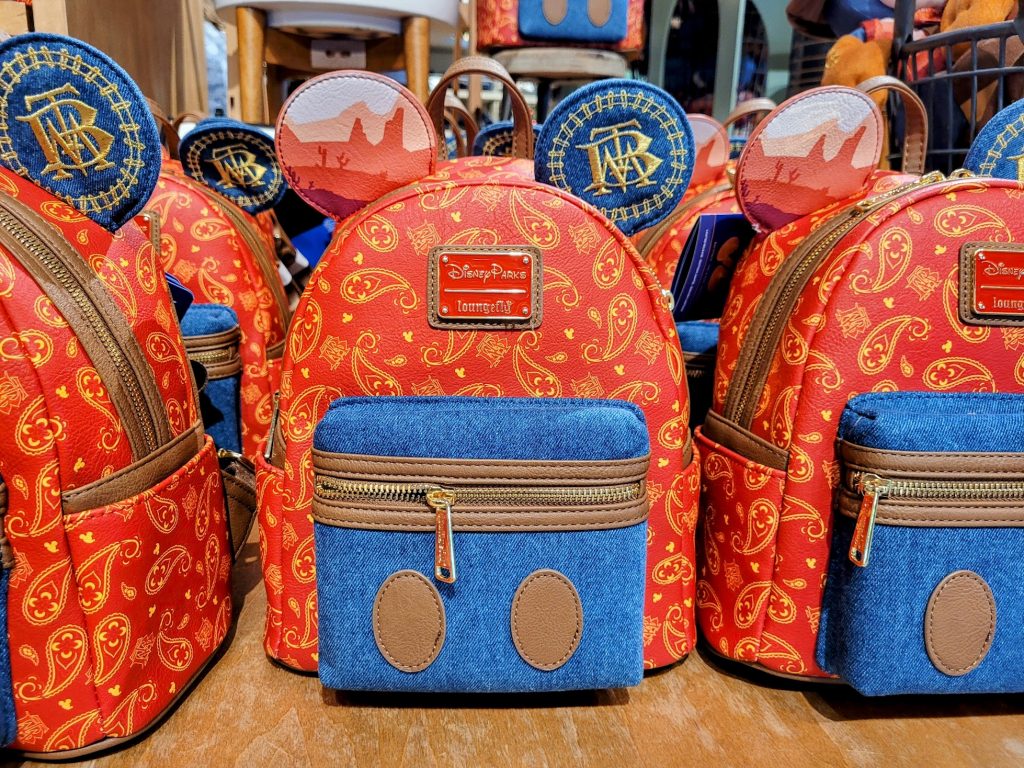 Another Mickey Mouse – The Main Attraction Loungefly is in World of Disney right now. This Big Thunder Mountain Railroad Loungefly is also limited edition and will only be available for a limited time. This mini backpack has a more rustic look to it to match the theme of Big Thunder Mountain Railroad.
The main body portion of the leather is a red color with gold accents, while the pocket also sports the classic Mickey shorts look with a blue jean feel. The Mickey ears are two different designs with one featuring a scenic desert mountain range in red and the other a blue ear with gold accents of a circular train track and the letters B, T, M.
This Disney Loungefly would be a great edition to any backpack collection!
Encanto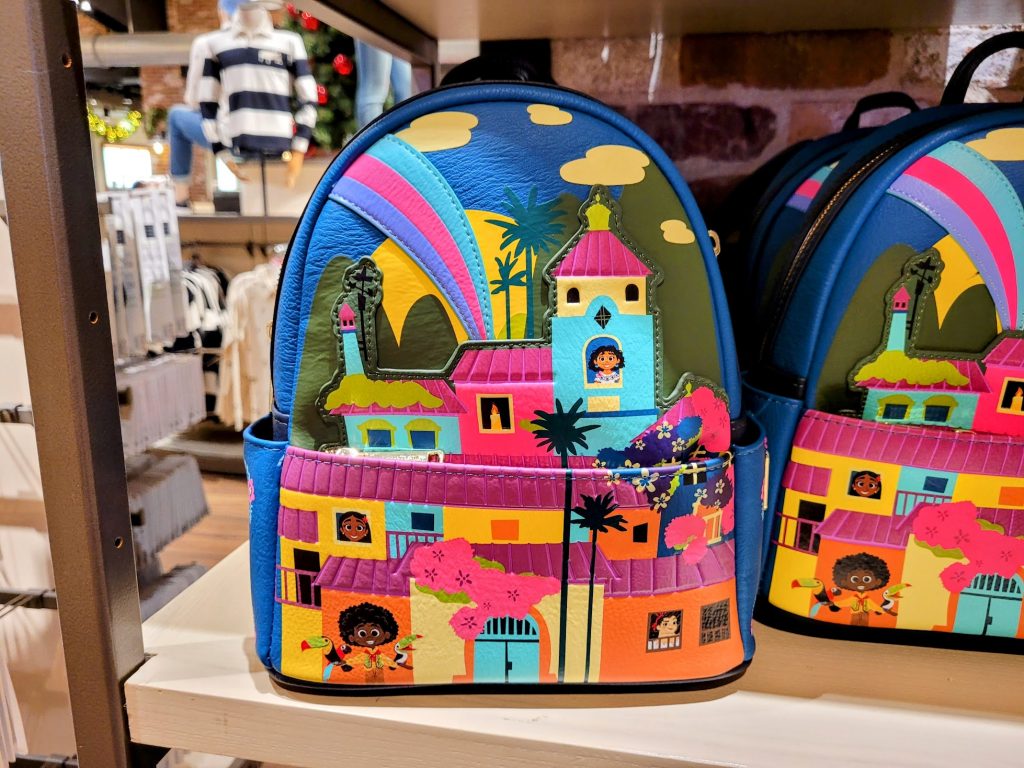 Almost exactly one year ago to the day Disney's 60th animated movie "Encanto" took the world by storm. This film not only tells a beautiful story and has an addictive musical soundtrack, but it has also inspired a ton of merchandise.
This Encanto Loungefly Backpack features the magical house "Casita" that the Madrigal family lives in. Casita has a ton of different, bright colors and you can also spot many of the members of the family Madrigal in the windows and in front of the house. This is a great choice for fans of this film, or anyone who just wants to add a little extra color into their life!
Black Panther- Wakanda Forever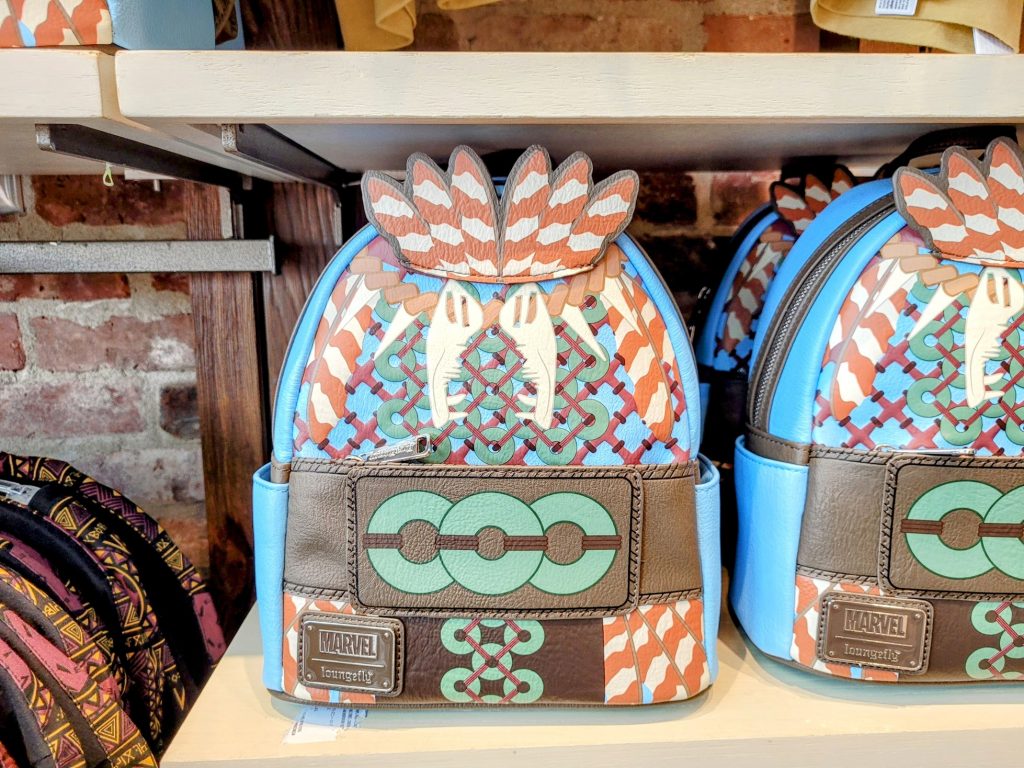 The sequel to Marvel's Black Panther has been released after a long wait. This new Loungefly backpack is inspired by Black Panther – Wakanda Forever and has beautiful patterns on it, various pastel colors and even the jaw bones that Shuri was wearing in her traditional outfit in the first film. It is truly a stunning bag that any Marvel fan would love.
Fuzzy Baby Yoda/Grogu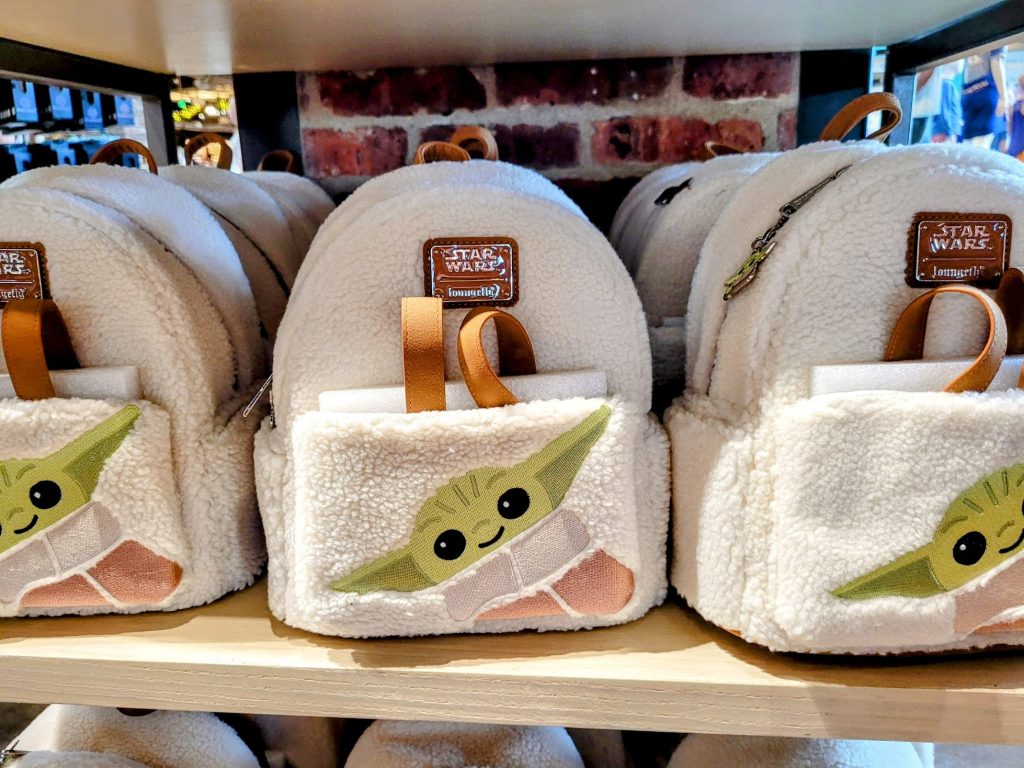 Oh sweet baby Yoda (really named Grogu), will he ever leave these mini Loungefly's? Probably not! Since this character premiered on the Disney+ show "The Mandalorian", World of Disney has had a Grogu Loungefly available. Obviously the design of them change all of the time, so the options available will be different depending on when you go.
Right now the Grogu/Baby Yoda Loungefly option is a fuzzy sherpa style backpack. It is all white with brown straps and logo. There is no zippered pocket on this backpack, instead it is an open pouch that closes slightly with the straps. The front pocket also features a smiling image of the adorable Grogu. Is it a fuzzy feel because Grogu gives us warm and fuzzy feels? We're going with yes!
Woven Mickey Mouse – Black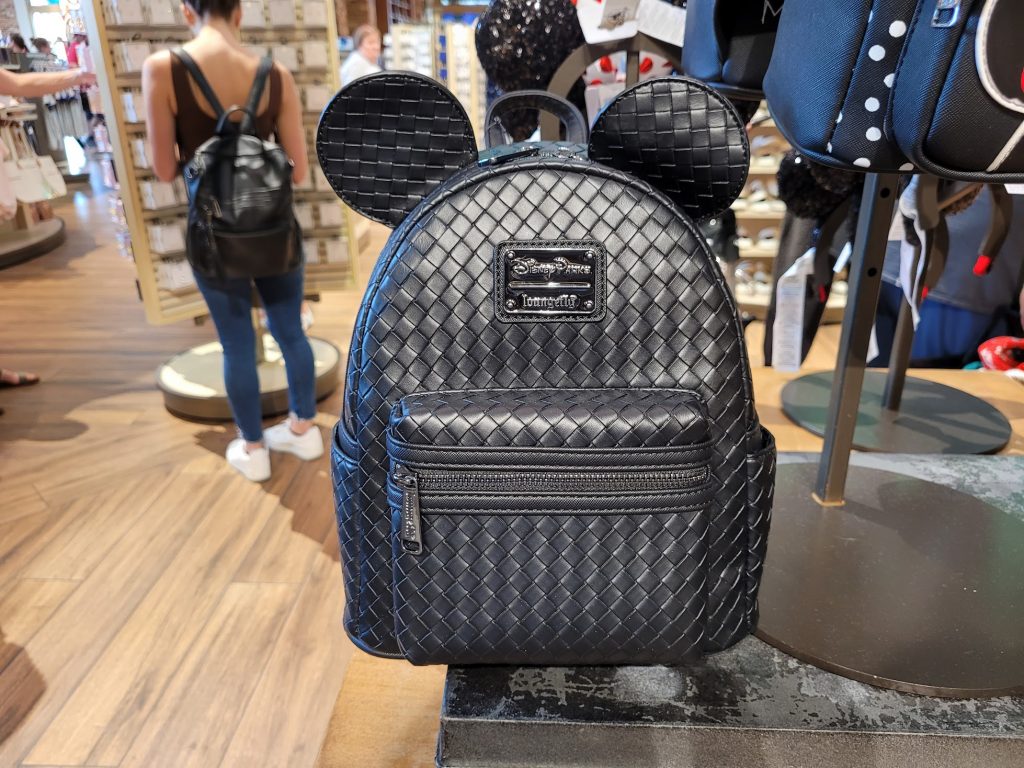 This next backpack has another unique texture to it. This is a Mickey Mouse Loungefly that features a woven look. It is all black, from the leather, to the zippers, and even the Loungefly logo. Although it may not seem like it has as much wow factor as some of the other designs, this all black Mickey backpack is so understated and beautiful. Besides, black goes with everything! This Loungefly would be the only one you ever need at any time of the year. Easy to accessorize, all of the function, and beautifully unique; an absolutely gorgeous choice for sure!
Disneyland Paris 30th Anniversary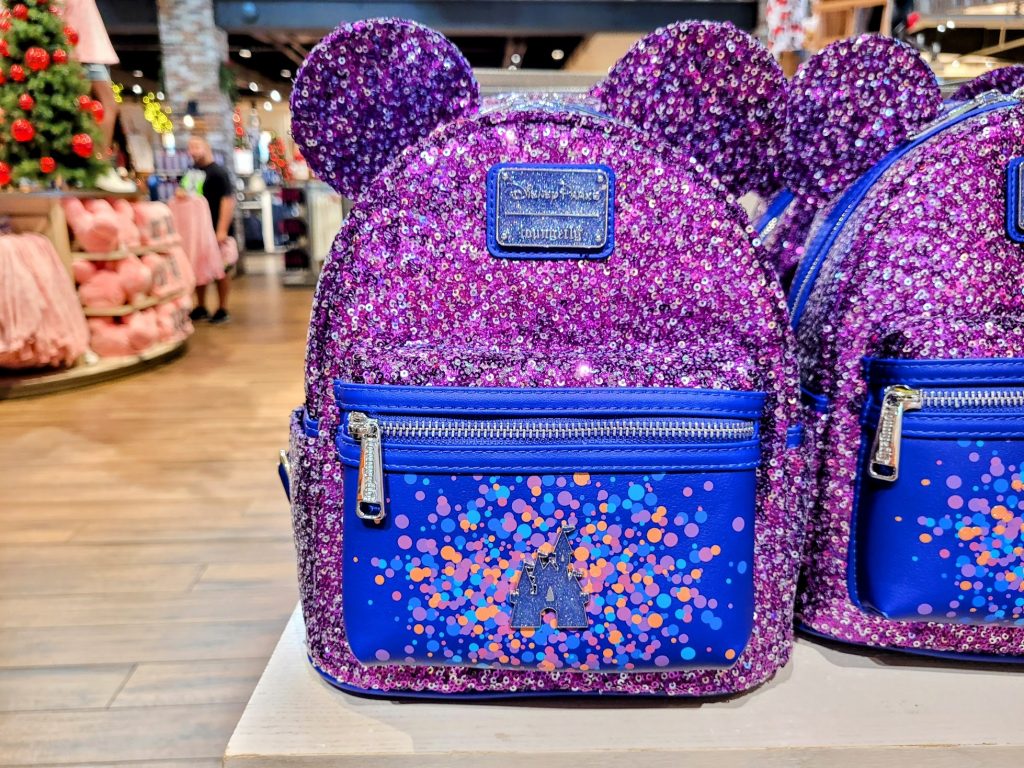 This Disneyland Paris 30th Anniversary Loungefly sparkles like nothing else! Purple and silver sequins cover this backpack from the tip of the ears to the bottom of the bag, with the exception of the royal blue zippered pocket. The front pocket also features the Disneyland Paris version of Sleeping Beauty's Castle, Le Château de la Belle au Bois Dormant. Surrounding the castle are multi colored bubbles, which matches all of the other Disneyland Paris 30th anniversary merchandise.
This Loungefly will only be around for a limited amount of time for the 30th anniversary celebration, so be sure to grab yours before they're gone!
Disney Parks Attractions Minis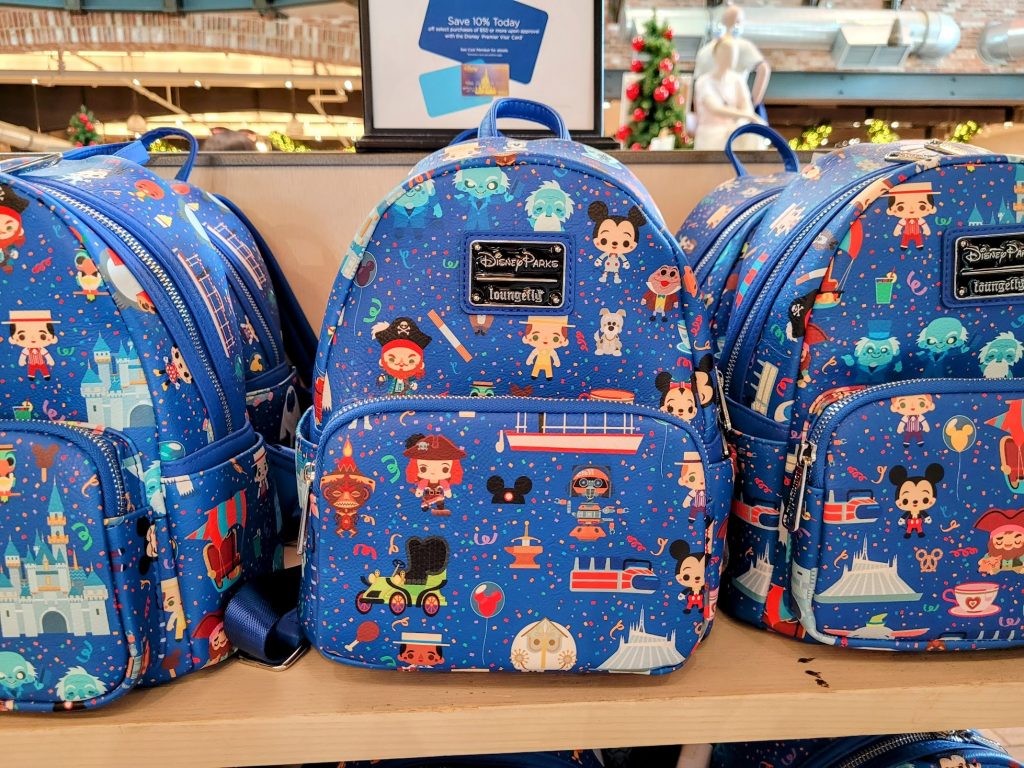 The Disney Parks Attractions Minis Loungefly has been a staple at World of Disney for quite some time. Although you never know when Disney will swap out the merchandise, this design encompasses all of the Disney park favorites such as Mickey balloons, Disney snacks, favorite original rides, and other classic Disney entertainment; so we are hoping this Loungefly will continue to be around for awhile.
Inside Out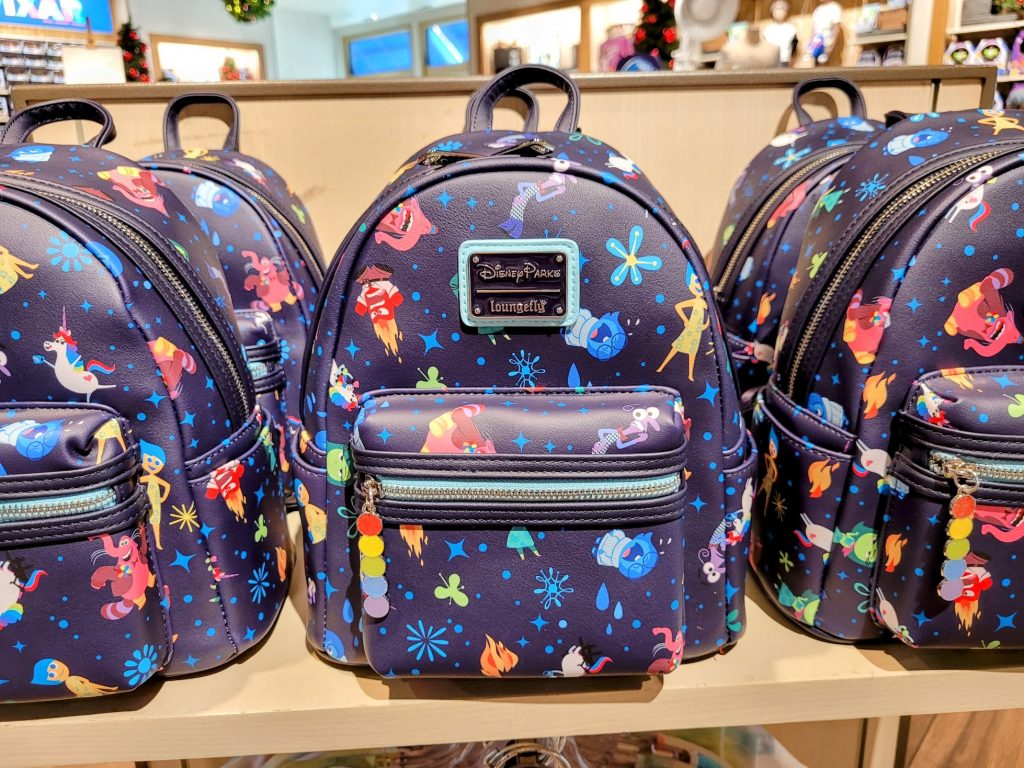 Another Loungefly design that has been pretty constant in World of Disney is the Inside Out mini backpack. This backpack allows you to bring your favorite emotions everywhere with you. Many of the most memorable characters decorate the bag with each backpack having a unique pattern. The navy blue leather is highlighted by light blue embellishments in the form of rain drops, flowers, and sparkles. Every little detail is perfect even down to the zippered pocket. The zipper is stacked memories in the color of each emotion, perfectly tying the theme together. This Loungefly gives us all the feels!
Minnie Mouse Sequin – Rose Gold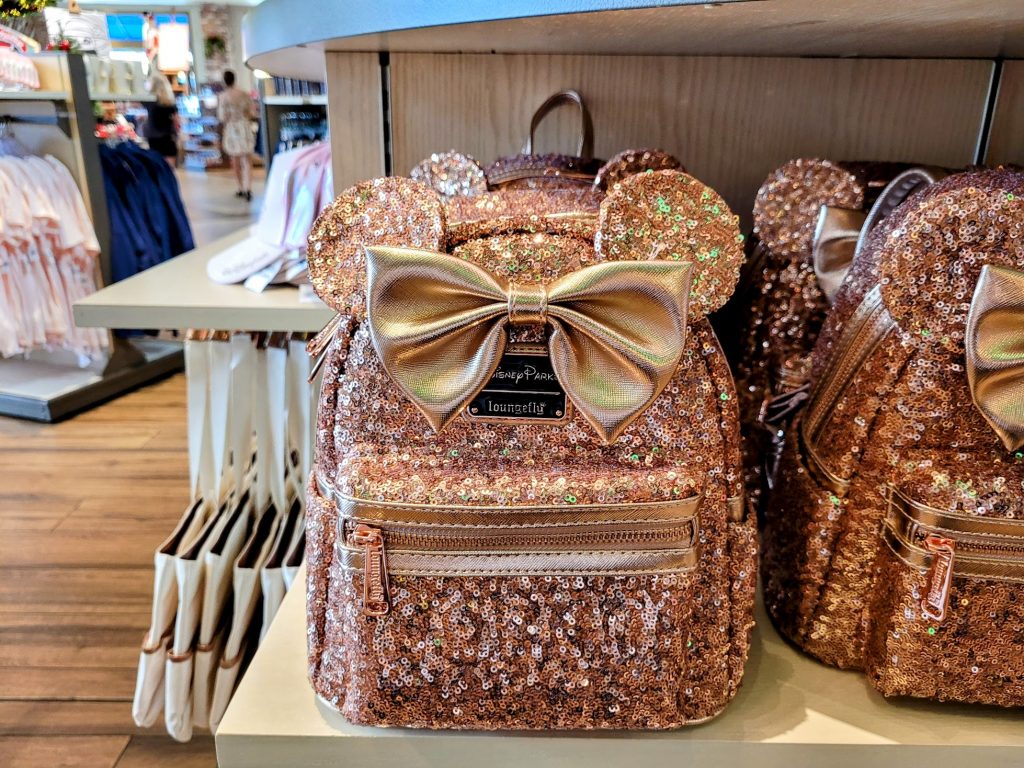 The Rose Gold Minnie Mouse Sequin Loungefly backpack is another classic at World of Disney. Although you still get the wow factor of being covered in sparkling sequins and topped with a signature Minnie bow, the rose gold color is a little more understated than some of the others. This makes it a little easier to accessorize, while still giving off perfect Minnie Mouse princess vibes!
Hercules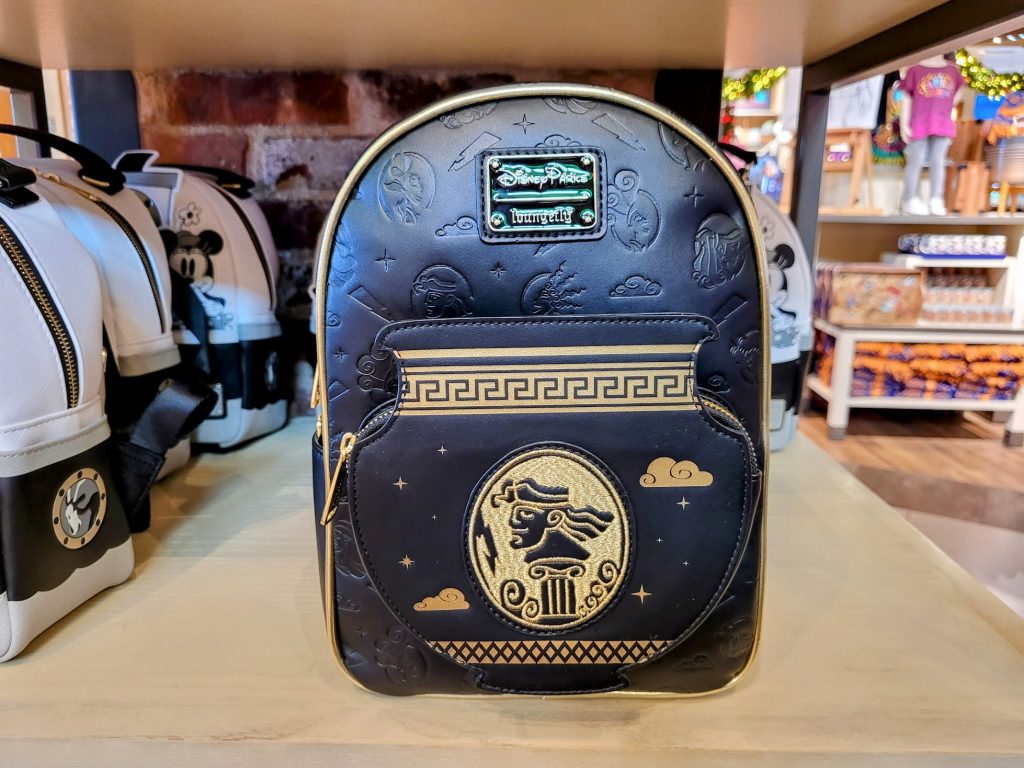 This Hercules Loungefly mini backpack was a bit of a surprise to see in World of Disney. Hercules is a classic Disney film, but there isn't much inspired by the film in the parks or even in World of Disney. However, this is a beautifully understated backpack, and definitely unique!
It is mostly black, with black etchings of clouds around it. We've never seen anything like this front pocket before, it is a black and gold vase, and it looks like they have slapped Hercules face right on it!
Mickey Mouse Swirl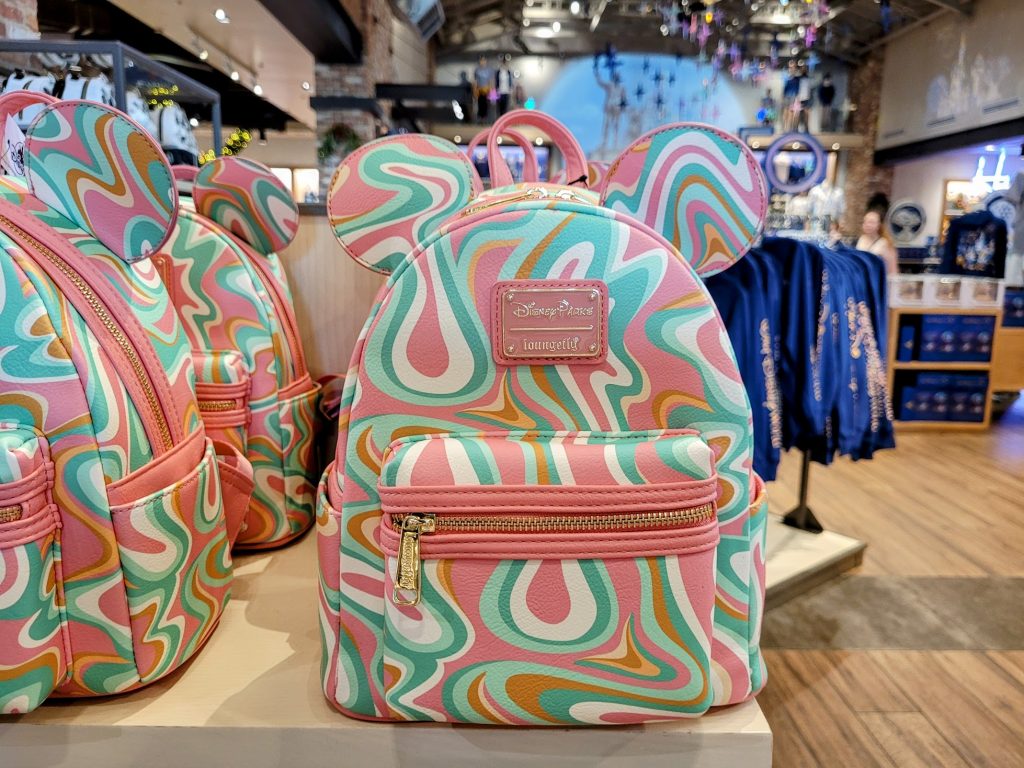 The Mickey Mouse Swirl Loungefly is a new edition, and it is definitely giving off some 70's vibes. The Swirls are pastel pinks, various greens, and white. The zippers are gold, and of course the top of this backpack features the signature Mickey ears. This design is so original, retro, and downright fun!
Absolom Caterpillar – Alice In Wonderland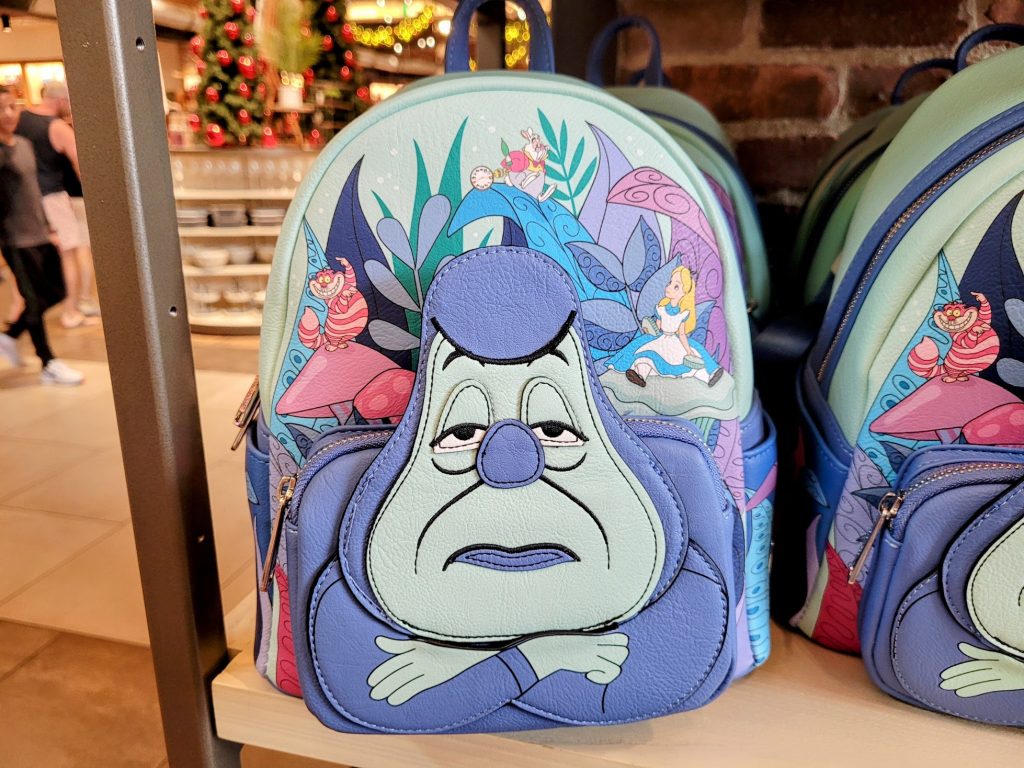 A new Alice in Wonderland Loungefly is in World of Disney right now, featuring Absolom the catepillar. His hand and crossed arms are on the front zippered pocket, giving "I don't care" attitude. Behind him the scene has Alice and the Cheshire Cat sitting on a mushrooms and the White Rabbit sliding down a blue leaf. This Loungefly backpack definitely tells the story of Alice in Wonderland perfectly!
Up – Kevin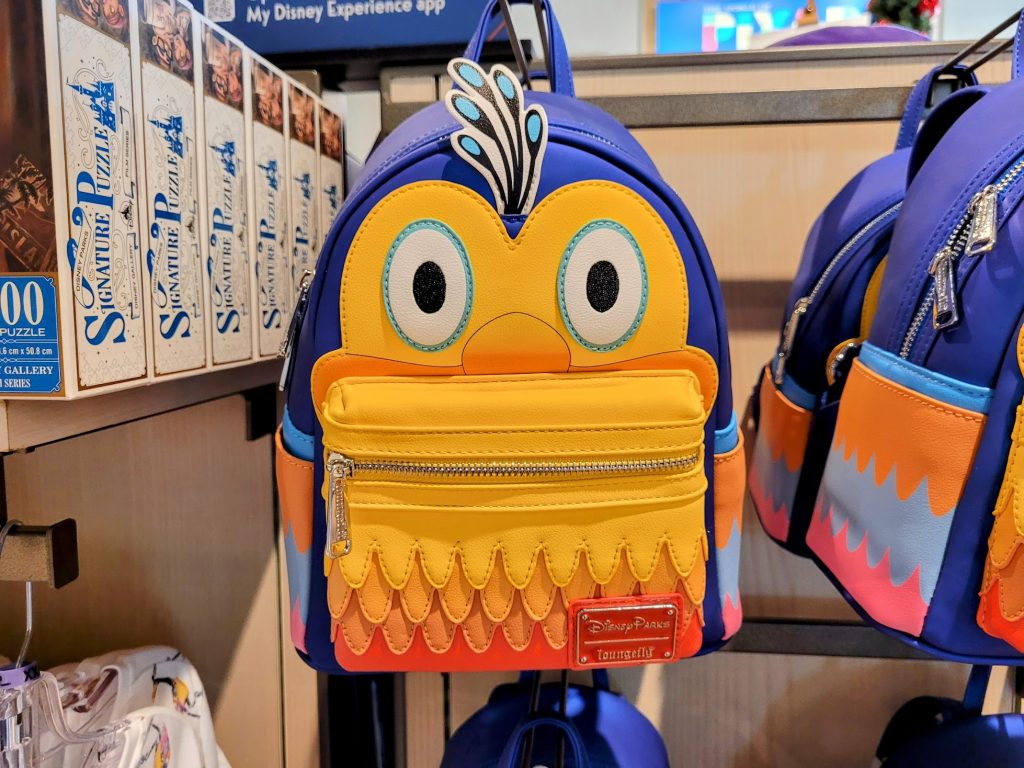 Kevin is still here! The Kevin from Up Loungefly Backpack has been hanging around World of Disney for a long time now. It is very popular bag that you will see all over the parks, in particular Animal Kingdom. She is adorable beyond belief with so many vibrant colors and she is just a super fun character to boot. We hope Kevin never leaves.
Let's Shop!
As you can see there are so many new Disney-Themed Loungefly Mini Backpacks to choose from in World of Disney right now! Are you a Loungefly backpack collector? Will you be heading to Disney Springs to get one soon? Which one of these amazing Loungefly backpacks is your favorite? Let us know by leaving a comment below!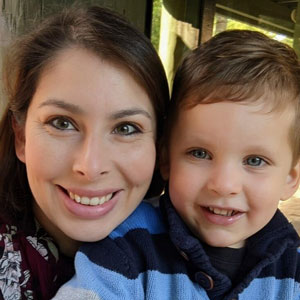 Written by
Rachel Van Norman
Contributing Writer
Rachel fell deeply in love with all things Disney as a little girl. Now as a wife and a mother herself, she shares this Disney obsession with her son and everyone around her. From her love of princesses to eating all the Disney food, Rachel spends her time radiating Disney magic and keeping everyone up to date on Disney news.