Boulder Ridge and Copper Creek Villas are Disney Vacation Club resort located in the Wilderness Lodge at Walt Disney World. These resorts offer deluxe studios, 1-3 bedroom villas, and cabins!
Resort Overview
Disney's Wilderness Lodge is a deluxe resort that immerses it's guests into the wilderness with its log-cabin like hotel, nature trails, simulated geyser, and bubbling creek. Here you will find two of the Disney Vacation Club Villas: Boulder Ridge and Copper Creek! The Boulder Ridge Villas have deluxe studios, 1-bedroom villas, and 2-bedroom villas while the Copper Creek Villas have deluxe studios, 1-bedroom villas, 2-bedroom villas, 3-bedroom villas, and 2-bedroom cabins.
Grab A Bite To Eat 
Wilderness Lodge offers multiple dining locations throughout the resort! This includes 2 quick service locations, 1 bars, and 2 table service options.
Quick Service
There are two quick service locations at Wilderness Lodge: Geyser Point Bar & Grill and Roaring Fork. The first, Geyser Point, is located between the two Wilderness Lodge pools. Guests can order their food to-go from their walk-up window. Or, if preferred, they can be seated at a table or the bar and the waitstaff will take their order! For starters, Geyser Point offers Teriyaki Wings, Edamame, Shrimp on a Wire, Cheesy Barbecue Brisket, Crispy Salmon Croquettes, and Handcrafted Cheese and Charcuterie. For the mains, guests can choose between the Bison Cheeseburger, Roasted Salmon, Smoked Turkey Sandwich, Handcrafted Crab Cake, Grilled Portobello Salad, Multigrain and Grilled Portobello Salad, or the Fruit Plate! Desserts are available as well, like the Apple Cider Sorbet or Campfire Mousse, and there's a wide range of cocktails, including the Rough Rider Sour or Huckleberry Punch!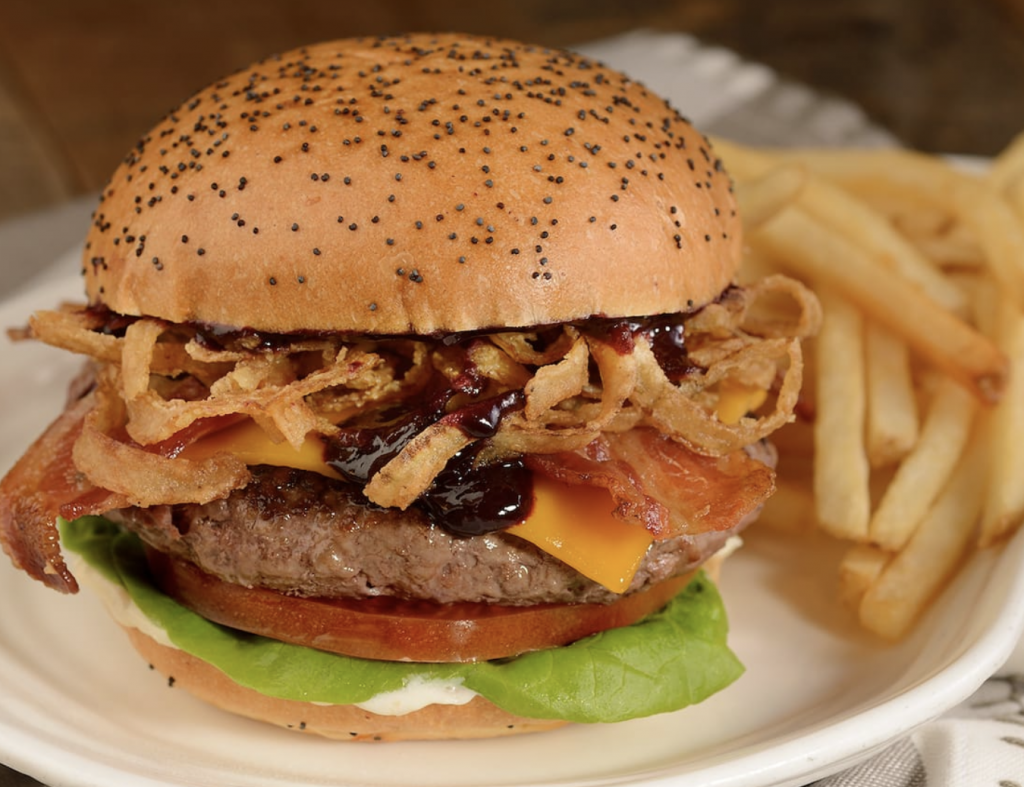 Roaring Fork, which can be found in the hotel near Artist Point, serves breakfast, lunch, and dinner. For breakfast, guests can choose from a variety of options, like the Roaring Breakfast Platter, which comes with scrambled eggs, potato hash, sausage, bacon, and a cheddar biscuit. Or the Bananas Foster French Toast, made up of brioche battered in cinnamon and egg, and served with Bananas Foster, whipped cream, and a side of potato hash! Sides, bakery items, desserts, and drinks are also available. Lunch and dinner offer the same menu to guests, with options like the Chicken and Waffles, the Cheeseburger, and the Lumberjack Platter, which comes with pulled pork, macaroni and cheese, cornbread, and coleslaw.  Guests can conveniently mobile order their food from this dining location.
Bar Service
Inside the Wilderness Lodge guests can find their bar Territory Lounge. The menu consists of small plates like the Oregon Chardonnay Fondue, which comes with pretzel bread and grapes, or the House-Made Potato Chips served with a side of chimichurri ranch dip. For drinks, patrons have the option of mocktails, specialty cocktails, beers, wines, or bourbons! Specialty Cocktails include classics like the Moscow Mule, Raspberry Mojito, Captain's Mai Tai, and of course, my favorite, the Pina CoLava. This drink contains Bacardi Raspberry Rum blended with Raspberry Puree and Coconut and Pineapple flavors- AMAZING!
Table Service
Two table service restaurants are located at the Wilderness Lodge Resort: Story Book Dining at Artist Point with Snow White and Whispering Canyon Cafe. The first, Storybook Dining at Artist Point with Snow White is a character dining experience. Guests will see Snow White, the Queen, Grumpy, and Dopey throughout their meal. Available for dinner only, meals begin with drinks like mocktails, specialty cocktails, beers, or wines, and shared appetizers like the Wild Mushroom Bisque and Wicked Shrimp Cocktail. Then guests can choose one entree from the prix fixe menu. These choices comprise of the following: Cottage Beef Stroganoff, Royal Prime Rib Roast, Magic Mirror's Slow-braised Pork Shank, A Stroll Through Nature, Brother's Grimm Herb Chicken, Sorceress Spell of Tricken Chicken, and Bashful's Butter-poached Sustainable Fish! Finally, for dessert, shareable items include options like the Poison Apple and Fairy Tale Gooseberry Tart.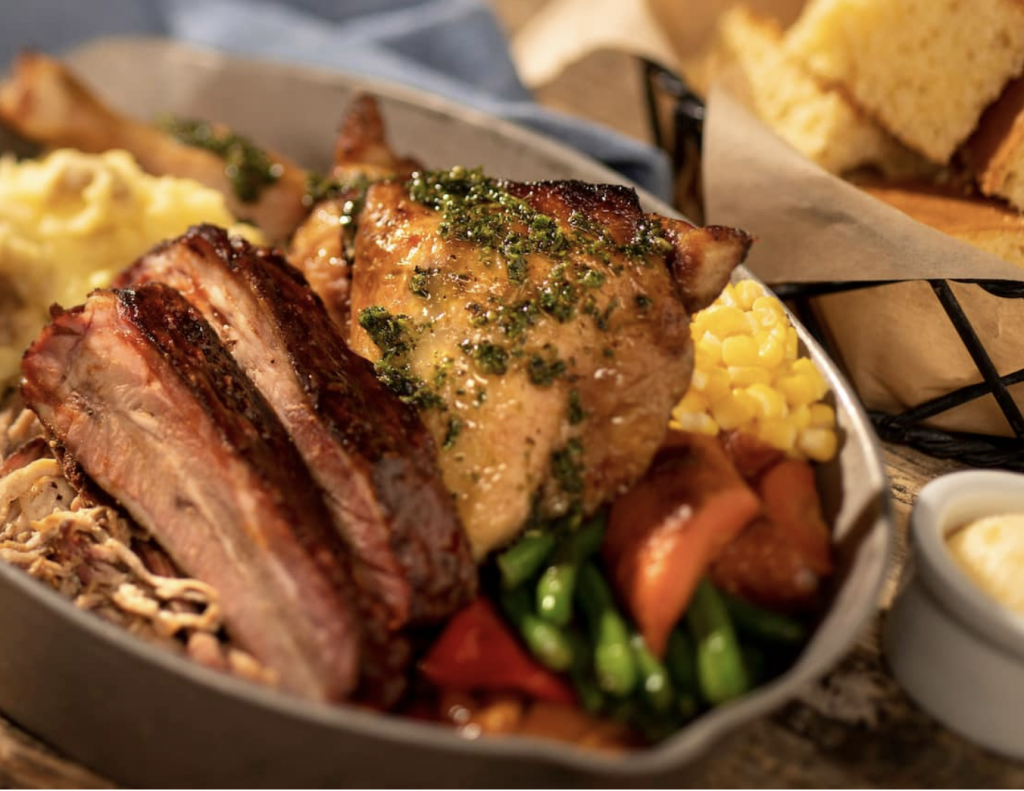 Whispering Canyon Cafe is a unique dining experience that serves up bottomless platters and bottomless sass! This restaurant offers a BBQ-style breakfast, lunch, and dinner. For breakfast and lunch, start the meal off with a coffee, morning cokctail, or shake. Food options include All-You-Care-To-Enjoy Skillets like the Heritage, which comes with house-made buttermilk cheddar biscuits topped with sausage gravy, scrambled eggs, potatoes, bacon, pork sausage, and Mickey-shaped Waffles. They also serve mains, like the Ham and Cheese Omelette or the Belgian-style Waffle, and shareables, like the Burnt Ends Nachos. For dinner, guests can order from the wide selection of drinks: shakes, specialty cocktails, beers, wines, or bourbons can be found on the menu. For food, options similarly include All-You-Care-To-Enjoy Skillets, like the Traditional, which comes with oak-smoked mustard BBQ beef brisket, maple-chipotle pork ribs, pulled pork, citrus-herb chicken, sausage, smashed potatoes, buttered corn, and green beans! Mains range from the Char-crusted New York Strip to the Cedar Plank Salmon, and sharables comprise of Burnt Ends Nachos, Maple-Chipotle Barbecue-braised Jackfruit Dip, and the Whispering Canyon House Salad. Finish your meal off with dessert, like the Granny Smith Apple Pie!
Pools
Wilderness Lodge has two pools: Copper Creek Springs Pool and Boulder Ridge Cove Pool. Copper Creek Springs Pool is located near the Copper Creek Villas and has a large, heated-pool with a 67-foot slide. There are whirlpool spas and kid's activity area as well! The Boulder Ridge Cove Pool is located near the Boulder Ridge Villas and offers a large pool and a whirlpool spa! Neither pools contain quick or bar service, however, Geyser Point Bar and Grill is conveniently located between the pools!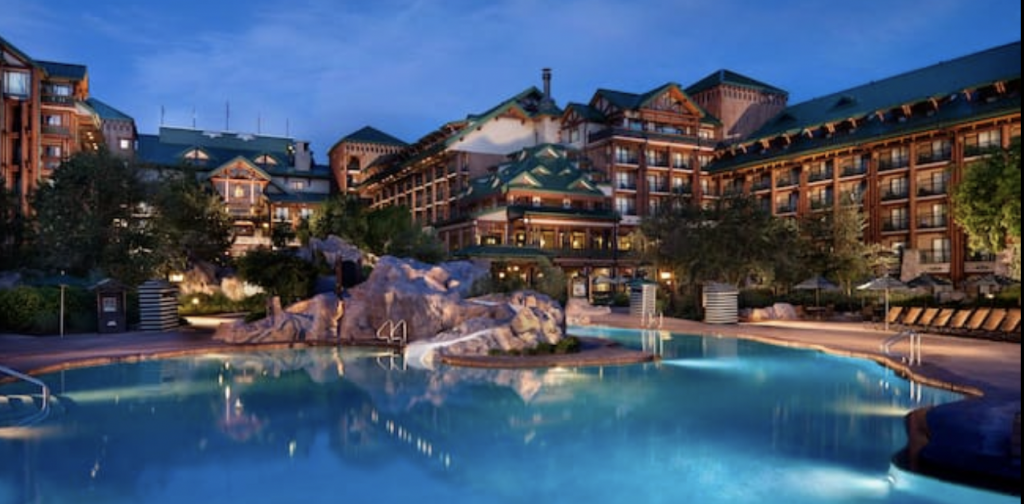 You Won't Want To Miss
Wilderness Lodge offers a wide range of recreational activities for guests. You can gather around a campfire and roast marshmallows, watch Disney movies under the stars, go for a jog, spend a morning fishing on a pontoon, and even enjoy arcade games! Guests looking to get a workout in can head to Sturdy Branches, Wilderness Lodge's health club. And for those looking for relaxation, Salon by the Springs, a full-service salon, offers haircuts, hair coloring, manicures, and pedicures!
Did You Know?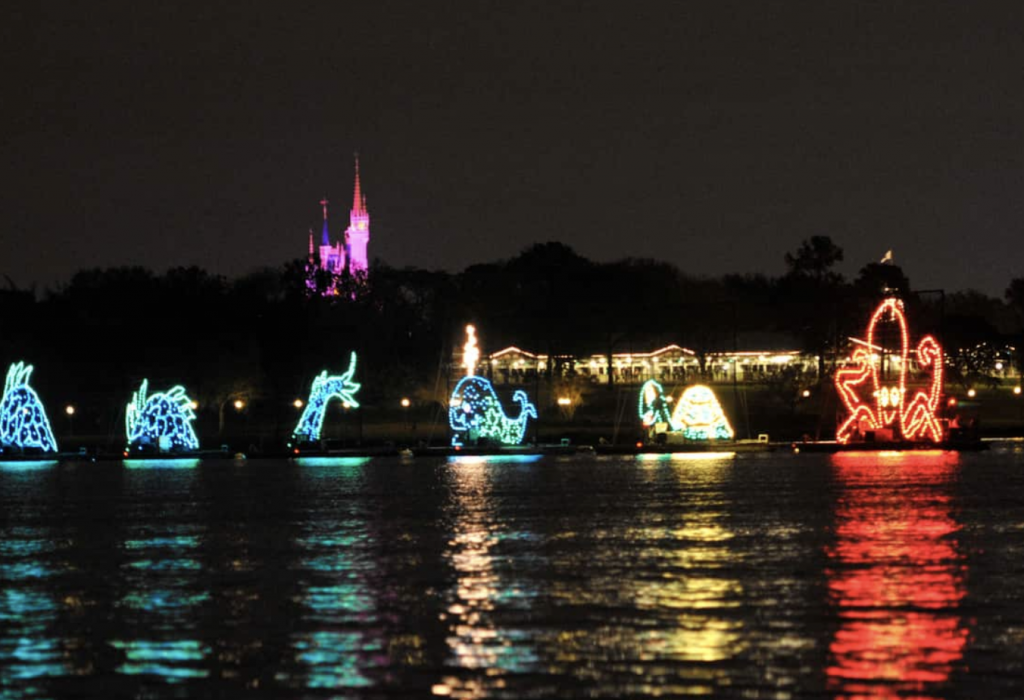 The Electrical Water Pageant, a nighttime water parade, can be seen from the Wilderness Lodge! Sea creatures light up Seven Seas Lagoon along with a medley of patriotic tunes. It begins at 8:25pm and runs until 10:25pm, passing by the Polynesian, Grand Floridan, Wilderness Lodge, Fort Wilderness, and Contemporary Resorts. Personally, Geyser Point Bar and Grill is my favorite spot to watch the Electric Water Pageant!
Featured image by Disney.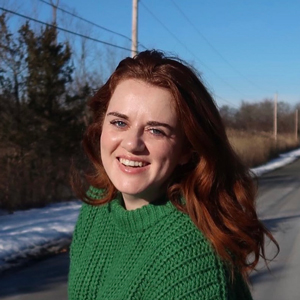 Written by
Brittany Gallant
Contributing Writer
Brittany has been traveling to Walt Disney World since she was two years old. Now a Disney Vacation Club member and annual passholder, you can often find Brittany at The Most Magical Place On Earth. She and her family are always looking for something new, whether that's a restaurant they haven't tried, a hotel they haven't stayed at, or an adventure not yet experienced.