I have embarked on another magical journey.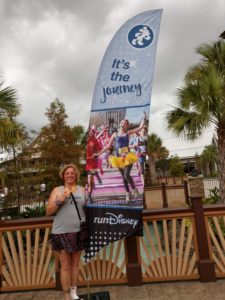 Training for another Run Disney race, my first Dopey Challenge. Most people don't wake up one morning saying "I'm gonna run a 3-4 day race challenge." It takes a bit of training. The magical journey starts when you sign up for your race. What a journey it is! The early morning training runs, finding the right race fuel that works for you and your nutrition in general. You also can't forget the costumes. Costumes are not required though. But they add to the magic of the races. Planning your costumes around the race theme or whatever you choose to do is so much fun.
After months of training and preparation the much anticipated magical race weekend arrives. Your first stop is the race expo. Where you pick up your race bibs, shirts and merchandise. You'll be able to see and purchase just about any running gear you'd need. The expo sparks the magical anticipation of the races. You have photo opportunities with Disney Characters. Meet up with friends you've gotten to know from previous races. Meeting new friends that are also on this magical journey. Talking costumes, comparing corral assignments, who will be with you each race morning in the same corral.
Finally race morning arrives.
We've all been called crazy. We just might be! We are up race mornings by 3am. Getting ready and to catch the buses to the start line, excitement is building. Seeing all the costumes from the most simple to very elaborate. Meeting up with your groups like our own DVC Princess Runners for our pre-race photos. Making plans for after race activities. The magic keeps building as the announcer pumps up the crowd pre-race.
The race starts with each corral getting their own firework send off. Can't get much more magical than that. You run your race. Stopping along the way for character photo opportunities. Music playing along the route, volunteers cheering you on through water and aid stops. Getting to run through the parks before they open, Animal Kingdom, Magic Kingdom etc. is so exciting and magical. Having strangers, family and friends cheering you on, keeps you going.
Crossing that finish line is I think the most magical moment of the journey.
Seeing all your hard work pay off when a cheerful volunteer congratulates you and places that medal around your neck. You celebrate your victory and wear your medal all day everywhere.
So what are you waiting for? Embark on your magical journey. Sign up for that Disney race you've been wanting to do. I'll see you out there!

Guest Author
Rebecca DeBell