Steakhouse 71 is one of the newest restaurants that has opened in Walt Disney World Resort. It opened in honor of Disney World's 50th anniversary and has been drumming up quite a buzz ever since it opened its doors on October 1, 2021.
It is located in Disney's Contemporary Resort, just a short walk away from Disney's Bay Lake Tower. We had to go and see what Steakhouse 71 is all about so that we could give it our honest review.
The Atmosphere
Steakhouse 71 offers a really lovely and sophisticated dining area. It has a modern feel to all of its furniture and decor and the overall design is classically understated. Not just is it beautiful, but all of the seating is very comfortable as well which makes it a great place to relax before or after walking all around Disney World.
It is quite busy, which makes sense due to its newness and proximity to Magic Kingdom. Morning especially seems to be like a busy time. Although it was busy, it was not too loud given that every table was full, which was a nice surprise.
The Service
As stated before, Steakhouse 71 was quite busy, so the servers do rush around a bit. Our server seemed like he was going at a fast pace to take care of all his tables, but we never had issue with asking for things. Every time our bottomless mimosas ran out and we flagged him down, he let us know that he already had the request in at the bar. The servers were definitely on top of everything.
There was naturally a bit of a wait for our food given the full capacity of the dining room, but nothing bad at all. The server also made sure to communicate with us as we waited too, which is always a nice touch. From being seated to paying the bill, the meal took a total of an hour and twenty minutes.
The Food
Onto the best part of Steakhouse 71, the food and drinks! Steakhouse 71 offers bottomless mimosas for about $20. A deal we certainly could not pass up. They were very tasty and used a very nice champagne and fresh orange juice. This would definitely be an absolute must for anyone who enjoys a drink with their breakfast or brunch.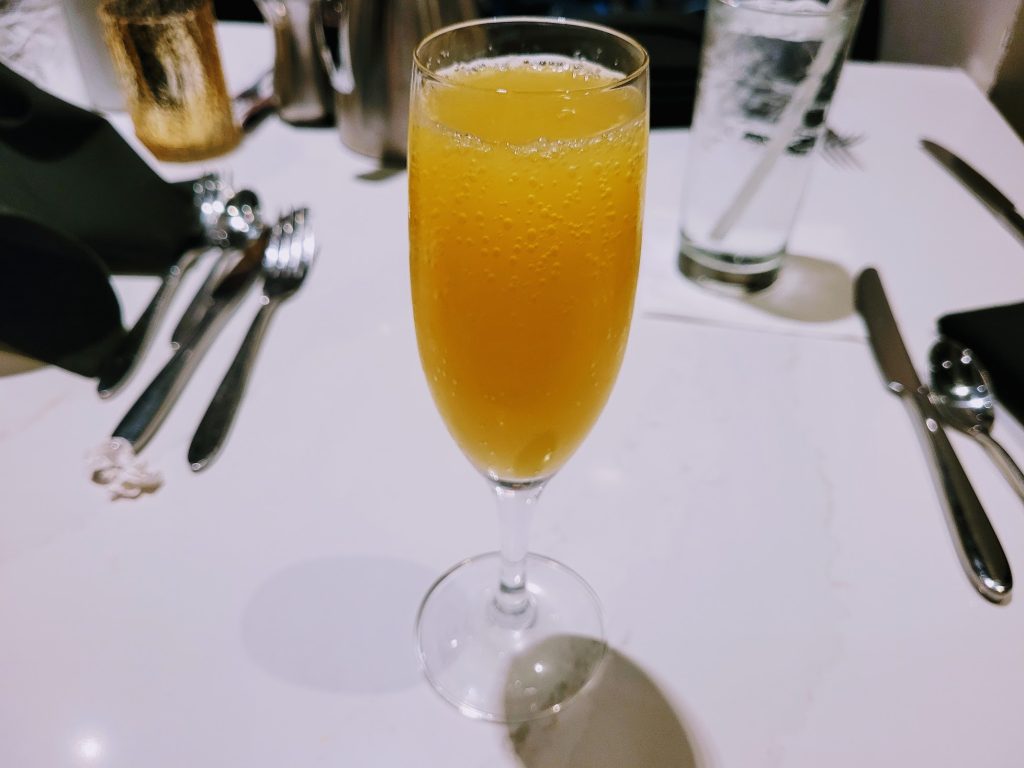 Now onto the Steakhouse 71 feast. This was such a great option because it has a little bit of everything. You get a lot of food, for a very reasonable price. They made some accommodations for this dish as well such as the hollandaise sauce on the side for the eggs benedict, and they gave me all strawberries instead of mixed fruit.
Everything was delicious and seasoned perfectly. If there was a star of the plate though, it would have to be the cheddar and bacon grits. There may be a time that I return here only to eat bowls and bowls of those grits, they were that good. I can't say there was a single thing included in The Feast that wasn't great.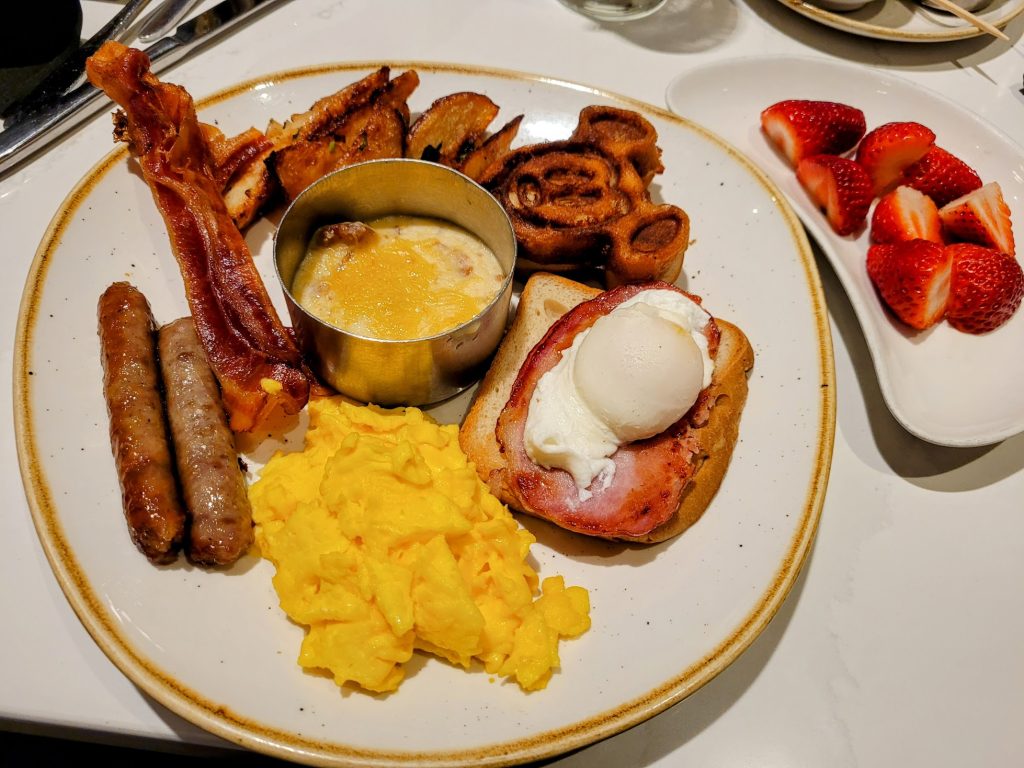 Here we have the Steak and Egg Breakfast. Definitely less food with this entree, but the bonus is you get to try the steak. It is called Steakhouse 71 after all. True to the name, the steak was perfection. Cooked exactly as ordered, seasoned excellent, my only complaint was there wasn't triple the amount.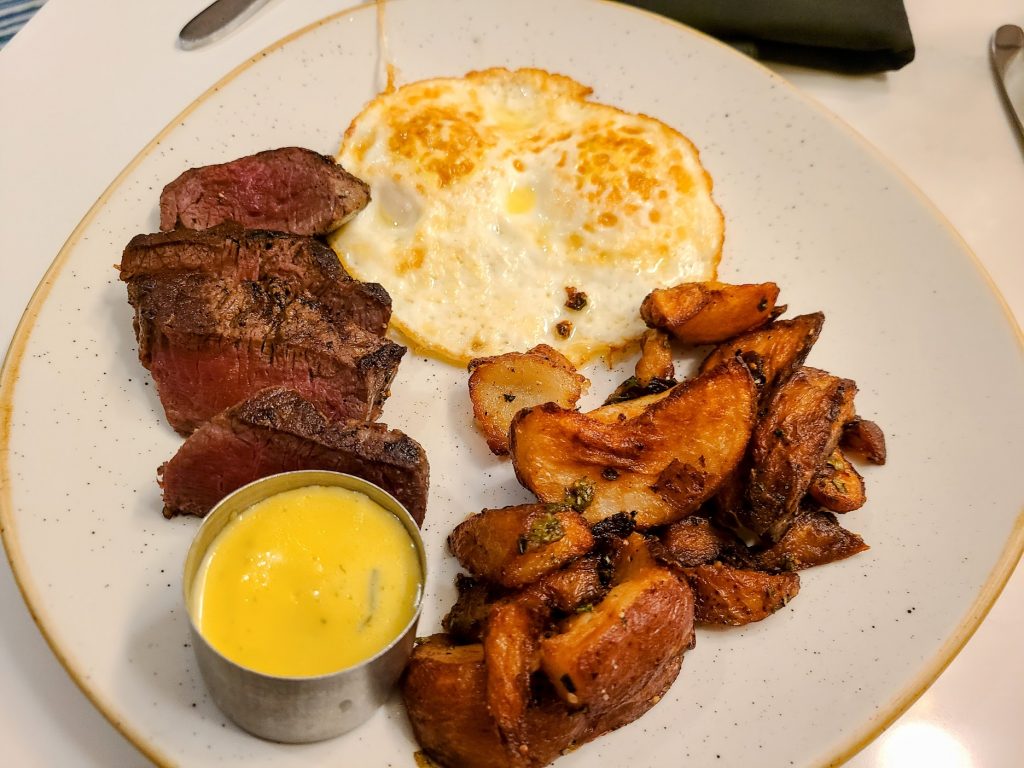 Let's Eat!
There you have it, our honest review of Steakhouse 71! The prices are very reasonable, the food was phenomenal, and it was a comfortable dining experience. It is a great and convenient location to any other monorail resort and also to Magic Kingdom. Grabbing a reservation here would be a great way to start off your day. Long story short, I loved it and you will too.
Have you ever dined at Steakhouse 71 for breakfast? What did you think? Let us know in the comments below!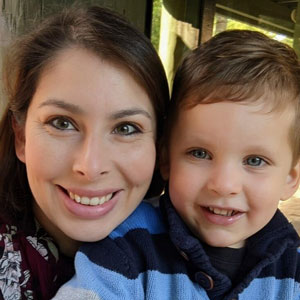 Written by
Rachel Van Norman
Contributing Writer
Rachel fell deeply in love with all things Disney as a little girl. Now as a wife and a mother herself, she shares this Disney obsession with her son and everyone around her. From her love of princesses to eating all the Disney food, Rachel spends her time radiating Disney magic and keeping everyone up to date on Disney news.