At Disney's Hollywood Studios, guests can board their very own Starspeeder 1000 and head to a galaxy far, far away. Star Tours – The Adventures Continue allows guests to meet the iconic characters and experience the original planets at the center of the Star Wars saga.
Star Tours – The Adventures Continue Details

| | |
| --- | --- |
| Walt Disney World Park | Disney's Hollywood Studios |
| Location in Park | Echo Lake |
| Height Restrictions | 40" or taller |
| Age Interests | Kids, Tweens, Teens, Adults |
| Thrill Type | Small Drops, Simulator |
| Hours | Regular park hours |
| Wait Times | Moderate |
| FastPass+ | Yes |
| Accessibility Information | Must transfer to standard wheelchair and then to ride vehicle, No service animals, Video and handheld captioning |
Ride Overview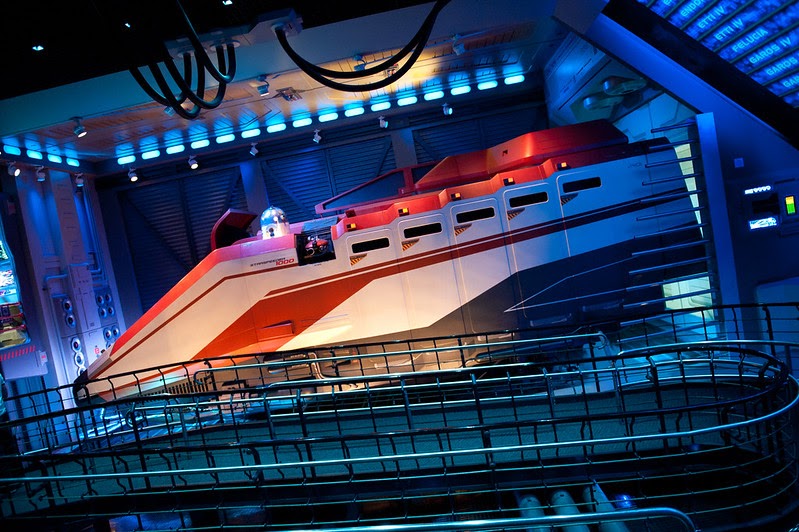 Star Tours – The Adventure Continues brings guests to the many worlds of Star Wars through a series of high definition 3D videos, motion simulators, and audio-animatronics. This cosmic journey also uses a randomized ride sequence that features 21 different possible segments. This means that there are seven hundred ride combinations possible. Even though guests encounter new stories every time they ride Star Tours, the early hijinks and overall structure are always similar.
Each Starspeeder holds roughly forty guests with up to ten per row. The ride begins with a premature launch of the Starspeeder that forces two unexpecting droids, C-3PO and R2-D2, to lead the mission. The mayhem continues as the ship is ambushed by Imperial forces who make their intentions clear. The character who intercepts the ship is randomized as well but they are always looking for a specific "Rebel Spy". This spy is chosen from the group of guests on the ship and their photo is shown on a screen.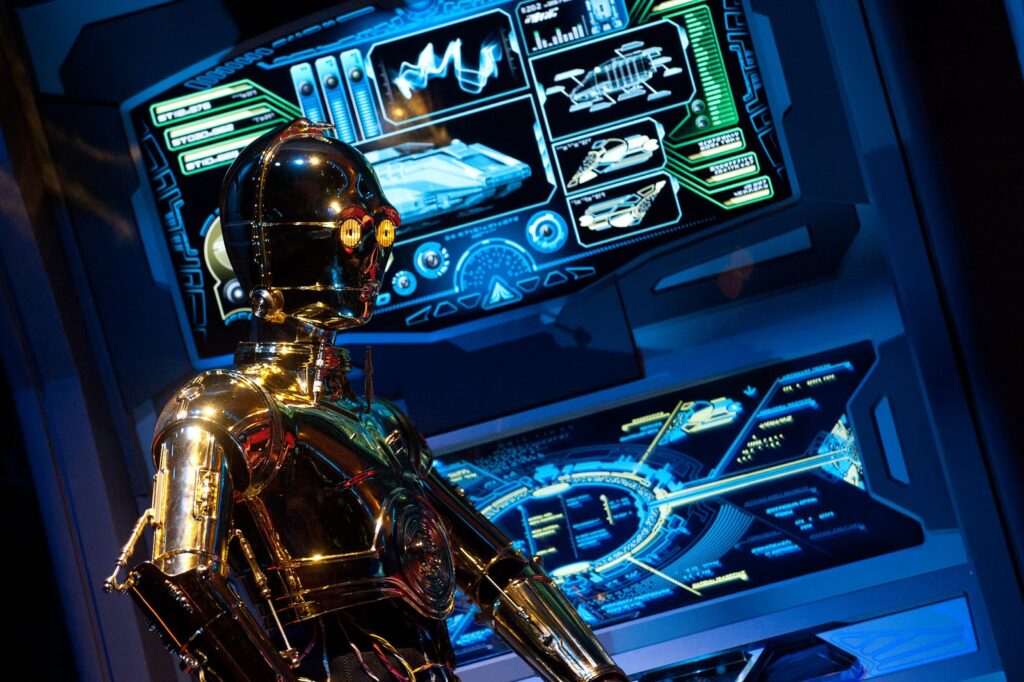 In order to avoid Imperial Forces, the Starspeeder and its riders jump to lightspeed as they head towards their first planet. Next, the passengers receive an urgent hologram from one of the various members of the Rebel Alliance. The hologram relays a set of coordinates that point to an undetermined location. Reluctantly, C-3PO sends the ship to these coordinates and guests head for their second planet. Some of the possible locations guests can experience while on Star Tours include: Hoth, Naboo, Crait, Jakku, Tatooine, and the Death Star.
Map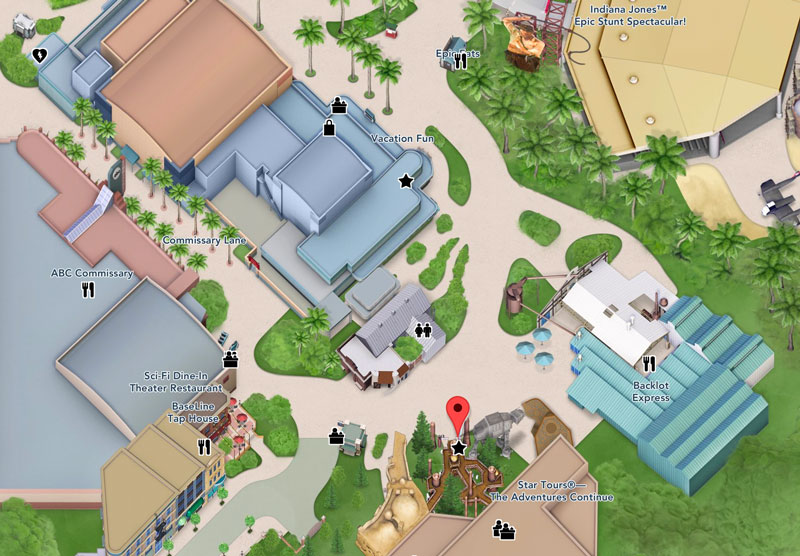 Location and Wait Times
Star Tours – The Adventure Continues is located at Disney's Hollywood Studios in the area just past Echo Lake. The ride is between Backlot Express and PizzeRizzo, which are both quick service restaurants.
This Star Wars saga simulator typically has moderate to high wait times. The wait tends to be the shortest before 11AM and 5PM.
Queue Experience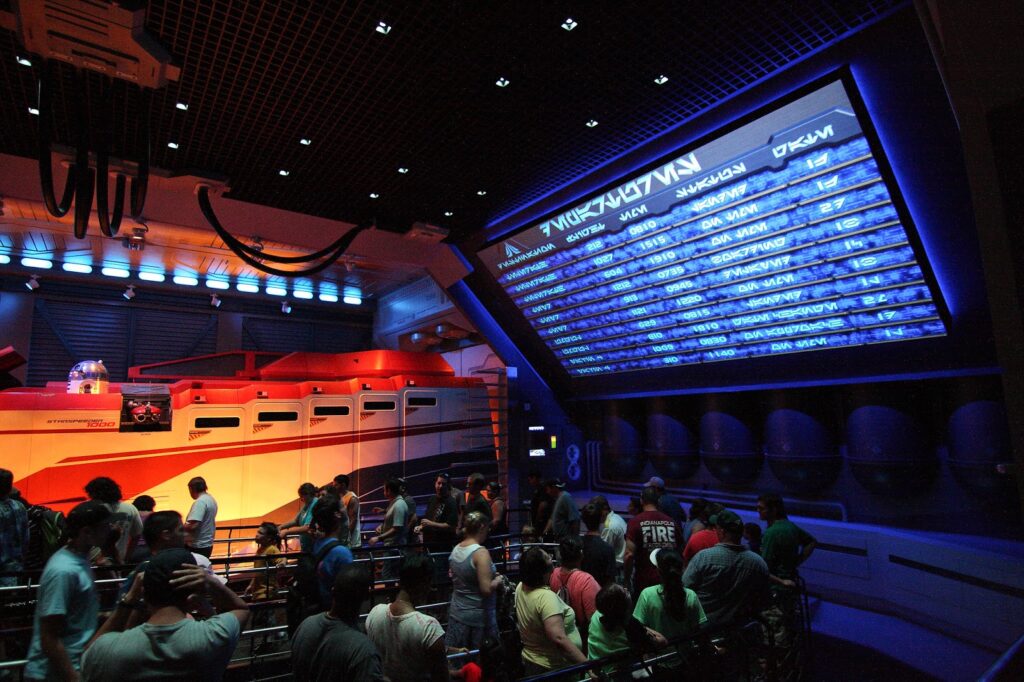 Guests enter the line by crossing through an Ewok Village on Endor and two very tall AT-ATs. This path leads to the indoor portion of the queue. Once inside, guests find themselves playing the role of space tourists at a spaceport terminal. The decor along the queue includes screens filled with travel information such as weather reports and flight statuses. Guests can also spot animatronic C-3PO and R2-D2 along the walk up to the ride. Captain Rex is a clone captain who was featured on the original version of Star Tours. This clone captain can still be spotted in the queue today but in a slightly different capacity.
Guests also encounter two G2 droids who work to scan their luggage. Prior to heading to their assigned gate, guests retrieve their "flight glasses". These glasses help guests to see the high definition 3D videos that are presented inside the Starspeeder. Once at the gate, a droid named Aly San San gives guests safety instructions for the attraction. Guests then board the ride vehicle and are ready to begin their misadventure into a galaxy far, far away.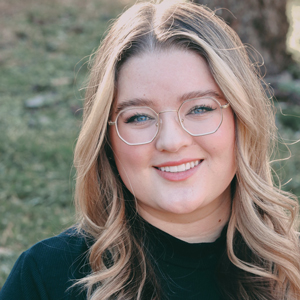 Written by
Emily Murray
Contributing Writer
For as long as Emily can remember, Disney has played a huge role in her life. Her infatuation with Disney resulted in many hours spent rewatching Toy Story and creating multiple powerpoints to convince her parents to book yet another vacation to the "Most Magical Place on Earth". In 2015, Emily followed one of her dreams and moved to Orlando, Florida where she spent just over five years working for the mouse in three separate roles. Emily is passionate about writing and using words creatively and concisely. She loves to make others laugh and hopes to sprinkle a little bit of magic into everything she does.