Setting up monthly autopay for your DVC dues is a simple way to make sure you don't have to pay your annual dues in one lump sum, but also can prevent the late fees and stress of missing the annual dues deadline. There are just a few considerations to keep in mind when setting up monthly autopay that we'll cover in this article.
US-Based Checking Account Needed
You will need a US-based checking account to set up monthly autopay. Currently, there is no credit card option for monthly auto pay. Earlier this year, Disney announced members would be able to pay their full annual dues by setting up a credit card on auto pay. This lead to confusion for many members, as this option is only for paying the full annual dues amount at once. This means if you would like to split your annual dues into 12 monthly payments, the only option would be a checking account, as credit cards are not able to be used for monthly dues payments.
No Changes Necessary
If your payment details are the same as 2020, you won't need to change anything, and you will continue to be charged monthly as in previous years. This allows members to basically set and forget their dues if they are fine with their previous year's arrangements. If you would like to make changes, if would be best to set up these payment changes in early January to avoid missing any of the deadlines we've mentioned below when talking about important dates to keep in mind.
Interest Free Payments
The total amount owed for your annual dues is simply divided by 12, with no interest or fees added. This is a great option for families who prefer to pay-as-they-go, rather than having one large bill that is due at the end of the year.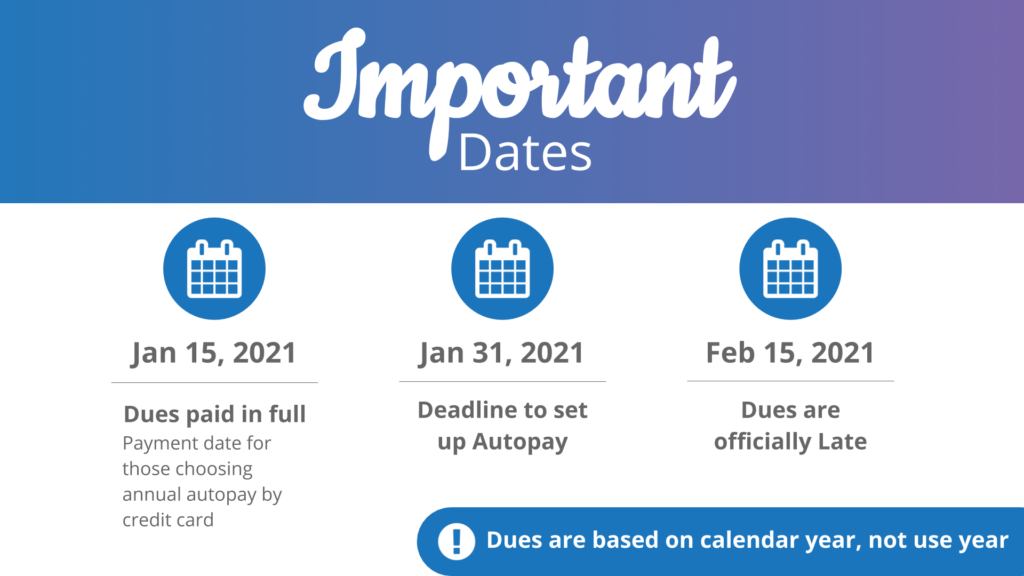 Important Dates to Keep in Mind
There are some important dates to keep in mind for all DVC members:
January 15th – Members paying their full annual dues payment will pay their dues on this date.
January 31st – This is the deadline for setting up autopay, if the member chooses to do so.
February 15th – Due are considered officially late after this date, and late fees can be assessed at this point.
Keep in mind, dues are based on calendar year, and are not billed respective to your Use Year.
Dues Payments for Non-US Residents
The payment details in this article are targeted for US-based members, while our friends in the UK, Canada, and other countries have their own payment methods that are available in their respective countries. The important dates / deadlines, and interest free payments are still available to members in other countries, but the payment method can differ from country to country, so it's always good to check with member services about the specific payment methods that are accepted for your country if you live in another country outside of the United States.
So what are your thoughts on DVC members being able to take advantage of monthly autopay? Do you utilize this service or choose to pay the full amount each year? Let us know by leaving a comment below!
If you're not using your membership, now is the time to sell!
Starring
Joe Wolfers
DVC Expert & Guest Author
Companion Article by
Rachel Van Norman
Guest Author