Since Disney announced that Space 220 would open on September 20th, guests have anxiously awaited news on when reservations would open up, as well as information on what they will be serving. Now, new reservation and menu details for Epcot's Space 220 have been released!
Reservations
There are no reservations open for this new dining location, at least at first. When Space 220 debuts on September 20th, it will first be walk up only. Guests will be able to make reservations starting on September 20, 2021. Reservations will be available for September 27, 2021 or later. Be sure to book as soon as you are able, since this restaurant is sure to be the most popular place to enjoy a meal in the parks when it opens.
Pricing
Disney announced that the lunch and dinner menu at Space 220 will be a prix fixe meal. The cost is as followed:
Lunch for adults – $55
Dinner for adults – $79
Lunch for children (9 and under) – $29
Dinner for children (9 and under) – $29
The above pricing for adults will include one appetizer and one entree at lunch, with the addition of a dessert for dinner. As you can see, the pricing for children is the same for both lunch and dinner, and includes an entree, dessert, and beverage.
Menu
The menu for Space 220 Restaurant will be a two-course prix fixe menu for lunch and a three-course menu for dinner. The menu even give fun, space themed names for each of their courses. These include "lift-offs" for appetizers, "star course" for main entrees, "supernova sweets" for desserts, and "satellite sides" for the a la carte side options.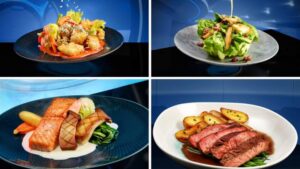 Lunch
Lift-Offs
Star Course
Dinner
Lift-Offs
Star Course
Roasted Free-Range Chicken
Supernova Sweets
Sticky Toffee Pudding Cake

Carrot Cake
Gelato and Sorbet
Extras
Satellite Sides
Guests will be able to purchase additional sides for their meal. These are limited at one per table and are the perfect sharing size.
Roasted Fingerling Potatoes
Fried Potato Wedges
Brussel Sprouts
Broccolini
Drinks and More
In addition to the menu items listed above, Space 220 Restaurant will offer a variety of cocktails, such as Stargarita, the Big Tang, and Atmospritz, as well as mocktails. With the purchase of a mocktail with a children's meal, guests will also receive a pack of Space 220 Collectible Trading Cards. These cards are an exclusive offering in Space 220 Restaurant and feature artwork and facts of space and the Restaurant itself.
Let's Eat
With opening day getting closer it is becoming obvious, Space 220 Restaurant will be one of the most popular dining locations in all of Walt Disney World. With the new updated reservation and menu details for Epcot's Space 220, does it make you must do list for your upcoming Disney trip? Let us know in the comments below if you will be trying to snag a reservation.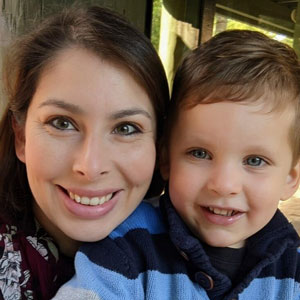 Written by
Rachel Van Norman
Contributing Writer
Rachel fell deeply in love with all things Disney as a little girl. Now as a wife and a mother herself, she shares this Disney obsession with her son and everyone around her. From her love of princesses to eating all the Disney food, Rachel spends her time radiating Disney magic and keeping everyone up to date on Disney news.