Aulani, a Disney Resort & Spa in Ko Olina, Hawaii, offers a unique blend of traditional Hawaiian culture and Disney magic. One of the highlights of this tropical paradise is its variety of pools, each offering a unique experience for all ages. Let's dive into each one!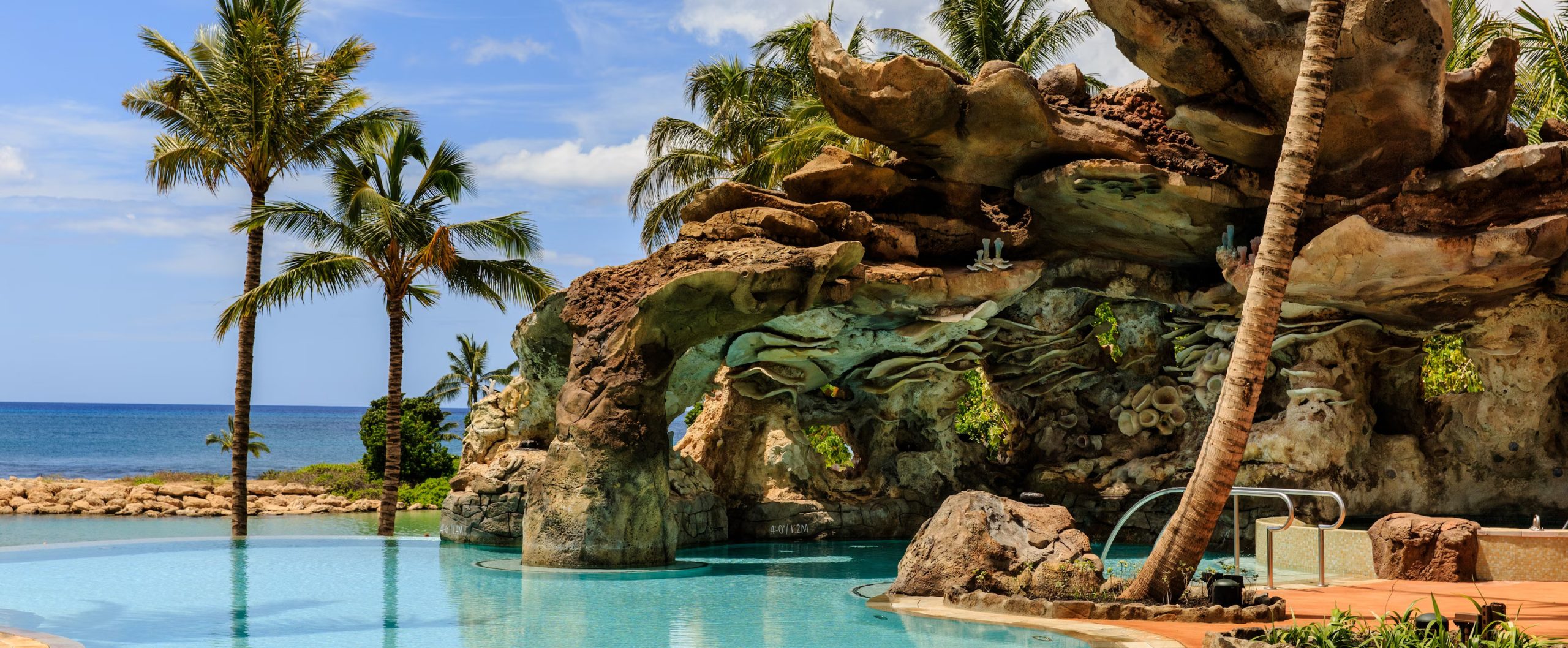 Ka Maka Grotto
The Ka Maka Grotto is an infinity pool that provides breathtaking views of the Pacific Ocean. Nestled against the backdrop of Hawaii's beautiful sunset, the grotto is perfect for a tranquil swim. It generally opens from 8 AM to 8 PM, but it's best to confirm the hours during your visit. The pool is family-friendly, but children under 12 must be accompanied by an adult.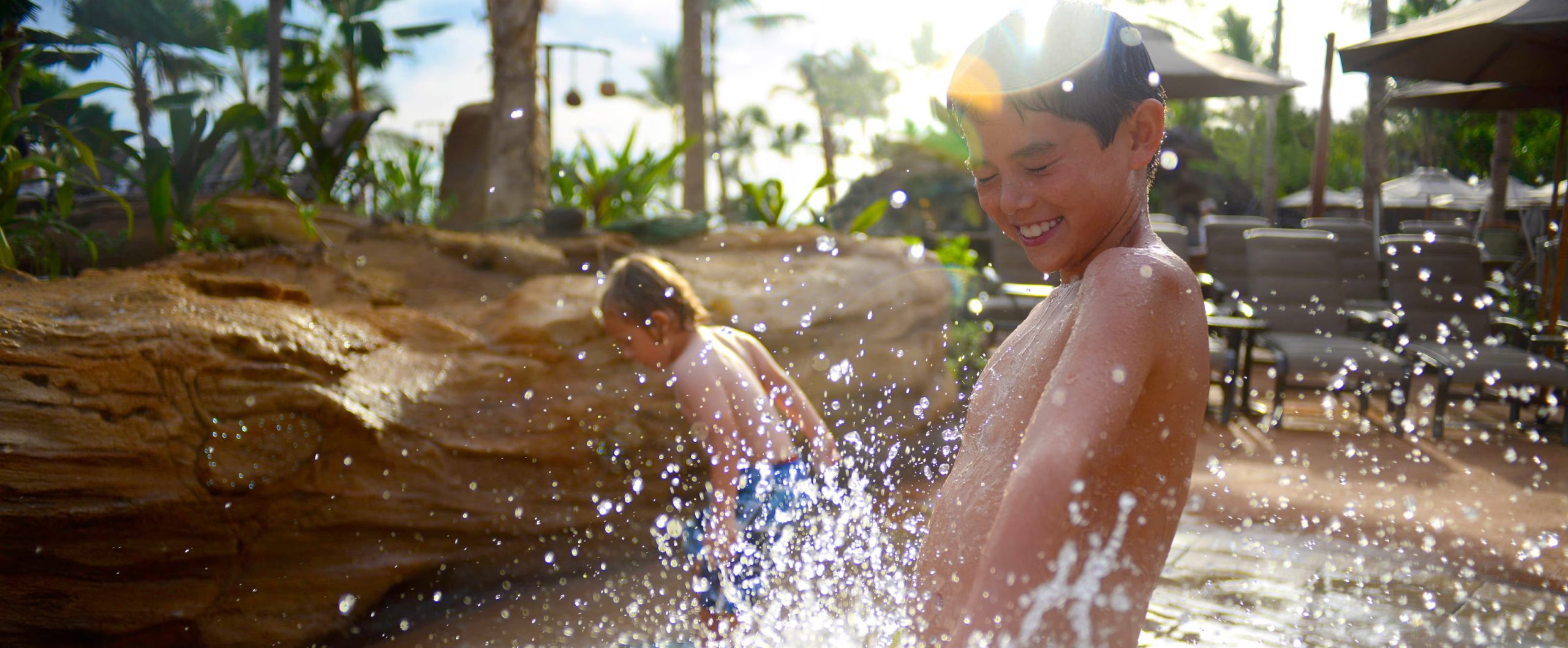 Keiki Cove Splash Zone
Keiki Cove Splash Zone is a paradise for the little ones. This interactive water play area is inspired by the tidal pools that dot Hawaii's coastlines and is designed specifically with toddlers in mind.
Resembling a multi-level playground, the splash zone features rainbow water jets and images of marine life, providing a safe and engaging environment for children to explore. The ground is soft and spongy to ensure safety, and there are plenty of seating areas for parents to watch over their kids.
The Keiki Cove Splash Zone is open from 8 AM to 5 PM and is suitable for children aged 5 and under. As with all pool areas in the resort, children must be supervised by an adult at all times. It's a wonderful place for your young ones to make a splash and have fun while cooling off from the Hawaiian sun.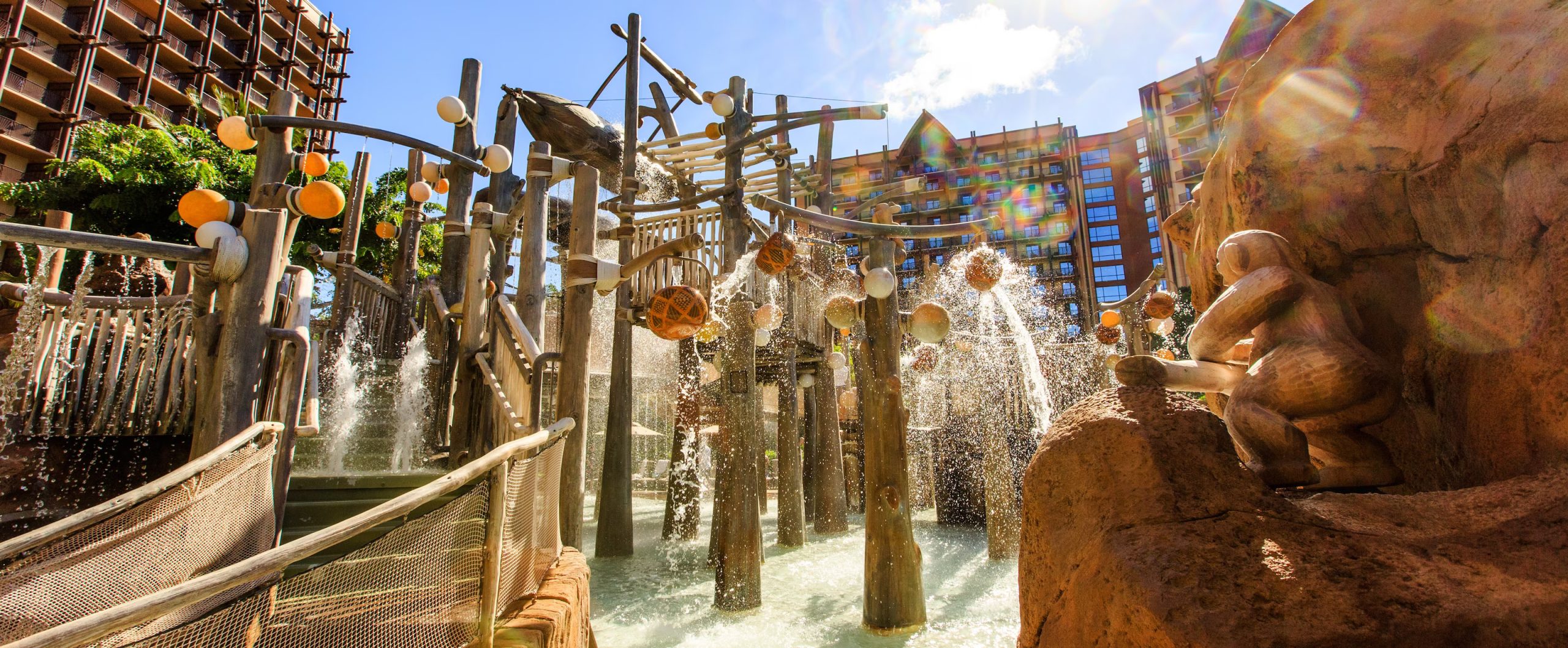 Menehune Bridge
The Menehune Bridge is a water play area designed for younger guests. Named after the "little people" in Hawaiian folklore, it features two twisting slides, interactive water elements, and a dumping bucket. This area is open from 8 AM to 5 PM and is suitable for children aged 4 to 12.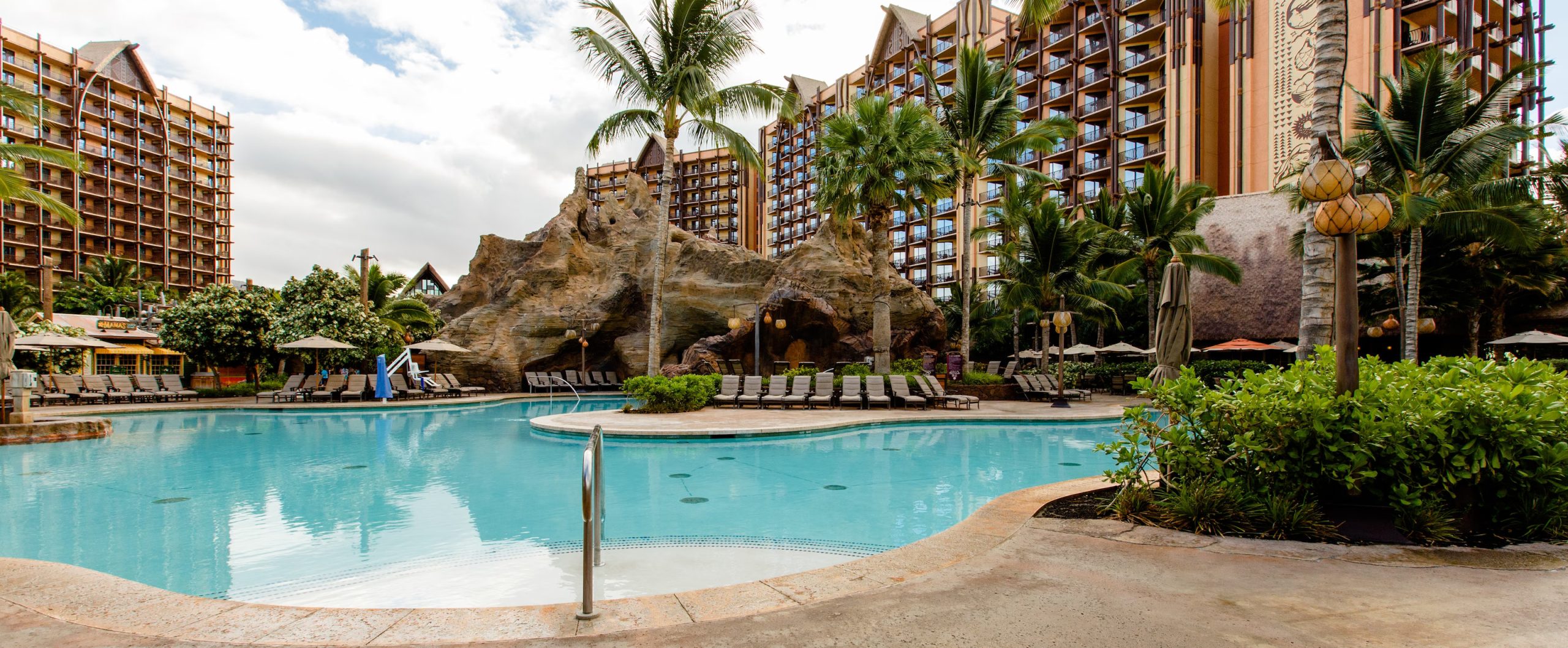 Waikolohe Pool
The Waikolohe Pool is the resort's main pool and boasts a thrilling tunnel body slide—the Volcanic Vertical. It also has a zero-entry point, making it easy for guests of all ages to wade in. The pool is open from 8 AM to 10 PM, with no specific age restrictions.
For a serene and private poolside experience, indulge yourself with a cabana in the Waikolohe Valley pool area. Please note that reservations are necessary.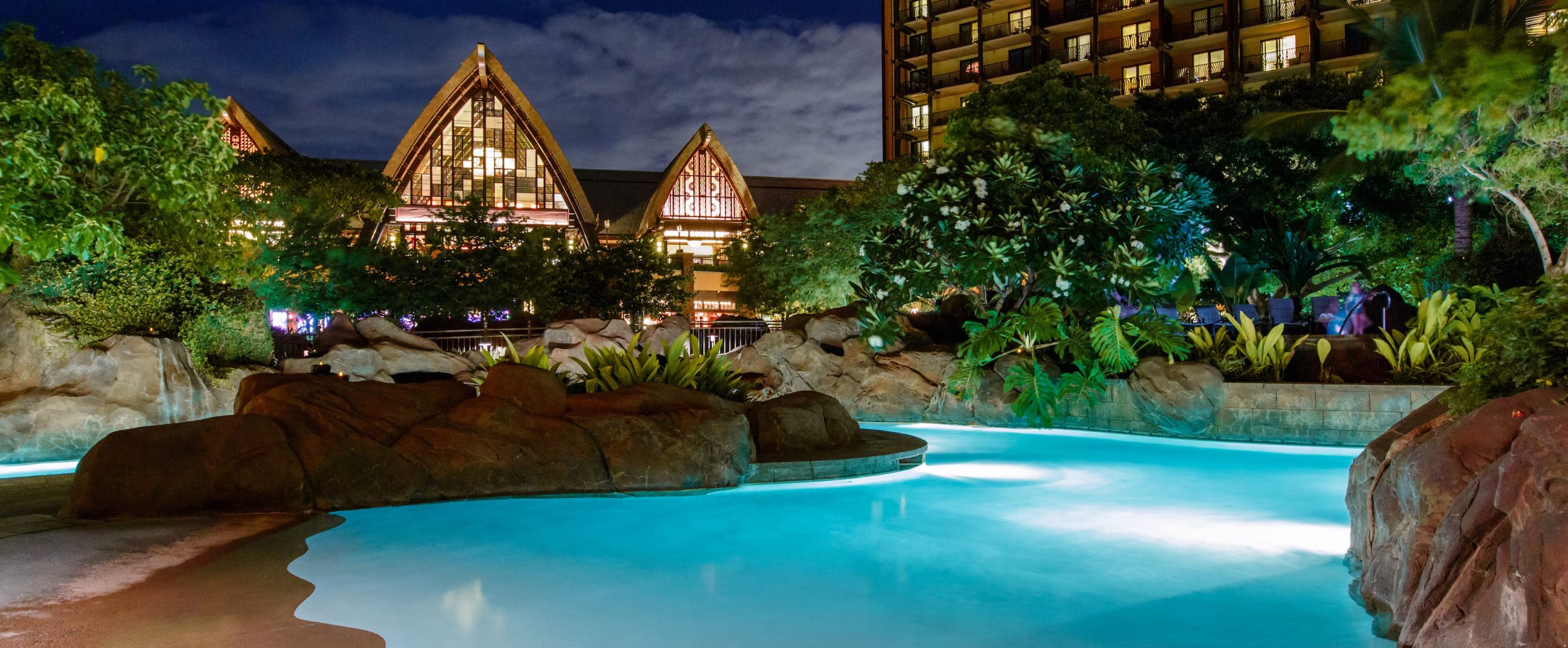 Waikolohe Stream
Also known as the "lazy river", the Waikolohe Stream allows you to float around the resort on an inner tube, passing through scenic caverns and under bridges. Open from 8 AM to 6 PM, this experience is open to all ages, though children must be accompanied by an adult.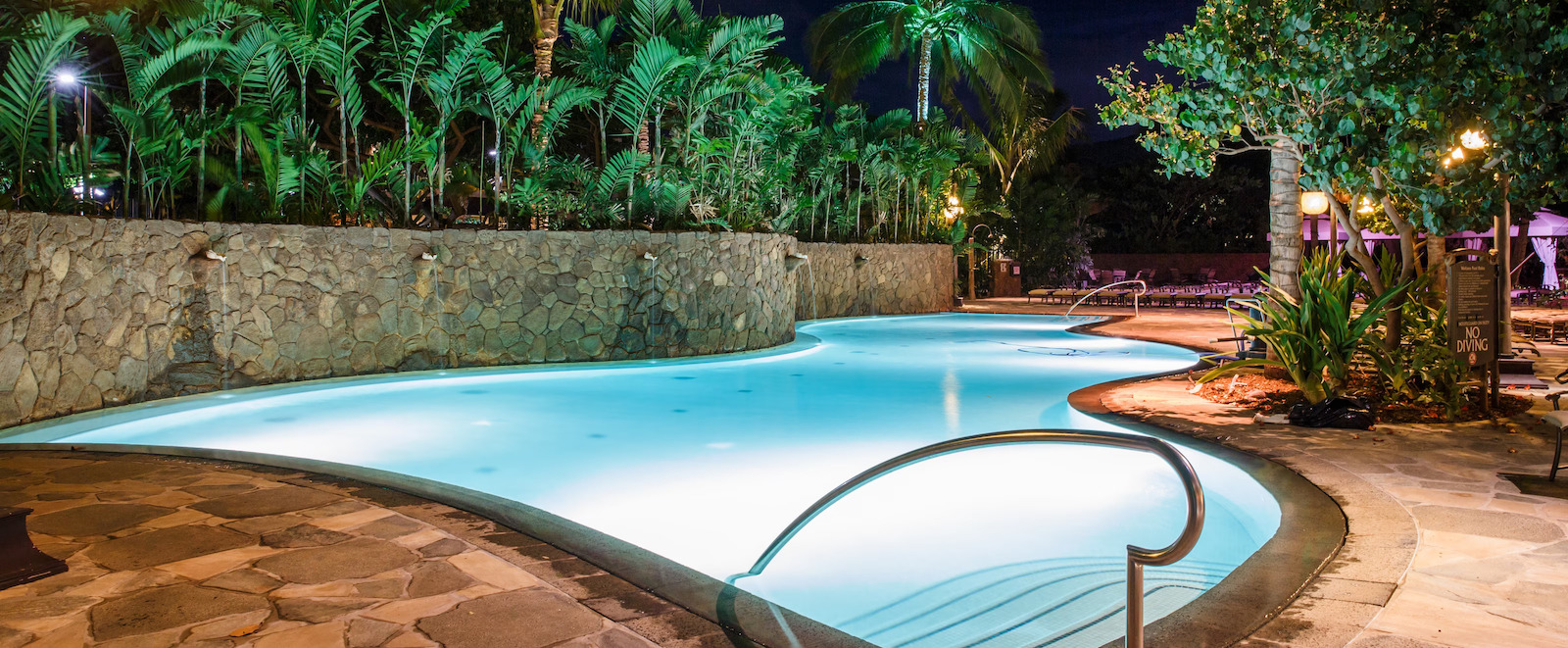 Wailana Pool
The Wailana Pool offers a quieter, more relaxed swimming experience away from the excitement of the main pool. This pool is open from 8 AM to 8 PM and is exclusive to guests aged 18 and over.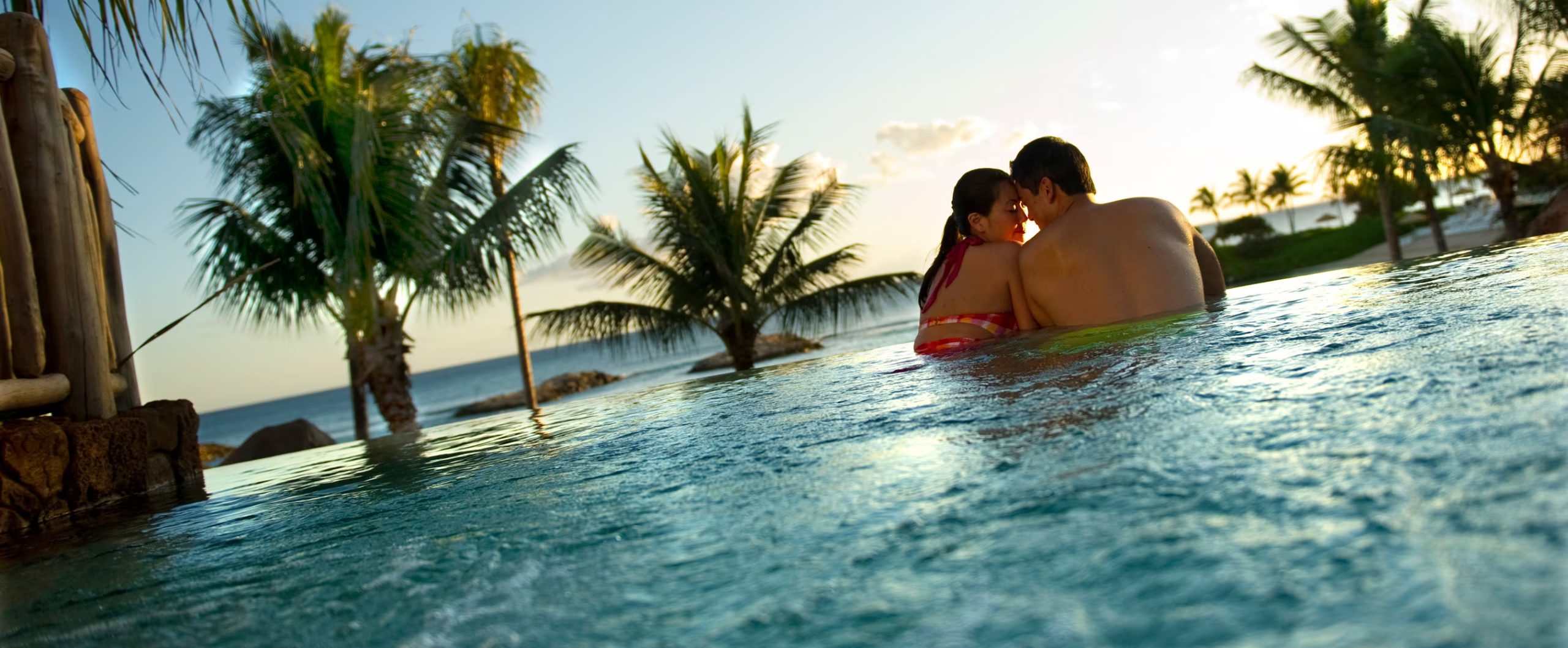 Whirlpool Spas
Finally, the Whirlpool Spas offer a perfect place to relax and unwind after a day of fun. There are five spas scattered around the resort, each offering panoramic views of the surroundings.
Whirlpool spas are located in 4 areas of the Resort:
One whirlpool spa near Waikolohe Pool
One whirlpool spa near Waikolohe Stream
One whirlpool spa near Ka Maka Grotto, an infinity pool with sweeping ocean views
Two whirlpool spas at 'Alohi Point—a scenic oceanfront overlook exclusive to Guests ages 18 and older
They're open from 8 AM to 10 PM and are suitable for guests aged 12 and older.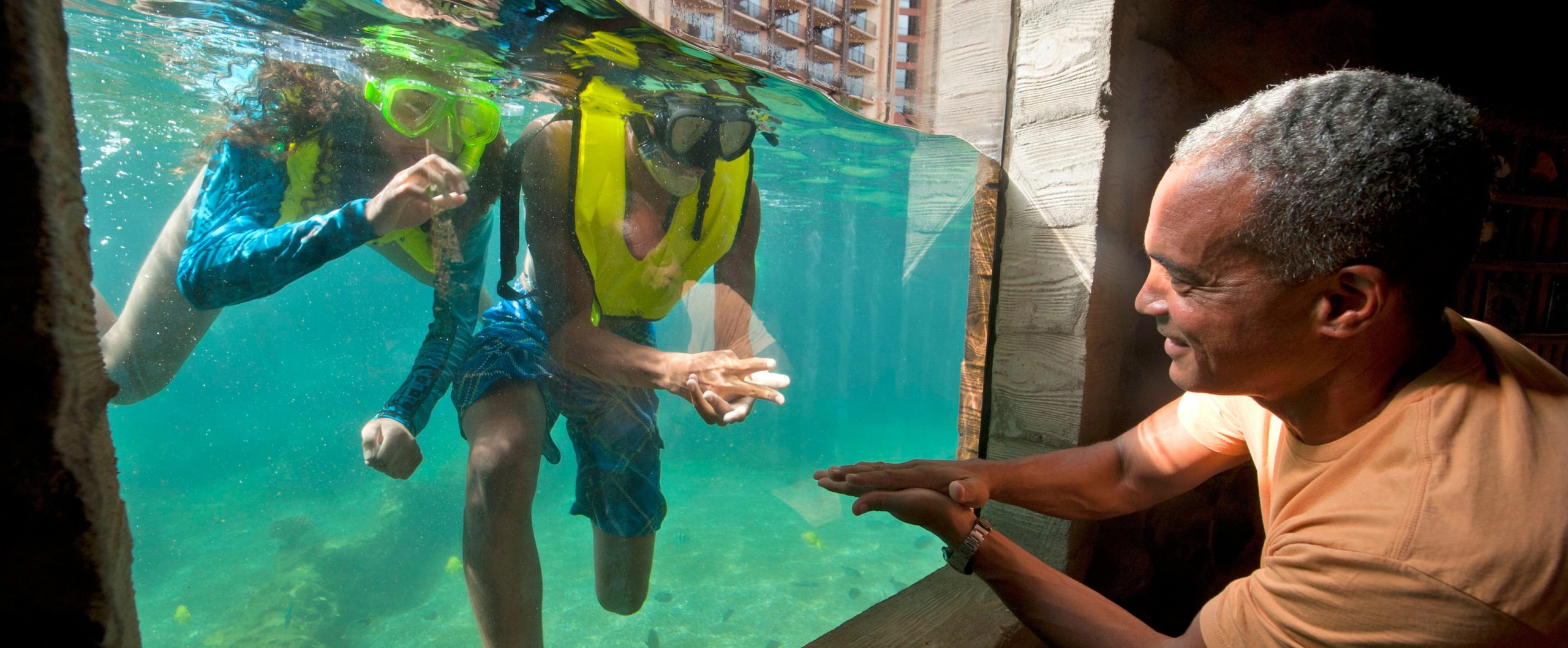 Rainbow Reef
Rainbow Reef is Aulani's private snorkeling lagoon where you can get up close and personal with thousands of tropical fish. This 3,800-square-foot saltwater lagoon is the only one of its kind on Oahu.
Guests have the opportunity to snorkel amidst a vibrant collection of marine life, including Butterflyfish, Angelfish, Surgeonfish and many more. The crystal clear waters and safe environment make it a perfect activity for beginners and experienced snorkelers alike.
Activities & Prices
Discover a variety of exciting activities to engage in at Rainbow Reef.
Snorkeling
Get an intimate view of the vibrant tropical fish with our snorkeling gear, which includes a life vest, mask, and snorkel set. Prices are subject to variation:
One-Day Access: Adults (10 years and older) – $25; Children (9 years and under) – $20
Length-of-Stay Access: Adults – $45; Children – $35
Supplied-Air Snorkeling (SAS)
For those aged 8 and above, embark on an underwater tour accompanied by an aquarist who'll share intriguing facts about the marine life. This experience requires advanced registration at Rainbow Reef Rentals and is priced at $45 per person.
Underwater Explorers
Embark on a 2-hour scuba-diving lesson taught by a minimum of two dive instructors. Learn the basics of scuba diving, safety procedures, and put your newly acquired skills to test during a free swim session. Reservations are required and additional fees apply for this activity. The cost for the Underwater Explorers experience is $189.00 per person (ages 10 and up), excluding tax.
The entrance fee includes use of snorkel equipment, life jackets, and fish identification cards. For those who prefer to stay dry, viewing windows are available to witness the underwater beauty without getting wet.
Experiencing the pools at Aulani, A Disney Resort & Spa, is an adventure in itself. Whether you're looking for thrills, relaxation, or family fun, there's a pool that's just right for you. Please note that opening hours and age restrictions may vary, so it's always a good idea to check with the resort during your stay.
Save On Deluxe Disney Accommodations
Whether you're looking for a short weekend getaway for two or a week-long vacation for the whole family, you can save up to 60% off Disney's prices by planning your next Disney vacation with DVC Shop! Be sure to stay up to date with all of our promotions, so you can save even more!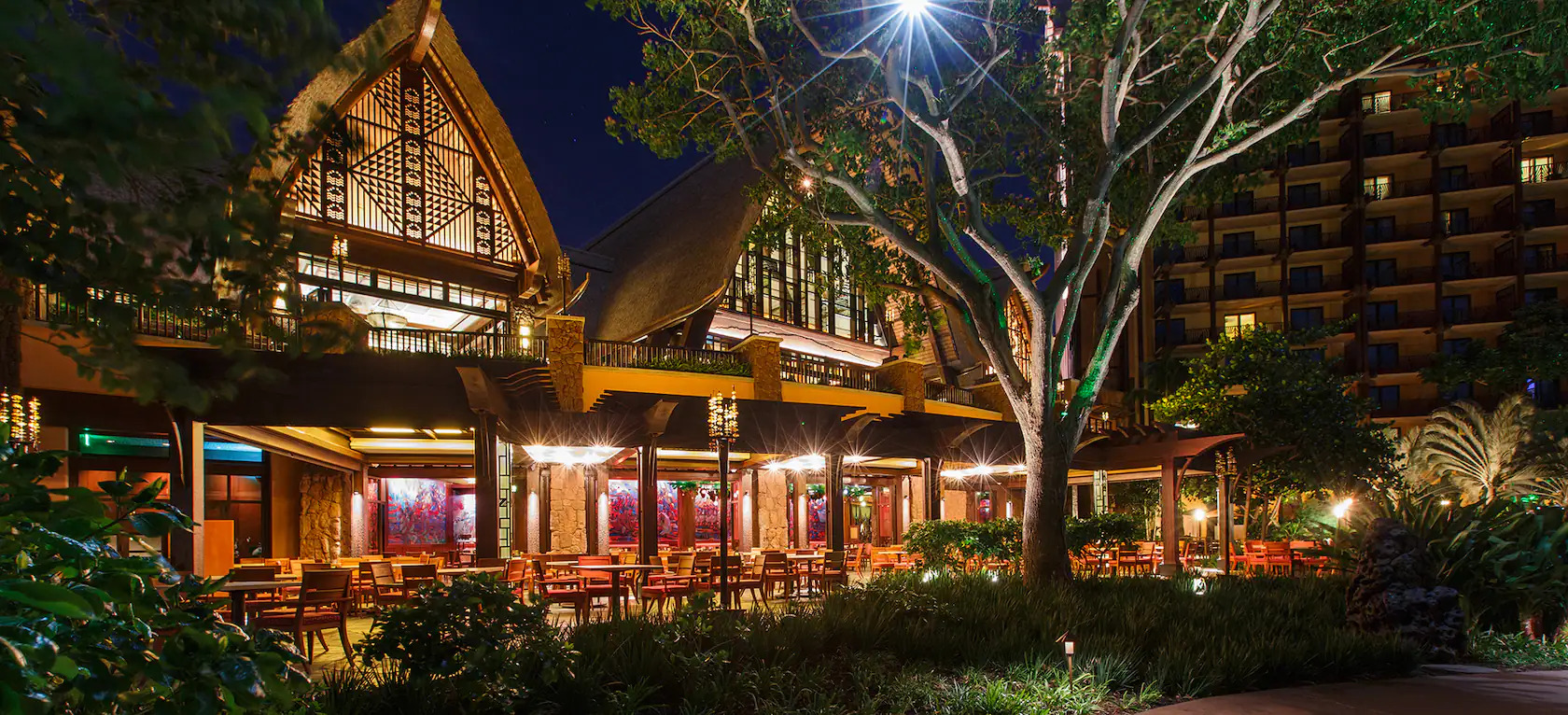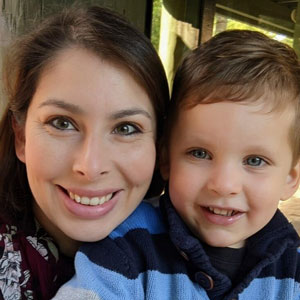 Written by
Rachel Van Norman
Contributing Writer
Rachel fell deeply in love with all things Disney as a little girl. Now as a wife and a mother herself, she shares this Disney obsession with her son and everyone around her. From her love of princesses to eating all the Disney food, Rachel spends her time radiating Disney magic and keeping everyone up to date on Disney news.