Some of the most joyful of memories occur at Disney Parks and at Christmastime. Blending the two creates an incredible night. I don't know about you, but Mickey's Very Merry Christmas Party gives me chills, and not because of the snow on Main Street, U.S.A. Disney's Magic Kingdom is a magical park that bursts with holiday cheer at Mickey's Very Merry Christmas Party through shows, parades, fireworks, and more.
My biggest challenge? What to wear.
Whenever I attend a Christmas Party at the Walt Disney World Resort, I aim to dress as cute and spirited as possible. Here are some of the outfits I have worn at the Mickey's Very Merry Christmas Parties that I have attended. I hope that sharing them with you inspires your creativity.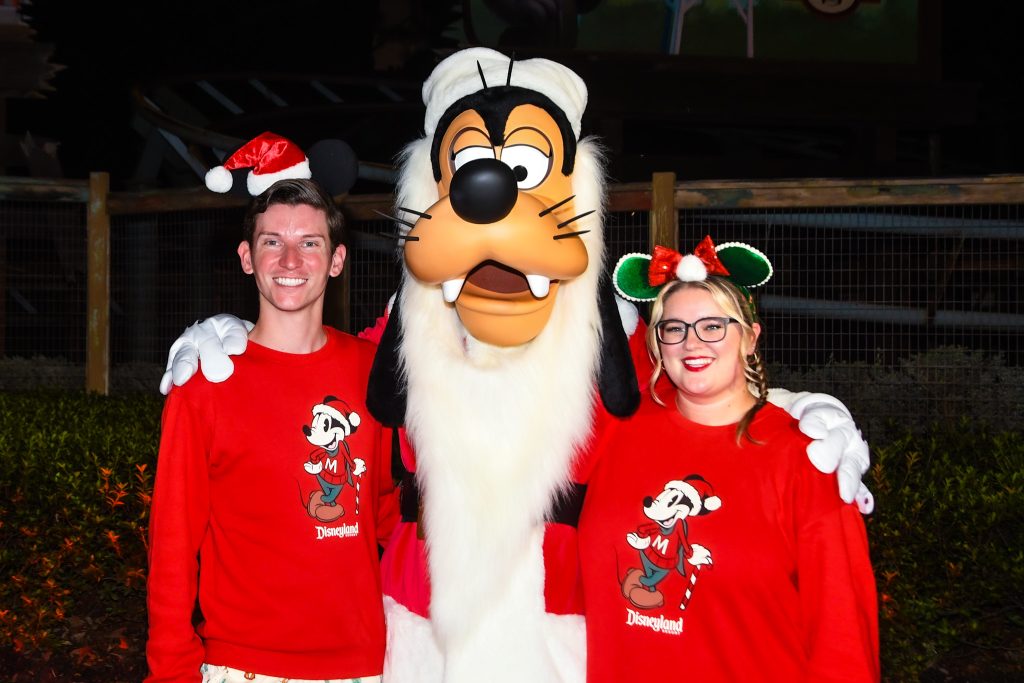 Christmas Cheer
I love the classic Christmas colors of red and silver. This Christmas sweatshirt is super comfortable and cozy, but I adore how wearable it is, even if I am not visiting Disney World. I wear a silver skirt and sparkly ears to complete the costume for an extra magic touch.
View outfit details here: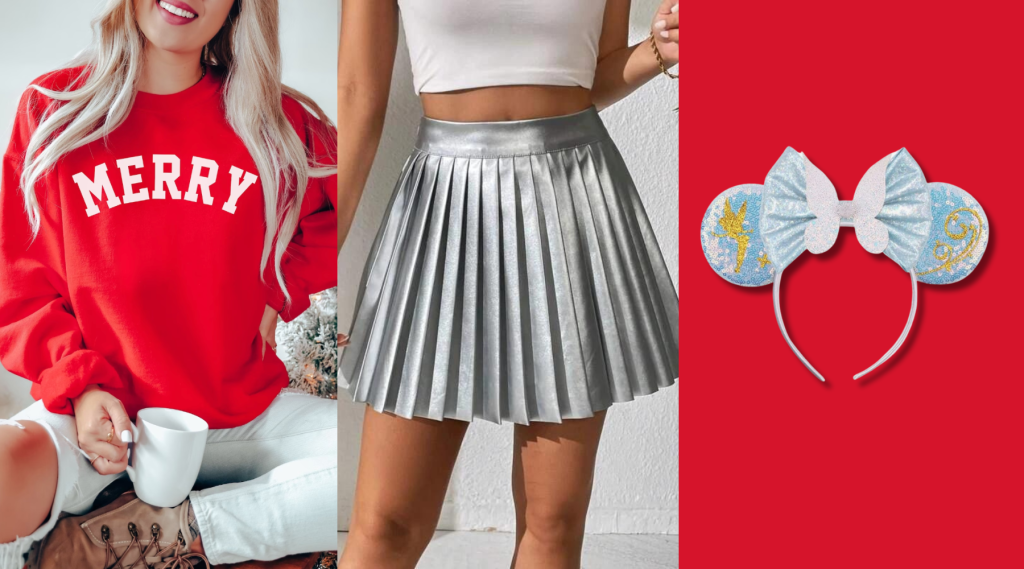 Cozy Christmas
When I think of Christmas parties, one of the first things that comes to mind is ugly Christmas sweaters. I can't explain it, but I am sure you will agree that wearing an ugly Christmas sweater gets people in the holiday spirit. And there is no better place to wear an ugly Christmas sweater than at Mickey's Very Merry Christmas Party. My recommendation for this idea is that you visit the Shop Disney Website. Search for Christmas Sweaters, and you will find a variety of selections to choose from. I have included my favorite sweater below. While this sweater is a great option, my favorite part is that you can buy matching sweaters for every family member.
Find this sweater here.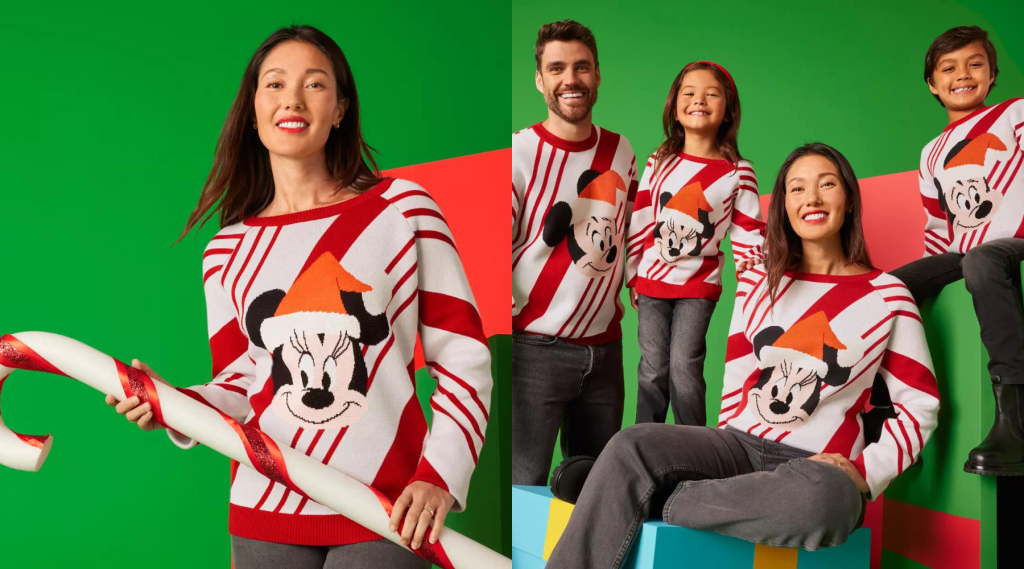 Disney Spirit Jersey Christmas
In recent years, Disney Spirit Jerseys have increased in popularity. No matter the time of year you decide to visit, you are sure to find a good selection of Disney Spirit Jerseys available in gift shops around the property.
What is a Disney Spirit Jersey? A Disney Spirit Jersey is made of heavyweight cotton – more weighty than a typical tee shirt, but not as heavy as a sweatshirt. During the winter, you may find Spirit Jersey created of soft, velour-like fabric or a faux hand-knitted creation, but the vast majority are of the cotton type. While women are more likely to wear Spirit Jerseys, the shirts are meant to be unisex, so men and children can wear them, too. Be sure to wear them with leggings or skinny jeans as the jerseys are a bit oversized. Spirit Jerseys can be purchased ahead of your trip on ShopDisney.com.
View one of 2023's Christmas Spirit Jerseys here.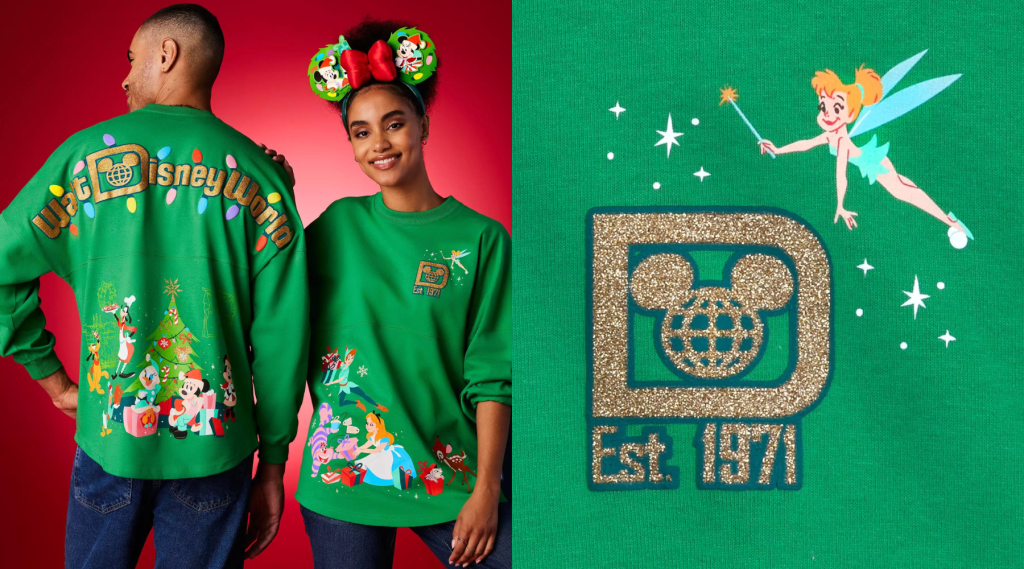 I hope you and your family enjoy your time at Mickey's Very Merry Christmas Party. Whatever you decide to wear, you cannot go wrong. You are in for a delightful and memorable evening either way. Have a magical evening!
Written by
Laura S.
Laura fell in love with Disney Parks as a child, and the affection has never left. As an adult, she enjoys making frequent trips to Disney World with her family and friends.