'Ohana is one of the most popular character dining locations that are not in the Disney parks. This is in part due to its proximity to Magic Kingdom, and also because it is the only place in Walt Disney World where you can meet Lilo & Stitch. This character breakfast is full of delicious food, but is it worth while if you eat a gluten free diet? We went and found out all that there is to know about gluten free dining in 'Ohana!
The Price
'Ohana is a family style, all-you-care-to-enjoy experience. Breakfast for adults (10+) costs $45 plus tax and kids (3-9) are $29 plus tax. Not only do you get to enjoy the food here and the characters, but after your meal you will also be able to explore Disney's Polynesian Resort, which is an adventure itself! We have to say the price is right for the options that you get.
The Food
Now on to the main show! Ohana only offers characters during breakfast, so you will see some of the classic breakfast food items on the menu, along with some extras you will only find here at 'Ohana. We found the kitchen to be extremely accommodating for our gluten allergy, and we were assured that everything is prepared in separate areas to prevent cross contamination.
Starters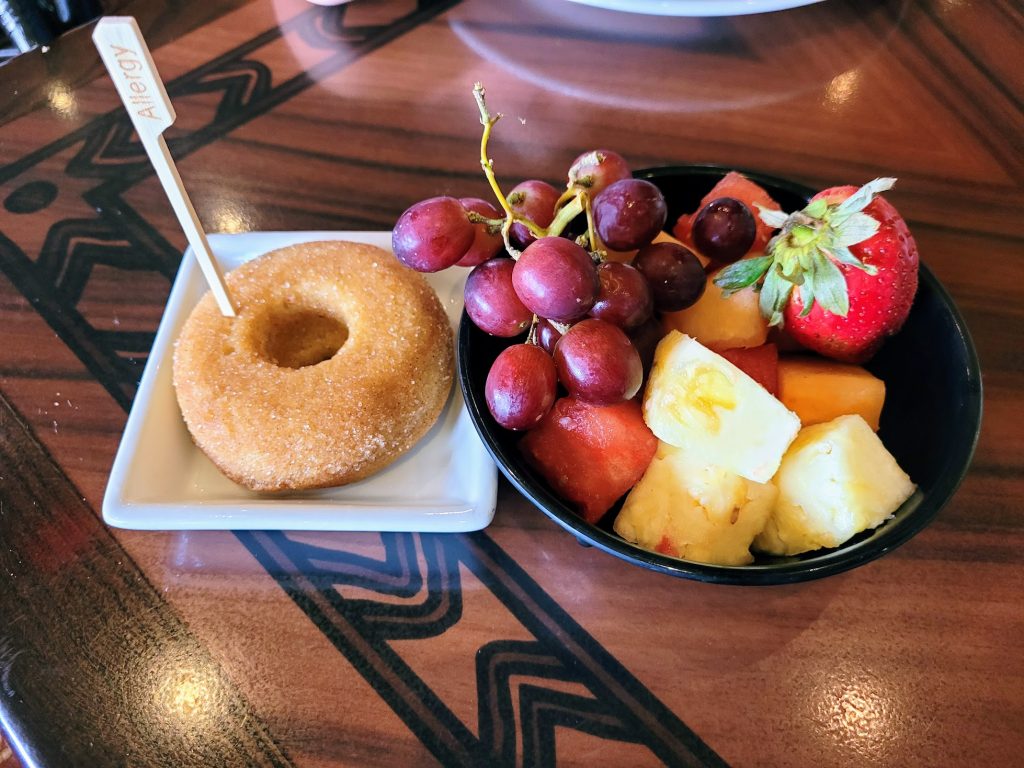 Cinnamon Gluten Free Donuts & Fresh Fruit
Of course 'Ohana is typically known for their Pineapple-Coconut Breakfast Bread, which unfortunately cannot be made gluten free. Instead we were offered some delicious cinnamon and sugar gluten free donuts.
The donuts were a bit dense, but they were very sweet and a nice hearty pairing with the gorgeous fresh fruit that comes with the meal as well. You can have as many as you want, so it can be a bit hard to say no so that you can save room for the main platter.
Main Platter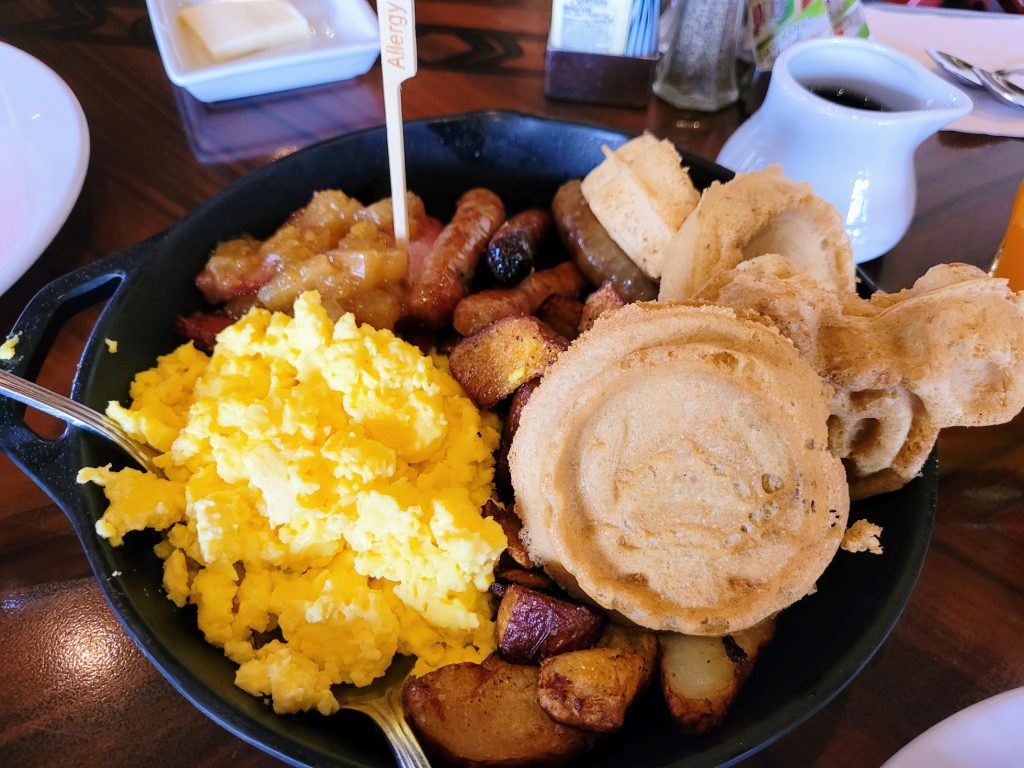 There was so much food in the main skillet that it was almost overwhelming, but you know the old saying. How do you eat a Stitch waffle? One bite at a time. So let's go through each of the offerings.
Gluten Free Mickey waffles
First, gluten free Mickey waffles are pretty commonplace at Disney breakfast locations, but Stitch Waffles are much harder to find. The Stitch image can be a little hard to make out, but that does not make these any less tasty. The first round of waffles were a bit crispy on the edges, while the ones we got after were softer all over. Both versions were super delicious and its hard to choose which one was best.
Scrambled Eggs
The scrambled eggs were fluffy and cooked perfectly, and as someone who is not a huge fan of scrambled eggs, I actually found these to be some of the best I have had at any breakfast buffet, so the Chefs definitely deserve a pat on the back with these.
Ham With Pineapple
The ham with pineapple is another original food item at 'Ohana. The ham was a bit on the firmer side, but the pineapple added a really lovely sweet flavor to the ham without being too overwhelming. It is a good balance of flavor.
Wedge-Style Island Potatoes
The wedge style island potatoes were good, but definitely not the star of the show. They were a good filler in the skillet though and paired well with the sausages.
Breakfast Sausages
The sausages were absolutely delicious. These were definitely up there on the list of favorites. They were very flavorful, and had a mildly sweet flavor to them. The sausages had a great balance of sweet and salty that went great with everything else on the skillet as well.
The Characters
While this review is mostly focused on the Gluten free dining options that are offered at Ohana during breakfast, it's worth mentioning that this character dining experience is one of the best on Walt Disney World property, and is the only place where you can meet both Lilo & Stitch, as well as Mickey & Pluto!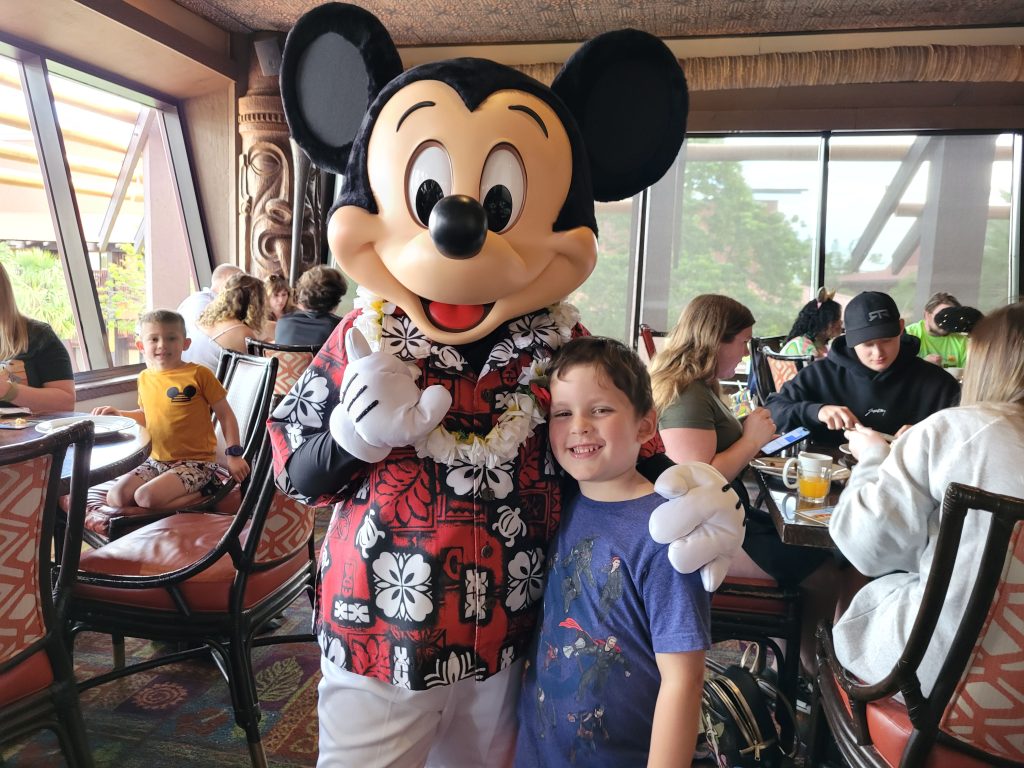 During the meal, the restaurant's lively atmosphere is enhanced by the characters make their way around the restaurant.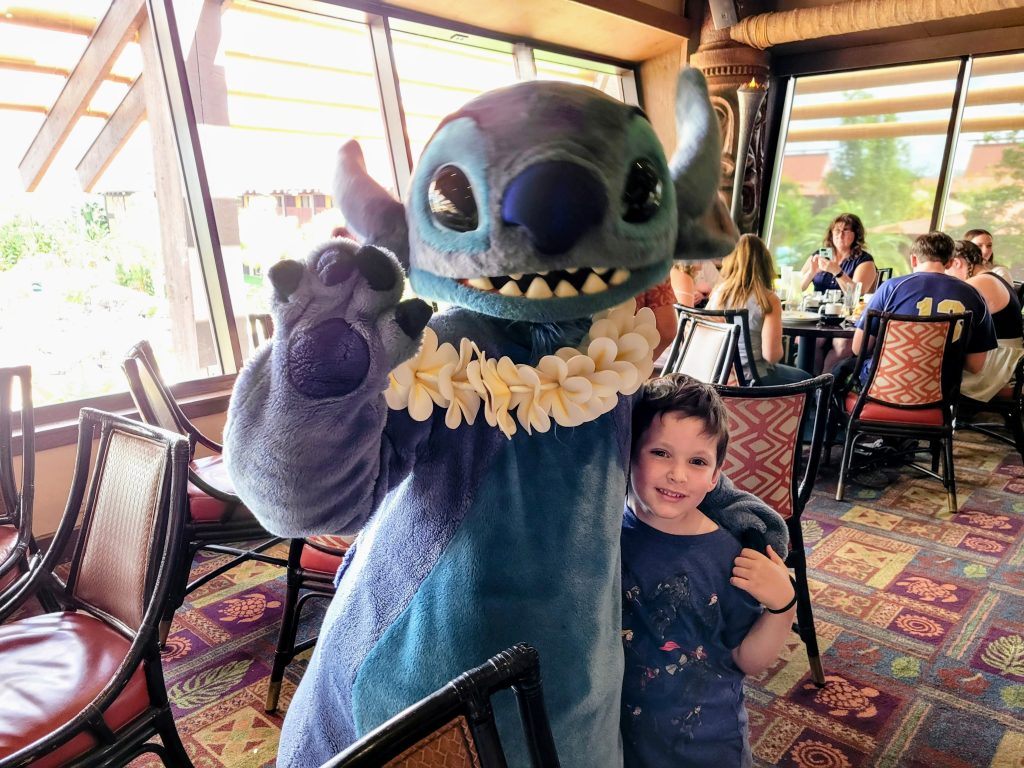 If you're as big of a Lilo & Stitch fans as our family is, make sure to add this to the list of dining locations to try at least once!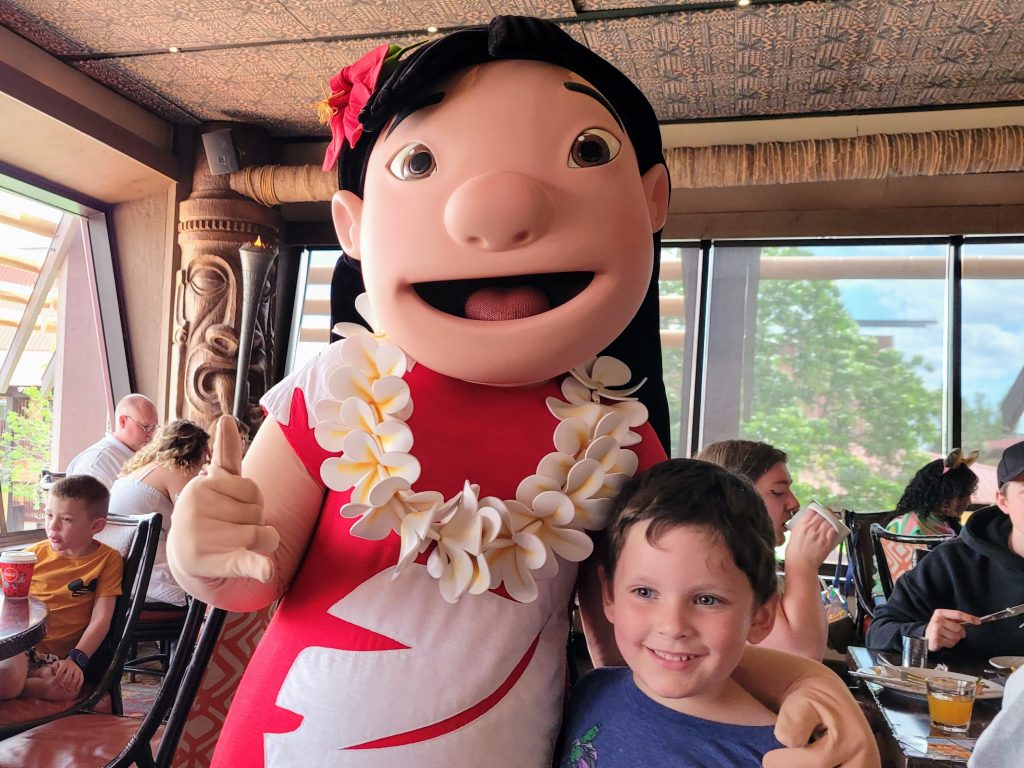 The character dining at Ohana in Disney's Polynesian Resort is a great way to meet and interact with beloved Disney characters while enjoying a delicious breakfast feast in a fun-filled atmosphere.
The Service
Normally with a food allergy you will notice that your food takes longer to get to you than a standard order. This was not the case however, at 'Ohana. The food was extremely prompt in getting to the table every time we asked for something. Within just a few minutes of being seated we had our starters, and maybe 10 minutes after that our main platter. The servers and the kitchen are both really on top of things at this dining location.
Let's Eat!
'Ohana definitely provided an environment that felt safe for allergies, and our gluten free dining experience was amazing. The food was delicious, and the experience and care that the restaurant put into the food made it so that we did not have to worry and could truly enjoy the character dining experience to the fullest. This would definitely be one that we would recommend for a gluten free or any allergy meal.
Have you ever dined at 'Ohana? Are you dining at Disney with a gluten free diet? Let us know in the comments below!
Stay At Disney's Polynesian Resort For Less!
If you'd like to view confirmed reservations for rent at Disney's Polynesian Resort, you can experience Disney's Deluxe resorts for less, even without being a DVC member!
If you're interested in becoming a member, and joining the DVC family, you can save thousands by shopping from our current resale listings for Disney's Polynesian Resort.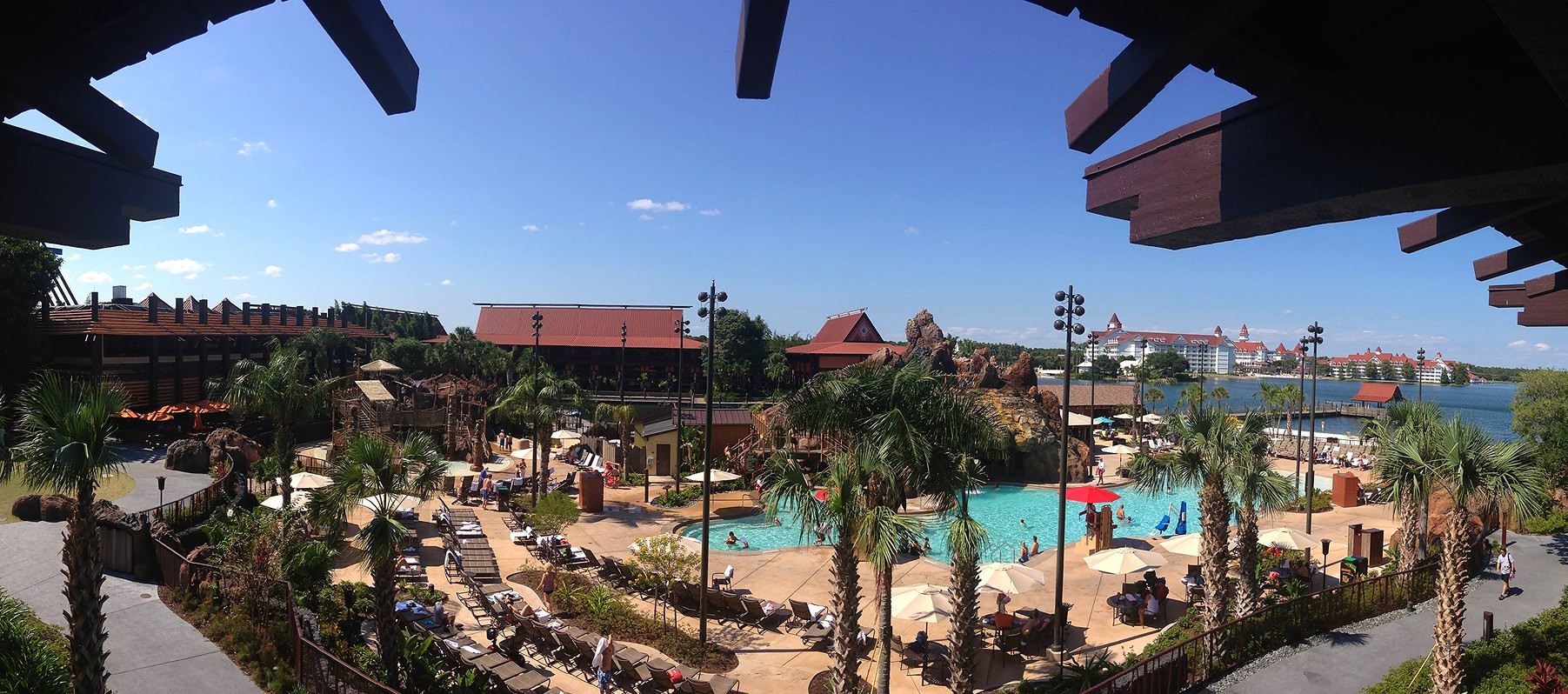 Disney's Polynesian Resort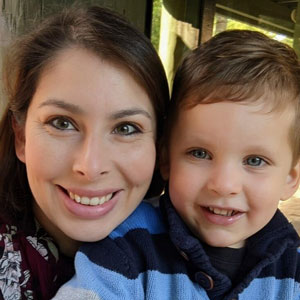 Written by
Rachel Van Norman
Contributing Writer
Rachel fell deeply in love with all things Disney as a little girl. Now as a wife and a mother herself, she shares this Disney obsession with her son and everyone around her. From her love of princesses to eating all the Disney food, Rachel spends her time radiating Disney magic and keeping everyone up to date on Disney news.