If you love barbecue and the Muppets, you're in luck. This winter Disney will be opening the Regal Eagle Smokehouse: Craft Drafts & Barbecue, a Sam Eagle themed barbecue food venue at Epcot's American Adventure Pavilion. This new quick-service option will offer up classic American barbecue with a few twists, as well as a selection of craft beers and wines from around the US. Here's what to expect from the new Regal Eagle Smokehouse opening soon at Epcot.
At the Regal Eagle, you'll have the option to choose from a variety of homestyle barbecue platters, sandwiches, salads, and in line with Disney's push to add more vegan food choices to the parks and resorts, a plant-based option. This menu will likely be a huge hit as adults, children and picky eaters will have plenty of tasty options to choose from. Additionally, prices for all menu items have been released and they are quite reasonable for the quantity of food received. 
Menu Highlights
While there are plenty of common barbecue selections on the menu, like the Kansas City Smoked Half-Chicken and the Barbecue Burger on garlic toast, there are also several standout items on the menu.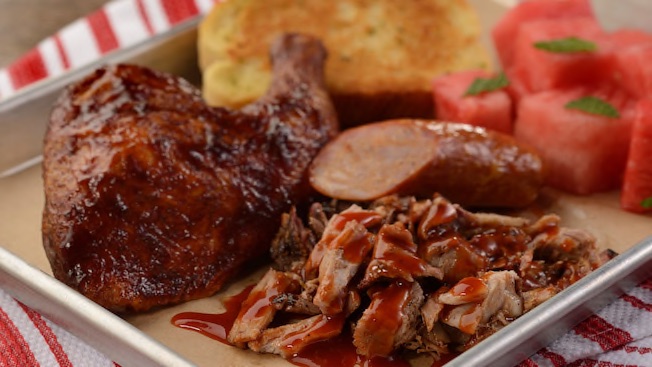 American Platter – $18.99
At $18.99 this platter sounds like an exceptionally well priced option for a large quantity of meat. With the American Platter you'll get a choice of 3 meat items plus 1 side and garlic toast. The American Platter is a great way to try the various meat options available at the Regal Eagle and will definitely satisfy the hungriest of meat eaters or diners looking to share.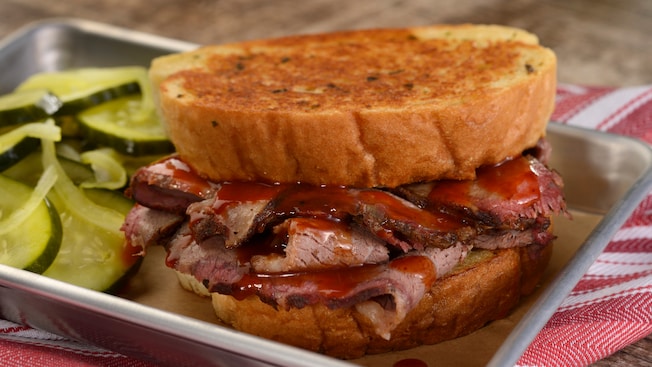 Sliced Texas Beef Brisket Sandwich – $12.99
This mouthwatering sandwich is a steal at $12.99 and even comes with a choice of side. The tender brisket meat is seasoned with a secret rub, slow smoked, covered in spicy "Mop Sauce," then served between two slices of savory garlic toast. 
North Carolina Chopped Smoked Pork Butt Platter – $12.49
Another reasonably priced selection, the NC Chopped Pork Butt is covered in a special North Carolina Vinegar Sauce and is served with garlic toast and a choice of side.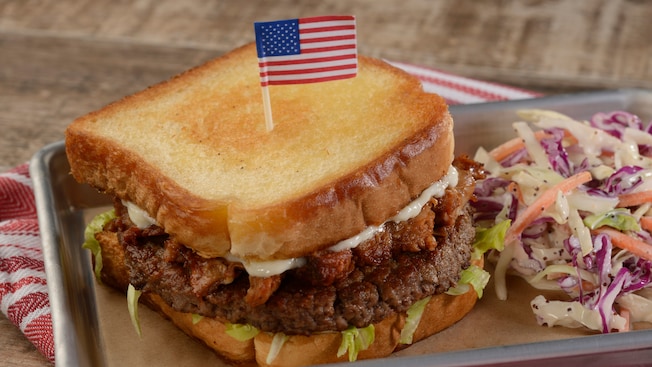 Barbecue Jackfruit Burger – $12.99 *Plant-based
When seasoned and toasted, jackfruit closely resembles pulled pork. With this entree, Disney combines a hearty vegan burger with juicy barbecue jackfruit to create a delicious plant-based sandwich option. The Barbecue Jackfruit Burger comes with a choice of side and is served between two slices of vegan garlic toast.
Side Menu
The Side Menu at the Regal Eagle is just as appealing as the mains. Here is what will be available.
Beer-battered Onion Rings – $4.99 

Burnt-end Baked Beans – $4.99 

Creamy Coleslaw – $4.99 

French Fries – $4.99 

Garlic Toast  – $4.99 

House-made Pickles – $4.99 

Macaroni & Cheese  – $4.99
Children's options are also available and include a Barbecue Chicken Meal priced at $7.99 and a Chicken Salad Meal for $7.49. Click the following link for the full Regal Eagle Smokehouse menu.
The opening date of the Regal Eagle Smokehouse has not yet been announced. Disney originally stated that it would open in Winter 2020. Towards the end of 2019 there were sightings of park maps stating that the new restaurant would open earlier than scheduled, in December 2019. December has come and gone so we can only hope that Epcot's new Regal Eagle Smokehouse will open within the coming weeks, or possibly days.
Katherine Rand
DVCShop Editorial Team