The My Disney Experience app has undergone a significant update, rolling out a refreshed and highly improved dining reservation system.
The My Disney Experience app offers a slew of features including checking wait times, finding character meet and greet locations, and most importantly, making dining reservations. However, the latest update focuses predominantly on enhancing the latter feature, aiming to make the dining reservation process more intuitive and user-friendly.
Exploring The Refreshed User Experience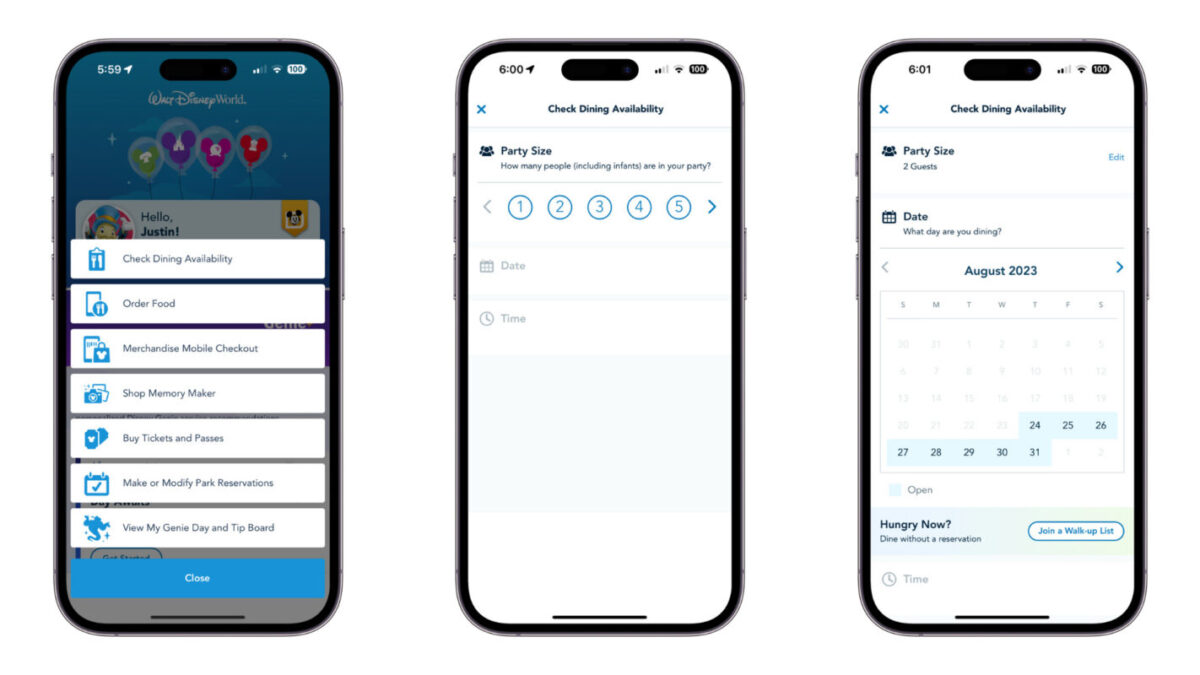 To check dining availability, tap the "+" icon on the lower menu. Next, designate your party size (maximum 20 people), preferred date, and time. Time preference options now include:
All Day
Morning (before 12 PM)
Afternoon (from 12 PM to 4 PM)
Evening (after 4 PM)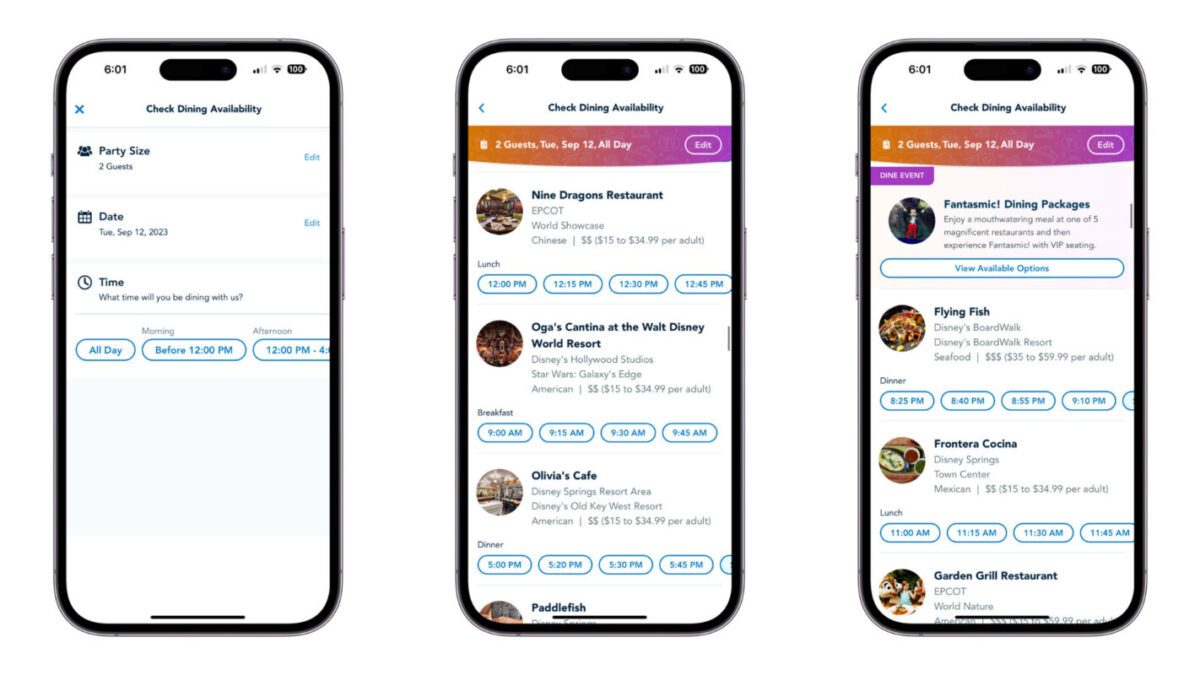 With this new update, you can view every available reservation slot for their chosen dining spot and time period, whereas before, only a handful of available slots were displayed. Some locations offer an additional "show more" option alongside the listed times. The reservation slots also indicate the meal service – such as breakfast, brunch, lunch, or dinner – allowing guests to know which menu will be served during their reservation.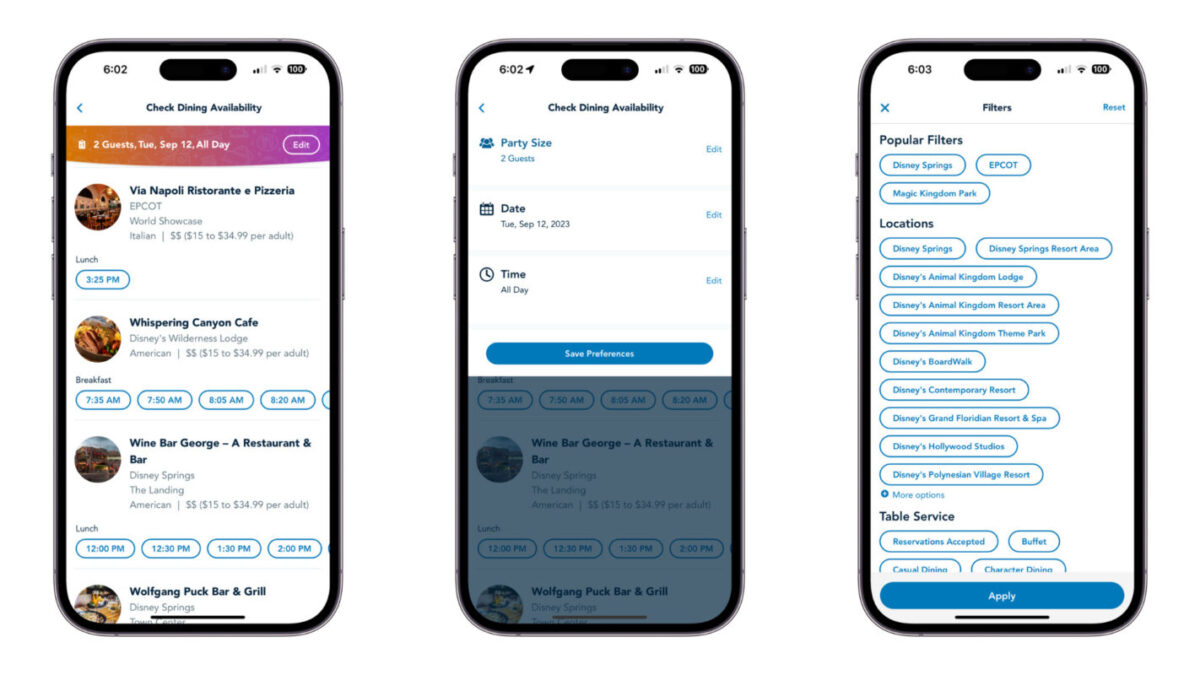 On the results page, you have the option to modify your search by selecting "Edit" or filter your search based on locations, dining experience, cuisine, price range, dining plan, and more.
A Streamlined Reservation Process
The new system also provides quicker access to all available dining times. Once you have selected your party size and date, you can view all the available time slots for the dining locations that fit your filtered criteria. This eliminates the need to go through multiple screens to check time availability, making the process much faster and more efficient.
The revamped dining reservation system is a testament to Walt Disney World's commitment to continuously improving visitor experiences. This update will undoubtedly make planning meals at the resort a more enjoyable and less stressful part of the trip.
So, whether you're a first-time visitor or a seasoned Disney veteran, the refreshed dining reservation system on the My Disney Experience app is set to make your dining planning as magical as the meals themselves. All that's left to do is decide where to eat — bon appétit!
Stay tuned to the DVC Shop blog for all the latest developments for Disney theme parks and all the information you could ever need about the Disney Vacation Club resorts.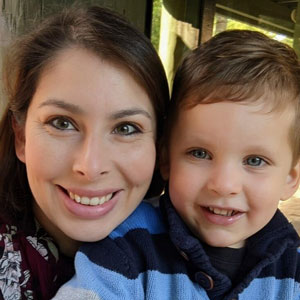 Written by
Rachel Van Norman
Contributing Writer
Rachel fell deeply in love with all things Disney as a little girl. Now as a wife and a mother herself, she shares this Disney obsession with her son and everyone around her. From her love of princesses to eating all the Disney food, Rachel spends her time radiating Disney magic and keeping everyone up to date on Disney news.