I am a mother of five and two of our children have autism. Being a mother of autistic children I tend to play on the cautious side as to what all we do, since it could possibly cause sensory overload and/or meltdowns. We had NONE of this at the MNSSHP. This was an absolutely wonderful experience and I recommend that everyone that is going to be at Disney World during the time of the MNSSHP should do so!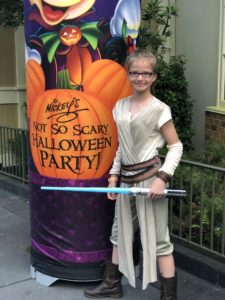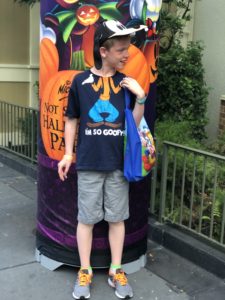 As you enter into the party there are so many areas of opportunity to take wonderful pictures of the family or kids dressed in their Halloween costumes. We were given a goody bag to do our trick or treating and boy was there plenty of treats. There was treat stations for food and drinks and also stations set up for trick or treating. I love that they even have areas set up for those with allergies!
The rides and character experiences were amazing! Anytime you do anything at Disney during the holidays you always have to prepare yourself that it will be busy busy busy. However, getting on rides and the flow of the park during the party was so easy and made for a wonderful and fun experience. We were able to meet and greet all characters, and ride some rides such as Thunder Mountain and Splash Mountain over and over many times. This thrilled my children! We had areas to sit and relax in order to give breaks for our boys, and they were entertained by all the people in costumes, cast members, and all that you can do and see during the party.The Hocus Pocus show in front of the castle was one of my boys with autisms' favorite thing of the night He still talks about it.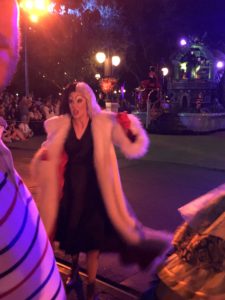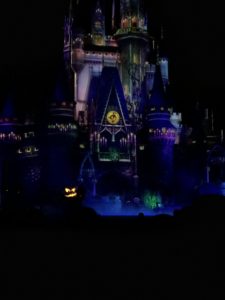 For me, I have to say my favorite time was the parade. The Halloween parade was just absolutely wonderful and fun. My entire family loved this so much! They gave us an outline of where the parade would be going and times. We found a good spot and camped there while they took a break to sort through all their goodies they had gotten so far through out the party. Once the parade started and was happening it was very interactive and was just another wonderful performance by the Disney cast as usual. Cruela tried to take my husband ( I told her good luck, haha) and other characters would grab the kids and others along the way. It was so much fun!
The only thing I can give any major advice to is when choosing your costumes make sure you are choosing costumes that you can stay cool in or layer. Even though its September or October in Florida it is still very warm. Through the first half of the party we were pretty warm/hot. As the evening progressed it became cooler. I would also recommend bringing some extra "bigger" treat bags to put all your goodies in. The small ones they give you can fill up pretty fast.
In all the MNSSHP is a wonderful experience for all families! We can't wait till our next MNSSHP! It is a must do and I hope you all can experience it!
Guest Author
Ellen Russell