Disney, the name that has brought magic to life for millions of people around the world, has just unveiled the newest infinity stone in the gauntlet of their cruise line. Say hello to the Disney Treasure, a ship set to redefine the family cruise experience!
Disney Treasure's Maiden Voyage Set For 2024
Set to make its first journey on December 21, 2024, the Disney Treasure, a sister to the Disney Wish that debuted in 2022, will set sail from Port Canaveral, Florida for a seven-night Eastern Caribbean cruise. This will be followed by its inaugural season of week-long voyages to both the Eastern and Western Caribbean, also departing from Port Canaveral.
Members of the Disney Cruise Line Castaway Club will have the ability to reserve their spots on the Disney Treasure as early as September 12, 2023. For all other guests, reservations will commence from September 20, 2023.
Disney Treasure Fact Sheet

Birthplace

Meyer Werft shipyard – Papenburg, Germany

Maiden voyage

Dec. 21, 2024

Home Port

Port Canaveral, Florida

Tonnage

About 144,000 gross tons (confirmed at delivery)

Length Beam Draft Height

1,119 feet 128 feet 27.2 feet 221 feet

Speed

19.5 knots cruising speed (maximum 23 knots)

Fuel

Liquefied Natural Gas (LNG)

Crew

1,555

Capacity

4,000 passengers

Capacity

4,000 passengers

Staterooms

1,256 staterooms (includes 53 concierge staterooms and 23 concierge suites)

1,133 outside staterooms (90%)


948 verandah staterooms (70%)

185 oceanview staterooms (20%)


123 inside staterooms (10%)

Inspired by Adventure
The Disney Treasure will embody a design philosophy that draws inspiration from the captivating and endearing narratives of treasured Disney characters. The architectural and thematic core of this latest addition to the Disney Cruise Line fleet will be rooted in the spirit of adventure, a tribute to Walt Disney's well-known love for travel and discovery.
Onboard, guests will encounter popular spaces reminiscent of the Disney Wish, but interwoven with this sense of adventure and influenced by unforgettable Disney tales such as "Aladdin", "Coco", and "Zootopia".
Themed Dining Locations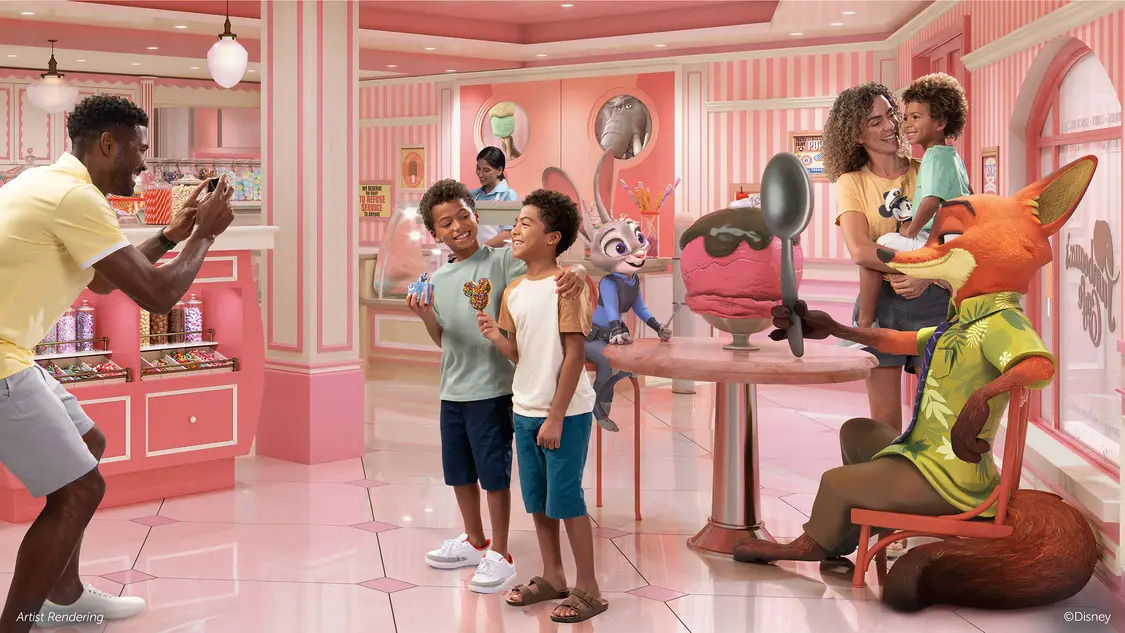 Besides bringing back two popular Disney Cruise Line dining concepts from the Disney Wish, the Disney Treasure will also debut an entirely new restaurant designed for family entertainment.
Plaza de Coco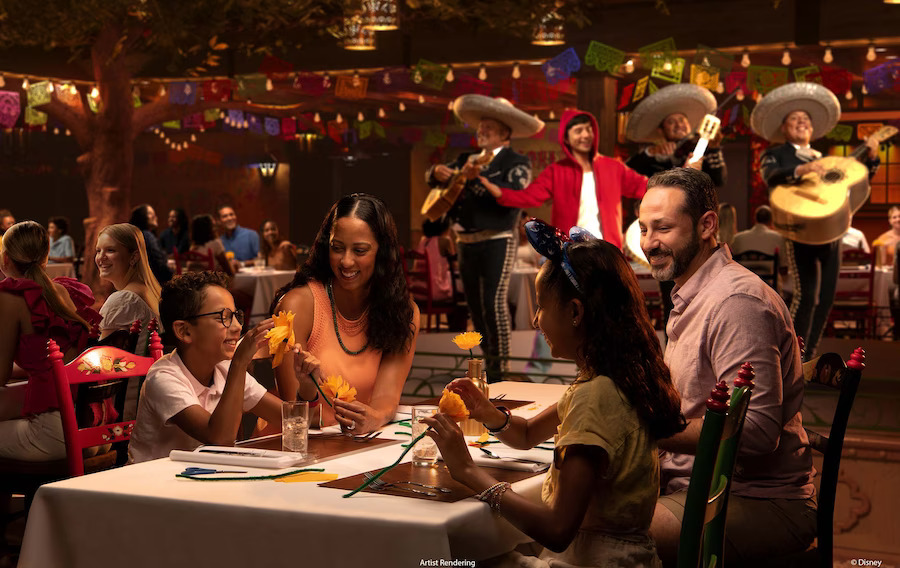 The Disney and Pixar film, "Coco," will serve as the theme for Plaza de Coco, marking it as the world's premier dining experience of its kind. Picking up from where Miguel and his family left off in the movie, they will assemble in Mariachi Plaza to provide guests with two vibrant, music-laden nights.
These experiences will be a tribute to familial bonds and shared memories, complemented by contemporary interpretations of classic Mexican cuisine for dinner and an array of live performances for entertainment.
Worlds of Marvel
Worlds of Marvel, the immersive dining experience on Disney Cruise Line dedicated to Marvel, pays homage to beloved Avengers characters and narratives, featuring an exceptional encounter with Spider-Man.
This advanced tech space, situated aboard the Disney Treasure, will present a global culinary selection and exclusive entertainment. This includes two unique nights of individual shows and dining experiences, all influenced by the Marvel Cinematic Universe.
1923
1923, a tribute to the year Walt Disney Animation Studios was established, will honor Disney's influential animation heritage. It will embody Walt Disney's spirit of exploration through a sentimental array of artwork inspired by travel themes from both contemporary and classic animated films.
The venue will exude the elegance of Hollywood's golden era, providing an upscale atmosphere that pairs well with a refined menu. This menu will be influenced by the blend of cultural tastes found across California and thoughtfully curated to cater to families.
New Entertainment Venues
On board the Disney Treasure, families will unite to indulge in both fresh and time-honored Disney Cruise Line entertainment, plunging guests into an array of tangible and fantastical realms via interactive narratives, encounters with characters, and theatrical presentations in Broadway style that bring to life inspiring Disney tales.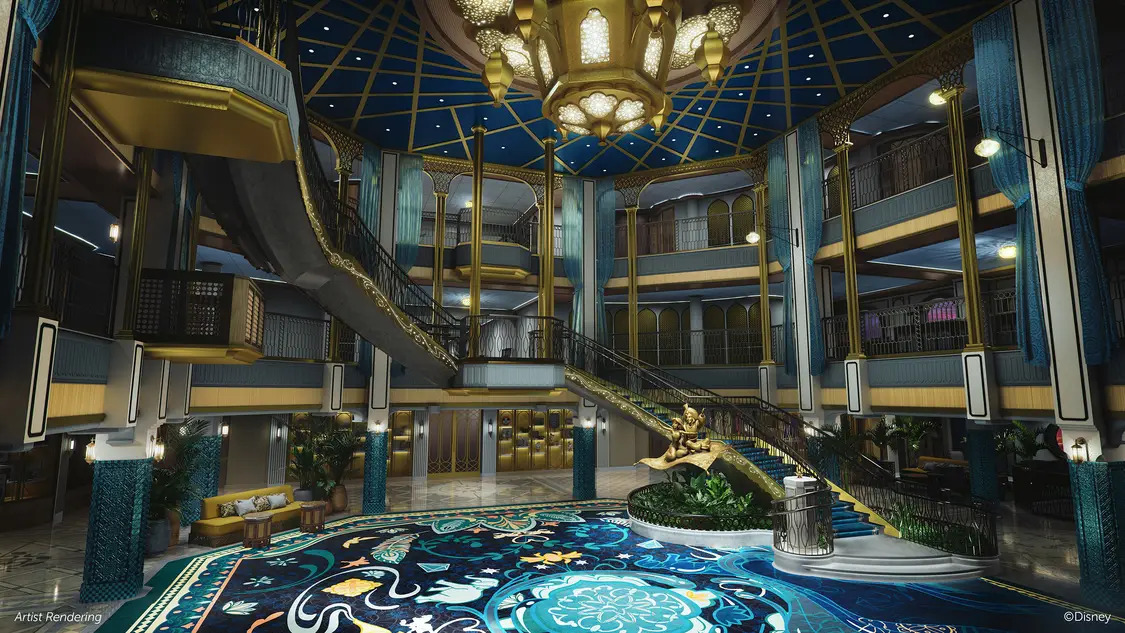 The Grand Hall
The Grand Hall, a key to unveiling a wealth of enthralling new entertainment options including specific shows, character interactions, and musical performances, will play a pivotal role. As the narrative unravels for the Disney Treasure's guests, the "Aladdin"-themed Grand Hall will act as the ship's primary communal area, inciting a sense of awe and exploration with each journey.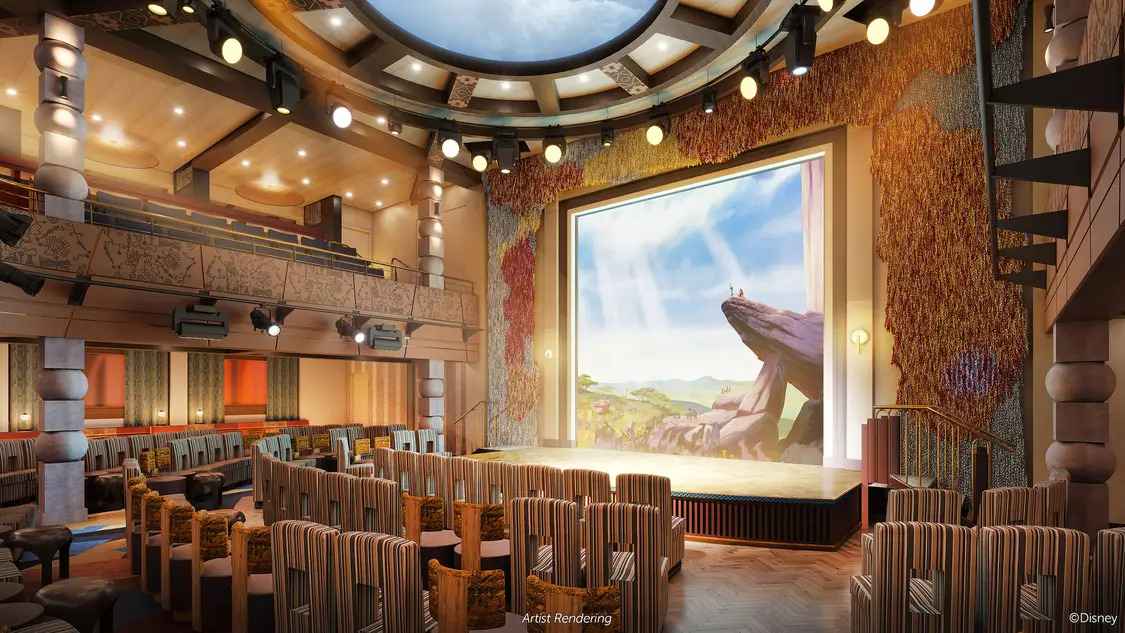 Sarabi
Sarabi, named after the lioness matriarch from Disney's "The Lion King," will function as a central nexus for a variety of daytime activities and exclusive evening entertainment for adults. This uniquely crafted two-floor space will mirror the natural splendor and expansiveness of the savanna, featuring cruise line classics such as "Match Your Mate" and "Family Time Game Show," along with newer favorites introduced on the Disney Wish like "Villains Game Night."
The Walt Disney Theatre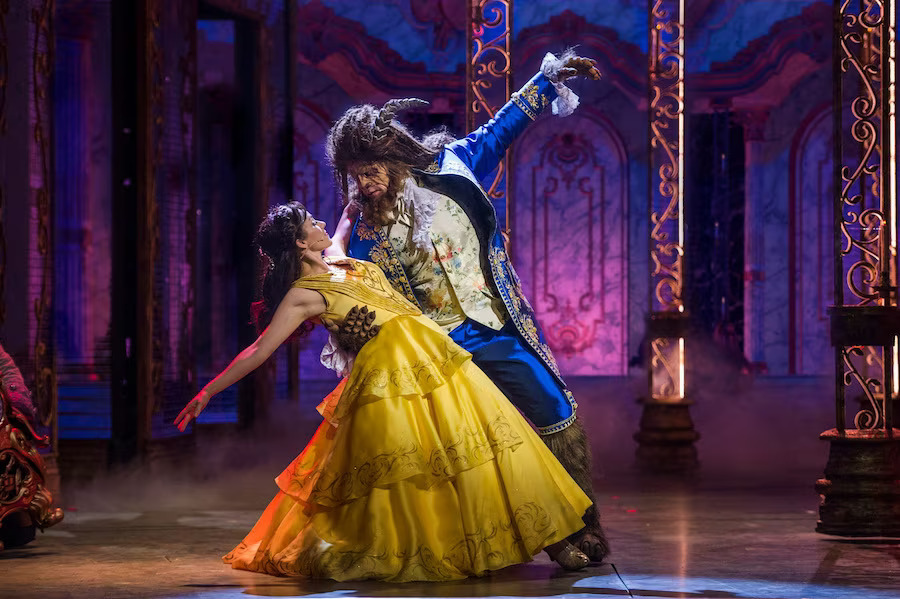 The Walt Disney Theatre, a lavish performance palace, will spring to life with original Broadway-style productions designed solely for Disney Cruise Line – "Beauty and the Beast" and "Disney Seas the Adventure," both fan-favorites among Disney Cruise Line patrons. The former will transport Belle's magical journey to the stage by incorporating creative elements from the live-action film and the classic animated feature, while the latter will be an original musical extravaganza showcasing beloved characters from Disney and Pixar stories alongside stirring performances of iconic Disney songs. Further details about a third, brand-new show coming to the Disney Treasure will be disclosed shortly.
Family Entertainment
Family entertainment aboard the Disney Treasure will be provided by Hero Zone and the Wonderland and Never Land Cinemas, popular venues from the Disney Wish. Hero Zone will serve as a dynamic sports and recreation venue where thrilling physical challenges merge with game show-style contests. Meanwhile, the Wonderland and Never Land Cinemas, cozy, high-end screening rooms, will enhance the onboard movie experience for guests, offering first-run films from Disney, Pixar, Marvel, Lucasfilm and more.
Upper Decks
The Disney Treasure's upper decks will provide a continuation of adventures, enveloped by the vast expanse of the sea and sky. These decks will feature three unique districts that offer thrilling water activities, convenient and casual dining options, and ample space for sunbathing and relaxation.
In a large district inspired by Mickey and friends, families will find seven pools distributed among layered decks, an array of luxurious lounge chairs, an innovative approach to quick-casual dining with a character-themed twist, and AquaMouse, Disney Cruise Line's exclusive sea attraction.
AquaMouse: Curse of the Golden Egg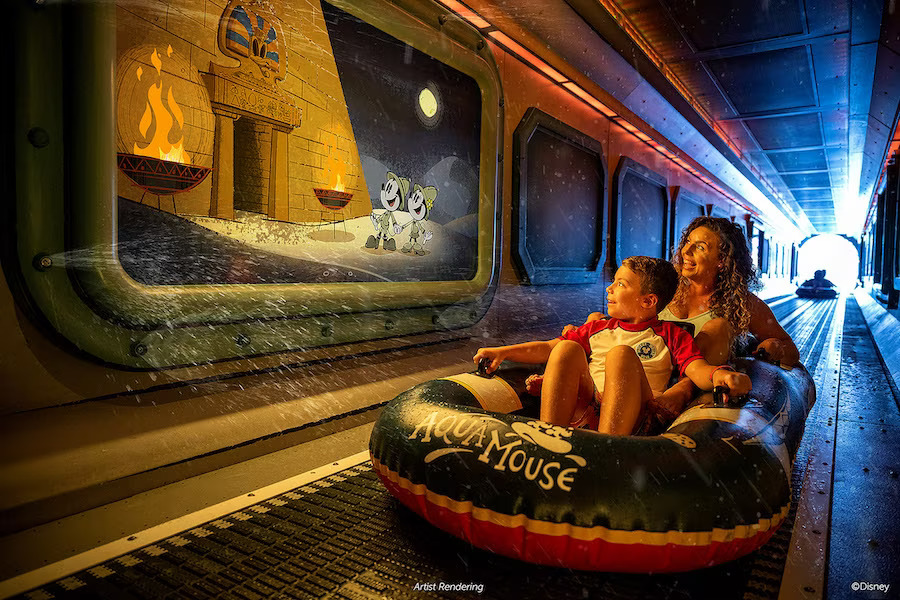 AquaMouse: Curse of the Golden Egg will immerse guests into the realm of Mickey Mouse animated shorts. Positioned high above the upper decks, powerful jets will drive two-person ride vehicles through 760 feet of winding tubes, providing stunning views of the ocean and the ship below. On the Disney Treasure, AquaMouse will unveil a brand-new storyline featuring Mickey Mouse and Minnie Mouse's humorous misadventures into an ancient temple. Guests will accompany the duo as they explore the enigmatic ruins for a peek at the legendary treasure inside, encountering a series of comical mishaps and booby traps that veer their journey off course.
Toy Story-Themed Water Play Area
Just like on the Disney Wish, younger guests will be thrilled with a Toy Story-themed district designed specifically for families with toddlers and young children. This area will include a splash zone, a wading pool, a family waterslide, and a smoothie bar.
Quiet Cove
Additionally, adults can bask in the tranquility of Quiet Cove, a serene haven dedicated to lounging, drinking, and soaking. Distanced from the hubbub of family-oriented activities, this secluded adults-only district will feature a lavish infinity pool, a poolside bar, and a stylish cafe.
Adult-Specific Venues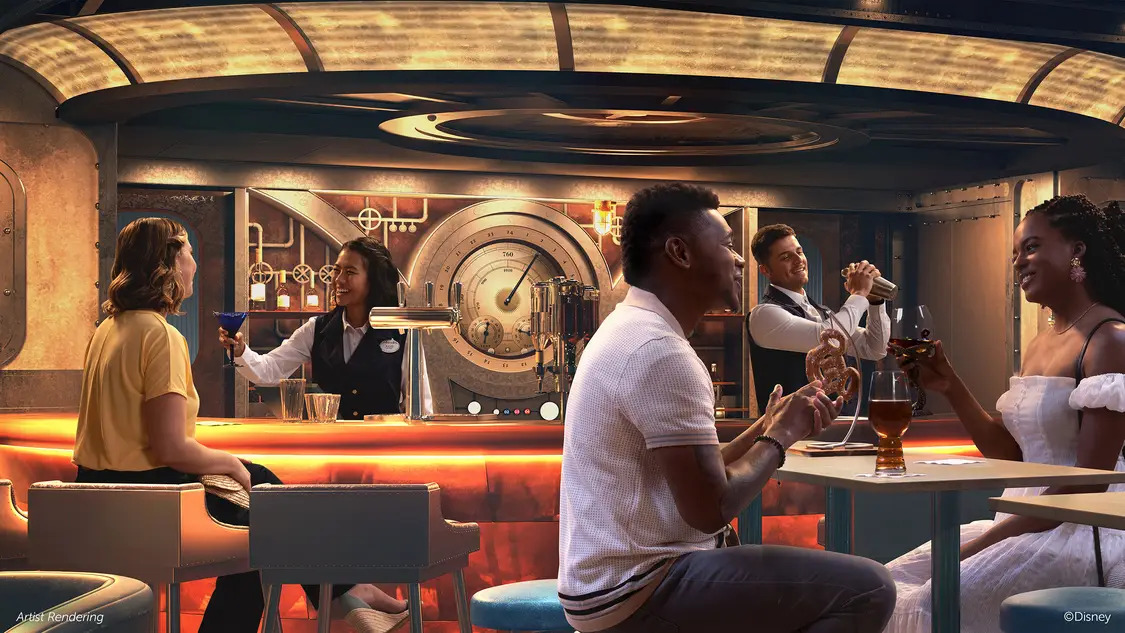 On the Disney Treasure, adults will have access to venues and entertainment specifically designed for them, where they can unwind, dine, play and explore. These adult-only experiences will present refined versions of Disney adventures and Disney Parks attractions, with nuanced to immersive theming, enabling guests to tailor their vacation according to their preferences.
The Periscope Pub, Disney Cruise Line's first venue inspired by Walt Disney's captivating 1954 movie, "20,000 Leagues Under the Sea," and the renowned Disney Parks attraction operational at Walt Disney World from 1971 to 1994, will transport guests into the mythical depths of unexplored oceans. Amidst submarine-like interiors, guests can view the underwater world via a fascinating glass ceiling while enjoying craft brews, light bites, and the latest sports games.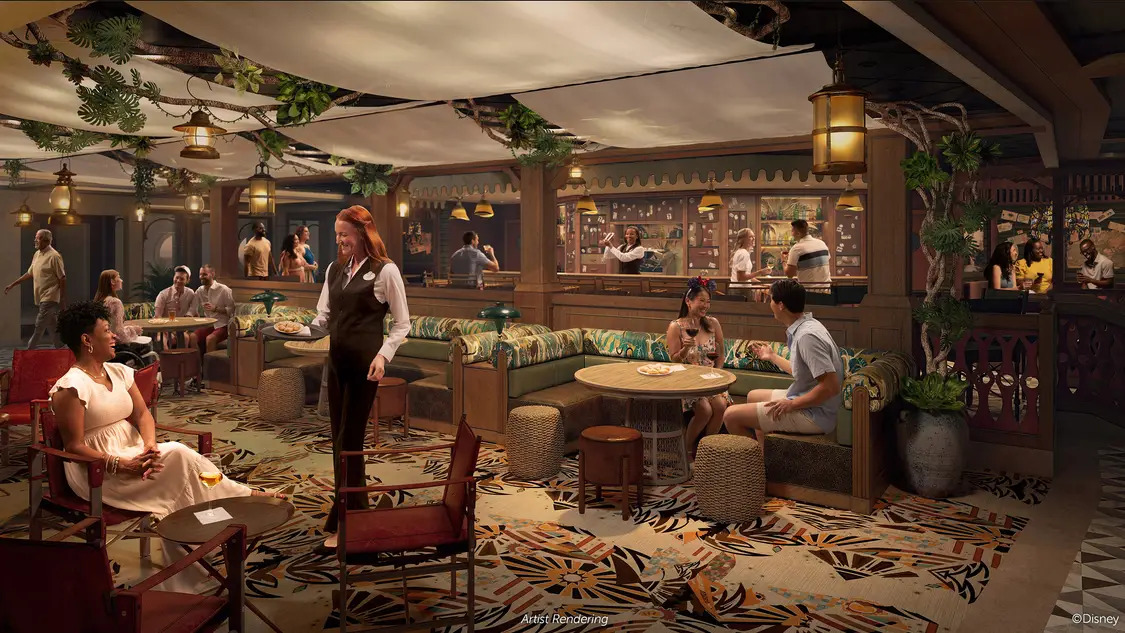 At the centrally located Skipper Society, guests will embark on an adventure beneath a canopy of wild foliage. The venue will incorporate subtle references to the legendary Jungle Cruise attraction found in Disney theme parks worldwide. With its natural hues, camp-style furnishings, and clever nods to the witty skippers who navigate perilous waterways, the venue will offer a playful yet refined atmosphere where guests can partake in themed cocktails and light snacks.
Returning to the Disney Treasure are the much-loved, adult-exclusive dining locations. Guests can relish gourmet meals and exquisite beverages at Palo Steakhouse, Enchanté by Chef Arnaud Lallement, and The Rose, an exclusive suite of culinary brilliance for adults, inspired by the elegant characters from Walt Disney Animation Studios' "Beauty and the Beast."
Palo Steakhouse will bring its relaxed elegance and authentic Italian dining to the Disney Treasure, blending it with the classic sophistication of a modern steakhouse in a setting inspired by Cogsworth, the story's majordomo turned enchanted clock.
Enchanté will provide the most opulent dining experience onboard, featuring a gourmet menu curated by three-Michelin-starred Chef Arnaud Lallement. This intimate and romantic venue will embody the sparkling spirit of Lumiere, the film's candelabra maître d'.
The Rose, a stylish lounge situated at the entrance of Palo Steakhouse and Enchanté, will draw inspiration from the story's pivotal flower. It will provide an ideal setting for a pre-dinner aperitif or post-dinner cocktail.
Senses Spa, a peaceful sanctuary, will offer luxurious spa and beauty treatments that draw on the tranquility of natural elements to promote relaxation and pampering. The spa will house private treatment rooms, extravagant spa villas, steam and aromatherapy rooms, while the revamped Senses Fitness will feature cutting-edge exercise and wellness facilities.
Additional adult-exclusive spaces on the Disney Treasure will encompass the Quiet Cove pool district, a selection of gourmet cafes, laid-back bars, high-end lounges, and more.
Kid's Venues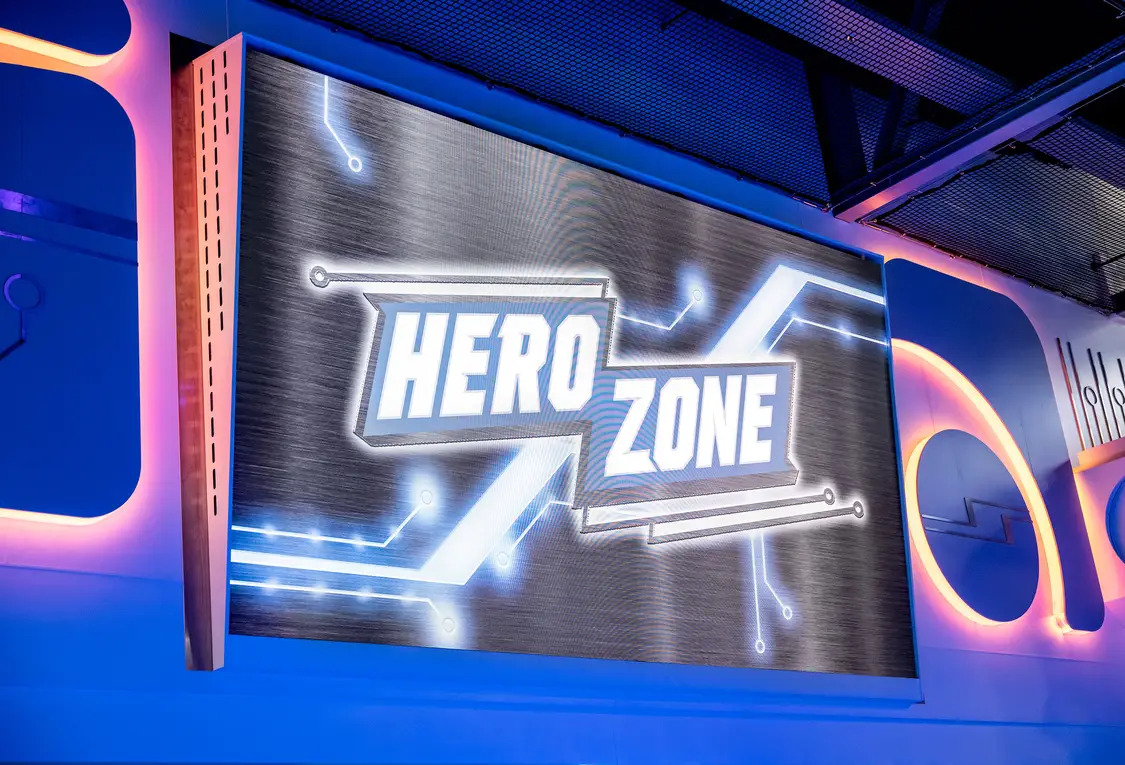 On the Disney Treasure, children of all ages – infants, toddlers, kids, tweens, and teens – will set off on their own Disney journeys with dedicated areas and interactive programs tailored to each age group.
Kids will be transported into the enthralling realms of their favorite Disney tales in Disney's Oceaneer Club, a wonderland of immersive environments specifically designed to stimulate exploration and discovery. Expertly curated programming melds physical activities with age-appropriate technology to deliver deeply engaging, enriching experiences guided by a team of counselors trained by Disney.
The Marvel Super Hero Academy is a state-of-the-art Avengers base where young "trainees" will learn to become the next generation of Super Heroes under the guidance of their personal heroes, such as Spider-Man, Black Panther, and Ant-Man.
Fairytale Hall is a majestic suite of activity rooms where young princes and princesses can let their creativity flourish at Rapunzel's Art Studio, participate in story reading and enactment at Belle's Library, and more.
At the Walt Disney Imagineering Lab, kids will uncover the secrets of world-famous Disney Imagineers — the creative geniuses behind Disney theme parks, resorts, and cruise ships — through hands-on activities and innovative experiments.
In Star Wars: Cargo Bay, the peculiar creatures and legendary characters from a galaxy far, far away take center stage, immersing kids in their own Star Wars narrative as they assume the role of creature handlers and learn to manage a lively collection of exotic beings.
The Mickey and Minnie Captain's Deck, inspired by the colors, symbols, and magic of Disney Cruise Line, is a nautical playground. Little cadets will embark on a thrilling adventure with a variety of maritime-themed physical and sensory games and activities.
Luxurious & Spacious Staterooms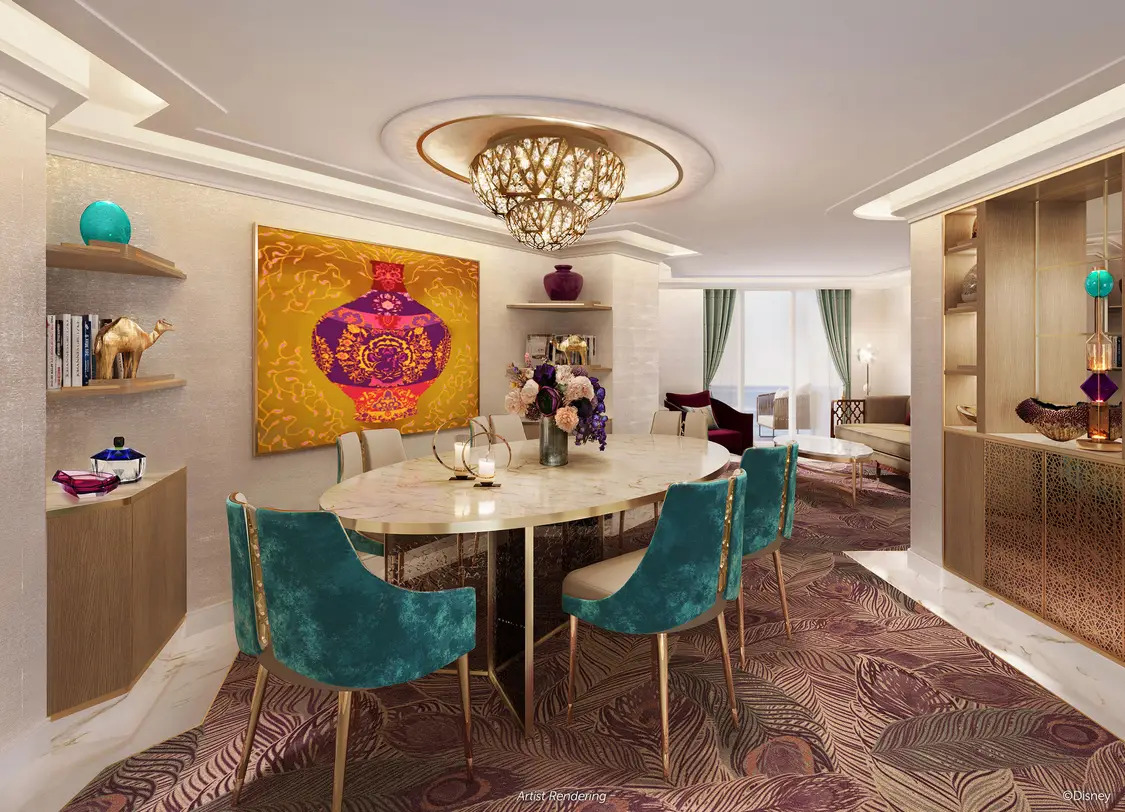 The opulent lodgings on the Disney Treasure will masterfully blend contemporary design with a touch of nostalgia. The soothing, natural color palette and bespoke artwork will ignite guests' curiosity, inviting them to step beyond their staterooms and delve into enchanting worlds derived from beloved Disney adventures.
Designed with family comfort in mind, the ship's staterooms are equipped with high-end amenities. Most rooms will feature Disney Cruise Line's unique split-bath concept, and many will provide the option of connecting doors to link staterooms for larger groups traveling together, with a total of 451 connecting doors available. Furthermore, most of the ship's 1,256 staterooms will offer a view of the ocean — including 877 (or 70 percent) with a verandah.
For guests seeking a premium level of personalized service and luxury, the Disney Treasure will enhance the concierge experience. The concierge-level staterooms and suites will offer both adventure and indulgence, along with an exclusive concierge lounge and a private sun deck. This will serve as the perfect spot to unwind, enjoy a cocktail, and savor a variety of food and beverages throughout the day. The concierge-level suites on the Disney Treasure will feature elegant interiors inspired by the majestic grasslands that Simba, from Walt Disney Animation Studios' "The Lion King," calls home.
The adventure-themed accommodations on the Disney Treasure will also include four royal suites that honor the loyal feline companions of daring Disney characters. These luxurious designs will feature the Bagheera Royal Suites, paying tribute to the noble panther from "The Jungle Book" and his lush forest home, and the Rajah Royal Suites, themed after Princess Jasmine's protective tiger from the iconic Disney film, "Aladdin," who resides in the royal palace of Agrabah.
Set Sail!
In conclusion, the Disney Treasure is set to take Disney's magical cruise experience to new heights. With its blend of classic elegance, modern luxury, and Disney magic, this ship truly is a treasure to behold. So get ready to embark on an unforgettable journey where dreams really do come true!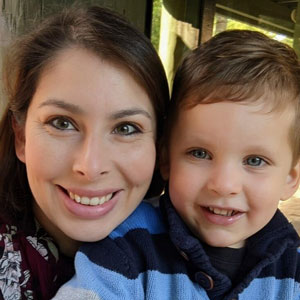 Written by
Rachel Van Norman
Contributing Writer
Rachel fell deeply in love with all things Disney as a little girl. Now as a wife and a mother herself, she shares this Disney obsession with her son and everyone around her. From her love of princesses to eating all the Disney food, Rachel spends her time radiating Disney magic and keeping everyone up to date on Disney news.