Two of the best tools for getting the most out of your DVC points are banking and borrowing. These two options provide DVC owners with extra flexibility for using and managing points. Once you've become a banking and borrowing pro, you might be interested in learning how to combine three years of Disney Vacation Club points for one stay. Below, we'll explain how to use banking and borrowing to book the ultimate DVC vacation for you and family using three years of points.
If you've thought up a dream vacation, in a large suite or for an epic two week stay, you might be wondering how you'll make it work with the number of points in your DVC point package. Don't give up hope just yet. Every DVC owner has the ability to bank and borrow and essentially combine up to three years of points to book one stay. Here's how it works.
Banking And Borrowing Basics
As a DVC owner you're allowed to bank your current Use Year's points into the following Use Year. You're also allowed to borrow points from the following Use Year to book a reservation. However, there are some rules when it comes to banking and borrowing.
Rules
You can only

borrow

points to complete a reservation that requires more points than you currently have. 

You can only

borrow

points from the

following

Use Year's allotment of points to complete your reservation. 

Banking and borrowing points are

final and irreversible transactions

.

Banked points

cannot be banked again

, so make sure you use them up.

You may only

bank

points within the first

8 months

of your current Use Year. You cannot bank points during the last 4 months of your Use Year.

All banked and borrowed points keep their home resort affiliation. You cannot combine points from different home resorts to book during the 11-month booking window. You may combine points to book during the 7-month booking window.
Booking A Reservation With 3 Years of Points
Now that you understand the basics of banking and borrowing, in the scenario below we'll show you how to book a reservation using three years of points. 
Scenario
You own 100 DVC points with a June Use Year and you've planned a dream stay that will cost a total of 250 points. You want to book your stay for July 2020 which technically falls into your next Use Year (June 2020 to May 2021). Since your dream vacation requires 250 points and each year you receive 100 points, in this scenario you could follow the steps below to book your reservation.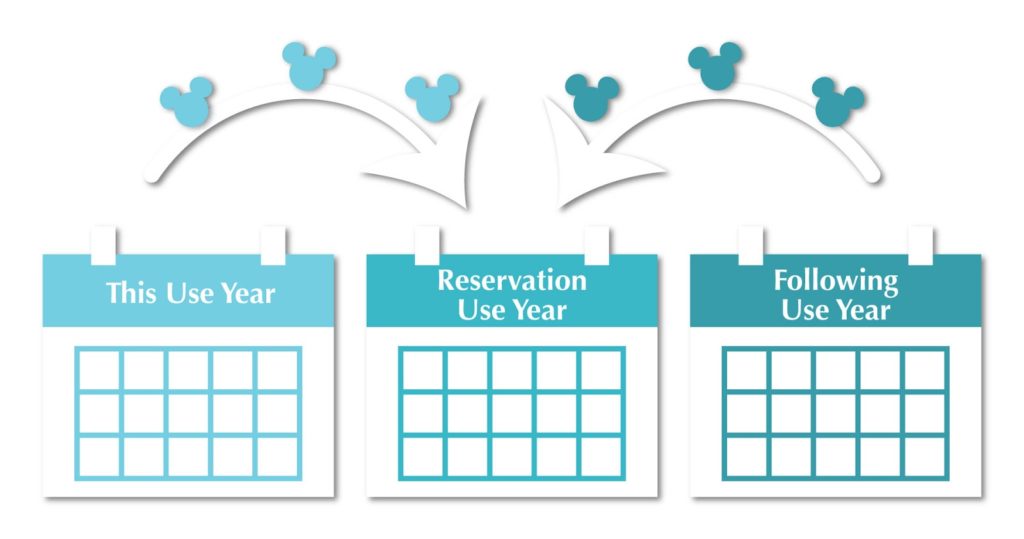 Step 1:

Bank your current Use Year's points (June 2019 to May 2020) into the next Use Year (the Use Year of your reservation).

Step 2:

Borrow 50 points from the Use Year following your reservation, which in this case would be your June 2021 to May 2022 points.

Step 3:

Use your 100 banked points + your 100 points from the reservation's Use Year + 50 borrowed points from the following Use Year to book your reservation.
Combining three years of Disney Vacation Club points for one stay is a simple and useful technique to book that ultimate vacation for you and your loved ones without the need to buy or rent extra points. Just remember to keep the banking and borrowing rules in mind when you start your planning. 
Guest Author
Katherine Rand