We did Hoop de doo in early September to celebrate two birthdays; my husband's 71st and my grandson's 2nd. We had the best time ever. The food was really good and there was something to please everyone. We had endless buckets of ribs and fried chicken. Makes potatoes, salad and green beans were all fresh and tasty. My favorite has to be the strawberry shortcake for dessert. I was stuffed but couldn't stop eating it! The entertainment was amazing, interactive, funny, and really made the night special. They recognized all the cerebrations in the room and even my shy husband got into the spirit and jokingly told them he was 29, again. It was well worth the money and will be a family tradition from now on for us. Getting there was so easy using the boat from magic kingdom. We ended up exploring the resort, participating in the Chip and Dale sing along and campfire and staying late to watch the fireworks and electrical water parade from the beach. The whole night was magical and the highlight of our trip. I highly recommend it for families and kids of ALL ages.
---
The Hoop-Dee-Doo Musical Revue is a fun, rollicking, Western-themed vaudeville dinner show. It takes place in Pioneer Hall located in Fort Wilderness. (Since this resort restricts vehicular traffic, extra travel time is needed.) Pioneer Hall has the main floor and a balcony. Seating is pre-assigned.
Dinner is served family style and includes a Dinner Salad, buckets of Barbecue Spare Ribs and Fried Chicken, Corn, Baked Beans, and Strawberry Shortcake.
Unlimited Soft Drinks, Coffee, Tea, Milk, Beer, Wine, and Sangria are included.
Category 1 seating will be on the first floor closest to the stage
Category 2 seating will be on the first floor behind the Category 1 section below the balcony, or the center of the balcony on the second level
Category 3 seating will be on the right or left-hand side of the balcony on the second level
Guests requiring wheelchair access may only be seated in category 1. Categories 2 and 3 may require ascending a flight of stairs.
This dinner show can be booked by calling (407) WDW-DINE.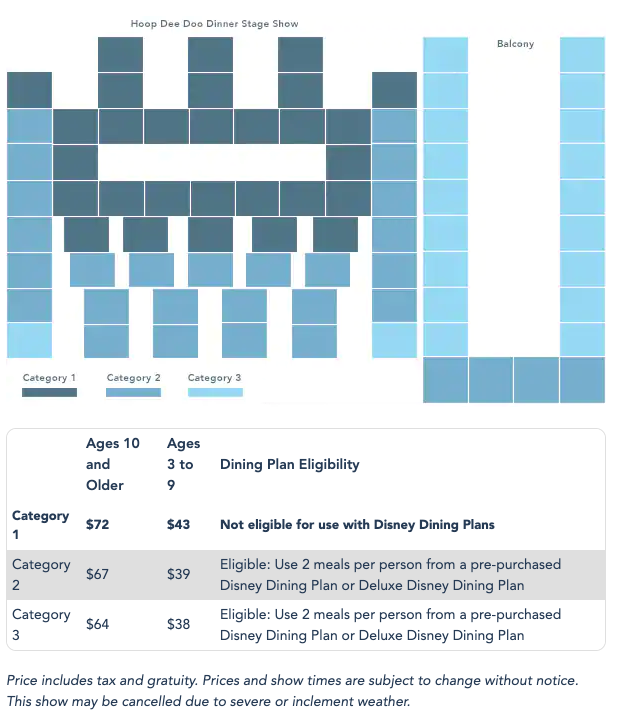 Guest Author
Laurie Robinson