DVC Shop recently held a Disney Guest Experience survey as a way to assess the comfort level and travel patterns of Disney guests during COVID-19. The survey was available from August 17 to September 7, 2020. We received over 670 entries and now that the results are in, here's what they reveal.
Guests Feel Comfortable With Disney's Safety Handling During COVID-19
A whopping 82% of participants stated they feel very or mostly comfortable returning to Disney during COVID-19. This data reveals an overwhelmingly positive outlook on how Disney is handling safety in the parks during the pandemic.
When Disney reopened in July many Disney fans seemed concerned or hesitant to return to the parks. It seems, however, that Disney has done a fantastic job putting guests' minds at ease over the past two months. Disney has been very transparent and vocal about the safety measures in the parks and resorts. Temperature checks, face coverings and social distancing requirements continue to be mandatory at all the Disney World parks to ensure safety of all guests.
While our DVC Shop survey didn't ask guests to elaborate on their feelings about returning to the parks, many of social media followers have expressed that they feel safer going to Disney than shopping in their local grocery stores.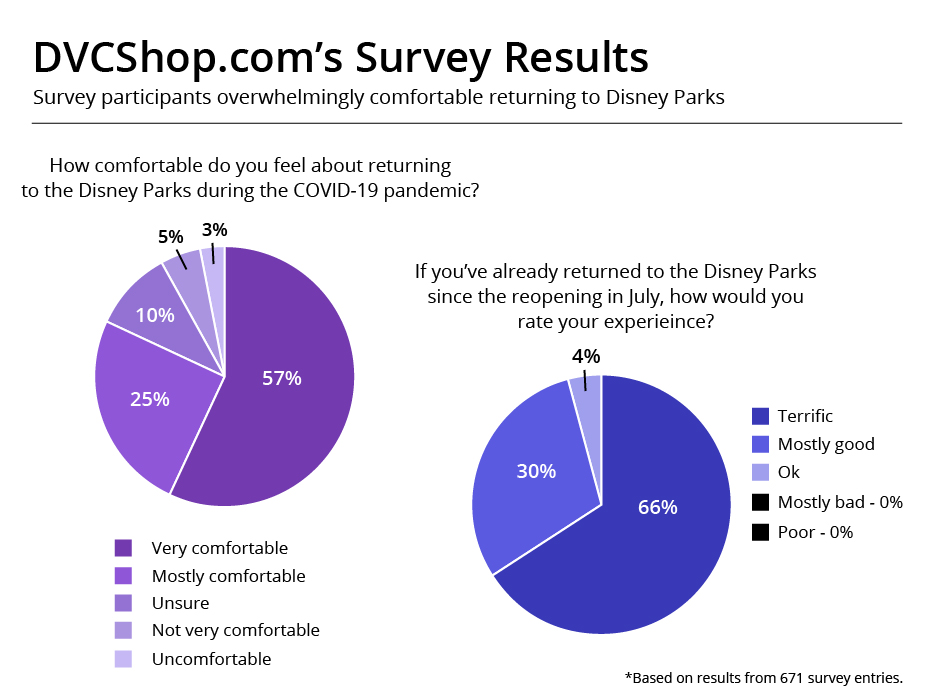 Guests Continue To Have Great Experiences At Disney
Of guests that have already returned to Disney since the parks reopened in July, 96% of guests said they have a mostly positive or terrific experience. No participants reported having a negative experience at Disney since COVID-19. This overwhelmingly positive response is a huge window into how Disney is treating guests and the types of vacation experiences visitors are having at Disney World.
While we all hoped that guests returning to the theme parks would have a great time, it's terrific to see that guests that have made it back to the parks are indeed continuing to have magical vacations. Followers on social media have stated that while there are of course changes to how the parks operate, there is plenty of fun still to be had.
Guests Are Planning To Return To The Parks As Soon As Possible
With all the travel restrictions and safety measures in place, it may be surprising to hear that a majority of guests expect to return to Disney World within two months. When asked, "When would like to return to the Disney Parks?" 30% of participants answered "as soon as possible." However, many hopeful guests may not be able to return soon due to travel restrictions and quarantine requirements. 19% of respondents stated that they expect to return to Disney in 9+ months.T
The results of our DVC Guest Experience Survey was immensely insightful look into how Disney fans feel about returning to the Disney Parks. At DVC Shop we're excited to continue helping you plan the perfect Disney Vacation whenever you're ready and able to return to Disney World. Contact us today at DVC Shop Rentals or DVC Shop Resales to rent or buy DVC points.
DVC Shop would like to thank everyone who participated in the DVC Shop Guest Experience Survey. Every survey entry was entered to win a $100 or $50 Disney Gift Card. Winners will be announced on September 8th through the DVC Shop Newsletter and on social media. Winners will also receive an email with prize details. All participants should also check their email for a special gift from DVC Shop.
Katherine Rand
DVC Shop Editorial Team