If you're looking for the ultimate Disney Cruise Line experience, look no further than Disney's Castaway Cay. Castaway Cay is a private Bahamian island that serves as one of Disney Cruise Line's most popular ports of call. It's perfect for families and solo adventurers alike, providing an array of activities to entertain everyone. With Castaway Cay, you can explore the lush island and its crystal-clear waters, all while enjoying Disney's signature hospitality.
From kayaking to snorkeling to lounging on a private beach, Castaway Cay has something for everyone. Plus, when it's time to refuel, there are plenty of delicious dining options available — perfect for every palate.
In this article, we'll be exploring what beaches, dining, recreational activities, and shopping are offered on Castaway Cay to bring you up to speed on why this is one of Disney Cruise Line's most beloved ports of call.
Beaches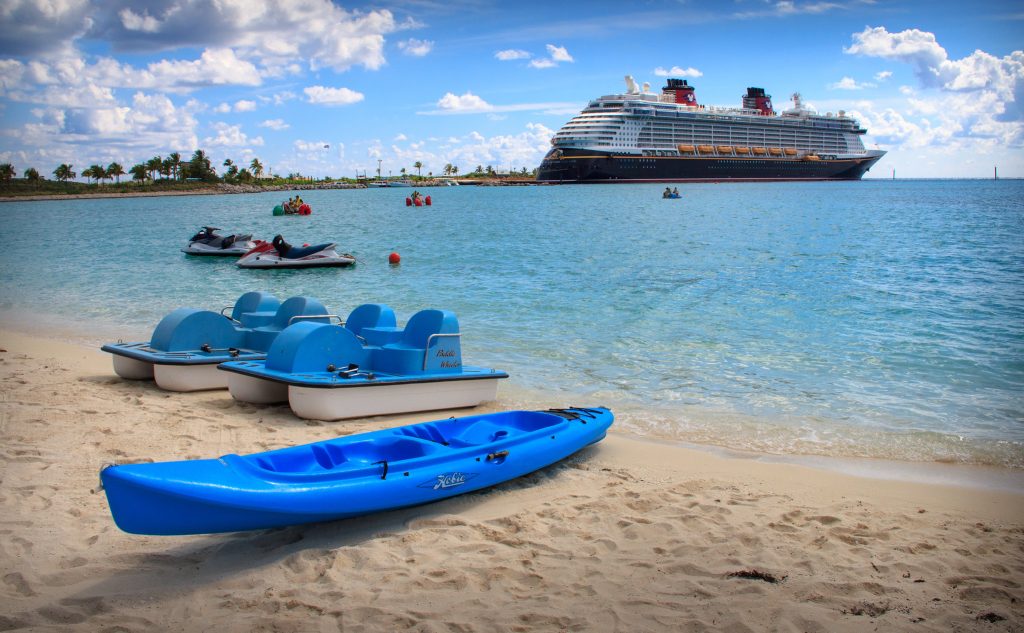 Castaway Family Beach
Castaway Cay is home to Castaway Family Beach, an exclusive beach area reserved only for Disney Cruise Line guests.
Serenity Bay Beach
Serenity Bay Beach is Castaway Cay's private retreat for adults. This beach features hammocks, lounge chairs, and plenty of umbrellas to keep you shaded during your stay.
Dining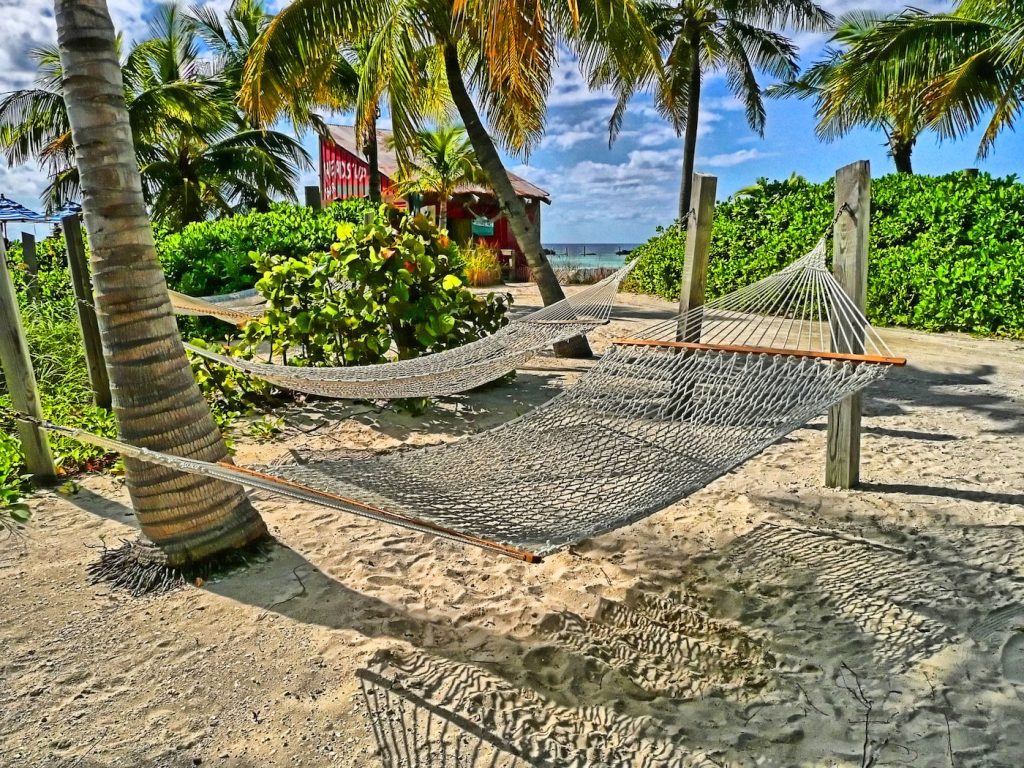 The Castaway Cay restaurants offer something for everyone! Head over to Cookies BBQ or Castaway Air Barbecue for some delicious BBQ dishes, or check out Castaway Cay's food trucks for some quick bites. And don't forget to satisfy your sweet tooth with a stop at Cookies Too!
Bars
Castaway Air Bar
Castaway Air Bar is located on Serenity Bay Beach, and looks like it's been plucked from the end of Castaway Cay's airstrip. It offers snacks, libations, and serene views of the ocean.
Conched Out Bar
Conched Out Bar is near the Family Beach and is the closest option to Cookie's BBQ. It's most popular drink would have to be the Konk Kooler which is a refreshing and fruity blended rum drink.
Heads Up Bar
Heads Up Bar is located on a small Boardwalk that overlooks Pelican Plunge.
Sand Bar
Sand Bar is a bit further down the Family Beach and is the closest bar to Cookie's Too BBQ.
BBQ
Many of the dining locations on Castaway Cay serve similar items such as ribs, chicken, hamburgers, hot dogs, salads, corn on the cob, fresh fruit, cookies, or soft serve ice cream. There are a handful of dining locations to choose from which we have outlined below.
Cookie's BBQ
Cookie's BBQ is located on the Family Beach closer to the where the ship will be docked. They offers a varied menu of classic barbecue favorites, and also offer a buffet menu as well. They are also known for their gluten free and food sensitivity menu, so they are a great option for those who have any dietary restrictions.
Cookie's Too BBQ
Cookie's Too BBQ is also located on Family Beach but a bit further down the sandy stretch. Their offerings are all but identical to the original, just in a different location.
Serenity Bay BBQ
Serenity Bay BBQ is a dining option that is located on the adults-only Serenity Bay Beach. They offer a similar menu to the other BBQ dining locations, such as burgers, ribs, chicken, and fish, but they also offer some higher-end menu options such as ribeye steaks as well.
Olaf's Summertime Freeze
Be sure to stop by Castaway Cay's very own Frozen-inspired drink stand, Olaf's Summertime Freeze. This sweet spot offers a variety of blended frozen treats, plus snacks and drinks.
Covered Seating Pavilions
Dig In
Grouper
Gumbo Limbo
Pop's Props and Boat Repair
Recreational Activities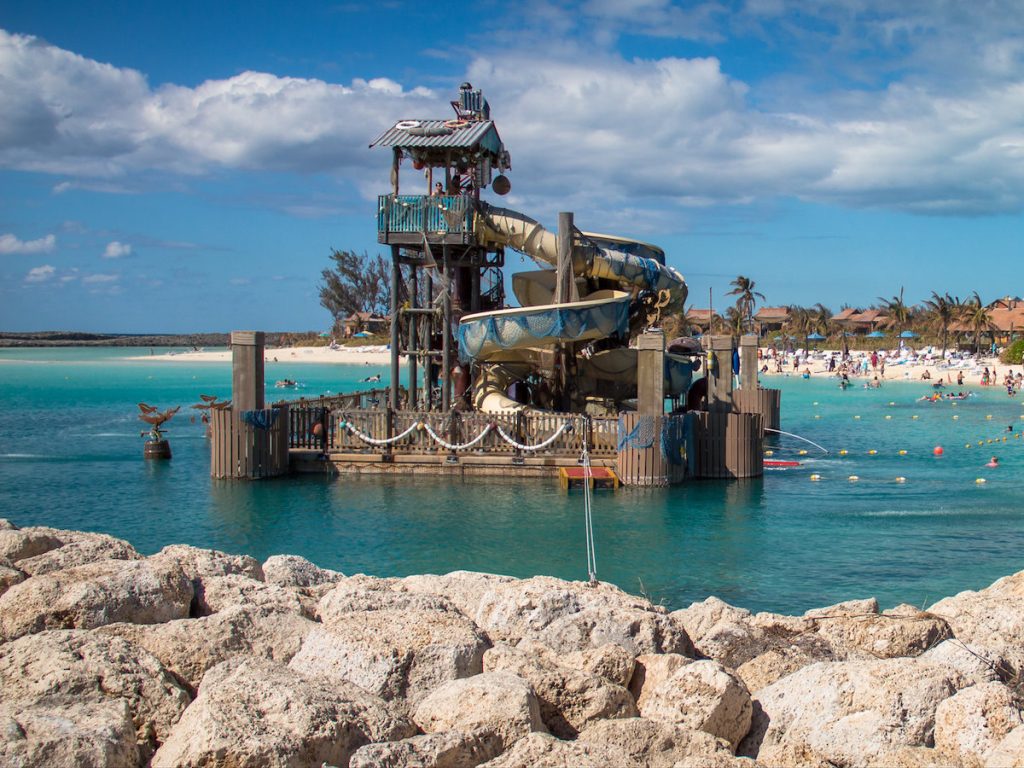 Bike Rentals
Explore Castaway Cay's paths on your own two-wheeler. Bike rental stations are located throughout the island, so you can zip around and explore Castaway Cay to your heart's content.
Cabana Rentals
There are 20 total cabanas on Family Beach. The Family Beach Cabanas are 325 square feet in size and are for party sizes over 6 guests.  plenty of indoor/outdoor seating, a refrigerator, a safe, a ceiling fan, towels, sunscreen, a freshwater shower, hammock, fresh fruit and snacks, and unlimited bottled water and soft drinks. Alcohol beverage packages are available for purchase. include snorkeling equipment, a float or tube rental, sand toys, and a 1-hour bike ride.
Castaway Cay Fishing Adventure
Head out to Castaway Cay's pristine waters and experience some of the best fishing in the world. Castaway Cay Fishing Adventures offers a full day of fishing, with all necessary equipment and bait included. With a knowledgeable guide by your side, you'll have an unforgettable Castaway Cay experience.
Character Appearances
Character appearances are a Castaway Cay staple. You can meet and take photos with your favorite classic Disney characters.
Snorkeling Lagoon
Castaway Cay's Snorkeling Lagoon offers crystal-clear waters and an abundance of sea life. You can rent snorkeling equipment to explore the lagoon, or take a guided tour for a more in-depth experience. The guides will tell you about the incredible underwater world and share some amazing stories along the way.
Pelican Plunge
Pelican Plunge is Castaway Cay's unique water activity, offering a two-story waterslide that you can find on Castaway Family Beach or Serenity Bay. It provides plenty of fun for the whole family!
Teen Hideout
The Castaway Cay Teen Hideout is a great spot for kids and teens to hang out, with activities such as video games, board games, pool tables, ping pong and more.
In Da Shade Game Pavilion
Another Castaway Cay staple is the In Da Shade Game Pavilion, where you can find a variety of activities for both kids and adults. Games include giant chess sets, foosball tables, corn hole, basketball shootouts and more!
Sports Beach
Sports Beach is Castaway Cay's spot for some friendly competition. It includes beach volleyball, bocce ball, horseshoes, and other activities.
Castaway Cay 5K
The Castaway Cay 5K is a great way to start your Castaway Cay day. This 3.1-mile loop passes through the island's wetlands, beaches and Disney character areas, and offers stunning views of the Caribbean Sea.
Boat Rentals
If you're looking to explore Castaway Cay from a different perspective, why not take out one of Castaway Cay's boat rentals? Castaway Cay offers kayak and canoe rentals for those who want to explore the island's canals and waterways.
Gil's Fins and Boats
If you're feeling adventurous, Castaway Cay offers a variety of motorized transport options. Gil's Fins and Boats rents out a range of boats from powerboats to pontoon boats.
Stingray Experience
For an even closer look at Castaway Cay's marine life, head over to the Stingray Experience. Castaway Cay's experienced guides will take you out to the lagoon and show you how to handle and feed these gentle creatures.
Flippers & Floats
For a more relaxed Castaway Cay experience, you can rent tubes and inflatable floats from Flippers & Floats. Enjoy the Castaway Cay scenery and watch for dolphins as you float along its waters.
Shopping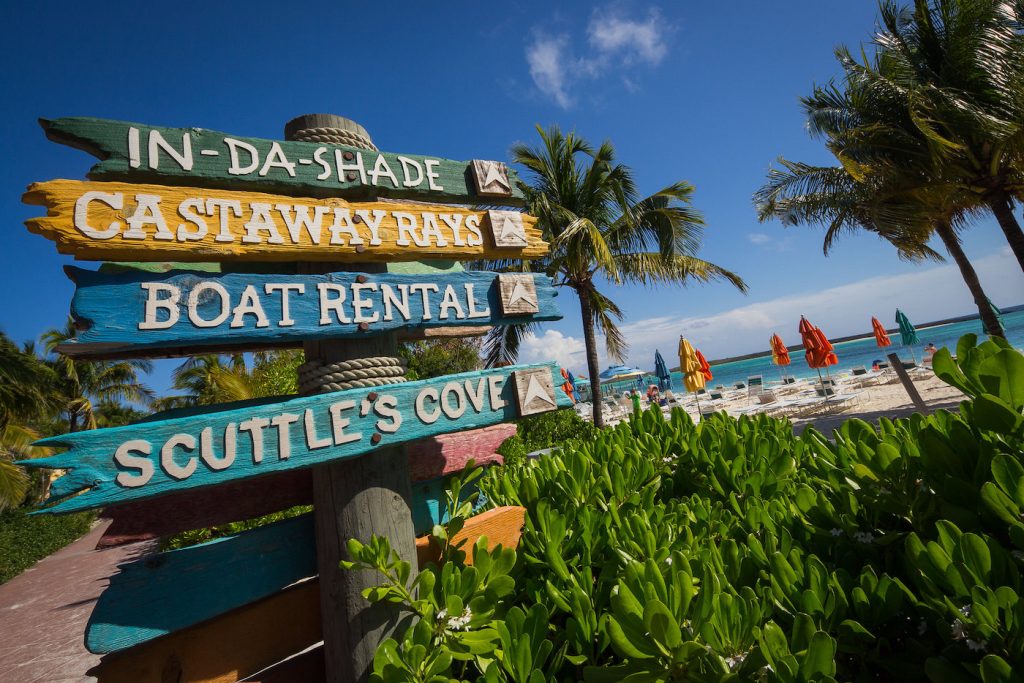 Bahamian Retail
Be sure to check out Castaway Cay's Bahamian retailers for some unique souvenirs or arts and crafts. You can find everything from hats, jewelry and home decor items to clothing, shoes and accessories.
Buy the Seashore
Buy the Seashore is near Castaway Cay's Pelican Point tram stop. It's a one-stop beach store, where you can stock up on all your beach essentials. You'll find swimwear, flip-flops, sunscreen and more at this Castaway Cay staple.
She Sells Seashells and Everything Else
She Sells Seashells and Everything Else is near Castaway Cay's Scuttle's Cove tram stop. At this specialty shop, you can find Castaway Cay-themed souvenirs, such as t-shirts, mugs, keychains and much more.
Conclusion
Whether you want to relax on the beach or explore Castaway Cay's waters, Disney's Castaway Cay offers something for everyone. From character appearances to unique shopping experiences, Castaway Cay is the perfect port of call for a Disney Cruise vacation. So why not plan an adventure and get Castaway?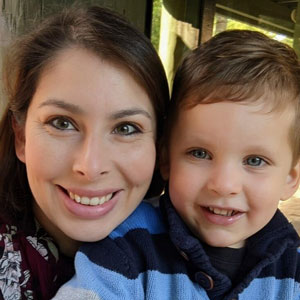 Written by
Rachel Van Norman
Contributing Writer
Rachel fell deeply in love with all things Disney as a little girl. Now as a wife and a mother herself, she shares this Disney obsession with her son and everyone around her. From her love of princesses to eating all the Disney food, Rachel spends her time radiating Disney magic and keeping everyone up to date on Disney news.