Disney World often honors veterans of the U.S. armed forces. For example everyday there is a flag retreat ceremony at the Town Square flag pole in Magic Kingdom, however for Veteran's Day this year Disney did something truly memorable in a flag-raising ceremony that honored veterans across the country.
The flag-raising ceremony began at sunrise. The Sun rising over Cinderella's Castle and a cool breeze going through the air provided the perfect backdrop as members of Disney World's security team, the Reedy Creek Fire Department, and the Orange County Sheriff's Department marched down Main Street with a fife and drum. The honor guard marched in procession to Town Square for the hoisting of the colors.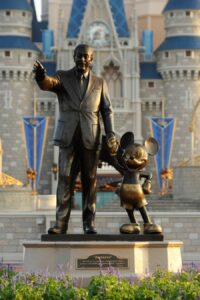 This ceremony held an extra special meaning for Walt Disney World Resort Security Manager Mike Viola. He joined Disney five years ago following a 31 year career in the U.S. Navy.  He and his wife Leslie, a 20-year Navy veteran and former WDW Security Investigator cast member, have been coming to the resort since they got married in 1992. 
Since then, the pair have been deployed seven times between them in 12 years of service, and their love of Disney served as a way to pass the time and keep their family connected. During time apart, Mike and his family would watch Disney DVDs "together" (at their respective locations) and plan a trip to Disney once each deployment was over – making dining reservations to keep everyone focused on reuniting together at Walt Disney World once the mission was complete.
They loved Disney so much, both Mike and Leslie came to work for the company after retiring from the Navy. 
A few days earlier, U.S. Air Force Thunderbirds helped Walt Disney World mark the beginning of National Veterans and Military Families Month with a flyover while they were in the area for an air show. It was to honor those who have served in uniform and to the fallen military heroes.
Disney's history heavily includes veterans as both Walt and Roy Disney served in the military during World War I. Statues of them are at each end of Main Street, U.S.A.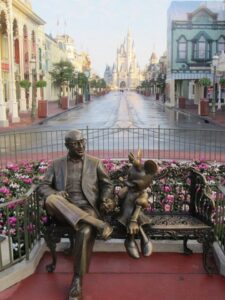 Disney pays homage to different veterans in several different ways, one example is on the Seven Seas Lagoon. Disney named the two ferry boats after flag-rank veterans, Navy Admiral Joe Fowler and Army General Joe Potter, who were both instrumental in the creation of Disneyland Resort and Walt Disney World. 
Disney World truly cherishes everything that veterans do for this country. That is evident by this special Veteran's Day ceremony and by what they do for veterans each and every day. As Mike Viola says, "I work at Disney because of the joy this company has brought to not only my family but tens of thousands of other families who visit every day."
On behalf of DVC Shop to all veterans and all uniformed members, we thank you for your service. 
Gio Lambert
DVC Shop Contributing Writer