Most Disney World guests focus on visiting the big four theme parks at the resort. These four theme parks offer so many attractions that many visitors may not even be able to experience all of them during their stay. But, if you're visiting the Orlando area during the peak of summer (or Spring or Fall) and the sweltering Florida heat is too much to bear, you may want to head over to one of Disney's water parks for a day of refreshing fun that is sure to restore you for the next day when you head back to the theme parks. If you're thinking of checking out a Disney water park, here is everything you need to know.
Typhoon Lagoon
Built in 1989 as Disney's second water park, after River Country which closed in 2001, Typhoon Lagoon is a tropical oasis in the center of the Lake Buena Vista area. Although it is the older of the two water parks, it is currently (as of 2018) the second most visited water park in the world. The park's theme is that the tropical lagoon was hit by a typhoon and left remnants of wreckage strewn about the park.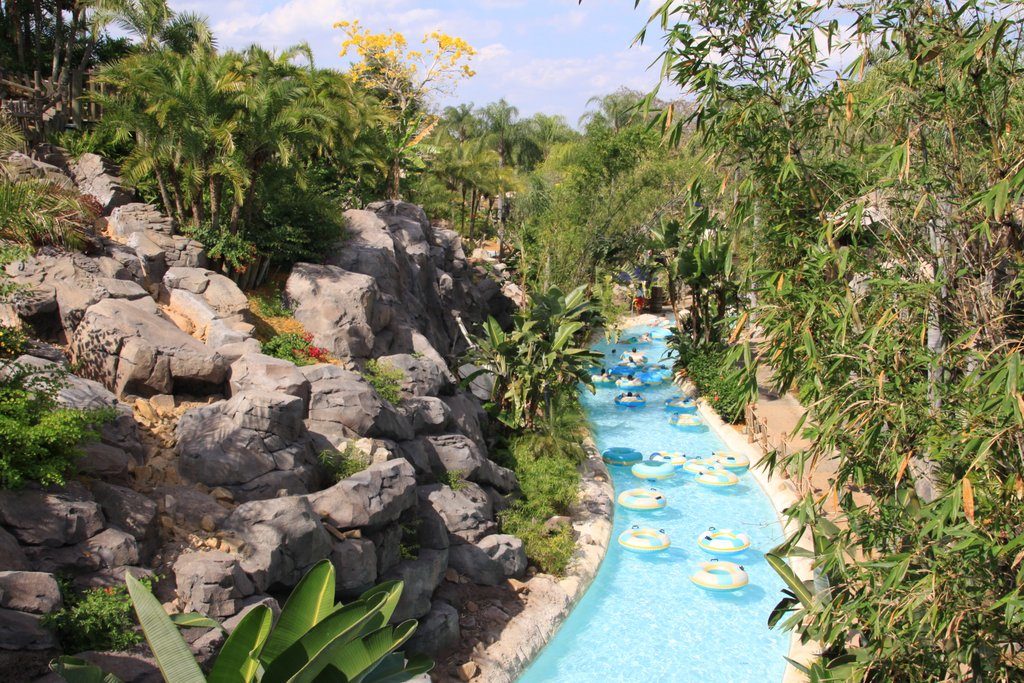 Highlights
Amazing theming by the Imagineering team that makes you feel that you are truly in a tropical, seaside oasis with shady spots and sandy white beaches to lounge and relax

Huge wave pool and lazy river that guests can enjoy without any wait times 

Fun, innovative rides like the Crush 'n Gusher water coaster that shoots you up a water slide, not something you experience everyday, and their newest ride, Miss Adventure Falls which features a very animated animatronic parrot as well as the park's first conveyor belt system which takes you and your raft up to the top of the slide.
Blizzard Beach
*Note that Blizzard Beach is currently closed for refurbishment and will reopen in early 2020.
With its wacky blizzard theme, Blizzard Beach opened in the spring of 1995 and has been a popular destination for those who love thrilling water attractions. The park is designed around the idea of a melting ski resort with different "slopes" throughout the park that are now being used as water attractions. While the theme is quite silly, it allows for some very steep and adventurous water rides.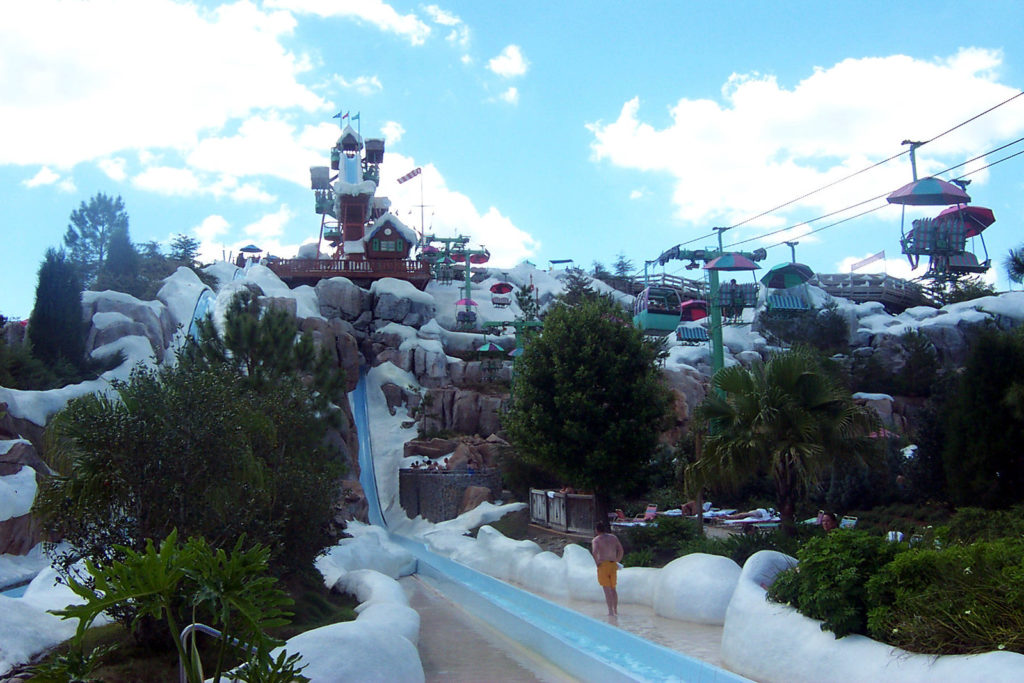 Highlights
Generally less busy than Typhoon Lagoon

Large wave pool and the Cross Country Lazy River which are great for a relaxing and refreshing day

A variety of thrill rides like Summit Plummet with it's 120 foot drop at up to 60 mph speeds and Slush Gusher, a fast paced ride where you zip through a winding slide and are shot up into the air for some thrilling "air time," a unique addition to a water slide.
Ticket Prices
Quite possibly the best part of Disney's water parks are the reasonable ticket prices. Guests can purchase regular tickets for $69 per adult ($63 per child), which are valid any time of the year. 
There are also often discount tickets available if you travel to the water parks non peak seasons. Currently, Disney is offering Blockout Tickets which cost $64 per adult ($58 per child) and allow park entry any day of the year aside from the designated blockout dates. Blockout dates are as follows:
2019

: May 25, 2019 – September 29, 2019 

2020

: May 23, 2020 – September 27, 2020
How To Prepare For Your Trip To The Water Parks
While both parks provide towel rentals ($2.00 for non Disney hotel guests) and free lounge chairs to use while at the parks, there are a few things you should remember to take with you to make your day enjoyable.

Swimsuit:

Obviously, you'll need swimwear, preferably a comfortable suit that stays put even after shooting down the wildest of the park's attractions. 

Sunscreen:

The Florida sun is brutal and although there are a lot of shady spots in the parks, you will need to protect your skin. Bring a strong, waterproof sunscreen with you and reapply often.

Footwear:

Ideally, bring water shoes with you but if you don't have any then bring flip flops. The parks do have sprayers to keep most flooring cool and wet, but your feet will still thank you for having footwear that you can use throughout the park. Water shoes are allowed on all attractions so these are the ideal choice. If you don't have water shoes, flip flops will still be very useful for walking through the park when you're not headed to an attraction, when having lunch, and definitely when using the restrooms.

Waterproof Pouch/Bag

: When you arrive at the parks you may want to use a locker to store your valuables. But you'll likely still want to take photos and buy drinks, lunch and snacks throughout the day. Instead of heading all the way back to the locker when you need something (or leaving your valuables at your lounge chair and pray that no one snags it), bring a waterproof pouch with you. There are tons of options out there, but a clear pouch,

like this one from Amazon

, that can hold your phone, a credit card and your ID will be ideal. 

Change of Clothes

(and a plastic bag): Riding a freezing Disney bus back to your hotel in a wet swimsuit is not fun. Pack a change of clothes with you to change into at the end of your park day. The plastic bag will come in handy for that wet swimsuit that you throw in your backpack. 
Spending a day at one of Disney's water parks is a great way to break up your Disney vacation. The laid back atmosphere, fun rides and refreshing cocktails will make you feel like you're on a tropical vacation and get you ready to return to the theme parks at full force. Now that you've learned everything you need to know about Disney's water parks, pack your suits and get ready to beat the heat outside of Disney's four main theme parks.