There's more great news coming from the Disney's luxurious Aulani Resort in Hawaii. Disney just announced that Aulani will be receiving its very own app and it launches today! Similar to the resort functions in the My Disney Experience App, the new Aulani Resort app will provide guests with tons of useful and fun features to use when staying at the resort.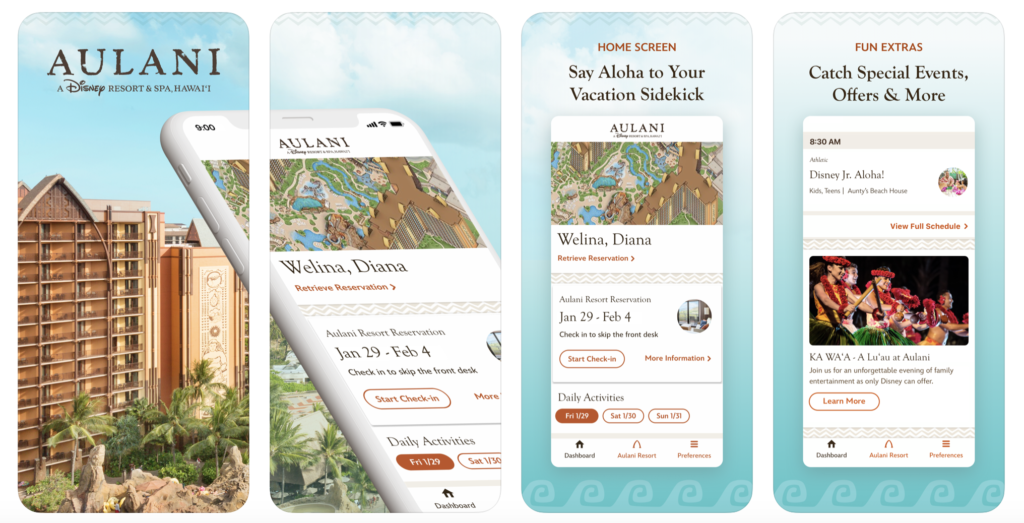 Some of the app's features are:
Access your account to manage your Aulani Resort reservation details
Begin the check-in process in advance using our convenient Online Check-In service
Search for fun and interactive activities on the "Daily I'wa"
Find places of interest on our map
Get details about special offers and Character Experiences
View charges and purchases made before and during your stay
The app will also use your GPS data to assist you in navigating the resort and enable certain interactive features around the resort. If you're headed to Disney's Aulani Resort, be sure to download the app for your iOS or Android device today.
This addition of this useful app will surely be an added benefit to guests lucky enough to travel to the Aloha State and one of Disney's newest resort hotels. Continue reading below for more information about the planned reopening this November.
Originally posted: September 25, 2020
Start packing your floral shirts and swimsuits because Disney's Aulani is scheduled to begin its phased reopening in just over a month from today. On Thursday, Disney announced that they plan to begin a phased reopening of their Aulani Hawaii resort on November 1. 
This news comes just after the state of Hawaii announced that they would begin to allow out-of-state travelers to visit Hawaii along with a pre-arrival testing system. 
Of course, the reopening of Aulani will come with its fair share of safety measures as seen with the reopening of Disney's other resort hotel locations. Following guidance from the CDC as well as government health authorities, the reopening of Aulani will be done with guest safety as the utmost priority.
Regarding safety during the reopening, Disney stated,
"Our gradual, phased approach to reopening considers the guidance of local and national government and health authorities, including the U.S. Centers for Disease Control and Prevention (CDC), as well as the U.S. Travel Association and Disney's team of health and safety experts. This deliberate approach allows us to evaluate and adjust along the way, as circumstances and the recommendations of health authorities evolve."
Located on the island of Oahu overlooking the Kohola Lagoon, Disney's Aulani Resort & Spa is one of Disney's 15 DVC Resorts. This mega resort offers a wide range of amenities including a lazy river, several outdoor pools, 10 dining options and a world class spa.
If you've been looking forward to a trip to the Aloha State, read more about Aulani's features and amenities in our Aulani Resort Oveview and start planning your trip today.
DVC Shop offers both DVC Rentals and DVC Resales at Aulani Hawaii. See our current listings now or contact us to speak with a representative.
Katherine Rand
DVC Shop Editorial Team