One of the most exciting parts of planning your trip to Disney World is choosing your resort. But what if you can't choose just one? With a split stay, you don't have to! 
What Is A Split Stay
A unique aspect of going to Walt Disney World is the large number of resorts available to you that are on Disney property. A "split stay" is a phrase often used by Disney travelers to describe a trip where you stay in more than one resort during that trip. In a traditional vacation, you most likely book one accommodation and remain there for the duration of your trip. However, Disney makes it very easy for you to stay in as many resorts as you want during your vacation.
Why would you want to do this? There are actually several reasons why a split stay might be for you. Here are a few scenarios.
Scenario 1: The resort you want to book is only available for part of your stay.
This has happened to us! The first time we ever rented points (will link to another article already written about how to rent points), we found ourselves in this situation when the resort we wanted didn't have enough availability for our entire stay. We learned that Disney makes a split stay very easy. Simply notify the front desk that you are moving to another resort, then drop your bags off at bell services when you check out. Your bags will be transported to your new resort.
PRO TIP
This is a good day to spend in the parks, as it can take a few hours for your luggage to arrive at your next resort. 
Scenario 2: You want to be close to the parks.
Consider spending a couple of days in a resort on the monorail loop for your Magic Kingdom days, then head over to the Crescent Lake area, or a resort on the Skyliner for your Epcot and Hollywood Studios days. Being able to stroll to your room from the park is a terrific option, especially if you need that mid-day break. 
Scenario 3: You are considering buying into DVC and haven't decided on a home resort.
This is a fantastic way to get a feel for each resort before you make the investment. Sometimes you may be surprised and have a complete change of heart. This has worked both ways for us. In the first instance, we had booked at Old Key West since our usual favorite wasn't available. We instantly fell in love and now hope to add on more DVC Points there in the future.
On the other hand, I recently stayed at another resort that I had been wanting to try, and afterwards decided it wasn't for me.
It's great that with DVC you have so many different options and can try before you buy!
PRO TIP
You could also consider making a trip like this one a "resort only" vacation so that you can really experience what each resort has to offer. 
Scenario 4: You enjoy extra housekeeping service.
This one comes straight from my husband! He likes being able to move to a new room after a couple days. When staying at a DVC resort, mousekeeping occurs on the 4th day of your stay. Moving to a new room is a guaranteed way to get those fresh towels and sheets. 
Scenario 5: You want to stay in a larger room, but don't want to spend the money or points for your entire stay.
If you are someone that hits the parks from rope drop until closing time, you may find yourself needing a vacation from your vacation. Consider staying in a smaller room on your park days, then spread out, and relax in a one bedroom (or larger) for a great non-park day. These larger rooms also have a full kitchen, and a washer and dryer. Sometimes we do this in the middle of our trip to have a day to re-energize, unwind, and relax. It's also a great time to do some laundry, which means you can pack less too.
If you have never considered booking a split stay and resort hopping I hope this article will inspire you to give it a try. With so many DVC options available at Disney World, you can truly customize a trip that is perfect for you every time. 
Are you an experienced resort hopper? What is the highest number of resorts that you have stayed in a single visit? My current record is 6! Comment below with your stories or favorite reasons for resort hopping.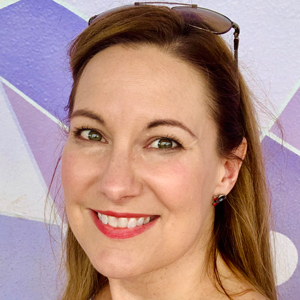 Written by
Mary Kendall
Contributing Writer
Mary Kendall went on her first trip to Disney at the age of 5. Since then, her love of Disney has only grown, and now she gets to travel to Disney with her husband and daughter. Being a DVC Owner has given her opportunities to experience Disney in new and exciting ways. While Animal Kingdom is her favorite resort, she also loves taking Disney beach vacations, and going on Disney Cruises. Mary's goal is to visit every Disney Park in the world.