With the natural beauty and rich traditions of Hawai'i, plus the world-renowned service that Disney is known for, Aulani, A Disney Resort & Spa is the ultimate vacation getaway.
Did you know that DVC Members have special benefits and exclusive experiences available when you stay at Aulani?! On top of the discounts on select tours, excursions, beach rentals and shopping, there are some really cool benefits for DVC Members to take advantage of!
Location, Location, Location
Imagine all the beauty of Hawaii, but with a Disney touch. Imagineers worked with local artisans and cultural experts to make sure that the beauty, history and spirit of the island were represented all over the campus.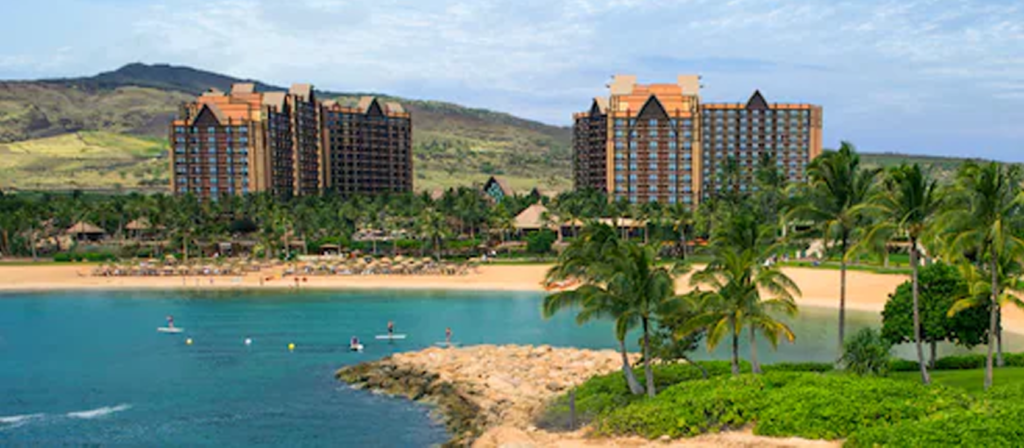 Aulani is located on the white-sand beach of Kohola Lagoon in Ko Olina on the island of O'ahu. The resort is breathtaking and offers more than 30 complimentary activities so you can stay "home" for your entire stay or you can add-on excursions around the island to compliment your vacation. There are so many options to build your perfect island vacation. It will be nearly impossible to outgrow your DVC ownership here.
The Resort
Aulani opened in August 2011 and an expansion project was completed in 2013. The property has 481 DVC units (including 19 Grand Villas), 351 hotel rooms (including 16 suites), restaurants, character experiences, a spa, a fitness center, a kids club, 6 pool areas, waterslides, a lazy river and a beach!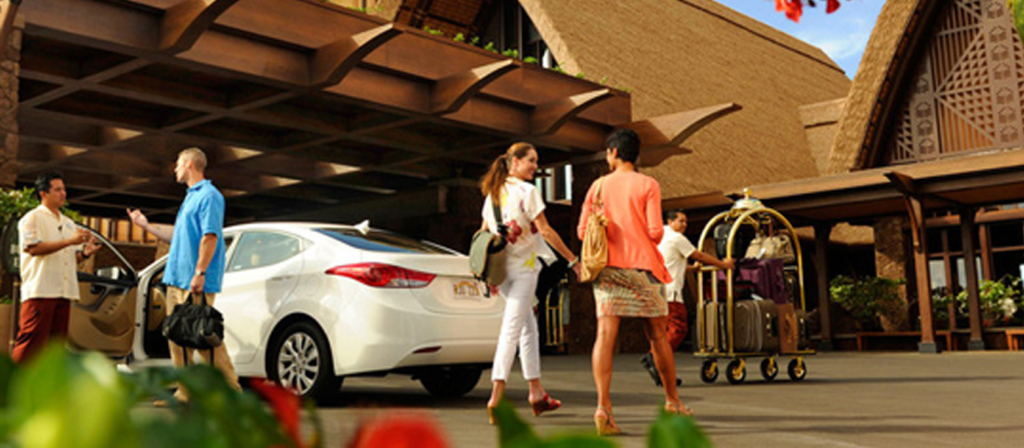 A perk for DVC Members during your points reservation stay is that self-parking for up to 2 vehicles is available at no extra charge. At the time of publication, the self-parking rate at Aulani is $37 per day, per vehicle.
Shh! There's a secret DVC cocktail at The Olelo Room, an upscale lounge that offers appetizers and tropical drinks as well as live entertainment each evening. This exclusive cocktail, the Pu'U Kilo Punch, is not on the menu so you'll need to ask for it in person and show your DVC wristband or Membership card. There's also a non-alcoholic version of it if you'd rather have a mocktail.
You'll need a wristband for each day of your trip to access the pools (just like Stormalong Bay at Disney's Beach Club). DVC Members can get wristbands in an exclusive line from 8am to 9am! Members also get a different wristband than the regular resort guests. These bands are sparkly, wider and will make you feel special!
Room Category Flexibility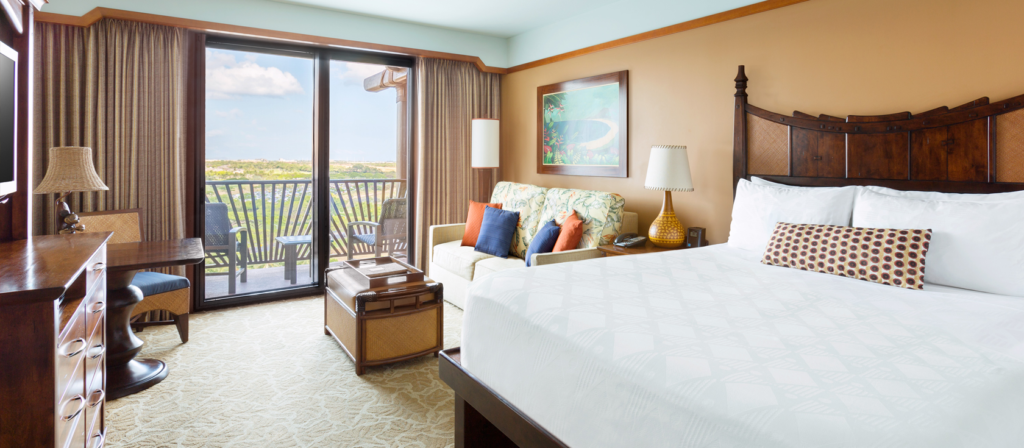 The resort offers a wide-variety of room categories which means you have more options on the amount of points that you spend on your vacation. The Deluxe Studios, One-Bedroom Villas, Two-Bedroom Villas and Two-Bedroom Lock-Off Villas each offer four categories: Standard View, Island Gardens View, Poolside Gardens View, and Ocean View. The Three-Bedroom Grand Villas offer Standard View and Ocean View. Click here to view floor plans for all Aulani room types.
Choose a Standard View room for less points and be able to take a second vacation with the remainder of your points or rent out your leftover points and help bring down the cost of DVC ownership. On the other hand, upgrade your view and use all of your points for your perfect vacation! The choice is yours!
Resort Activities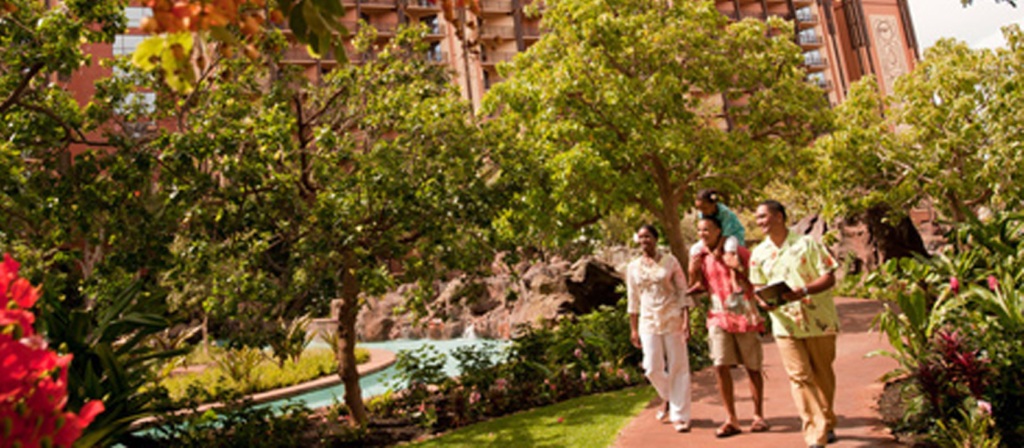 As a DVC Member, you can take an exclusive, complimentary guided tour with a Disney Host. On this 45-minute walking tour, you'll hear fascinating facts about Aulani and Hawaiian culture, plus you'll be introduced to one of the largest collections of contemporary native Hawaiian art in the world. During the Maka'ika'i Art & Nature Tour you'll learn about the choices made by Disney Imagineers when designing Aulani and where they drew inspiration from, which is sure to be a hit with Disney fans!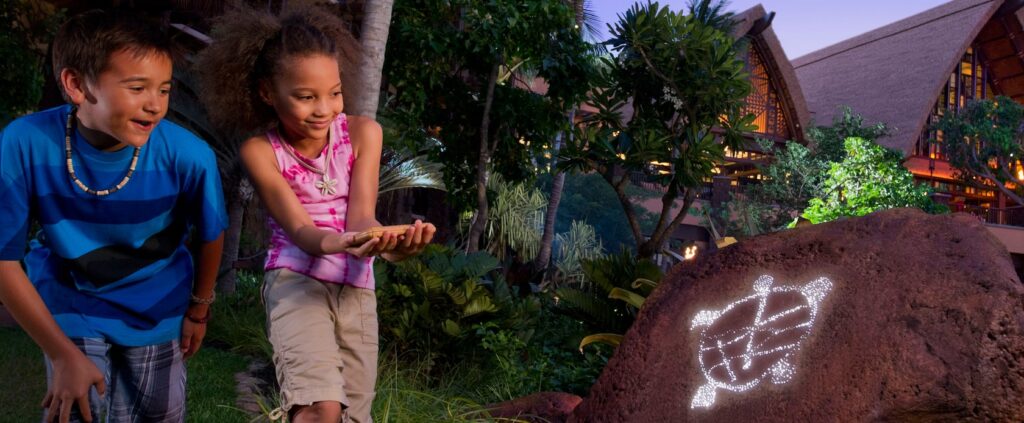 DVC Members also receive extended hours (known as Member Magic Hours) on the Menehune Adventure Trail, a complimentary high-tech scavenger hunt throughout Aulani. Solve riddles, search for statues and learn about the Menehune, known for their magical powers and mischief, during your adventure.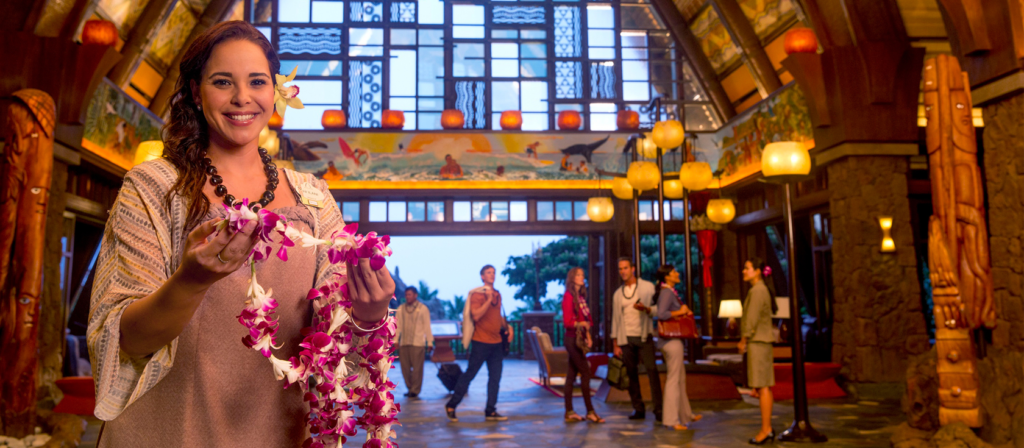 Join fellow DVC Members for a complimentary morning event! A fun-filled gathering, Disney Vacation Club Member Celebration, is a weekly event where you can play a high-energy trivia game, learn about design features of Aulani (and their cultural significance), hear the latest DVC news from around the neighborhood and enjoy light refreshments. To reserve your spot, stop by the DVC Preview Center.
Signature Entertainment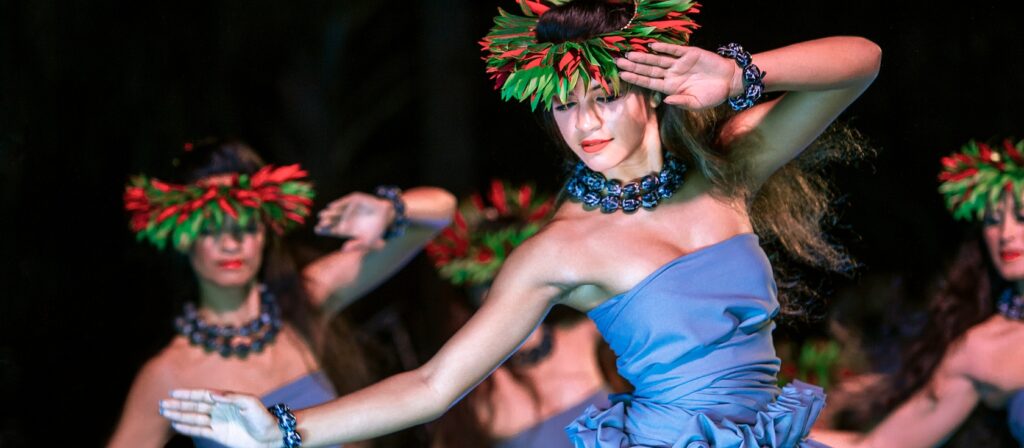 Part of Hawaiian tradition is celebrating special occasions at a luau, one of the most festive experiences you could attend! KA WA'A Lu'au at Aulani treats guests to a three-course meal and entertains guests with storytelling, dancing and live music all through the imagination of Disney.
DVC Members that have a reservation for KA WA'A – A Lū'au can receive a special gift! To take advantage of this special offer, stop by the DVC Concierge desk in the resort lobby and present your prepaid Lū'au voucher to the Cast Member.
Character Meet and Greet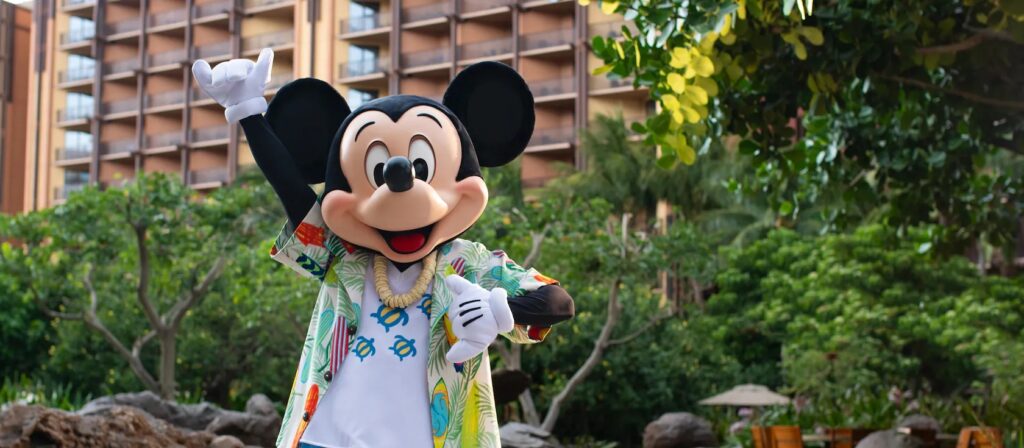 DVC Members and up to 11 guests can enjoy a special Disney Character encounter on select evenings when staying at Aulani! This complimentary meet-and-greet experience is exclusive to DVC Members and special guests. A PhotoPass photographer will be on hand to capture your special moment. Say cheese!
ʻUkulele Lessons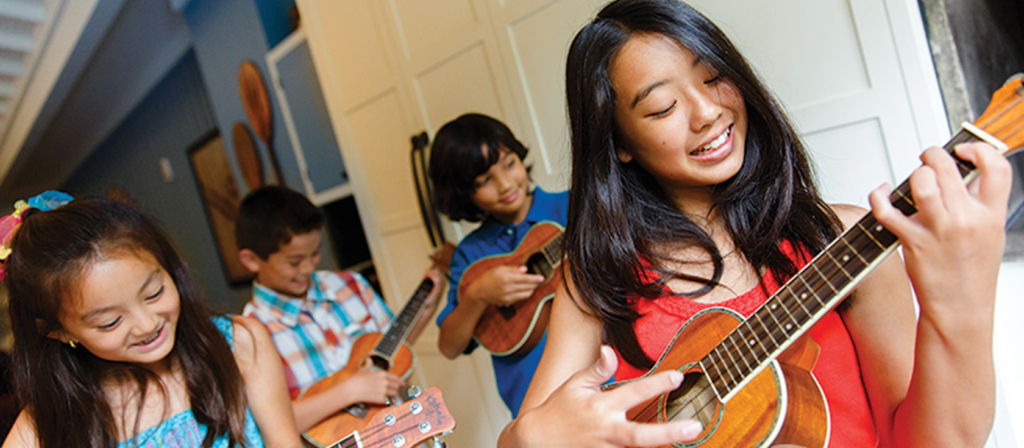 Enjoy a complimentary music class in the Pau Hana Room where you can learn to play a traditional Hawaiian instrument, the ʻukulele! DVC Members can also save 10% on the purchase of any ʻukulele and receive a free set of replacement strings. Check the Daily 'Iwa for class dates and details.
Beach Pail Popcorn Bucket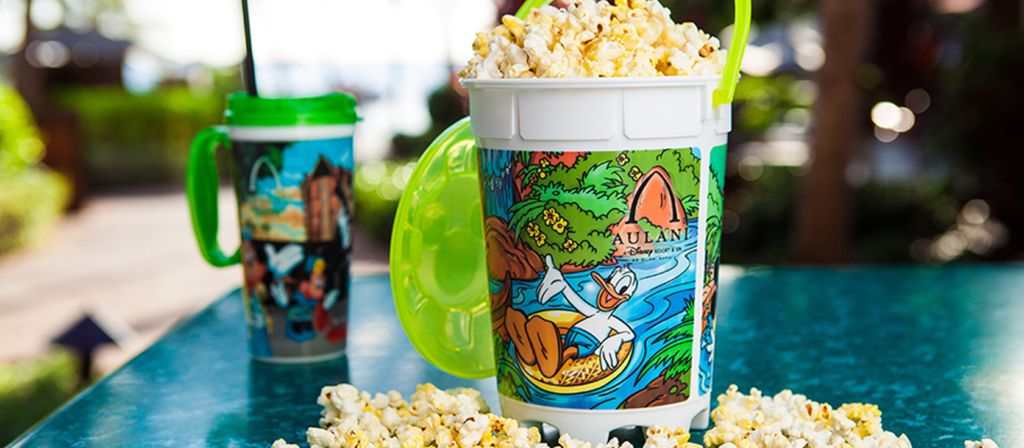 DVC Members can enjoy free refills of their souvenir popcorn vessel that can also double as a beach toy! When you purchase the $8 beach pail bucket full of popcorn at the Ulu Café, show your Membership Card to save $1.50 on your delicious refills. That's refills of popcorn… for free!
With all of these incredible benefits and exclusive experiences, it's no wonder why so many Disney Vacation Club members choose Aulani as their home resort!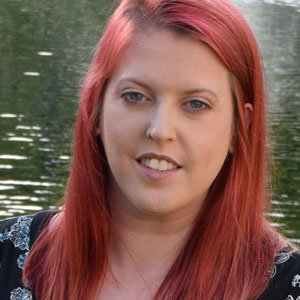 Written by
Sasha Watson
Contributing Writer
Sasha loves traveling, Sunday naps, cookie dough, Halloween and really good roller coasters. An admitted theme park junkie, she is always looking to book her next trip. More often than not, that trip is to Walt Disney World, which is a quick one-hour flight from her home in Georgia. Her favorite travel partner is her husband, Kyle. They've visited Disneyland, Walt Disney World and Shanghai Disneyland, hoping to someday visit all the Disney parks around the world.