This week, Alex and I headed over to Universal Studios and Islands of Adventure to see how the parks are managing their reopening amidst the COVID-19 pandemic. We were hoping to get a clearer picture of what we might expect when Disney World begins to reopen their parks in mid July. Obviously Disney World is my preference when it comes to theme parks but I braved a day at Universal with Alex in 90 degree heat to see what we can expect.
Tickets and Arrival
One thing that was very interesting about Universal Orlando is that they currently do not have a reservation system for visiting the parks and do not require advance ticket purchases. We have already been informed by Disney World that anyone hoping to visit the Disney theme parks will need to make a reservation beforehand as capacity will be severely limited during the Phase 1 reopening. While we have yet to be informed as to how Disney will handle new ticket sales upon the reopening of the parks, we know ticket sales have been suspended for the time being.
Guests visiting Universal can simply walk in without a reservation and without purchasing advanced tickets. Ticket booths were open and many people were purchasing same day tickets. According to Universal's website, capacity at the parks is limited but they don't mention to what degree.
Temperature Checks
Temperature checks are required for everyone entering CityWalk and/or the parks. This is done at the parking garage central area where the garages converge. Universal staff checked everyone using a temperature scanner before you enter CityWalk, similar to at Disney Springs. However, instead of Advent Health nurses which administer the temperature checks at Disney Springs, checks at Universal were performed by regular staff.
Social Distancing
While Universal says that they will require social distancing, I did not see this being enforced while inside the parks. While the parks were surprisingly quiet, certain busy attractions and food spots had a lot of people standing very closely together. There are markings on the floor to assist guests in maintaining proper social distance, but again this was not being followed by many people and staff was not enforcing the 2 meter/6 feet rule.
I was a bit disappointed when I went to buy my Butter Beer at the Wizarding World of Harry Potter and there was a long line with no social distancing being enforced. Floor markings and staff members were present but no one was making sure guests followed the guidelines. I asked a manager about this later in the day and he was surprised but didn't seem to do anything to resolve the problem.
At Disney Springs it seems that most people did follow the social distancing guidelines and Cast Members were encouraging and guiding guests to follow these rules as well.
Face Masks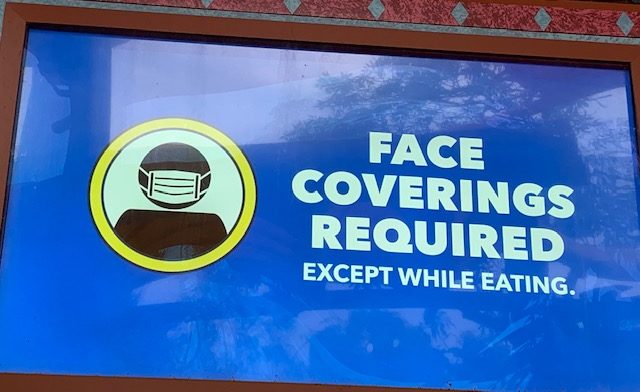 Face masks or face coverings are required at Universal Orlando just like at Disney. Unlike the social distancing rules, this was heavily enforced by Universal staff. At CityWalk and inside the parks everyone was wearing masks and I didn't see anyone try to remove their mask, even though it was about 90 degrees. Masks are required on rides as well as when walking throughout the park but may be removed while eating. 
There were a few "U-Rest Areas" around the park where guests could remove their masks for temporary relief. Social distancing is still supposedly enforced in these areas.
Hand Sanitizer and Hand Washing
Another big difference between Universal and Disney is that I did not see any hand washing stations at Universal and I saw very few locations that offered hand sanitizer. There was hand sanitizer available at dining locations and one staff member offered sanitizer when boarding the Harry Potter train. Universal was selling small hand sanitizers with a clip for $3 at many locations. This was vastly different from what we experienced at Disney Springs where all Cast Members carried sanitizer on their belts and there were many other places to find sanitizer throughout the area. 
If visiting Universal Orlando, I recommend bringing sanitizer with you as you will likely not readily find any while exploring the parks.
Rides, Attractions and Reservations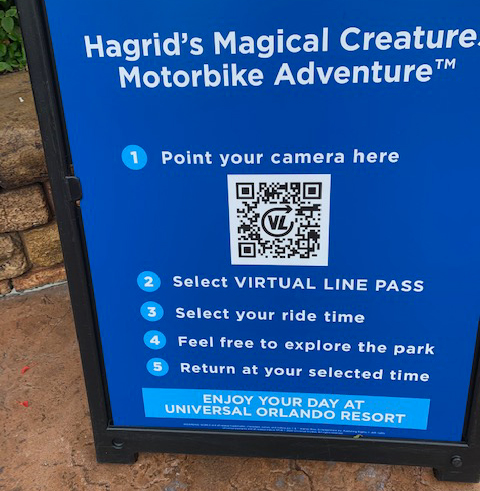 Most rides at Universal and IOA seemed to be open. However, I didn't see any guests on the water rides. Certain interactive and theater attractions were not open, like Fievel's Playland and Fear Factor Live.
Universal has implemented a Virtual Line system for their more popular rides. While in the parks, guests can open the Universal App and make ride selections. One person can make a reservation for their entire party and the app will give you a time to return to the ride. Throughout the park there were signs to help you make reservations for various rides. The signs had a QR code for you to scan and start your ride reservation.
While the idea of this sounds great, social distancing once you arrived for your ride time was not being enforced. The few parties that had the same return time were all huddled together at the entrance to the ride.
We can likely expect something similar to be used at Disney when the parks reopen. The system was a little different than the current FastPass + system as you can only make reservations while in the park. Basically it is like a virtual version of the old FastPass paper ticket system.
While I did not notice capacity limits in most areas around the parks, the Universal Studios side of Harry Potter did have staff limiting capacity. This was the busiest area in both parks. I imagine if the parks were busier then there may be more capacity limits being enforced in other popular areas. 
Characters and Parades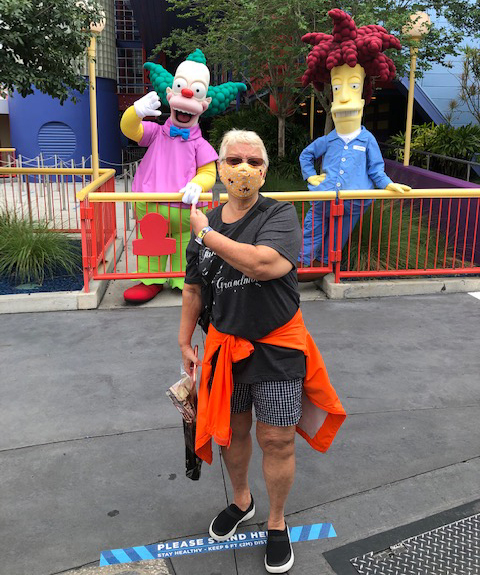 It was easy to find characters out and about at Universal and they implemented an interesting system to allow guests to continue to get photos with them.
Characters were on top of small, 3-foot high stages or behind small barriers throughout the park. In front of the stage or barrier, several feet away there was a marker on the ground instructing the guests where to stand for their photo. I thought this was a clever way to still allow guests to take photos with the characters. But obviously there were no hugs or signatures. 
A small parade took place while we were at Universal. To my knowledge this was an unannounced parade and no one gathered beforehand to watch it. 
Dining and Shopping
Very few shops were open inside Universal and Islands of Adventure but all of the shops were open at CityWalk. The shops inside the park did not seem to be restricting or limiting capacity, except for Olivander's Wand Shop, which had a line out front. 
Most dining locations inside the parks were open and they were following the regulation for using disposable menus. When I visited the Polite Pig last week at Disney Springs, they were not using disposable paper menus and instead were sanitizing their regular menus between uses.
Restaurant staff were all wearing masks and capacity at the restaurants was limited. We had lunch at Margaritaville at CityWalk and there was no wait and only a few people inside. Staff seemed diligent in sanitizing tables and chairs in the restaurant as well.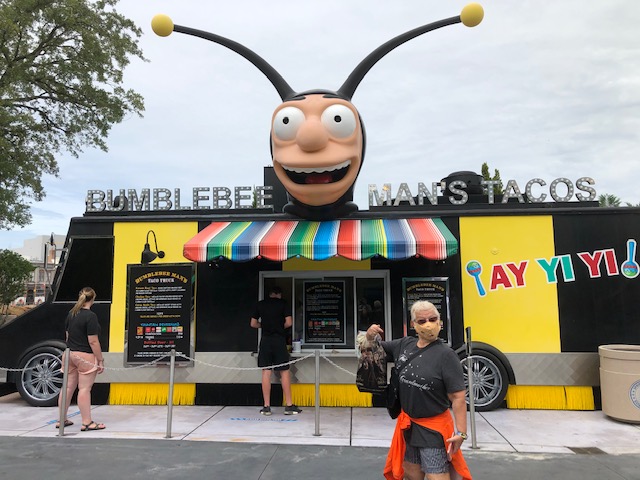 Limited snack and drink stands were open in the park but there were plenty of places to find treats to eat. While masks are not required while eating, I did notice a young girl nervously remove her mask to eat a granola bar while walking. She promptly put the mask back on after two bites. 
Although, we can't guarantee what the Disney Parks will be like when they reopen, hopefully our Universal Orlando experience gave you a glimpse of what we can expect in just a few short weeks at Disney World. We know many similar rules and guidelines will be used at Disney, hopefully social distancing will be better enforced.
Check back for more details about the Disney Parks reopening. Read the latest information about the reopening here.
Remember, Disney hotel reservations are not currently available but DVC reservations are open! Contact DVC Shop Rentals today to book your Disney Vacation. 
Edited by: Katherine Rand, DVC Shop Editorial Team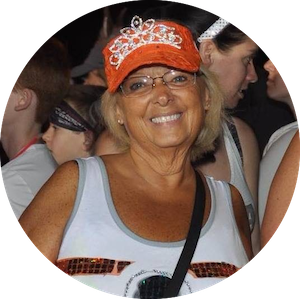 Written by
Bee Thaxton
DVC Shop Resales Broker
Bee has worked in all facets of the Real Estate industry in her 35+ years of experience. Her knowledge of DVC and the resale market is vast and her integrity and service to her clients has earned her a reputation of excellence. She lives close to the parks and loves to meet her clients. You may find her wandering around Epcot or in a fancy costume running a 1/2 marathon through Magic Kingdom.