Aulani is awesome!
We bought into DVC back in 2011 and have used our points at Aulani 2 times already. We just booked again for February. The weather in Ko Olina is fairly mild. It is the less rainy side of the island. So even if it says it will rain, it will probably only last a few minutes and then away you go. We have always gone in the Janaury/February time frame because it uses the least amount of points and it is a nice break from our winter to be able to head to Hawaii. We have stayed in a studio and a 2 bedroom (dedicated). Always done an Island/Garden view. There are a number of those in that category and so you have a lot of options for what you get for view. We have done high floor in the Ewa tower with view of the Luau. That way we can watch the movies and the Luau from our balcony. We have also gotten a bit of a view of the ocean in that category too, but it is never guaranteed. That view will change once the Atlantis resort is built next door. You will not see the ocean once it is built, and it will be noisy with construction once it gets started.
We always rent a car from the airport, so that we can do our own exploring during our stay and we have transportation to/from the airport. Parking is free (self parking) at Aulani if you are using your DVC points. We do our shopping at Costco, Foodland and Down To Earth. I create a menu plan and grocery list ahead of time. We geocache so we find places to explore that way without having to spend money on excursions. I do recommend doing the Polynesian Cultural Center once if you have the time. It is an all day thing, but lots of fun for the family.
We tend to make most of our food in our villa. The kitchen does have a rice cooker which we use all the time. We plan our meals around a lot of rice things. You can also request a blender and make your own drinks then. There is also a BBQ on the property that anyone can use. We have never done it, but I see people using it. The gift shop does have a few basic groceries if you forget something and don't feel like driving anywhere. But…I suggest just walking across the street to the ABC store that has some groceries for a much more reasonable price. There is also a coffee shop there and a few other shops. The main grocery stores like Target, Walmart, Foodland, Costco, etc are about a 10 minute drive. There are also a number of restaurants there too.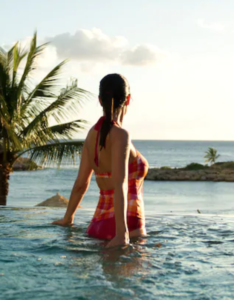 The resort is very quiet after about 8pm.
People do not come to Aulani for the night life. There is none. We love to sit on the Lanai near the lobby which has a few couch type lounges and listen to the live music that gets played in the Bar area. We will spend a few hours there every evening just listening to the music and playing on our iPads/phones. Yes there is wifi at the resort…just not very fast wifi. You can go to the bar area and order drinks and enjoy the music there too, but we like to spend as little as possible so we find things that we can do that don't cost money. We go during winter, so the hours of the pool and hot tubs are not late. We like to sit in the adults only Infinity Hot tub OFTEN!!! It is a 2 level hot tub and it is adults only. Yes this is enforced (at least I make sure it is when I am there). If it is open until 8pm, then we are there a number of times too.
We don't spend a lot of time in the main pool or the main hot tubs as we don't have kids and don't need to be there. If we want to swim, then we head on over to the ocean. The lagoon is very calm and is a great place to swim. You can even see fish near the part of the lagoon that is open to the ocean. We go out earlier in the morning and do snorkeling and find the best viewing then as the water hasn't churned up from all the people in the lagoon yet. My husband loves the Rainbow Reef for swimming with the fish, and this is in the resort area and is a cost. But the price is fairly reasonable if you buy the length of stay pass, which also includes snorkeling equipment for the day. There is a discount for this for DVC members. If you like to snorkel though, head on over to the Paradise Cove lagoon and there you can see turtles and fish. All beaches are free to use for everyone. Even the beach in front of Aulani is free to anyone to use, but the beach chairs and Umbrella's are only for Aulani guests.
Every day you will get a new colored wrist band so that it proves that you are an Aulani guest. You have to show your room key to get this wrist band. The DVC wrist bands and sparkly. You also show your wrist band to get towels. There is a separate line for DVC members to get towels first thing in the morning, but I have found sometimes it was longer than the other line. You can use either one.
There are a number of DVC member things…
A weekly gathering, a Mixology, cooking class and a resort tour. These change though, so make sure to check the DVC members website to see what is current. You can also get a 10% discount on merchandise. Head over to the store every day as they have a little section off to the side that always has some great sale items. The DVC pin is behind the counter so you have to ask for it. The discount does not apply to food or the unlimited refill mug…and yes, they have that for about $20 and it is totally worth it. It is not a chipped mug like at WDW.
There are daily activities listed in paper you can get at the front desk or Concierge. Also you have a dedicated phone number to phone to find out what characters are out that day. They do not list them all in the paper, so make sure to phone. The character breakfast was awesome. I would only do it the 1 time as it is expensive, but we did enjoy it. Just like any other Disney resort/park, you can give the cast members your camera and have your pictures taken. Yes there is a photo pass that you can buy, but I found that the pictures on my camera where just as nice. You can even do this for sunset pictures. We have a lot of great pictures that the Cast Members have taken with our camera.
There is pin trading at the resort. Not as much as at the parks, but we have gotten a good number of great pins. There are a lot of people from the Asian parks, so you do get a variety of pins you don't see at WDW or Disneyland. The DVC people have pins too.
I read reports a lot about chair hogs. We go during a slower time, so we tend to not have issues, but we also don't need chairs right at the pool. There are many areas around the resort with great places to sit and enjoy the Hawaiian air. The area around the adults pool is usually quiet, but I prefer an ocean-view when relaxing, so we either head to the beach or find some of the chairs off to the side of the resort where people don't always wander too first. There are no lockers to store your stuff, so this is one of the reasons for the chair hogging. Anyone can access the resort pool area from the beach, so make sure you don't leave your stuff unattended. Non resort guest can not use the pool or the hot tubs, but they can wander around.
You don't need to be a resort guest to go shopping or eat at the restaurants. There are a couple of restaurants on property. I don't find them any more expensive than ones at the parks. We don't tend to eat at the restaurants as we like to save our money and eat in our room. We will buy the occasional Dole Whip or fries. We have gone 3 times all together and all of them have been for 8 or 9 nights at Aulani. Now we spend a few days in Waikiki first to get the more touristy stuff out of the way (and I love the city) and then spend the rest of the time at Aulani and just explore from there. Aulani is for relaxing (in my opinion), but I love that it is on Oahu so I can take a car and go do things. My parents like to spend the whole time sitting at the beach, whereas I like to get out and do stuff a little more, so having your home base at Aulani is the best. The Hawaiian attitude is very noticeable at the resort and you get that relaxed atmosphere. The lobby is amazing and when you first arrive, you will get a quick tour of it. Take some of the various tours of the resort that is offered. There is so many small details around that only Disney does so well.
Guest Author
Stefani Hilton-Dueck