Animal Kingdom Lodge Value rooms are notoriously difficult to 'snag'. They're usually booked up right on the dot of 11 months, so are usually only an option for those who own at AKL. I say 'usually' because I know there can be exceptions to this rule. In fact, I went online today and spotted a scattering of one night stays in all of the value room types. So it's not unheard of.
We were after a one bedroom value room, and managed to get two different stays booked. We had a four day stay at the end of July, and a two night stay at the end of August. We didn't do any stalking to get these, if we hadn't got them, we'd have been happy with what we already had booked. We managed to get them about a week after the 11 month window opened. They weren't available dead on 11 months. I can only assume this was due to people 'walking' the rooms.
We were very excited about staying there as we've previously only stayed in studios. We are a family of four and having the extra space was going to be a real luxury for us. We knew these rooms were slightly smaller than a standard one bedroom, but that didn't matter to us, as it was going to be significantly bigger than the studios we were used to.
We arrived early, knowing our room wouldn't be ready, and headed off to the parks. We got our room assignment just after 4pm. We knew there was no view assigned, so I was interested to know what we'd get. Upon arrival in the room, it was clear this wasn't a standard one bedroom. We quickly worked out it was a handicapped accessible room. This really wasn't an issue for us, but the room was very different to a standard value one bedroom.
Our second stay was for two nights and was a standard value one bedroom. So I thought it might be interesting to compare the two, so if you book one of these rooms, you'll have an idea of what to expect.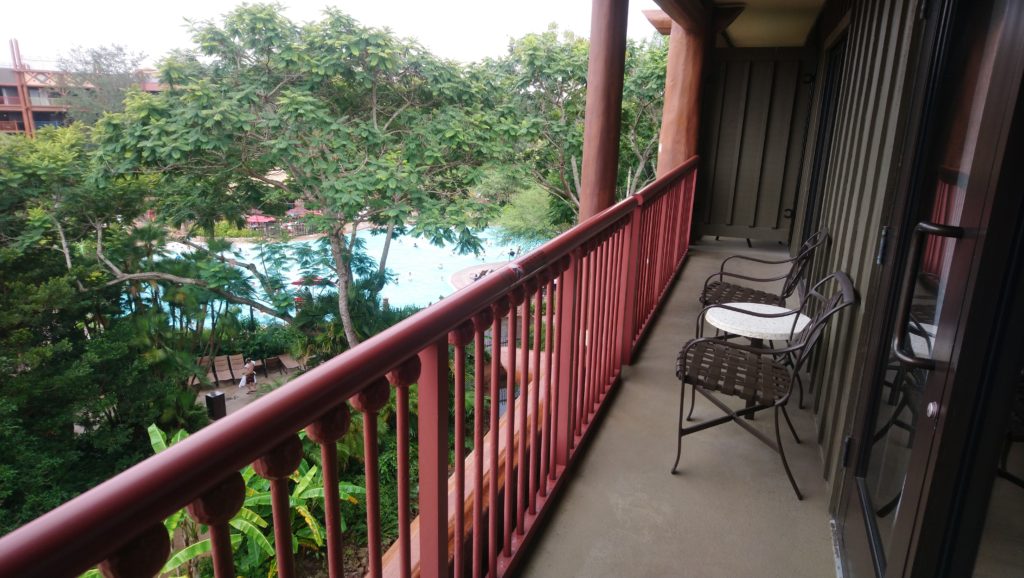 View
This was purely random and had nothing to do with the room type. However the view from the handicapped room was amazing. We were initially a bit disappointed there was no partial savannah view (which we knew would be very lucky to get anyway), however, we had an amazing view over the pool. We honestly spent hours on the balcony and loved watching the world go by. It was also very handy to see when the pool reopened after a storm! The view from the standard room was of the car park and service area. Not a complaint at all as we knew that was a possibility, but the views in these rooms really can differ wildly!
The Room
In the handicapped room the kitchen counters were significantly lower, as you'd expect. The kitchen was a huge open space, which I can imagine would be wonderful for a wheelchair user. The room also had a circular table with four chairs, and the usual pull out sofa bed (which my children said was very comfortable). The standard room was quite different. The kitchen tops and stove were higher and there was also an island in the middle of the kitchen which we actually used quite a lot. Instead of the circular table there was a bench style table, which we far preferred as we found the circular one took up quite a lot of space. The main bedroom was pretty much the same in both room types. The bathrooms were quite different. The handicapped room was as you'd expect with grab rails around both the bath and toilet. It also only had one sink in the vanity area. The bath was also quite shallow, with the bath lovers in the family didn't like at all. The standard bathroom actually felt bigger, which I found strange. The vanity had two sinks and the bath was far deeper, which we preferred. As a whole, I can see how the handicapped room would have been a wonderful place to stay for anyone who needed it. The use of space was really clever. The rooms were the same size, but the way they'd carefully removed certain things made it very accessible. We did prefer the standard one due to the kitchen island, the deeper bath, the two sinks and the dining table, but it really didn't make that much difference to us.
The value category really is hard to get, in fact, we tried to book a studio this year at 11 months. We were there on the dot of the correct time, but had no joy. There were clearly people walking the rooms, but I guess that's how it goes. We thoroughly enjoyed our stay in both one beds here, and would definitely do it again.
Additional Photos