Hey fellow Disney fans! My name is Samantha, the creator behind a magical account on Instagram, DVC Millennial. As you can guess by my handle, I'm a millennial (Where my 90's babies at?!) and I love sharing content about my adventures as a Disney Vacation Club Member.
When people hear that I'm a Disney Vacation Club Member, they often assume that I'm using my parents' points to book my Disney Vacations. But those points are all mine! I purchased my first contract when I was 25 years old, which some of my family and friends thought was crazy – considering I hadn't bought a house first.
View this post on Instagram
When I get questions from loved ones or someone on social media about my decision to become a member, here are a few reasons I tell them why I love being a DVC Millennial.
It's A Family Tradition!
My love of Disney comes from my parents, who took me on my first Walt Disney World trip just before Christmas in 1996. I have no memories of my own from that trip because I was only two years old, but from the pictures I can tell that I was definitely hooked! After that, my family continued to make annual trips to Walt Disney World and one trip to Disneyland in 2006.
When I entered my twenties, these magical trips continued. My vacations to Walt Disney World with my family are some of my most treasured memories, and I wanted to keep that tradition going for myself and a family of my own one day. In my mind, nothing would be more special than bringing my own children to Walt Disney World for their first time, with my parents coming along to enjoy it with us. Disney Vacation Club will be a big part in making that dream a reality!
Deluxe Accommodations Without the Deluxe Price Tag
When my family traveled to Walt Disney World, we spent most vacations in a Disney Resort Hotel so I knew how much fun it was to "stay in the magic." Disney Vacation Club not only allows me to explore new resorts, but it also allows me to stay in the best resorts Disney has to offer without the high price tag.
When I bring family and friends on vacation with me, I know our Disney Vacation Club Villa will be spacious, the pools will be amazing, and everyone will feel like a VIP! I can also sleep well knowing these accommodations are paid for without busting my budget for other things – like buying a home!
The Disney Community
The thing that I love most about being a DVC Millennial is something I didn't consider when I decided to become a DVC Member – the Disney community. I started my Instagram account in 2019 as a way to share my experiences at Disney, not realizing how many amazing people I would meet along the way. Some of my best friends are people I've met through Disneygram.
My content has evolved over the last two years from sharing pretty pictures from my vacations to creating content that fellow Disney fans can relate to and establishing more personal connections with them. I hope that when someone finds one of my early morning resort photos or reels about my Disney merchandise obsession, they see a bit of themselves.
If you find yourself in my magical little corner of social media, please reach out to me. I love hearing about other people's love of Disney and talking to Disney fans who are researching Disney Vacation Club. And you can never have too many Disney friends!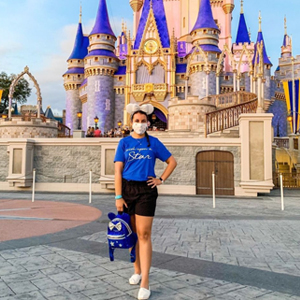 Written by
Samantha, DVC Millennial
Samantha is the creator of DVC Millennial, a magical Instagram account. She's been a Disney Vacation Club Member since 2018, buying in when she was only 25 years old! Her Instagram content is all about creating connections to other Disney fans and demystifying Disney Vacation Club. She loves hearing about other people's love of Disney, so be sure to follow her and send her a message!