It's only the first month of the year and things at Disney World are moving fast. With so many changes coming to the parks and around the resort it's difficult to keep track of what's opening and when. New attractions are being built, updates are being made, new shows are debuting and several new restaurants are opening. While many of the renovations and additions are in preparation for Disney World's 50th Anniversary in 2021, there are quite a few offerings scheduled to open before the year is out. Here is a full list of what's new at Disney World in 2020.
Rides & Attractions
There are tons of new rides coming to the parks in the coming years. While we'll have to wait a while longer for Guardians of the Galaxy and Tron which open 2021, here is the list of rides scheduled to open in 2020.

MICKEY AND MINNIE'S RUNAWAY RAILWAY – Hollywood Studios
Opening March 2020
The first ever moving ride to feature Mickey and Minnie, Runaway Railway is set to open in spring of 2020 in the Chinese Theater, the former home of the Great Movie Ride. This much anticipated dark ride starts with guests watching a Mickey and Minnie short, then boarding a train to become part of the short where Mickey and Minnie will avert a few unplanned mishaps started by their pal Goofy.
REMY'S RATATOUILLE ADVENTURE – Epcot

Opening Summer 2020
Located in Epcot's France Pavilion will be an exciting new dark ride called Remy's Ratatouille Adventure. Those who have ridden the attraction at Disneyland Paris likely can't wait for the attraction's opening in Florida. In Remy's Ratatouille Adventure guests are shrunk down to the size of a rat and are seated in trackless cars that glide through various dicey scenes in a French restaurant. The attraction is a hit at Disneyland Paris and will likely draw huge crowds in Florida as well. 
INTERACTIVE PLAY PAVILION – Epcot
Opening Late 2020
Housed in the old Wonders of Life Pavilion in Epcot's Future World, this interactive attraction will be a place for guests of all ages to gather to play a variety of innovative games, enjoy hands-on activities and watch engaging entertainment. Disney has described this new attraction as the first-of-its-kind where guests will be introduced to an immersive "city" and have a chance to interact with their favorite Disney characters.
Shows & Films
Disney has decided to replace several of its long running shows and films throughout the Epcot leading up the park's 40th Anniversary in 2022. 
Various New Films – Epcot
Opened January 17, 2020
Epcot has got more than its fair share of renovations happening to the park. While many of the park's changes won't be completed until 2021, there are several new movies that just debuted at Epcot's pavilions in conjunction with the opening of the International Festival of the Arts on January 17, 2020. 
Awesome Planet – The Land Pavilion


Replacing the long running Circle of Life, Awesome Planet is a new nature-focused film showing in the the Land Pavilion.

Beauty And The Beast Sing Along – France Pavilion


This fun animated show is narrated by Anglea Lansbury, the voice of the original Mrs. Potts, and alternates showings with the Impressions of France film. 

Canada Far And Wide 360 – Canada Pavilion


In Canada, guests will be treated to a new film narrated by two of Canada's most famous comedic actors, Catherine O'hara and Eugene Levy.

Wondrous China 360 – China Pavilion


This new 360 film replaces the long-running Reflections of China video that has played at the China Pavilion for over 16 years.
Harmonious Nighttime Show – Epcot

Opening Spring 2020
As a replacement for Epcot's IllumiNations: Reflections of Earth, the new Harmonious Nighttime Show will also debut in 2020. Currently running nightly at Epcot as the interim night show, Epcot Forever. 
Restaurants
Lastly, the parks are getting several new dining establishments which are always a welcome addition to the resort. 
Roundup Rodeo BBQ Restaurant – Hollywood Studios

Opening 2020
In 2020, Toy Story Land will receive a new table-service restaurant matching the oversized toy and cardboard cutout-themed land. At Roundup Rodeo guests will dine on a selection of barbeque food options while surrounded by larger than life versions of Andy's favorite toys. While the opening date and menu have not yet been released, Disney has recently released additional concept art for the new dining establishment confirming that it will be opening sometime in 2020.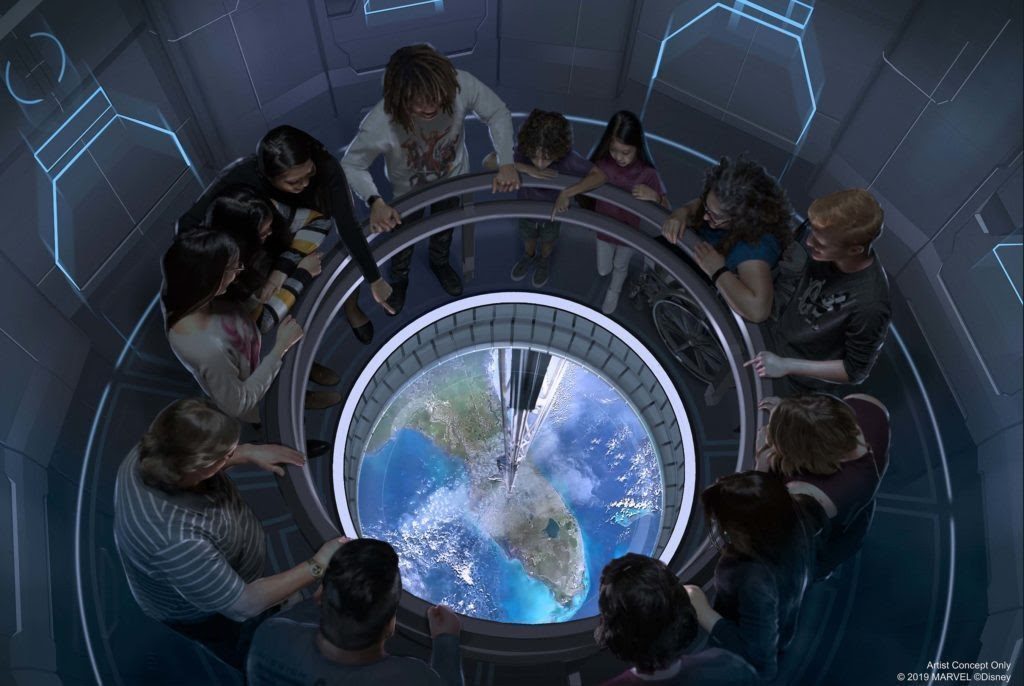 Space 220 Restaurant – Epcot
Opening Winter 2020
The much anticipated Space 220 restaurant located at Epcot's Mission:Space is due to open in early 2020 after several unexpected changes and delays. Guests visiting the restaurant will be whisked 220 miles into the sky in a space elevator where viewports will provide an aerial view of Epcot. Diners at Space 220 will enjoy classic American cuisine, over 1,000 bottles of the world's finest wines and a selection of craft beers. 
Regal Eagle Smokehouse: Craft Drafts & Barbecue – Epcot
Opening Winter 2020
Opening this winter, the Regal Eagle Smokehouse brings classic American barbeque to the American Adventure Pavilion at Epcot. The restaurant menu includes platters, sandwiches, salads as well as plant-based options. You can check out our detailed article about the new Regal Eagle Smokehouse for more information.
La Crêperie de Paris – Epcot
Opening Summer 2020
In addition to a new ride and film, France will also be receiving a new French crêperie which will offer both table-service and quick-service dining options. Celebrity chef Jérôme Bocuse will serve up authentic crepes and other french cuisine. 
Changes are coming quickly to the parks in preparation for both Disney's World's 50th Anniversary in 2021 and Epcot's 40th Anniversary in 2022. Check back with our DVCShop blog for updates on new rides, attractions, restaurants and shows at Disney World in 2020 and beyond.
Katherine Rand
DVCShop Editorial Team