A vibrant Hawaiian-themed bar and lounge offering tropical drinks, traditional Hawaiian appetizers, live music, and an interactive environment centered on the Hawaiian language.
The 'Ōlelo Room Details

Location:
Aulani, A Disney Resort & Spa
Dining Experience:
Quick Service / Lounge
Hours:
7:00 AM – 11:00 AM
5:00 PM – 10:00 PM
Price Range:
$34.99 & under
Type of Cuisine:
American / Hawaiian
Mobile Order:
Yes
Reservations:
No
Allergy-Friendly:
No
Dining Overview
Tucked away in the heart of the Aulani, A Disney Resort & Spa in Ko Olina, Hawaii, lies a hidden gem that effortlessly combines the magic of Disney with the rich culture and heritage of the Hawaiian Islands. This enchanting place is none other than The 'Ōlelo Room.
A Unique Dining Experience
The 'Ōlelo Room offers a unique and immersive dining experience that sets it apart from other dining options at the resort. Named after the Hawaiian word for "language", this lounge is a living testament to the vibrancy and richness of the Hawaiian language and culture.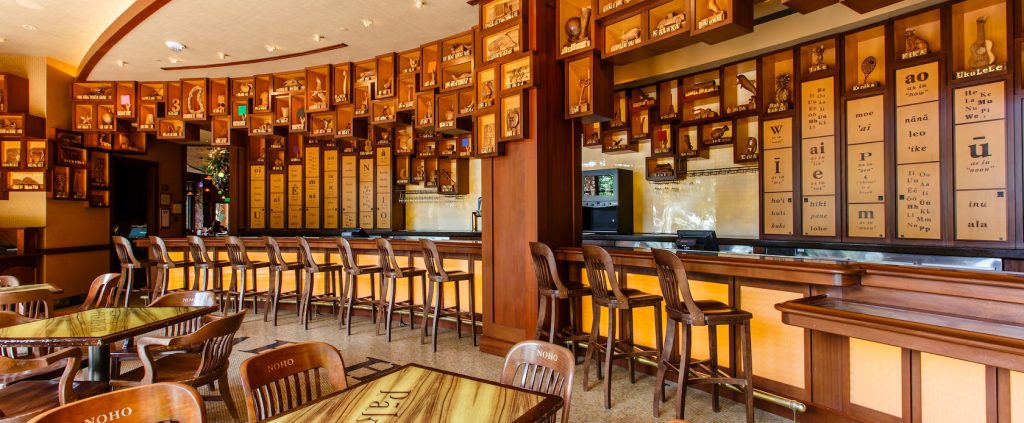 Upon entering, guests are immediately greeted by an array of wooden carvings, each representing different Hawaiian words. More than just decor, these pieces serve as conversation starters, sparking curiosity and encouraging guests to learn more about the Hawaiian language.
Authentic Hawaiian Ambiance
The ambiance of The 'Ōlelo Room is authentically Hawaiian. The decor is tastefully done, featuring traditional Hawaiian art and artifacts. The outdoor patio, adorned with native plants and offering a view of the beautiful Waikolohe Valley, provides a perfect setting for a relaxing evening.
Exquisite Food & Drinks
True to its Disney heritage, The 'Ōlelo Room doesn't compromise on quality when it comes to food and drinks. Serving grab and go items in the morning and transitioning into a full-service bar in the evening, it caters to a wide range of tastes and preferences.
The menu is a delightful mix of local favorites and classic dishes. Whether it's the sushi, sashimi, burgers, tacos, or delectable desserts, the food at The 'Ōlelo Room is sure to tantalize your taste buds.
The drink menu is equally impressive, offering a selection of signature cocktails, wines, beers, and non-alcoholic beverages. The cocktails, many of which are inspired by Hawaiian ingredients and flavors, are a must-try.
The 'Ōlelo Room at Aulani, A Disney Resort & Spa, offers a unique blend of cultural immersion, delectable food and drinks, and exceptional service. Whether you're a Disney fan, a foodie, or someone looking for a unique dining experience, The 'Ōlelo Room is a must-visit when you're at Aulani.
Menu
Map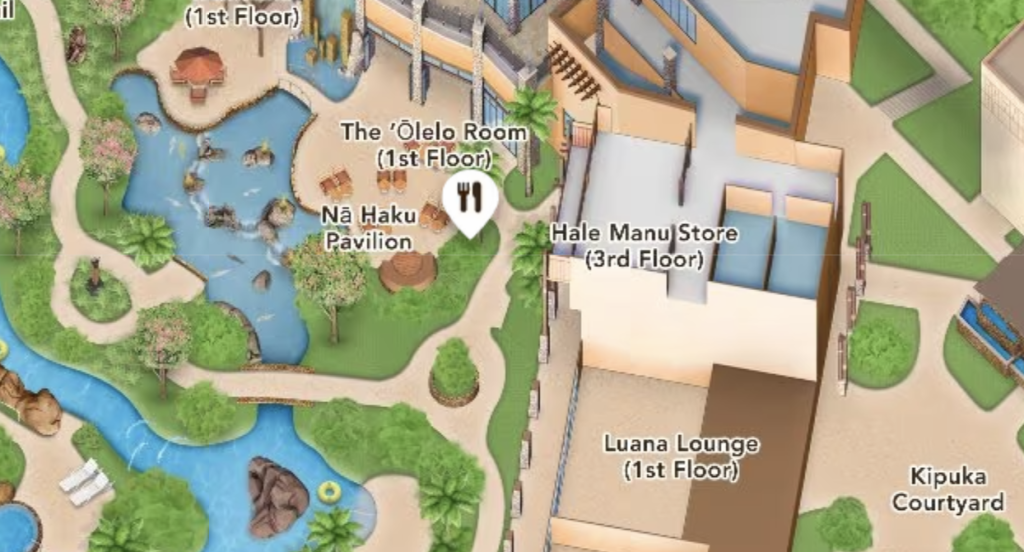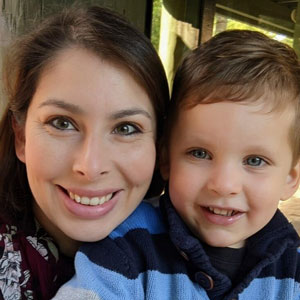 Written by
Rachel Van Norman
Contributing Writer
Rachel fell deeply in love with all things Disney as a little girl. Now as a wife and a mother herself, she shares this Disney obsession with her son and everyone around her. From her love of princesses to eating all the Disney food, Rachel spends her time radiating Disney magic and keeping everyone up to date on Disney news.