Quick-Service restaurants can be found all across Disney World parks and resorts. These restaurants are characterized by their fast counter-service style and casual setting. There are many different quick-service restaurants to choose from during your Disney vacation. Most of these restaurants have an outdoor seating options, but during extra hot Florida days you might want to find a spot to eat that is indoors with air-conditioning. Read on for the best indoor quick-service restaurants at Disney World!
Columbia Harbour House – Magic Kingdom
Located in Liberty Square at Magic Kingdom, Columbia Harbour House is a quaint indoor quick-service restaurant serving New England-style fare. Guests can enjoy the nautical theming of the restaurant which spans two floors, and also the seafood meals. Columbia Harbour House serves favorites like lobster rolls, salmon, seafood boil, fish sandwiches, and chicken tenders for those who aren't big fish fans. With the addition of the Happy Haunts Milkshake, and delicious sides like hush puppies, there is a little something for everyone at Columbia Harbour House.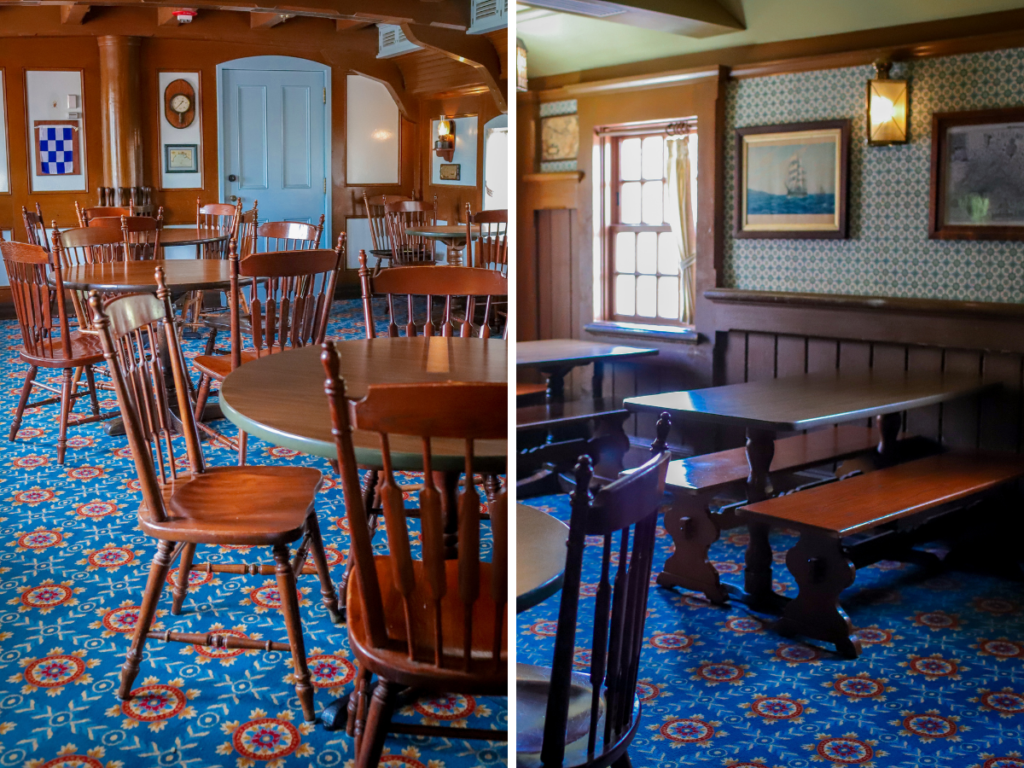 PizzeRizzo – Disney's Hollywood Studios
PizzeRizzo is a great quick-service dining option for families at Disney's Hollywood Studios. This Muppets-themed dining location has an interior that is reminiscent of an old family pizza parlor. With plenty of air-conditioning and indoor seating, PizzeRizzo is a great place to eat pizza and relax. The reception room on the second floor is a fun seating area themed after a wedding reception hall. The menu at PizzeRizzo is fairly simple and includes personal-sized pizzas of either cheese, pepperoni, or veggie. Salads and meatball subs are also available as well as a selection of desserts.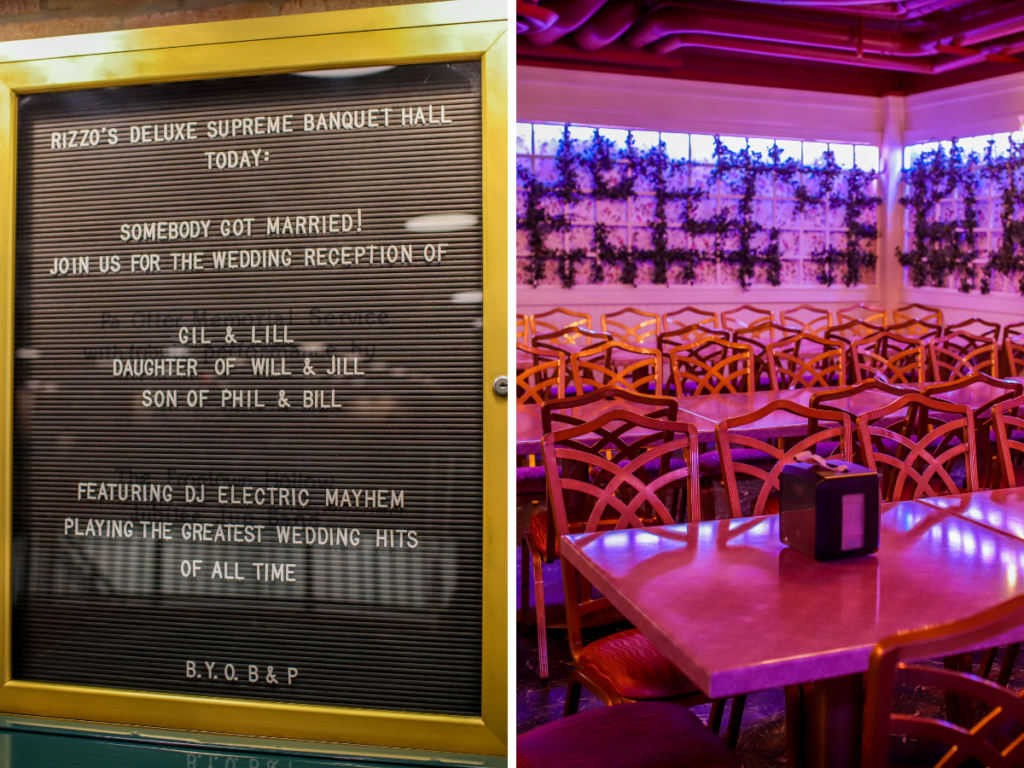 Sunshine Seasons – EPCOT
EPCOT has several quick-service restaurants to choose from, but only a few have indoor dining rooms. My favorite quick-service spot at EPCOT is Sunshine Seasons, located in The Land pavilion near Soarin'. Sunshine Seasons is a food court style restaurant that has some of the best variety in the parks, as well as the most fresh assortment of greens and grains. It's great to be able to take a break inside the scenic Land pavilion and grab some food. Some offerings at Sunshine Seasons include rotisserie chicken, stir-fry, Mongolian beef, Asian noodle salad, birria tacos, and Mediterranean veggie sandwiches.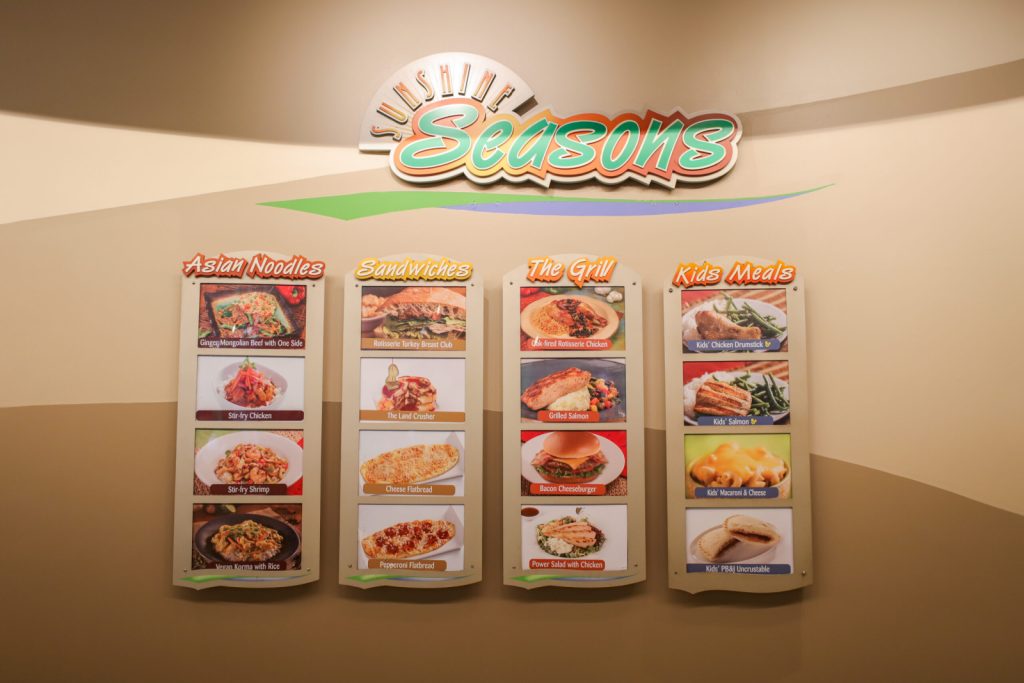 Regal Eagle Smokehouse – EPCOT
Another one of EPCOT's great indoor quick-service restaurants is Regal Eagle Smokehouse located in the American Adventure pavilion in World Showcase. This area of EPCOT is full of quick-service restaurants that serve food from several different countries, but if you want indoor dining then your options become a bit limited. Regal Eagle is an American-style restaurant serving smoked meats and classic American sides like macaroni and cheese and baked beans.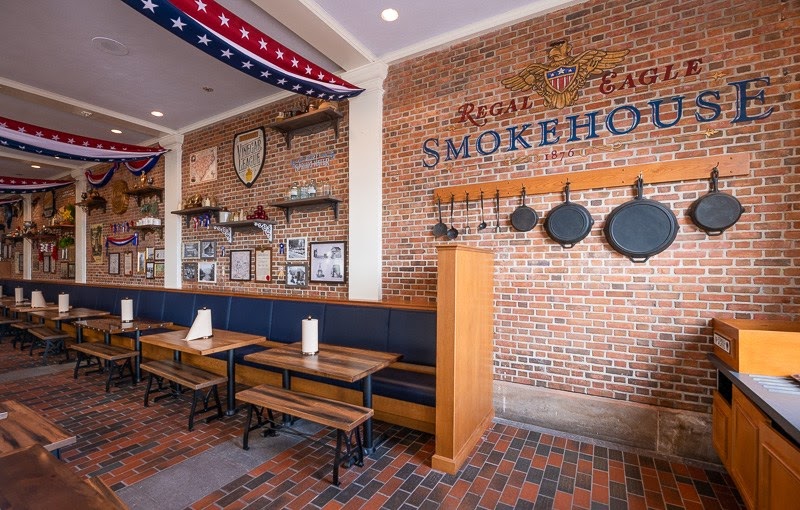 Satu'li Canteen – Animal Kingdom
Enter the world of Pandora at Animal Kingdom and sit down for some local fare at Satu'li Canteen. Stylized to be like a restaurant within the world of Avatar, Satu'li Canteen has indoor seating as well as dishes that are dressed up to be unique and otherworldly. Satu'li Canteen serves bowl-style dishes like beef and chicken with rice and boba balls, blue noodles and tuna, and chili-garlic shrimp. The dishes at Satu'li Canteen are beautifully crafted and really are a sight to be seen, as well as delicious and unique!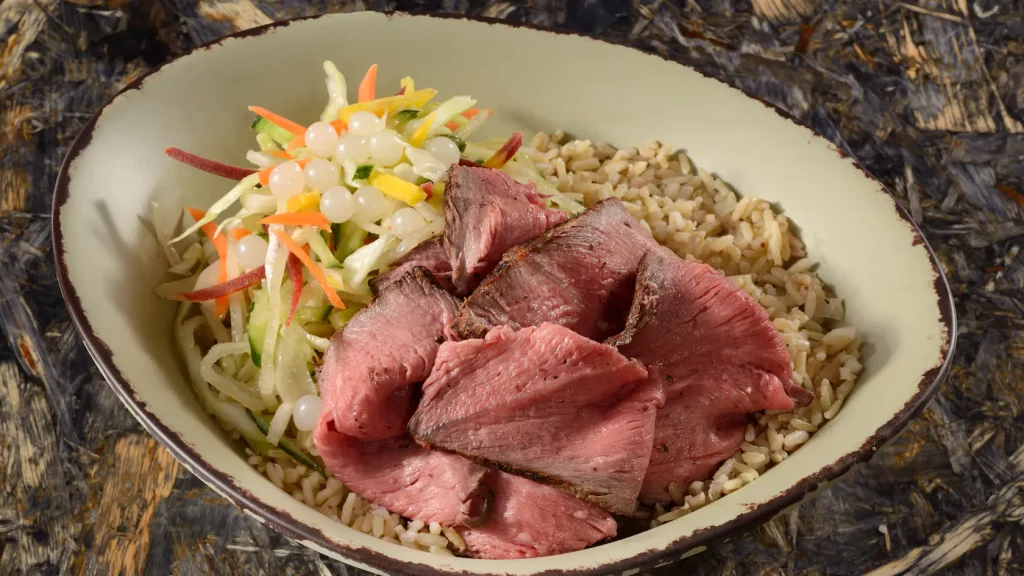 Overall, you won't have difficulty finding indoor quick-service dining at Disney World parks. What is your favorite quick-service dining spot at Disney World? Do you prefer eating indoors or outdoors? Let us know in the comments below!
Featured Photo: Emily Murray.
Written by
Megan Woodard
Contributing Writer
Megan was born into a Disney family. Her first trip to Disney World was when she was only 18 months old. Now as an adult, Megan loves to share the magic of Disney with her two toddlers. Keeping up with Disney news and Disney World knowledge is a fun hobby for Megan. Disney World is her favorite place to be and continuously brings back her childhood joy.