One of Walt Disney World's newest restaurants, Roundup Rodeo BBQ, is already becoming one of the most popular sit down restaurants around. Located in Hollywood Studios, this fun Toy Story themed restaurant offers an all you can eat experience featuring classic barbecue items.
Those that follow a gluten free diet may be wondering what offerings are available to them at this new dining location. It can be a stressful experience not knowing what you are getting into at a new restaurant, so we gave it a try for you! Here was our experience dining gluten free at Roundup Rodeo BBQ!
The Price
Roundup Rodeo BBQ is a family style, all-you-care-to-enjoy experience. Adults (10+) cost $45 plus tax and kids (3-9) are $25 plus tax. Not too bad for an all-you-care-to-enjoy dining experience in Walt Disney World.
The Food
We were hopeful in regards to the gluten free options at Roundup Rodeo BBQ, given that barbecue menus tend to be pretty gluten free friendly, and we were not disappointed! There were a ton of options available to us for every course leading to a very tasty meal. Not to mention the waitress offered us the option of having the chef come out, which is always appreciated and makes us feel confident in the gluten free experience.
Starters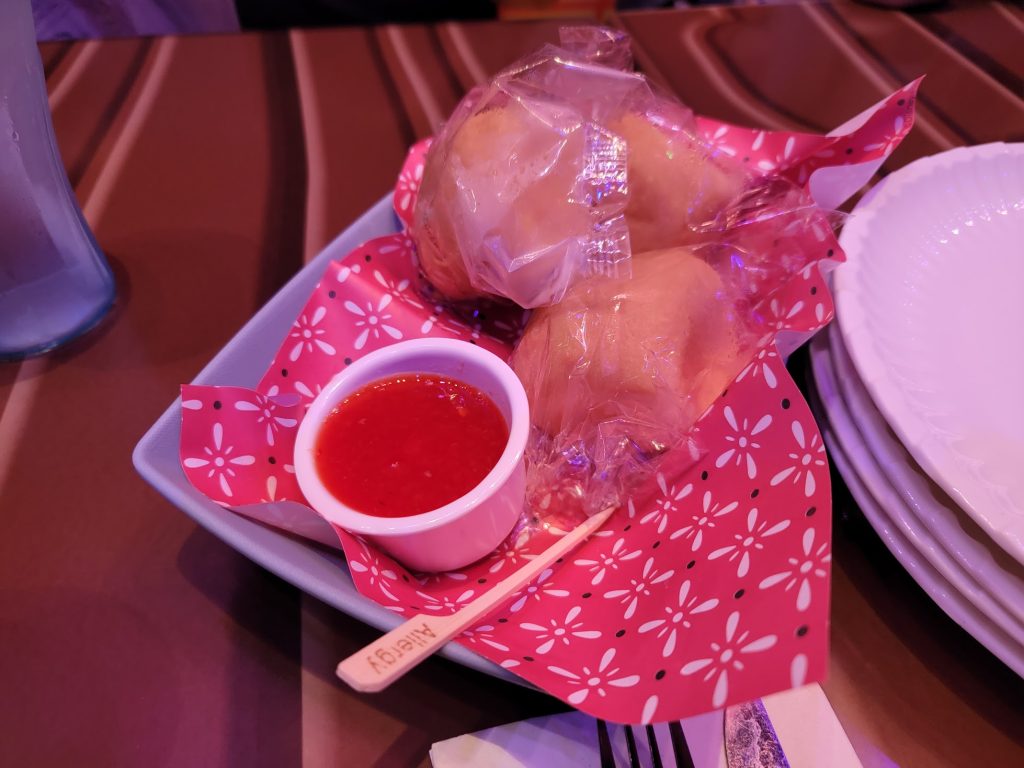 To start we received some warm gluten free rolls. These are usually the same brand that you receive at any restaurant but they definitely taste different depending on how they were prepared. They can occasionally be dry but these rolls were very good, soft and moist. They were served with a pepper jelly opposed to butter which was a welcome change. The pepper jelly was unique, very mild in spice and sweetness, and tasty.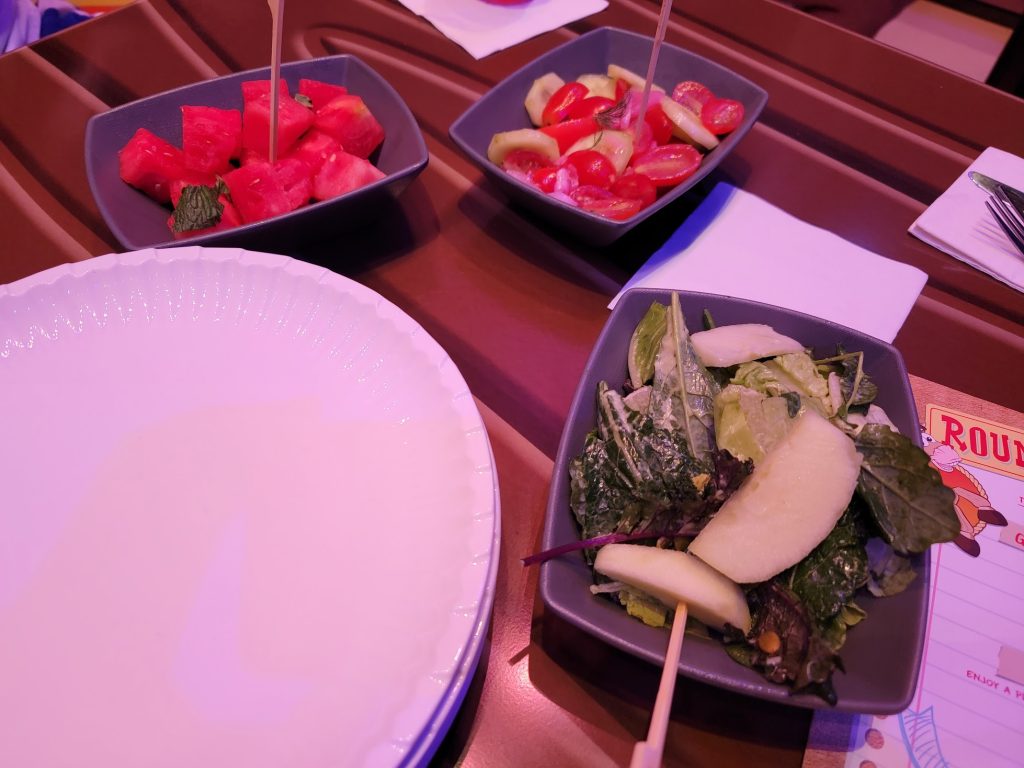 Next came out a trio of salads. All of the produce tasted fresh and each one was a classic BBQ staple with an interesting twist.
Rootin' Tootin Tomato Salad
The Rootin' Tootin Tomato Salad is a red onion, cucumber and cherry tomato salad with a pleasant vinaigrette dressing that was tangy but not too overpowering.
Rex's Romaine and Kale Salad
Rex's Romaine and Kale Salad was modified for us to be gluten free, it typically is not so be sure to ask your server! It was also dressed well with a thicker, sweeter vinaigrette dressing. This one was the favorite, it was a perfect balance of sweetness and bitterness between the apple and the kale, they paired surprisingly well together.
Wheezy's Watermelon Salad
Lastly the Wheezy's Watermelon Salad is simply watermelon with mint leaves on it, which was refreshing and a good starter option for the kiddos who are not big on raw greens.
Sides
There is a huge list of sides on the menu, and a good chunk of them are gluten free. You are able to choose four sides to go with the main platter. For our sides we got the Cowpoke Corn on the Cob, The Married Spuds, The Claw! Veggie Slaw, and the Mean Old Potato Salad.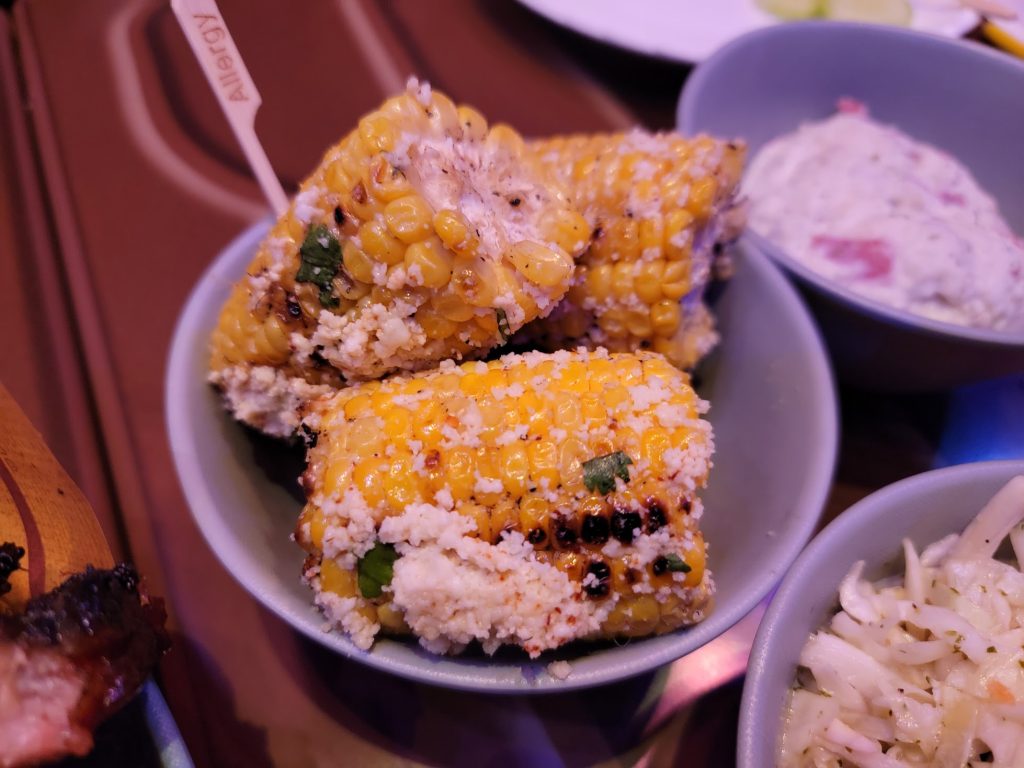 Cowpoke Corn on the Cob
The corn on the cob was good as well. The corn was a little on the firmer side and the parmesan cheese added a great extra flavor to it. The grill marks also add that amazing barbecue flavor that anyone would love.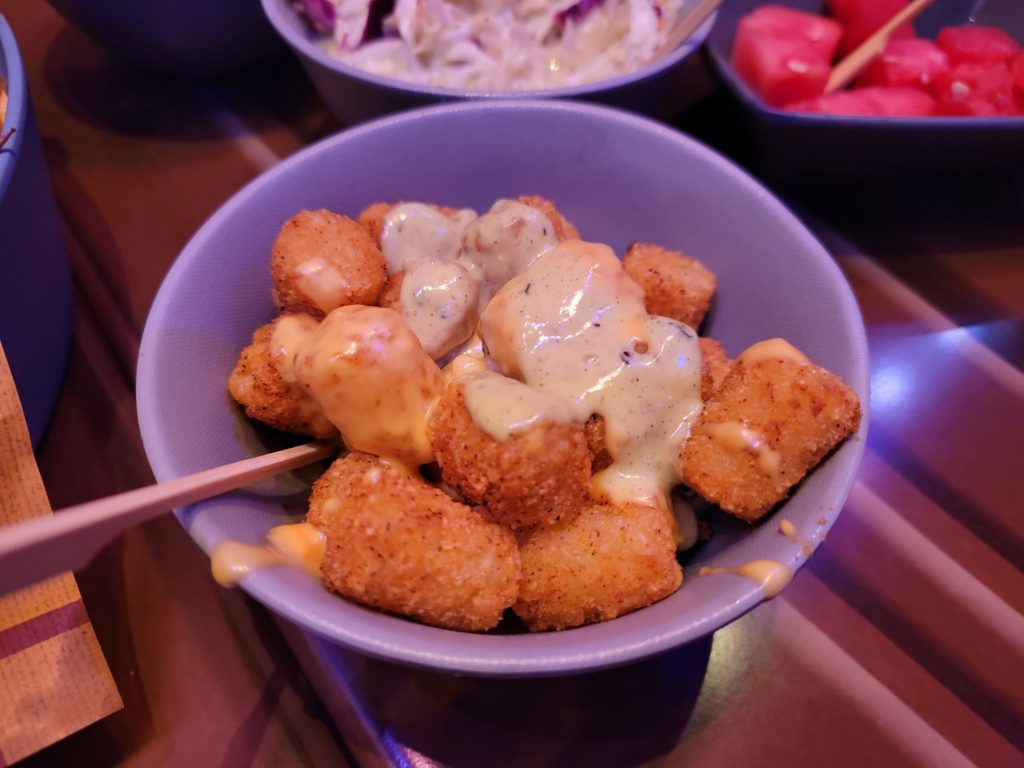 The Married Spuds
The Married Spuds are loaded potato barrels and they were our favorite side of the evening! They had a cheese sauce and what tasted like a cilantro sauce that was just plain awesome.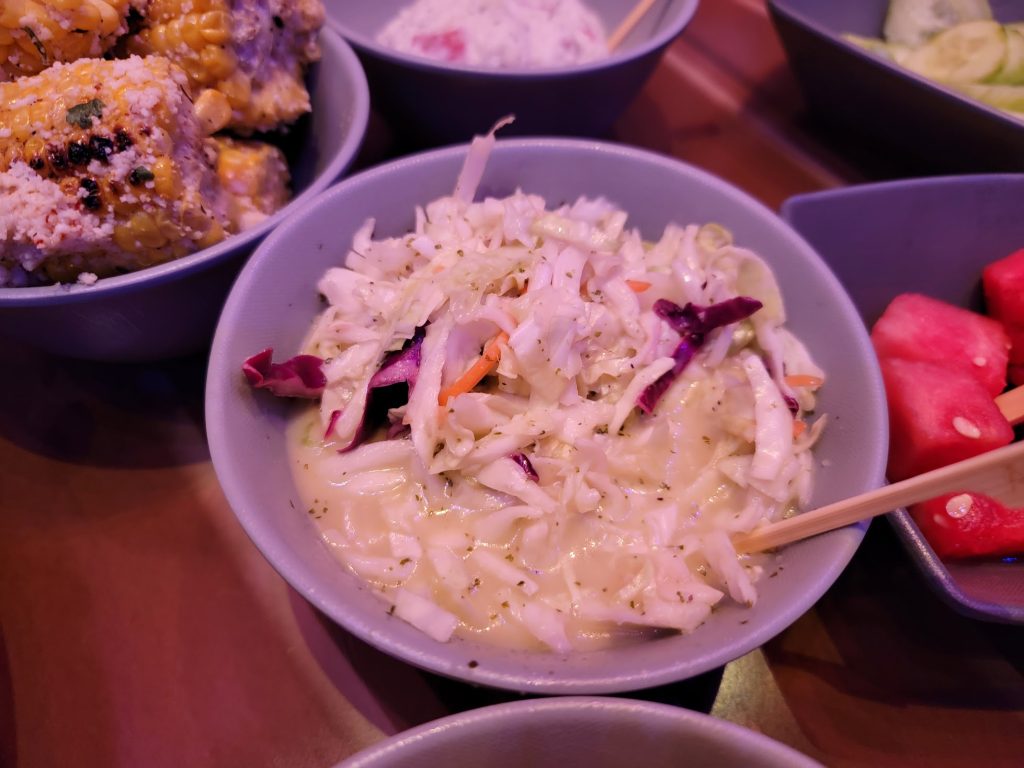 Claw! Veggie Slaw
The Claw! Veggie Slaw is oil and vinegar based. It was very heavy on the vinegar, which definitely wasn't a bad thing for us.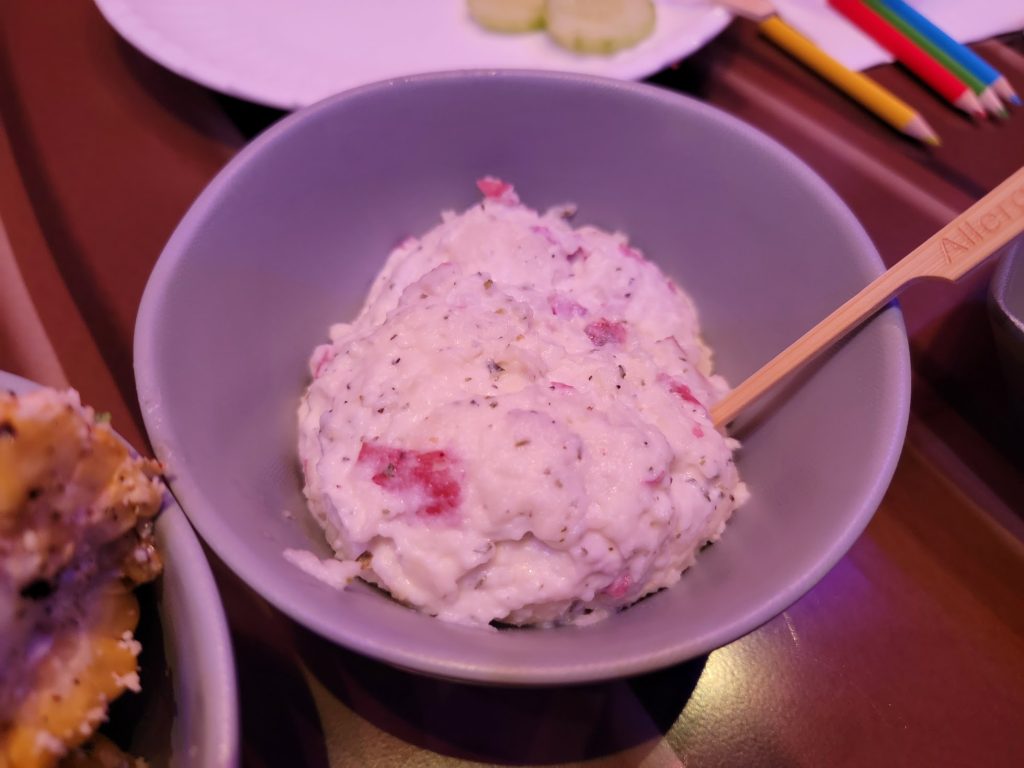 Mean Old Potato Salad
Last but not least was the Mean Old Potato Salad. This potato salad had an interesting texture to it. It was closer to the texture of mashed potatoes, with just an occasional potato chunk in it. It had lots of dill in it which was dill-icious!
Entrees
Now onto the main event, the Smoked Meat Platter! The Smoked Meat Platter comes with four different meat options; Evil Dr. Smoked Ribs, Buttercup's Beef Brisket, There's a Sausage in my Boot – Fire-grilled Pork Sausage, BBQ Chicken – with Style!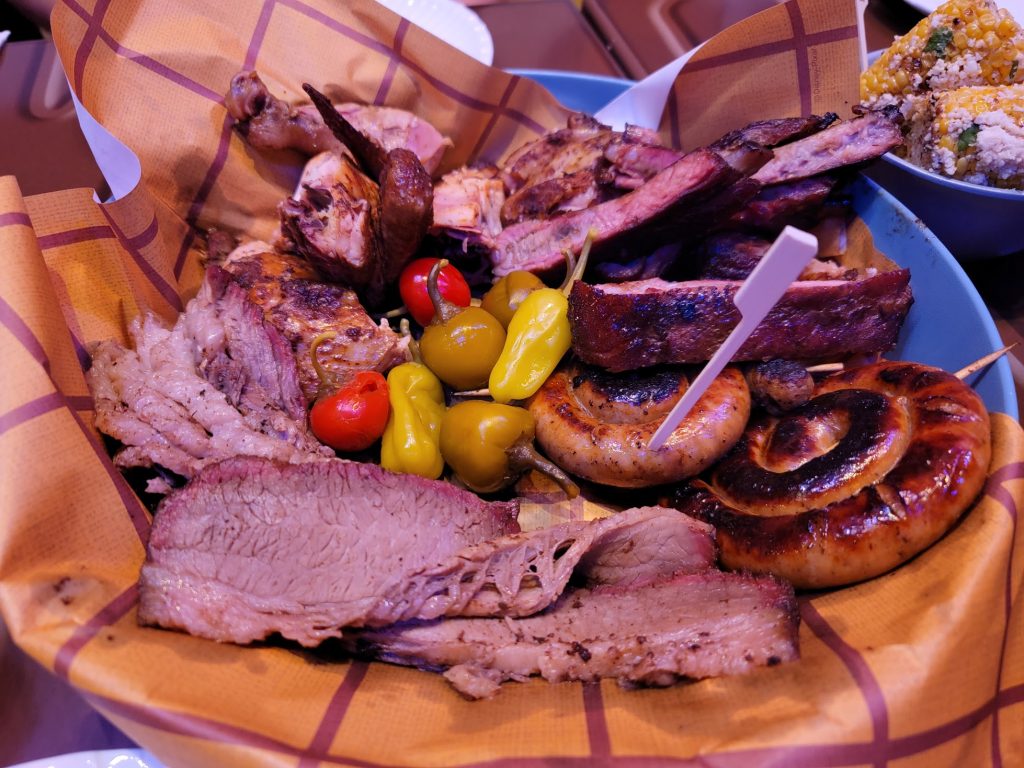 Evil Dr. Smoked Ribs
The Evil Dr. Smoked Ribs were a pretty solid flavor on their own but there were also a ton of sauces on the table to add on to them. Possibly the most surprising thing about the ribs was how tender they were. A lot of the time with these buffet barbecue locations, the ribs aren't cooked long enough and they end up chewy with a lot of the meat sticking to the bone. However, these were fall of the bone and we were thrilled.
Buttercup's Beef Brisket
Next we tried Buttercup's Beef Brisket. Overall it was good but not a standout in the platter. Oddly enough, even though it wasn't a huge hit with the adults at the table, it was a favorite by the child in our group so that definitely counts for something.
Fire-Grilled Pork Sausage
The Fire-grilled Pork Sausage was in fact the favorite meat in the platter for the adults. It was a bit of a shock, since I personally am not huge on sausage, but wow is all that can be said for this main dish. It was mildly spicy, and absolutely packed full of flavor. There was so much meat in each platter we didn't think we would need to order seconds, but for the sausage we did.
BBQ Chicken
Last but not least is the BBQ Chicken. I appreciate that the chicken didn't come with the sauce on it, and you were able to add it at the table. This way we were able to try the chicken on its own with its own dry seasonings. Very juicy and a perfect option for those kiddos or anyone who is wanting to not over indulge in pork or beef.
Trixie's Plant-Based Trio
Although we did not get it, there is also the Trixie's Plant-based Trio, a plant-based platter that serves as the main offering for those herbivores out there. Unfortunately, out of the three plant-based options only one is gluten free, the Scrumptious Bratwurst. They may have others options for those who are both plant-based and gluten free, so as always ask your server!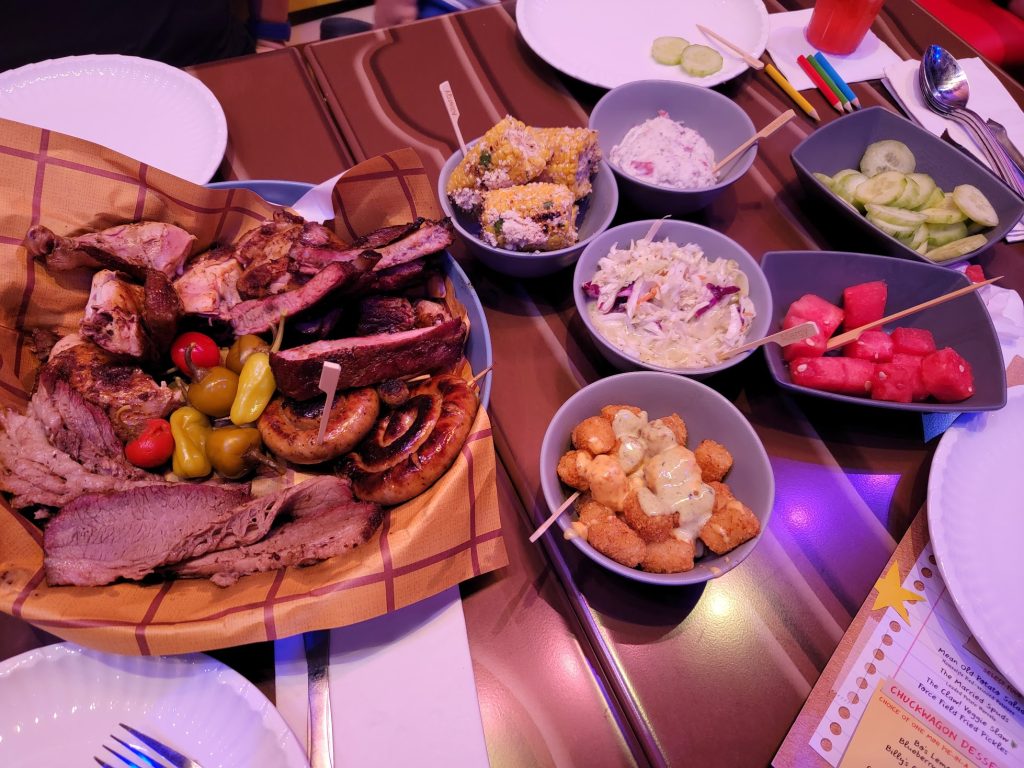 Another thing worth noting is that they were very accommodating with picky eaters as well. Our waitress brought the child in our group plain watermelon and cucumbers in addition to the regular salad items so that he could enjoy other things than the meat. Overall, we had quite a filling feast in Andy's Backyard!
Dessert
Now is anyone ever truly too full for dessert? Not at our table! There are three dessert options available for those who are dining gluten free. Bo's Lemon and Blueberry Cheesecake, Goat's Apple Pie, Gruff's Peach-Strawberry Pie. You can try as many as you want so we absolutely had to try all three! They all come in these adorable mason jars as a deconstructed cake/pie. It really fits into the backyard barbecue theme and is very fun.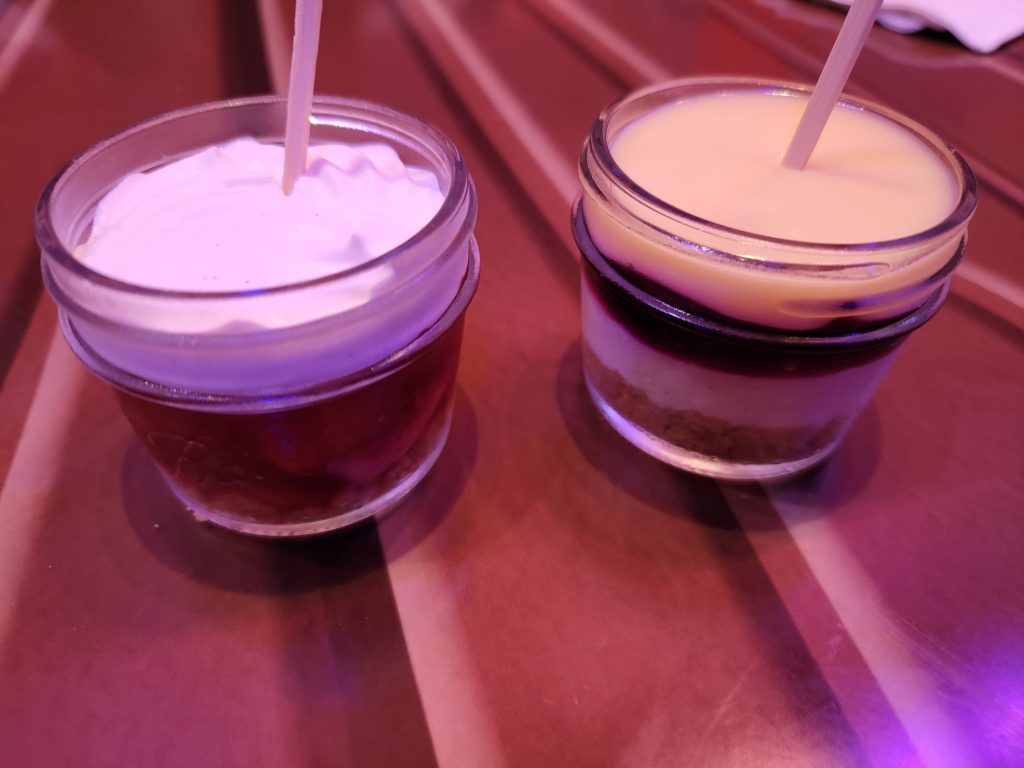 As you can see, only two of them are pictured above, someone at the table got a little too excited to try the apple pie.
Bo's Lemon and Blueberry Cheesecake
Let's start with Bo's Lemon and Blueberry Cheesecake. This was easily the favorite dessert of the table. It was perfectly tart due to that lemon flavor with a perfect balance of sweet and zingy. The best part of this dessert is that their was no artificial flavoring taste, just fresh lemon and blueberry.
Goat's Apple Pie
Next we have Goat's Apple Pie, which was probably our least favorite of the three. Not to say it wasn't tasty, it just didn't stand out as much as the other two desserts. The apple chunks were pretty small and it was packed full of cinnamon flavor. It had a gluten free graham cracker crumble with it, that I wish there was more of as it really was delicious.
Gruff's Peach-Strawberry Pie
The final dessert option and the runner up for favorite was the Gruff's Peach-Strawberry Pie. The peaches and strawberries were a great complementary pairing and is was divine. The entire dessert is also plant-based including the whipped topping.
Let's Eat!
So how would we rate Roundup Rodeo BBQ for gluten free dining? It would have to be a 10 out of 10! The food was very good and we feel confident that they took all the proper precautions to make the dining experience safe for those who are gluten free. The amount of gluten free options that were available here were also outstanding. It can be hard when you head to a dining location and do not have many options, but there was a ton to choose from.
Have you been able to enjoy a gluten free lunch or dinner at Roundup Rodeo BBQ in Disney's Hollywood Studios? What were your thoughts on the experience? Let us know in the comments below!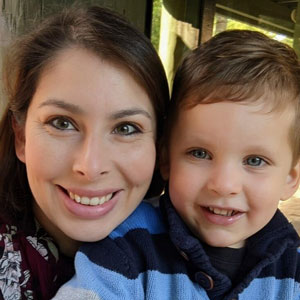 Written by
Rachel Van Norman
Contributing Writer
Rachel fell deeply in love with all things Disney as a little girl. Now as a wife and a mother herself, she shares this Disney obsession with her son and everyone around her. From her love of princesses to eating all the Disney food, Rachel spends her time radiating Disney magic and keeping everyone up to date on Disney news.