Jump into a yellow Toon Cab and take a spin with Roger Rabbit through the streets of Toontown on Roger Rabbit's Car Toon Spin!
Roger Rabbit Toon Spin Details

| | |
| --- | --- |
| Disneyland Resort Park | Disneyland Park |
| Location in Park | Mickey's Toontown |
| Height Restrictions | Any height |
| Age Interests | Preschoolers, Kids, and Tweens |
| Thrill Type | Slow ride, Spinning, Dark, and Loud |
| Hours | 9:00 AM-8:00PM |
| Wait Times | Average of 30 Minutes |
| FastPass+ | No |
| Accessibility Information | Must Transfer from Wheelchair/ECV |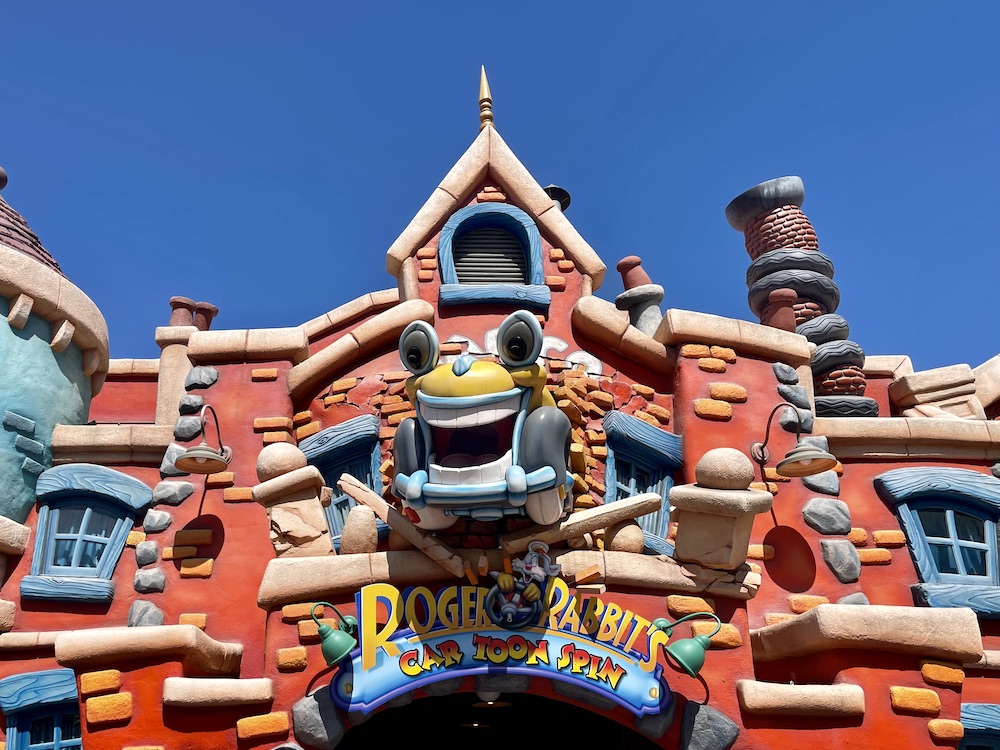 Attraction Overview
At Disneyland, board a yellow toon Cab named Lenny, Benny's twin cousin, along side Roger Rabbit. When the stoplight turns green you ride into Toontown where you will find the villain Weasels, Stupid, Greasy and Wheezy dumping barrels of Dip into the streets. The dip is supposed to melt toon characters! When your cab rides through the green dip your steering wheels becomes active and you can then use it to spin through the streets. You'll spin through the Power house full of danger warnings, electric voltage and explosions. This can be loud and scary. The Gag house full of jokes, clowns and boxes of cream pies. You'll pass by Jessica Rabbit who seems to be fighting off two of the weasels: Stupid and Greasy. Wheezy attempts to spray the cabs with more dip. Roger saves the day by using a portable black hole to return the cabs back to the Toontown Cab Company.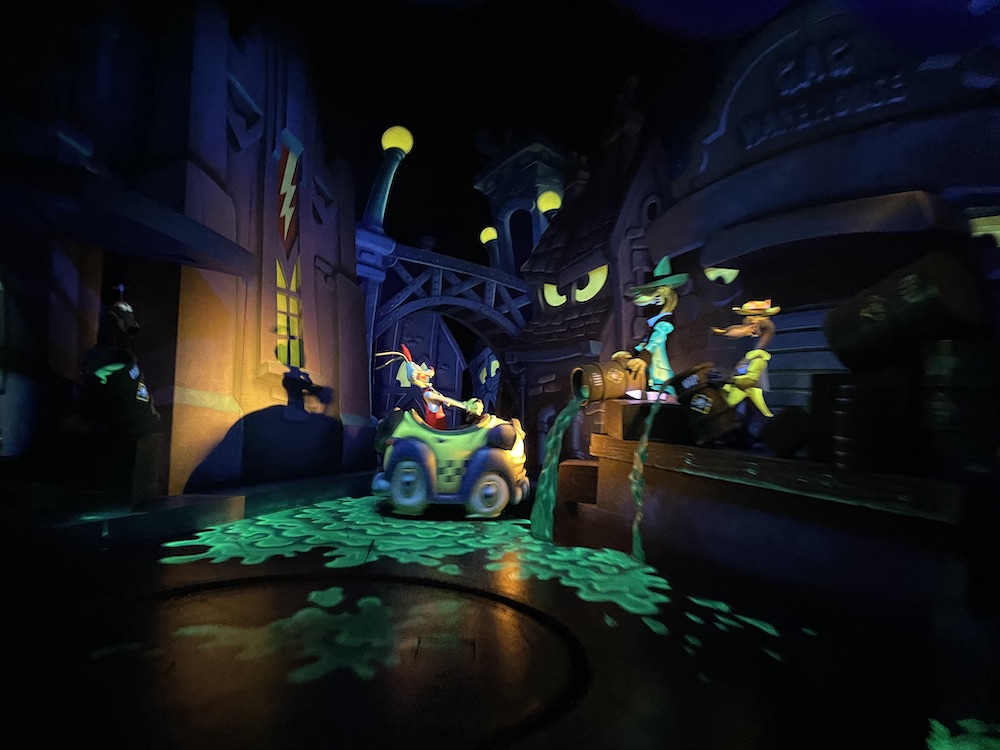 Map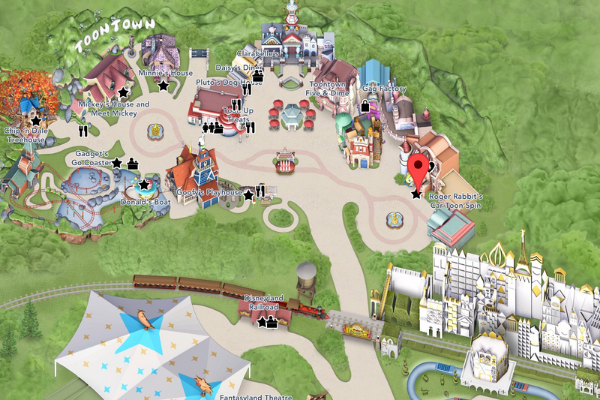 Location & Wait Times 
Roger Rabbit's Car Toon Spin can be found in Mickey's Toontown! To reach this attraction, walk down a slight slope and under the ToonTown bridge. To the right of entering this land you'll spot a water fountain featuring Roger Rabbit himself. Wait times average around 30 minutes with 4-6 riders per vehicle.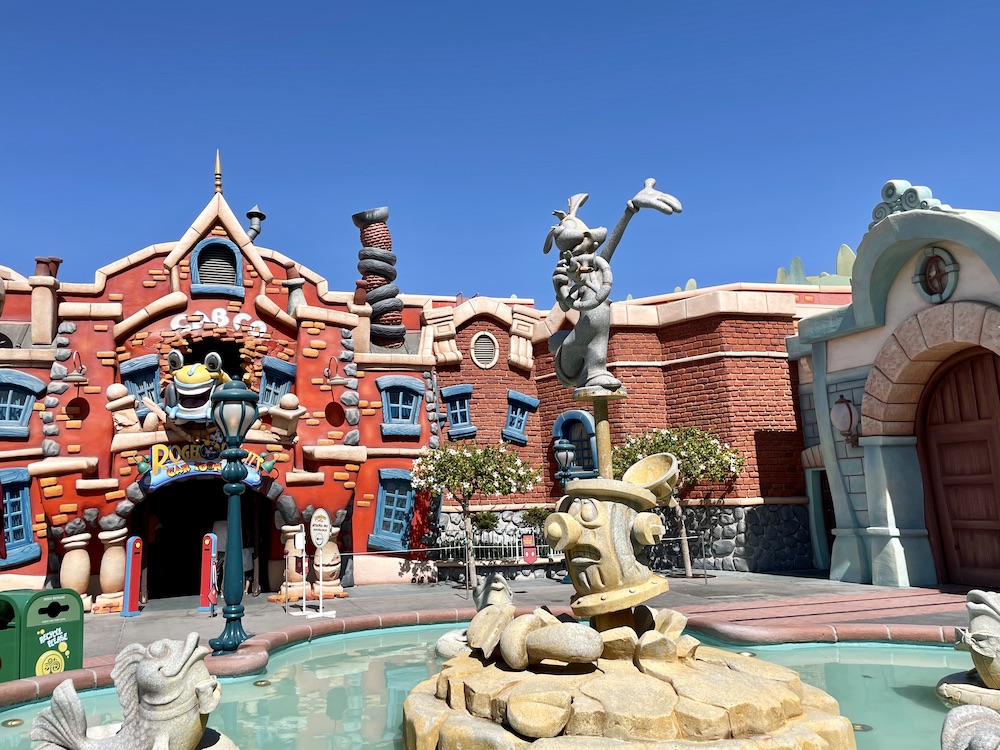 Queue Experience
The ride's queue is indoors, with the exception of longer than usual lines where it could begin outside. As you enter the queue you will pass through the dark streets and alleys of Toontown. Character voices can be heard as you pass through all different scenes of this dark Cartoon town. Such as, Jessica Rabbit's dressing room, Baby Herman's apartment, the prop cage, The Toon Patrol and more! Are you ready to take a spin?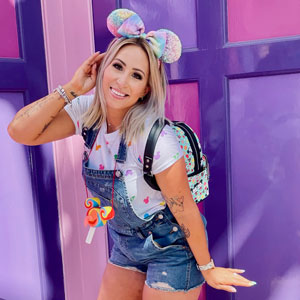 Written by
Brittney Malina
Contributing Writer
Brittney has been going to Disneyland since she was 3 years old. She has had a deep love for all things Disney ever since. Now as a wife and mother of two, she gets to share the love with her family and re-live the Disney magic through her children's eyes. Brittney is a Legacy Passholder and you can find her walking down Main Street, U.S.A. with a churro or iced coffee in hand.