Magic Kingdom Park is premiering a brand new nighttime show on October 1 as part of Walt Disney World's 50th Anniversary celebration! Disney Enchantment will be an awe-inspiring show you won't want to miss!
An Incredible Journey Awaits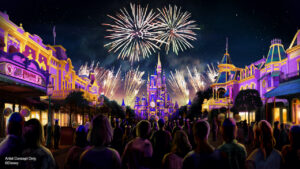 Disney Enchantment will feature a new original song "You Are the Magic" from seven-time GRAMMY-award winner Philip Lawrence as fireworks light up the night sky. New touches like enhanced lighting and immersive projection effects that extend from Cinderella Castle down Main Street, U.S.A. for the first time ever will fully immerse you in the show. Tinker Bell will still take flight, spreading shimmering gold pixie dust.
Disney Enchantment will showcase popular characters from Disney and Pixar films. Announced characters include Tiana, Miguel, Rapunzel, brothers Ian & Barley (Onward), Moana, Raya, Judy Hopps, and Joe Gardner (Soul) as well as inspirations from Disney artist Mary Blair. Other films featured, classic and contemporary alike, will include Beauty and the Beast, Alice in Wonderland, Luca and Wreck-It Ralph.
The End Of 'Happily Ever After'
This new show will be a lovely addition to the 18-month long "World's Most Magical Celebration," which is already packed with many new park offerings! The debut of Disney Enchantment will, however, mark the end of the current nighttime show, Happily Ever After, that was introduced in 2017. Fans of Happily Ever After still have time to say their farewells. It is set to be performed nightly through September 30.
Show Director of Disney Live Entertainment, Mark Renfrow, stated:
"Since opening day in 1971, dazzling fireworks shows have provided that perfect exclamation point at the end of a fantastic day at Magic Kingdom Park. From 'Fantasy in the Sky' and 'Wishes' to holiday spectaculars and 'Happily Ever After,' each new show has raised the bar, and the best is yet to come! I can't wait for everyone to see what we're creating with 'Disney Enchantment.'"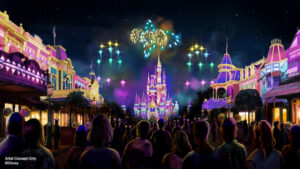 The new show starts at 9:00PM from October 1 – 4 and then at 8:00PM from October 5 – 24. More showtimes are expected to be released on the Walt Disney World Resort's website. Guests can also check their My Disney Experience app for the most up-to-date entertainment schedule.
Are you excited to see Disney Enchantment grace the skies of Magic Kingdom? Will you be visiting Disney World for debut of the new show and the anniversary celebration in October? Let us know in the comments below.
And be sure to check out our DVC Rental Listings where you can book discounted Deluxe Disney Resort stays for the 50th Anniversary Celebration.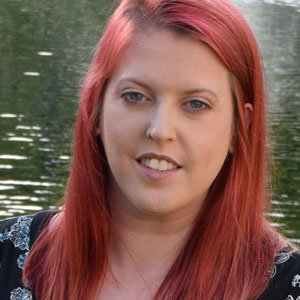 Written by
Sasha Watson
Contributing Writer
Sasha loves traveling, Sunday naps, cookie dough, Halloween and really good roller coasters. An admitted theme park junkie, she is always looking to book her next trip. More often than not, that trip is to Walt Disney World, which is a quick one-hour flight from her home in Georgia. Her favorite travel partner is her husband, Kyle. They've visited Disneyland, Walt Disney World and Shanghai Disneyland, hoping to someday visit all the Disney parks around the world.