Guests of Walt Disney World resorts often ponder if pool hopping is allowed at the Disney resorts?  There is typically at least one pool, and often many pools, at each Disney Resort where you can cool off and relax while you're not visiting the parks. But once you start traveling around Disney property, you may begin to wonder if you could slip into the Beach Club from the BoardWalk to cruise on their lazy river, or take a bus to the Polynesian to try out their enormous water slide. While pool hopping would be an amazing amenity, unfortunately using another resort's pool is not permitted within Walt Disney World.
Disney ensures that only guests staying at that resort are allowed entry into the pool by two ways. One, the pools are fenced and secured with a gate. Two, the gate only grants you entry with your magic band that is programmed to your resort only. However, like most rules, there are a few exceptions and special circumstances where you can be granted permission to use another resort's pool.
The Exceptions
1. If you are a Disney Vacation Club (DVC) member and you are staying using your membership points, you may be able to use pools at different Disney Resorts!  Some pools are always off limits for pool-hopping, such as the Grand Floridian pools and the Art of Animation pools, however, there are plenty of resort pools at which you could be granted access by showing your DVC membership card and Magic band.
The full list of excluded pools are:
Bay Lake Tower at Disney's Contemporary Resort – Bay Cove Pool
Disney's Art of Animation Resort – pools
Disney's Beach Club Villas – leisure pool
Disney's Grand Floridian Resort & Spa – pools
Disney's Polynesian Village Resort – The Lava Pool and leisure pool
Disney's Riviera Resort – Riviera Pool and Beau Soleil Pool
Disney's Wilderness Lodge – Boulder Ridge Cove Pool and The Copper Creek Springs Pool
Disney's Yacht Club Resort and Disney's Beach Club Resort – Stormalong Bay
The DVC membership website provides a full list of off-limit pools and current blackout dates. Because pool-hopping of this nature is subject to some blackout dates and capacity limits, it is best to check with the front desk staff at the resort where you are staying to see where you can take advantage of this membership benefit during your stay.
2. Another big exception to this rule comes to us with the All-Star trio. Guests of any of the three All-Star resorts: All-Star Music, All-Star Sports, or All-Star Movies, may use ANY of the All Star resort pools!  This makes it easy since they are all adjacent to each other and can be accessed by a short walk or drive. So, if you're staying at an All-Star Resort, don't miss out on the opportunity to visit all of their unique pools such as the one shaped like a piano or the one designed like a baseball diamond!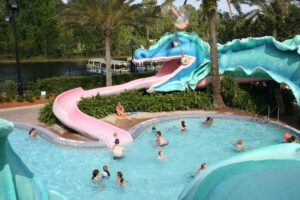 3. The next exception is those staying in either of the Port Orleans resorts. Guest of Port Orleans Riverside and Port Orleans French Quarter may use the pools at either resort! Located down the road, err river, from each other, you can easily hop on over to the neighboring Port Orleans pool.
If you're wondering about the Beach and Yacht Club resorts, the answer is also yes! However, their outdoor (and indoor) spaces are interconnected in a way that you don't require you to leave one resort to visit the pools of the other.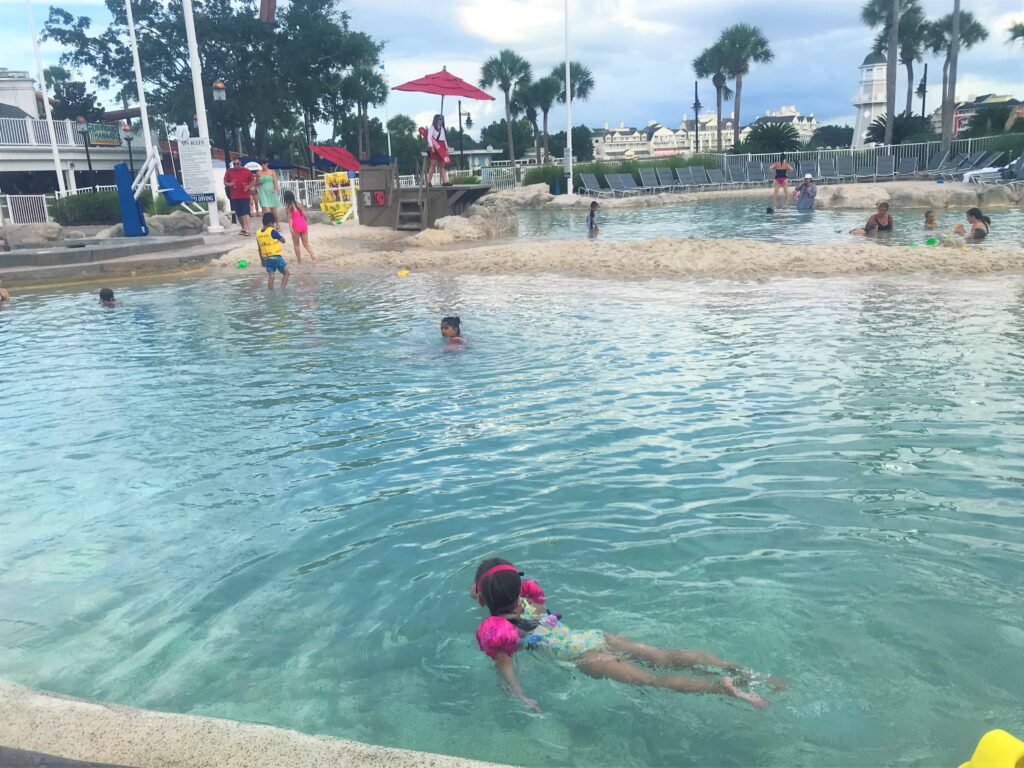 4. The third exception is when one or more of your resort's main pools is being refurbished. If this is the case, then you may be granted access to use the pools at a neighboring resort!
So while we've learned that, for the most part, guests are not permitted to visit other resorts for the sole purpose of using the pool, if you are still in the planning stages of your vacation and have your eye on multiple resort pools, why not consider a split stay? Split stays are when you stay at one resort for part of your vacation and transfer to another resort for the remainder of your stay. There are many advantages of this, including the ability to visit multiple pool areas over the course of your vacation! It's easy to do as Disney will work their magic and take care of moving your belongings for you to the new resort while you are off at the parks having fun. Just contact the bell hop station to request assistance.
Which pool area at the Disney Resorts is your favorite?  Is there a resort pool that you would love to visit?  Let us know in the comments below!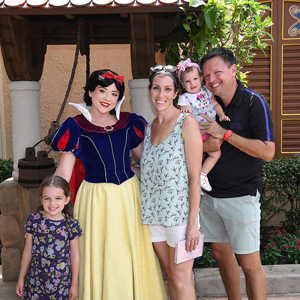 Written by
Shelley Wehler
Contributing Writer
Shelley is a stay-at-home mother of two girls living outside of Charlotte, North Carolina. Her love of all things Disney has grown even more as she sees the magic come alive through the lens of her young daughters. She spends her free time keeping up with the latest in Disney news and daydreaming of her next trip to the parks!